Make Me Gorgeous! is now playing Off-Broadway
Make Me Gorgeous! is the fabulous and incredible true story of Kenneth Marlowe, an oft-overlooked trailblazer in LGBTQ+ history.
Described as one of mid-Century America's gayest and most openly homosexual personalities, Marlowe took on many roles in life. Kenneth was a private hairdresser to the stars; the madam of a notorious gay prostitution ring in Hollywood; an author; a hustler; a female impersonator; a private in the U.S. Army; a call boy; a Christian missionary; a mortuary cosmetologist; a newspaper columnist … and for the final decade of an incredibly lived life, Marlowe was a woman, having transitioned to become Kate Marlowe.
The New York premiere of Make Me Gorgeous! The True Story of Kenneth "Mr. Madam" Marlowe, written and directed by Donnie, and starring Wade McCollum (Wicked on Broadway; It Happened In Key West in London's West End), who also contributed additional material. The limited eight-week engagement plays November 10 through December 31, Off-Broadway at Playhouse 46 At St. Luke's (308 W. 46th Street). The official opening night will take place during Transgender Awareness Week, November 15 at 7PM. For tickets and further information, visit GorgeousPlay.com.
Make Me Gorgeous! is adapted from Donnie's book, Mr. Madam: The Life and Times of Kenneth/Kate Marlowe, the culmination of years of research and interviews and establishing Donnie as one of the foremost historians to chronicle Kenneth/Kate Marlowe's life. A new edition of the book, retitled Us, further explores the life of Kenneth/Kate Marlowe.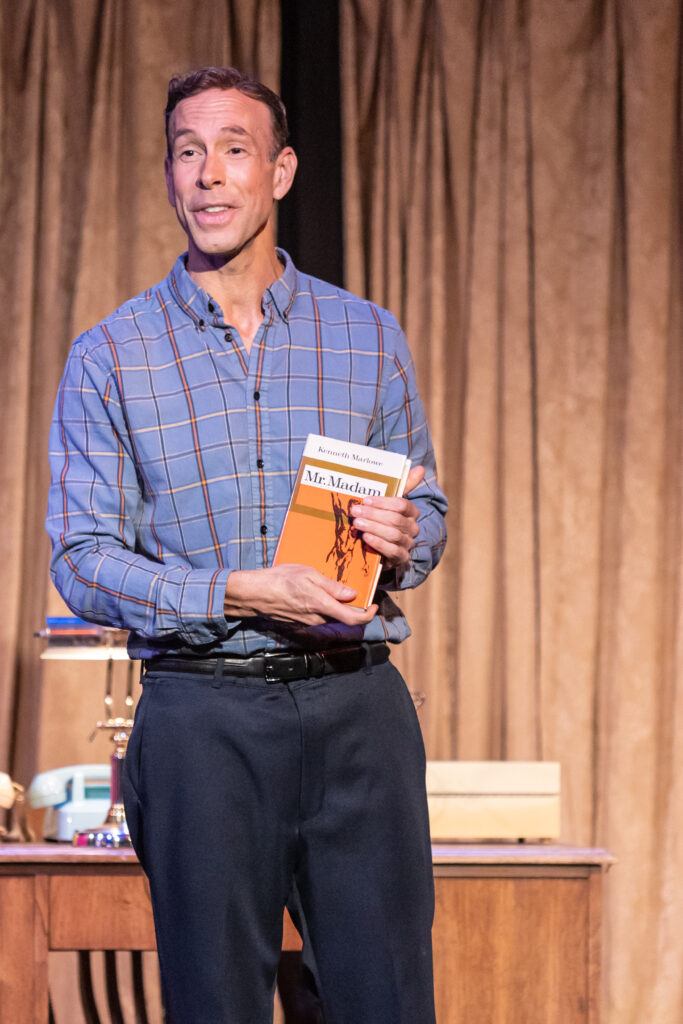 "Throughout my career it's been important to me to tell the stories of real people who have inspired me and who could inspire others. When I discovered Kenneth Marlowe, I knew I had to tell their story," says Donnie. "Kenneth/Kate Marlow has been almost-forgotten pioneer of the LGBTQ movement. Unabashed with their life, you could say that they were a trailblazer before there was a trail to be blazed. After writing his story as a book book, I am now delighted to be debuting Make Me Gorgeous in New York during Transgender Awareness Week."
Make Me Gorgeous! features Scenic Design by Walt Spangler; Lighting Design by Jamie Roderick; Sound Design by Ien DeNio; Costume Design by Jeffrey Hinshaw; and Props by Brendan McCann. Visceral Entertainment is the General Manager. Kasson Marroquin is Production Stage Manager and Ellie Handel is Assistant Stage Manager.
Make Me Gorgeous!, The True Story of Kenneth "Mr. Madam" Marlowe plays a limited Off-Broadway engagement through December 31 at Playhouse 46 At St. Luke's (308 W. 46th Street). Opening night is November 15 at 7PM. 
Tickets, now on sale at GorgeousPlay.com, range $39-$89, with table seating available for $89. An upgraded VIP package for $129 is available at the table seating, which includes a premium table seat, 2 free drinks, and an exclusive merchandise item. Additional ticketing & processing fees may apply. For groups of 8 or more, email groups@gorgeousplay.com.