Meet Brian and Eric Mazelin on the Queer Family Podcast
The Queer Family Podcast is a show all about the diverse experiences of making gay and queer families.
Host and queer mom, Jaimie Kelton dives deep with weekly guests about their journeys to parenthood in a world that can be challenging. "We talk about how we make our families, and how we show up in a world that wasn't necessarily designed for us," says Kelton. "The mission is to highlight, uplift and normalize queer families, letting the whole world know that despite the fact that we work extremely hard to create our very intentional families, we're just like every other parent out there, trying to get our kids to put their shoes on when we're already 25 minutes late for school. This transformative storytelling podcast will have you laughing one moment and crying the next, and always wanting to hear more."
To celebrate Pride Month, The Queer Family Podcast has come out with two episodes in one week. They are:
Out and Proud With The Mazelins | S12 E5 |  
Brian and Alec Mazelin share their journey as a couple, starting with their online meeting during the pandemic and quick connection, leading Alec to leave Jamaica and move to Florida, where Brian and his son lived. They publicly came out to their families through a heartfelt engagement post on social media, receiving overwhelming support from countless individuals. Motivated by this love, they embraced the importance of representation and remained visible, documenting their lives together and inspiring those struggling to embrace their true selves. Amidst growing anti-LGBTQ rhetoric across both Florida and Jamaica, these two serve as a beacon of hope to many.
Listen to the podcast here.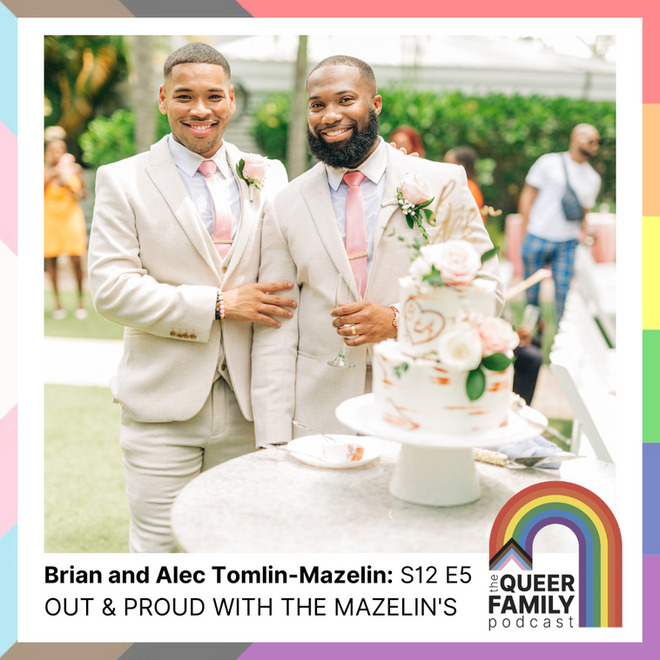 Love, Visibility, & Activism with Whitney and Megan | S12 E6 |
Whitney and Megan met on MySpace and started blogging about their lives together in 2009. What began as an effort to create a personal scrapbook of memories soon became a mission to provide the visibility they felt was lacking in mainstream media for LGBTQIA+ relationships.
Fast forward 15 years, and Whitney and Megan are now happily married content creators embarking on their path to becoming two mommies. Not only do they use their lives to challenge the status quo on what love and relationships look like, but they are also now utilizing their platforms to raise awareness and drive change regarding the inequality faced by same-sex couples in accessing fertility care in the UK. Through their activism, they're shedding light on the challenges and barriers that LGBTQIA+ individuals encounter when starting a family. Their goal is to create a more inclusive and equitable landscape for all couples, regardless of sexual orientation or gender identity. These two badasses are working hard to foster positive change in the LGBTQIA+ community.
Listen to the podcast here.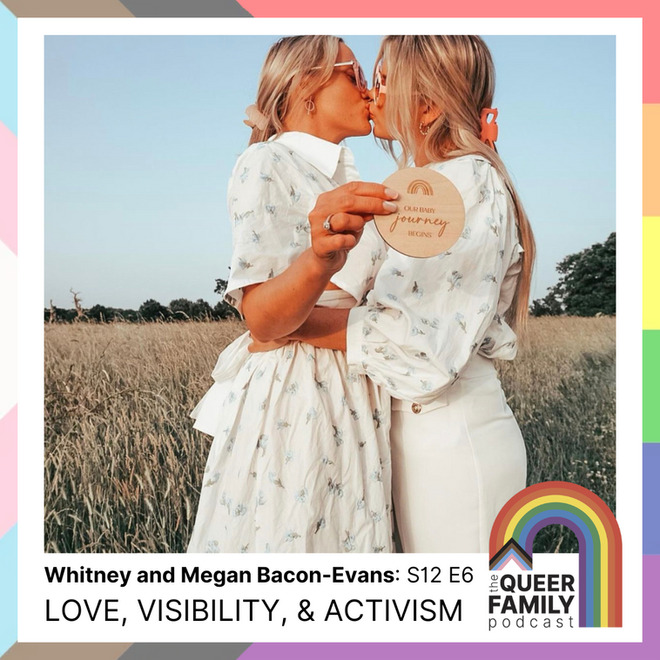 Subscribe to The Queer Family Podcast on YouTube so you can watch the interviews as well.