Meet the artist…Carl Hopgood
From the UK to LA, check out the work of this British sculptor, set designer, video and neon installation artist.
Carl Hopgood graduated with an MA in Fine Art from Saint Martins (now Central Saint Martins, CSM). At the time, the College was based in Charing Cross, and it was the 'grit and glitz' of Soho that inspired his move into neon, which now makes up a large part of his creative output.
He moved to the Hollywood Hills in Los Angeles in 2015, and he continues to be inspired by his surroundings. One of his most recent pieces, Chair Therapy: My Heart Is Open, was made during the pandemic, after seeing so many chairs and stools piled up in closed bars and restaurants.
With work currently on display in the Maddox Gallery LA and an upcoming solo exhibition at the start of next year, we caught up with Carl to find out more about how his time at CSM has impacted his work.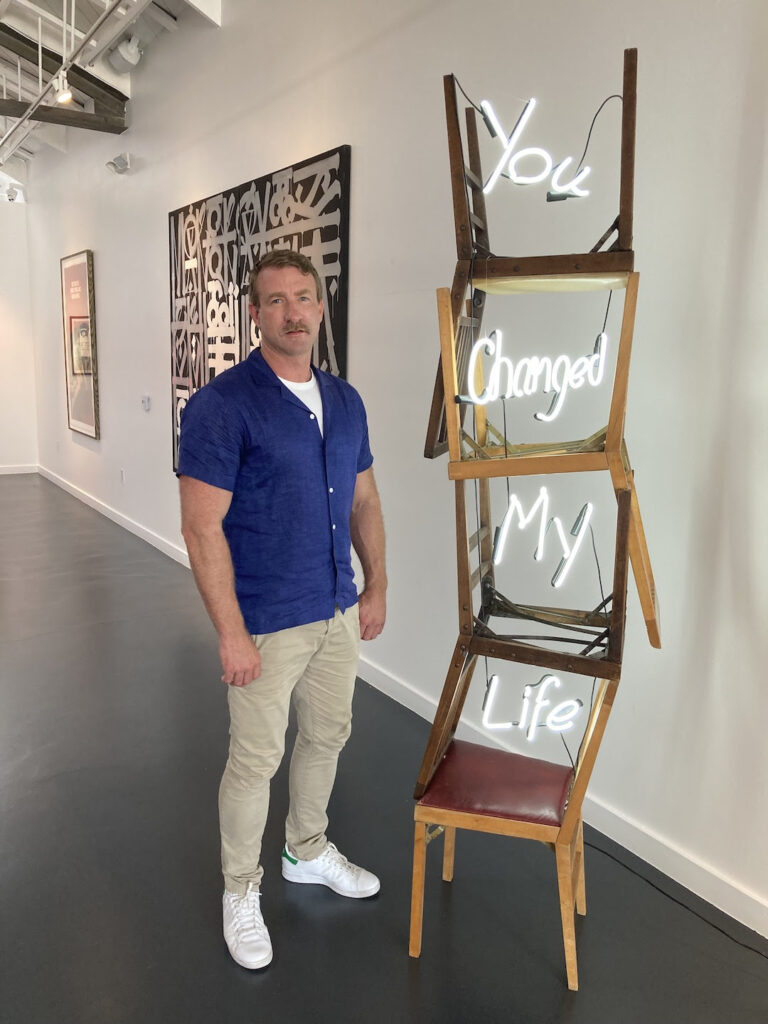 Why did you choose to study at CSM? What was it about the College that attracted you?
I chose to study at Saint Martins MA Fine Art under the guidance of the late artist and Professor Joanna Greenhill who was a big supporter of my work at that time. The post-grad course had access to the film and video department that was then located in Covent Garden so I spent a lot of my time there, it was a great place to have a free studio in Central London with all the galleries and museums on my doorstep.
My studio was on the old Charing Cross Road site which was very cool as it was also where the fashion department was so there was always a great buzz of creativity. I'd done my BA Fine Art course at Goldsmiths in New Cross, South London so it was exciting to be continuing my studies in the grit and glitz of London's Soho. This proved to be a big inspiration to me. While I worked in film and video I also began to work in sound and neon, inspired by the nightclubs and bars of Soho.
I became a member of the Groucho club which was around the corner thanks to the artist Nicky Carter who is head of their vast art collection. They gave me membership in return for donating a piece of my work to their collection. It was a great way to meet gallery owners and other artists like Sarah Lucas and Damien Hirst who were always there. I staged a solo pop-up exhibition of my work at the same time as my graduation show in one of the bedrooms at the Groucho Club. The show was called Disposable Desire. My work is actually featured in the book The Groucho Club – Our First Thirty Yearspublished in 2015 by Penguin.
What was your time at CSM like? Any highlights?
One of my highlights was being able to study, whilst at the same time exhibiting as a professional artist. I showed a video installation in the window gallery of the College on Charing Cross Road while at the same time I was jetting off to Rome to be in a group show alongside British artists Cerith Wyn Evans and Alessandro Raho. The show was called False Impressions, curated by Alison Jacques.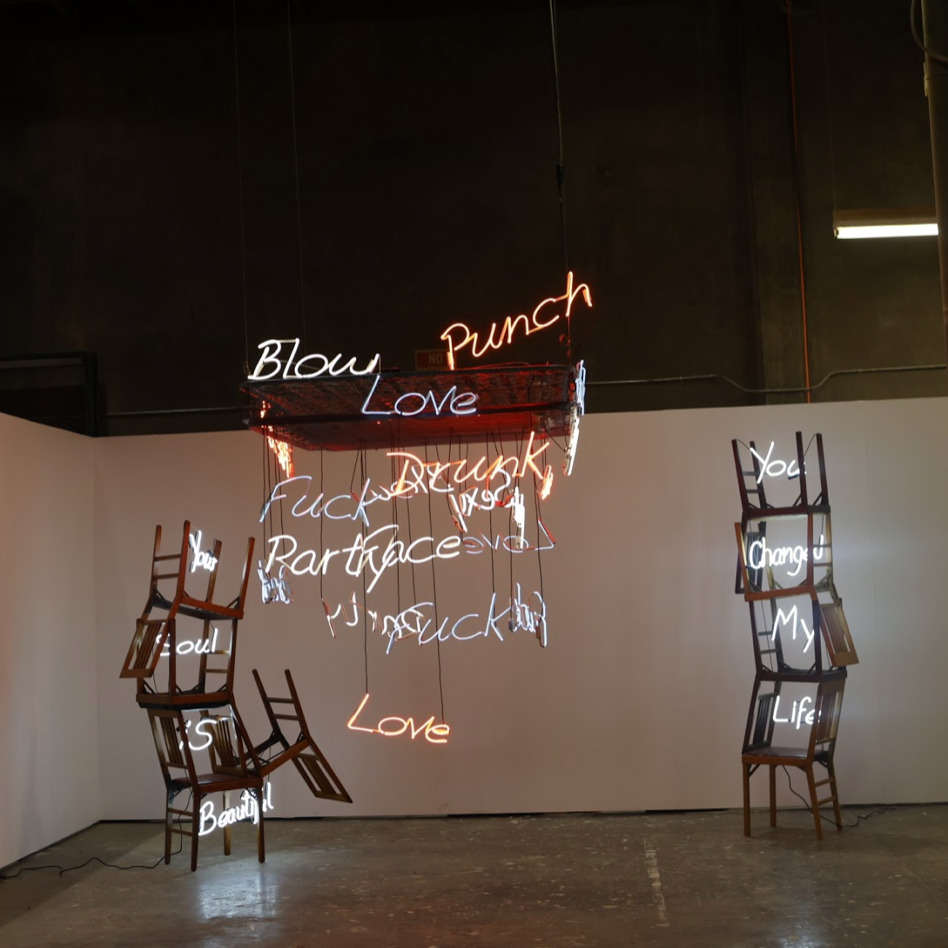 What have you been up to since graduating?
Since graduating I have exhibited all over the world in galleries and museums. My art has been auctioned to raise funds for several charities including the MTV Staying Alive Foundation at The Museum of Modern Art in Dallas and Sothebys for The Terrance Higgins Trust in London.
My artwork is in several public and private collections including The Groucho Club, The Jumex Museum, The Vinik Family Foundation and Morgan Freeman.

Tell us about your practice. What inspires you?
I work in film, video, installation, neon, photography and print. Represented by The Maddox Gallery who have galleries in London, Switzerland and Los Angeles. I currently have a sculpture on display at the Los Angeles gallery called Chair Therapy You Changed My Life. I first began the Chair Therapy body of work during the Covid-19 Pandemic. I would walk past bars and restaurants in my local area and see chairs and stools stacked up in the window. It was like a ghost town. It was devastating seeing the illness, death and economic collapse that the virus left in its wake. I felt hopeless but knew that by continuing to make art and staying safe I would get through this.
I am currently working on a neon public art project called Lost Hollywood which will be exhibited in the city of West Hollywood on the facade of the Circus Of Books building as part of the Art On The Outside Public Art Programme. It recalls many a lost night in Hollywood bar hopping. The neon sculpture will memorialize my favourite bars and clubs, literally giving a voice to the LGBTQ+ visitors and residents of West Hollywood who had experienced the bars that closed during the pandemic. Some have come back but others couldn't survive. Recorded soundbites of my stories at these places will be amplified from speakers below the installation. These were places where we came out, made friends, went on dates, celebrated life and laughed in the face of adversity. Lost Hollywoodwill be a memorial to the LGBTQ+ community. A clear message about preserving the legacy of these gay institutions and keep their spirit alive for future generations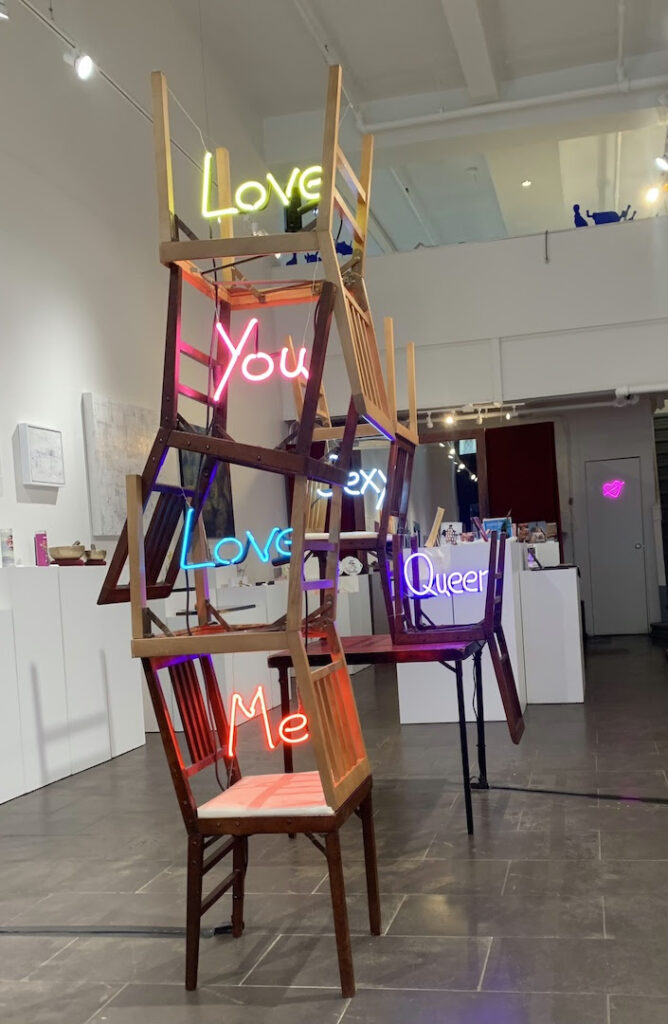 You're currently based in LA. Can you tell us more about the art scene there?
Los Angeles is a very special place. I live in the Hollywood Hills with my partner and two dogs. I moved here in 2015 the same time that my gallery opened in LA after being in London for 20 years. The Art scene is continually growing, there are many museums and galleries in Los Angeles. I love visiting LACMA and especially The Lynda and Stewart Resnick Exhibition Pavilion as well as The Hammer Museum, The Broad and The Getty Museum. I also love the LA Louvre gallery in Venice and Regan Projects in LA. Frieze Art Fair in LA usually previews in February for the third year, postponed this year to February 2022 because of the pandemic. Palm Springs is also a wonderful place to see art and architecture. The annual Desert X Art Project, Museum of Modern Art and the obligatory ride on the Aerial Tramway.
Where can people see your work?
You can see my latest work Chair Therapy: You Changed My Life currently on view at The Maddox Gallery in LA until November 2021 alongside Banksy, Chuck Close and The Conor Brothers. In New York Chair Therapy – Love Each Other at Maison 10 Gallery until October 12th 2021.
Future Exhibitions include January 2022 at the UTA Artist Space, curated by Arthur Lewis. The exhibition, titled Fragile World, will showcase new neon sculptures, digital taxidermy and video installation. Much of the work was created during the past year and a half during the lockdown and Pandemic. The UTA Artist Space is as much an extension of the United Talent Agency's commitment to the Los Angeles art scene, as well as a venue for showcasing global talent and new work. The new venue in Beverly Hills continues UTA's history of helping artists gain access to new and better opportunities.
This interview first appeared here.