Meet the man behind Soulo, the best bath you'll ever take
Entrepreneur Brian Lamy found baths comforting, especially to destress and balance emotions as a gay man in the Big Apple. Here's how his soak-in-the-tub coping mechanism birthed the business idea, Soulo.
Soulo founder Brian Lamy has always had a head for business. But at the same time the Brooklynite was trying to figure out what it meant to be gay, especially in one of the country's foremost gay communities. Every night when he took a bath, Lamy would reflect on his feelings—how he should be feeling, or a lack of feelings, what they're trying to tell him and what to do with them so that he would arrive at a better state of being. This lead to an idea for a more curated and meaningful bath-time experience in which you get to actually feel your feelings and not avoid them.
The Soulo Experience is an elevated bath routine that pairs candles and bath soaks with the emotional benefits of music and reflection, creating a space for self-exploration in a different way than traditional meditation, or just taking a bath. Depending on which product you select — Hello Sunday Morning, Hello Refresh Button, or Hello Daydream — you scan the QR code on the label of each product to access the curated music and reflections, which pave the way for identifying your goals and forming intentions.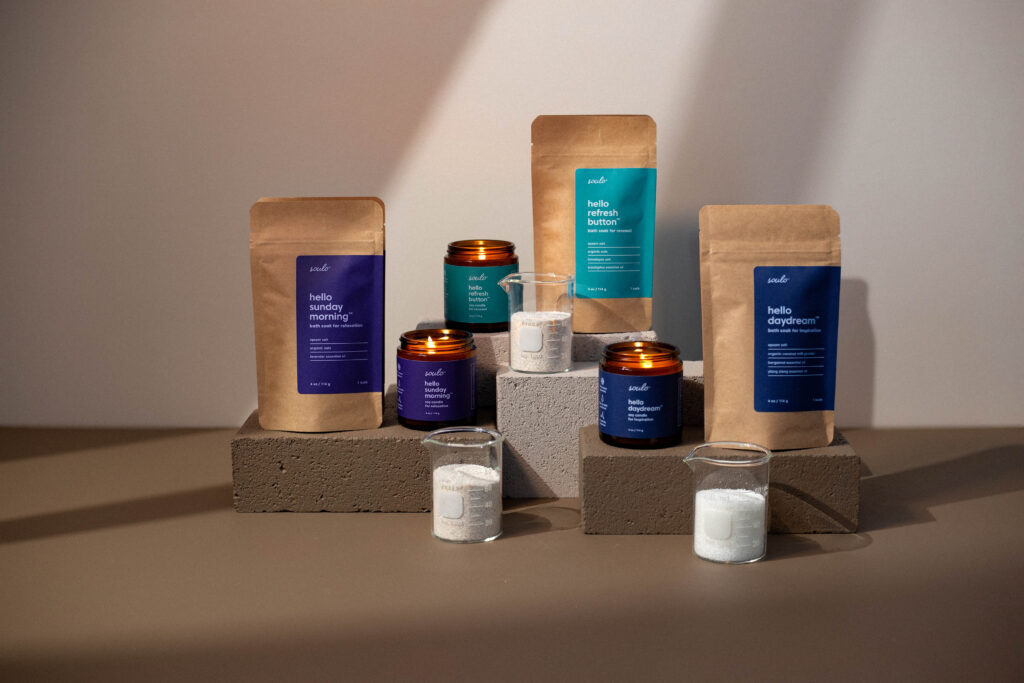 These three pillars of emotional wellbeing are offered by Soulo as relaxation, renewal, and inspiration—and they are backed up by the science behind the human senses. The products are simply and gently crafted using ingredients that help evoke specific emotions through touch and smell, such as oats, coconut milk, bergamot essential oils, and more.
We caught up with Brian Lamy to find out a little more about how he developed the Soulo Experience.
Soulo is a great idea. It feels like it is tailored for individuals, but does it work for couples as well?
Brian Lamy: Our current experiences are designed to help an individual learn more about themselves and feel their feelings, but they are also a great way for two or more people to learn about each other. The music sets the mood and the reflection questions can prompt conversations to learn more about one another. You'll see that it takes on a different meaning when you do the experience solo vs. with another person.
In the future, there might be one specifically for couples.
If you could only ever have one more bath (!), what would be your Soulo Experience pick?
Brian Lamy: If I could only have one more bath, I would light a Hello Daydream candle and pour in the Hello Daydream bath soak, before turning out the bathroom lights to enjoy the experience by candlelight—my favorite way to feel inspired.
The music in the playlist for Hello Daydream has soft and soothing beats that create space for my imagination to dream. The reflection questions prompt me to come back to the bigger picture of my life—a reminder of what I want to do, my intentions and how I connect with the world around me. Every time I come back to this Hello Daydream experience, I find myself giving a new answer that is more thought through than the last or a new approach based on recent experiences I've had. And so, it really does inspire me and remind me to continue envisioning the life I dream of.
The music from the Hello Daydream experience includes songs such as "Sister" by Haux, "Saturn" by Sleeping at Last, "Holocene" by Bon Ives, "Anchor" by Novo Amor, "Wildfires" by SAULT and "For a While" by Fenne Lily.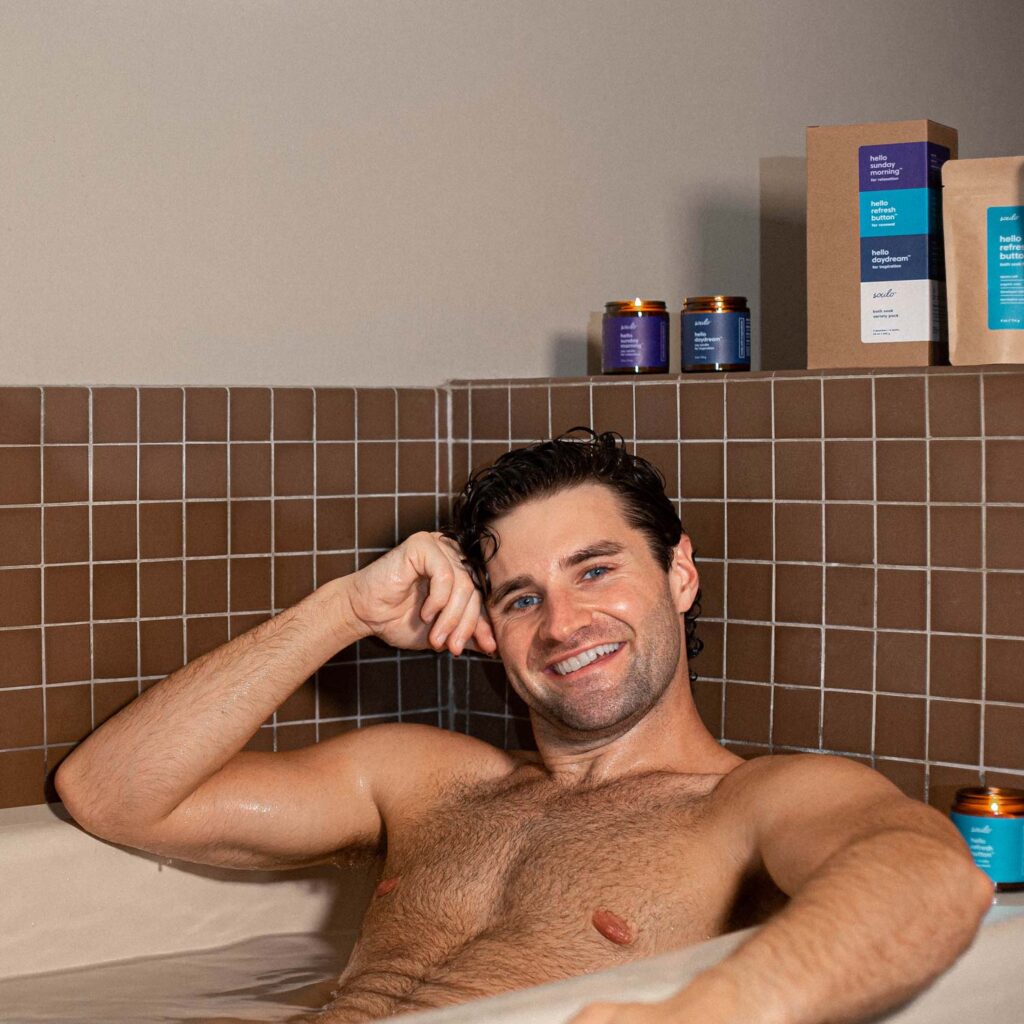 Explain how does the playlist aspect work? Is there an app?
Brian Lamy: To access the curated content that comes with every candle and bath soak, users can scan the QR code on the label of the product. This will launch a landing page specific to that experience which will link out to our curated music playlists via Spotify or Apple Music. Once the music is playing, come back to the browser to continue onto the reflection questions.
In the future, we have plans for an app so that everything can be done in one place, especially as we grow our content offering.
Most recent naturopathy/aromatherapy/hydrotherapy products seem to have been founded by women. How does being gay work for you in a nontraditionally male enterprise?
Brian Lamy: Starting a company is not easy, and it's even harder for women, BIPOC, and queer people. Less money is invested in companies founded by this group of people. Before I launched, I didn't think that I should address my identity as a gay man, but I realized that it's a very important part of my story and the reason I founded Soulo. I also recognize that there is a stereotype that self-care and wellness has traditionally been reserved for women to take part in and that men don't feel comfortable using bath products, candles or anything that culture might label as "for women."
One of my goals with Soulo is to provide a gender neutral approach that all gender identities can relate to and break the stereotype that self-care and wellness products are just for one gender. There are a lot of men who enjoy our products, but they might not share that as openly as women do. As part of my mission, I want to change the cultural conversation and help men see the benefit of self-care and wellness just as much as women do.
Where do you call home Brian and how has it impacted your business mentality?
Brian Lamy: I call Brooklyn, N.Y. home. I grew up nearby in Connecticut, and enjoy the entrepreneur mindset of New York and Brooklyn specifically. It's a mix of artists, makers, and entrepreneurs who are building the future and being thoughtful about the value their adding to people's lives.
I currently make and ship all of our products out of our small makers studio in Greenpoint—just at the North side of Brooklyn.
---
The Soulo Experience is a great way to gift someone else or yourself an experience that goes beyond just lighting a candle and taking a bath, and beyond the Holidays into the New Year!
Browse the Soulo Experience here.