Meet travel expert Jon Bailey of 2 Dads with Baggage
Our sister site, Vacationer Magazine, embraces all types of travelers with their Vacationer of the Week profile spot. Queer Forty is delighted to meet LGBTQ+ travel blogger and content creator Jon Bailey, one of the influential gay parents behind the popular travel website, 2 Dads with Baggage.
Jon regularly travels the world with his husband Triton and their two daughters Sophia and Ava. So, we had tons of questions about how they travel as a queer family, and he was more than happy to reveal some insightful travel advice and experiences, including their first tense experience traveling back to the U.S.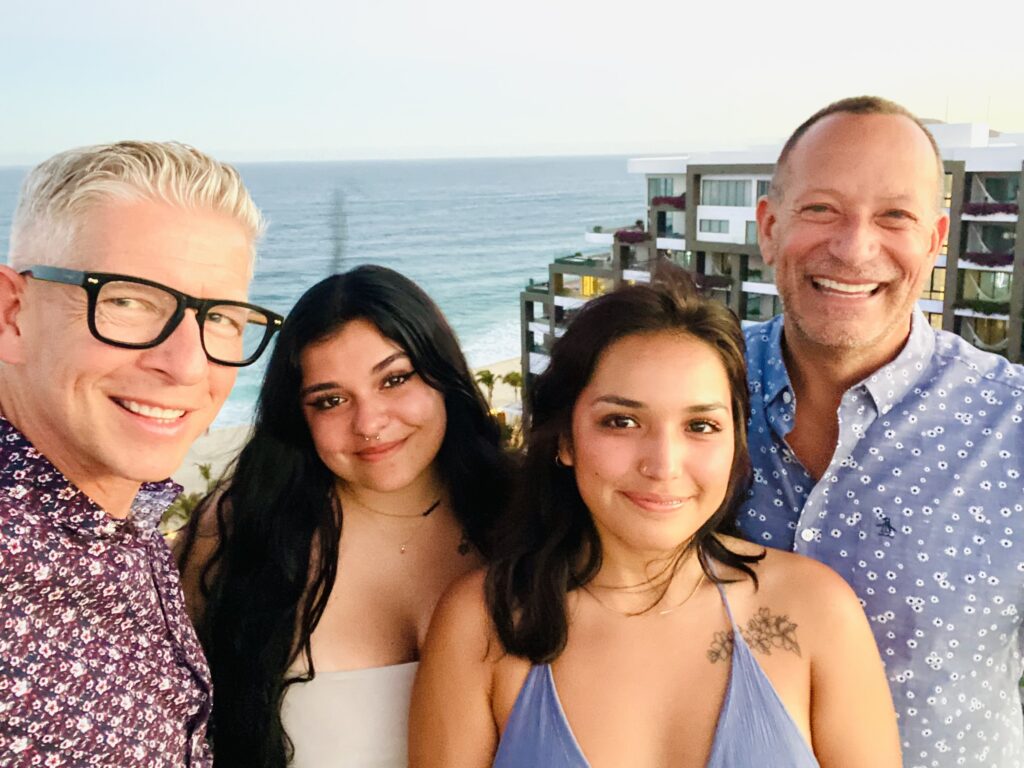 Originally from Orinda, California, Jon now lives with his family in San Diego, and he passes along his short list of things to do when visiting his current hometown. Jon also reveals how the blog started which has a surprising connection to President Obama, offers a list of the family's favorite travel destinations, and explains how Global Entry for the entire family is so important. This is definitely a Vacationer of the Week interview you don't want to miss out on!
Vacationer Magazine: At what age did you receive your first passport? What was your first trip?
Jon Bailey: I grew up in a household where vacation meant a road trip to visit family, so I always dreamed of traveling the world to see other people, places, and things. Finally, when I was 27, I received my first passport and took an epic three-week trip to Spain and Portugal with some friends. I've been off and running ever since.
What trip or travel experience sparked your passion for travel? 
Jon: When I was a kid, my first trip on an airplane was to Disneyland when I was about 8. I remember walking through the airport and being so curious about all the destinations people were headed towards. Rome, Munich, Tokyo, New York, Honolulu – they all seemed so exotic and far away. I was instantly smitten.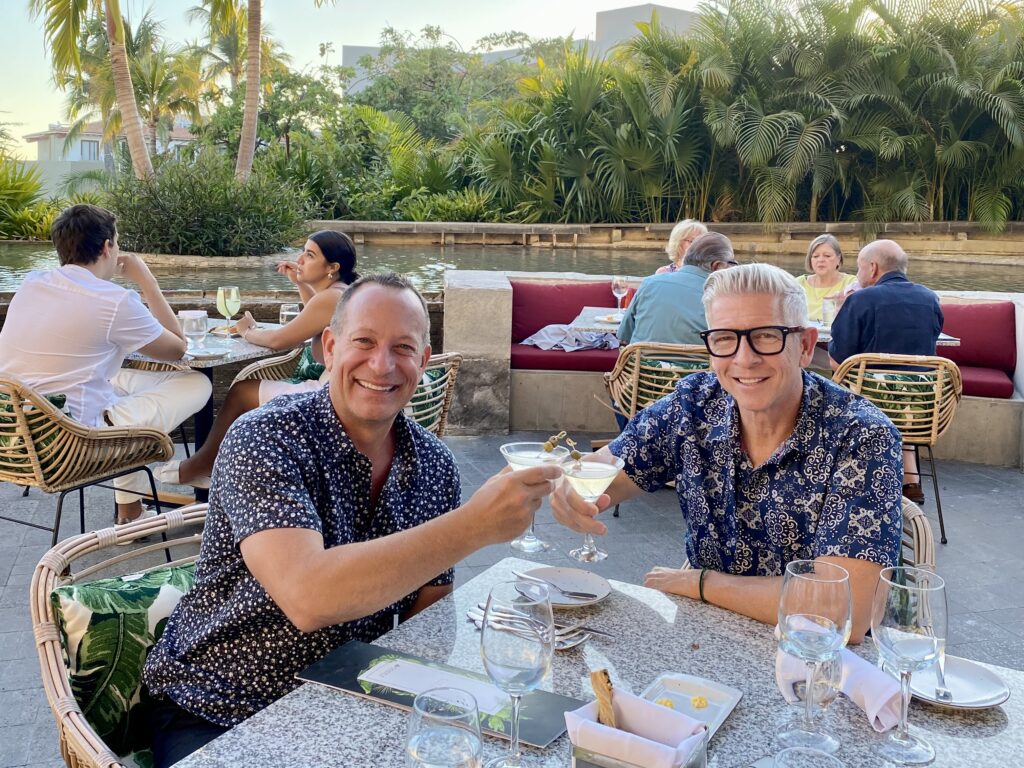 So, now when you travel, you have to think about not only yourself when it comes to travel planning. It's not you and your partner Triton, but also your daughters. When and how did you guys become parents?
Jon: Sophia and Ava became part of our family through open adoption, in which we met their birthmothers while they were pregnant and went through the last months of preparation for their birth. We were there at the hospital for their births, and in Sophia's case right there in the birthing room when the doctor said, "It's a girl!" – and handed our newborn baby to us. We watched each of them blossom from little newborn cabbages into pink, wobbly, sweet little humans right in our arms. 

So, segueing into a different kind of birth or beginning, when and why did you start your blog, 2 Dads with Baggage?
Jon: Long story but worth the explanation. When Sophia was 10 years old, she wrote a now-famous letter to President Obama about having two dads. He was running for reelection and had finally expressed his support for the LGBTQ community and same-sex marriage. Obama wrote a personal letter back to Sophia, and the exchange went viral. The sweet authenticity of a little girl's heart ended up with us in the international media, interviews with the likes of Katie Couric, and a trip to the White House. 
This spotlight-by-surprise moment thrust us beyond casual advice to our friends about traveling with young kids to strangers connecting with us and wanting more. In the midst of all this attention, I was asked to be a Brand Ambassador for Hilton Hotels, writing about family travel from our perspective. This led to many family press trips to destinations across the globe, and suddenly we had extremely well-traveled kids before they were even teens. So, in 2015 we combined two subjects we care about deeply – LGBTQ rights and travel.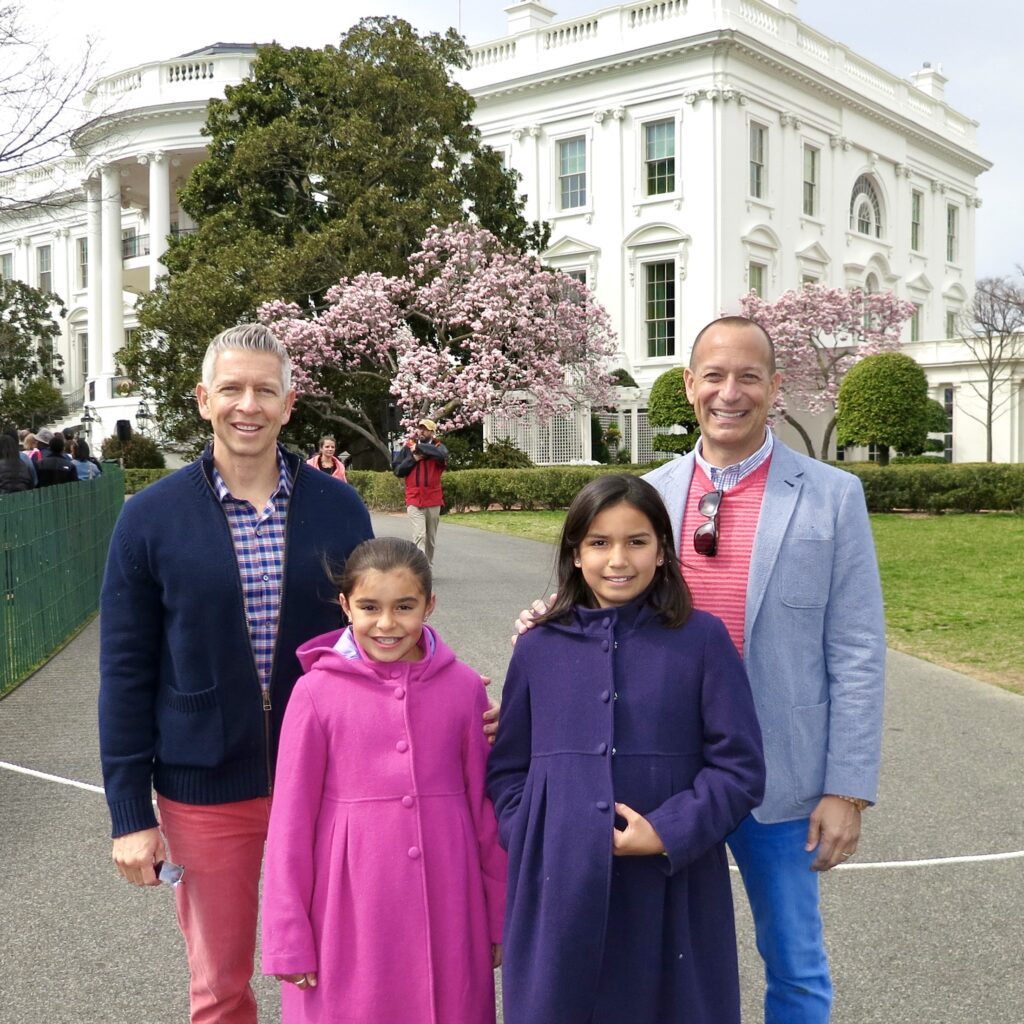 How do you identify yourself on the LGBTQIA spectrum? Tell us if how you identify influences the way your travel. If so, how?
Jon: We are gay white men with two Latina daughters and realize that has affected our travel experiences in varying ways. It was never more apparent than our first international trip with Sophia to Cabo San Lucas when she was not yet one year old. Everything was fine with the adoption paperwork on the way into Mexico but leaving was another story. Our return flight was fully boarded and sitting on the tarmac for way too long when suddenly armed Federales rushed onto the plane and removed us. Evidently, they thought we trying to smuggle our brown-skinned child out of Mexico. It was the scariest travel situation we've ever been through, and once resolved it still left a bad taste in our mouths for years.
In the early days, we traveled to London and Paris when the girls were just five and seven years old. Going through customs into the UK, we were prepared for any questions that might come up. Fortunately, our entry and return went smoothly – except for the scrutiny of eyes shifting back and forth between our passport photos and real faces.
As soon as we could, we applied for Global Entry Passes for the entire family. After receiving those it has been smooth sailing.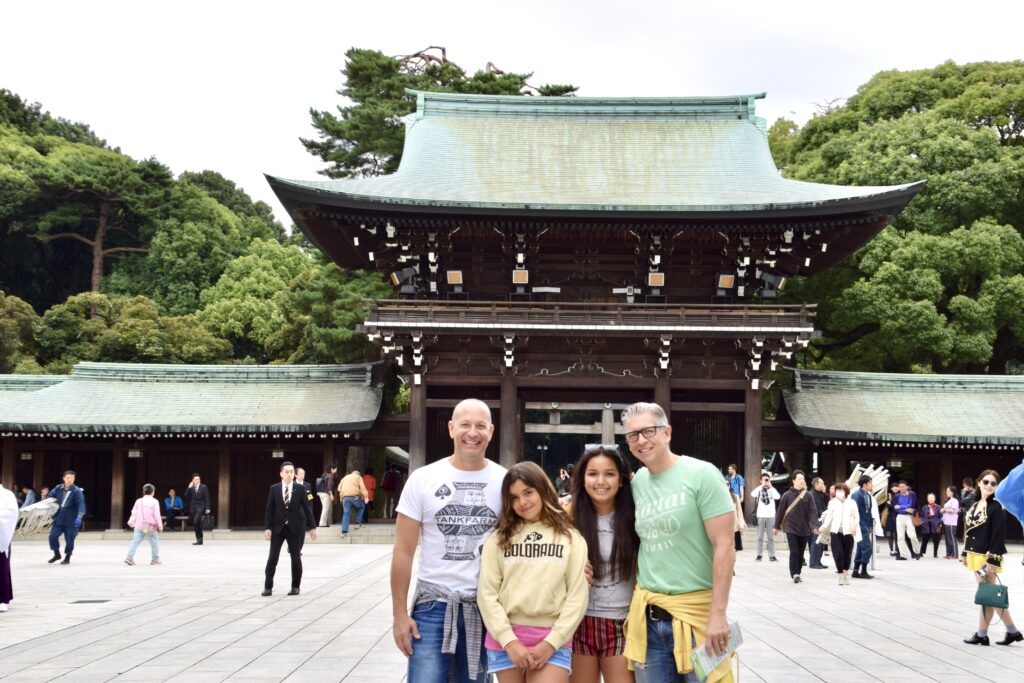 Wow! Going through that would make anyone feel anxious about traveling internationally. That's great Global Entry has made it an easier family travel experience. How do you balance traveling as a family and having some downtime to travel as a couple?
Jon: We genuinely enjoy spending time with our kids and traveling with them has always been a true joy. Having said that, all couples need some private time and we had to make a point of scheduling that for ourselves. Even if it is a quick trip to Palm Springs to soak up the sun for a weekend, we've made the time for each other. For our 10th anniversary, I surprised Triton with a trip to Paris because he had never been. We left the babies home with a trusted friend and spent a too-quick week in the City of Love. It was heaven.

You've traveled quite a bit. Is there a travel destination that most queer travelers would think isn't safe to visit, but you've visited and enjoyed it?
Jon: Mexico for sure. After our initial isolated experience, we forayed back South of the Border to great success and only positive experiences. As of now, we must have visited various locations throughout Mexico at least a dozen times as a family. Despite warnings of potential violence or Montezuma's Revenge, we have consistently visited areas of Mexico and felt nothing but safety and a warm glow. 
In particular, the areas of Riviera Maya and specifically Cancun have been called out by the State Department with travel warnings in the past. Our trips there have been nothing short of fantastic, and the girls beg us to take them back again and again. Most recently we had an action-packed, adventure-filled vacation at Xcaret Hotel Mexico in Playa del Carmen that took our love of Mexico to a whole new level.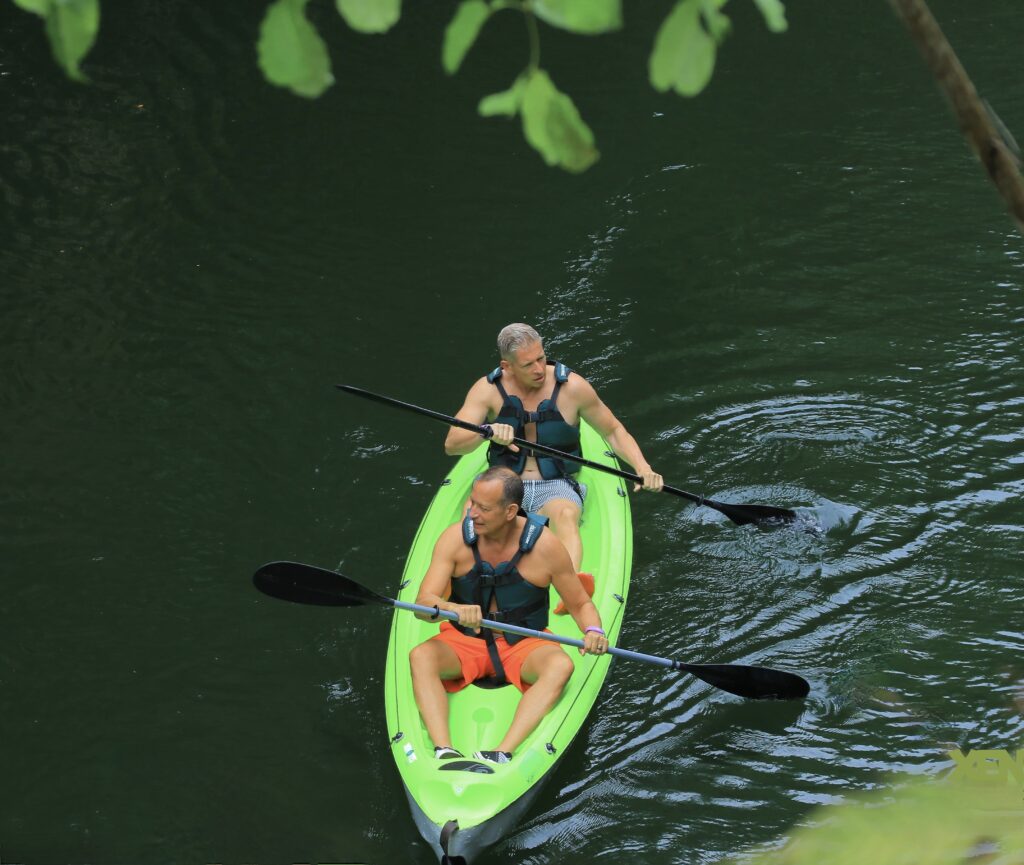 How long have you and Triton been traveling together? What was your first trip together? Would you recommend it to other LGBTQ+ travelers?
Jon: Triton and I both love to travel and had already collected several stamps in our passports before we met. Our relationship continued with that passion, and we had fun trips together to places like San Francisco, New York, and Palm Springs. Our first international trip together was to Puerto Vallarta, in the typical gay boy style of pack travel with 14 guys in Speedos. Ah, those were the days!
Puerto Vallarta has become an international gay mecca, and we don't need to convince anyone to visit there. However, the area of Punta Mita is a bit removed from the party scene, located along the coast about an hour drive north. Most of the luxury hotels are located there, and our recent visit convinced us that Punta Mita is a great alternative for LGBTQ visitors who seek a quieter experience.

Was it naturally easy to start traveling as a family? Why or why not?
Jon: Traveling as a family has always been easy for us, or I guess I should say it has been as easy as it would be for any family – gay or straight. Kids are kids, and sometimes they express themselves loudly on airplanes when others may have hoped for peace and quiet. Sometimes their needs require that we leave something quickly rather than staying for the whole experience as we had intended. Having kids – at home or on a trip – requires tremendous flexibility from parents. We choose to lean into that and enjoy the ride.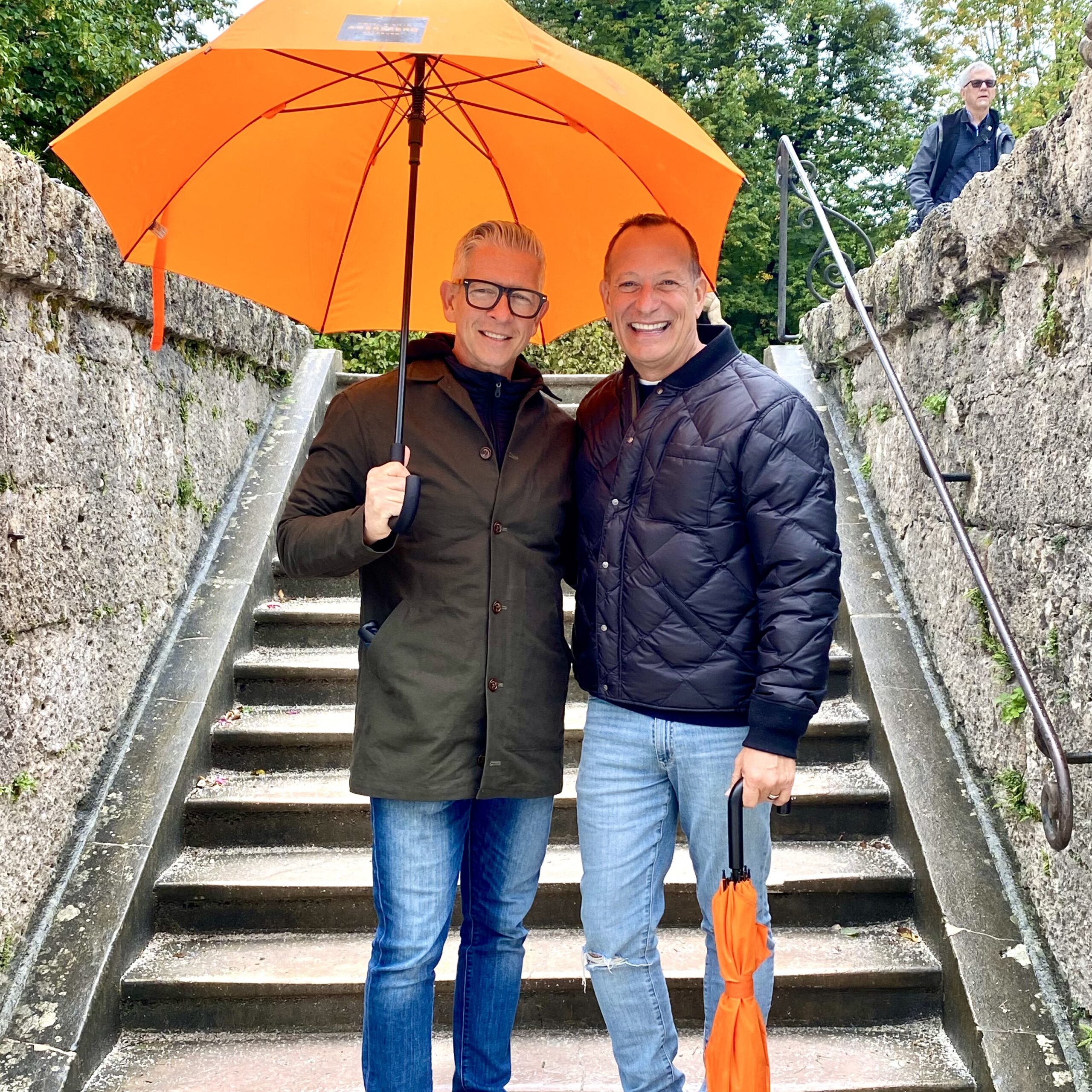 Do you have any tips or recommendations for parents traveling with kids?
Jon: I think my answer about flexibility and leaning into the experience is key. I think this goes for anyone who is traveling in the modern age. Travel is not kind to control freaks, so best to let your guard down and go with the flow before you end up on someone's "Karen Tik Tok" with a video of you pitching a fit in an airport. 
When our kids were little, we would surprise and delight them with backpacks filled with new toys and activities they had never seen before. Onboard the aircraft, we would pull one thing out of the backpack at a time, allowing them to play with that one thing until they grew bored of it. From there, it was on to the next new things, and so on through the end of the flight. It worked so well that we have many friends who have duplicated this process with great success.

Aside from being a devoted dad that embraces family travel, how would you describe your travel style?
Jon: My travel style could be described as an immersive cultural explorer with a side of luxury travel and outdoor adventure.  
As a couple, our travel style has evolved as our kids have gotten older. Now away at college, the things they are interested in more closely match our vacation vision. We've been fortunate to focus mostly on luxury travel, so the girls have become spoiled with gorgeous hotels, private tour guides, and slip-in-the-side-door experiences. We do love the outdoors, so adventure travel is often part of the equation as we continue to crave more and more unusual and exotic destinations in addition to those tried-and-true ones.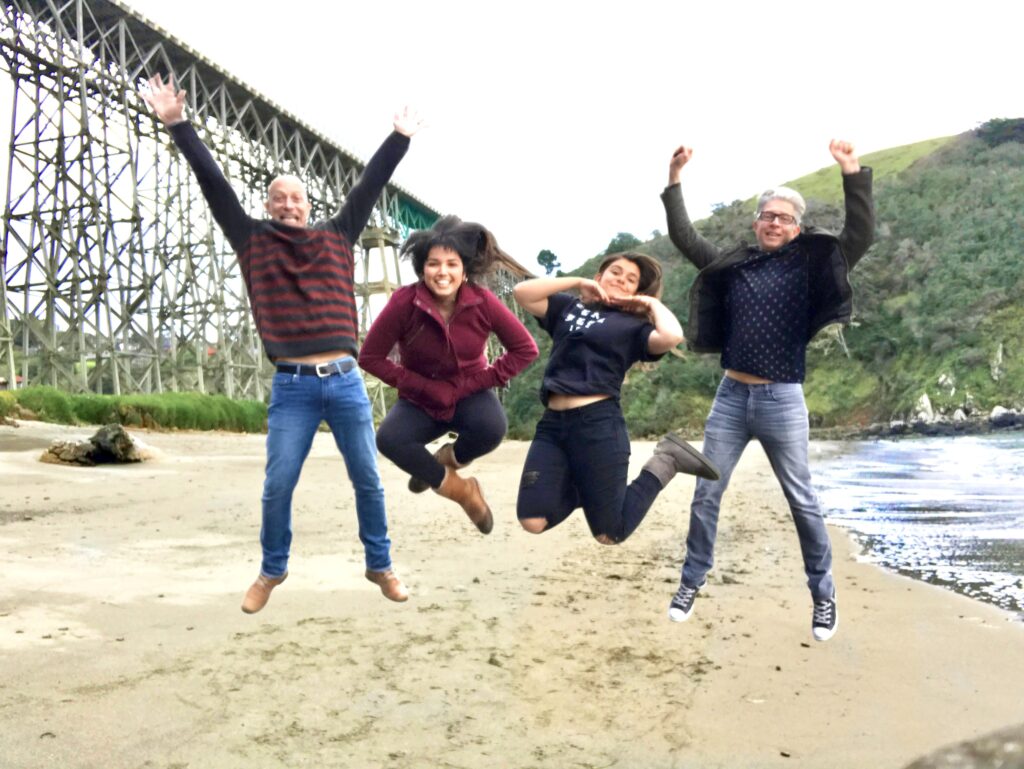 What are three things LGBTQ+ travelers should do when visiting your hometown or the current city where you live?
Jon: We feel so lucky to live in a place like San Diego, with such an open and welcoming environment for our LGBTQ community. I mean, even our mayor is gay. Hillcrest has traditionally been our gayest neighborhood, and most restaurants, bars, clubs, and gathering places are still gay-first businesses. Having said that, here are some top spots we recommend when visiting San Diego:
1. Balboa Park – Full of sunshine, beautiful people, museums, gardens, culture, and sunbathers. Sundays here are particularly visit-worthy.
2. The San Diego Zoo – It's famous for a reason. So many animals, plants, and creatures to see here, along with some mighty fine people watching.
3. Black's Beach – The famous (or infamous if you prefer) nude beach below Torrey Pines Golf Course, where locals and visitors let it all hang out. Waves. Dunes. Surfers. Need we say more?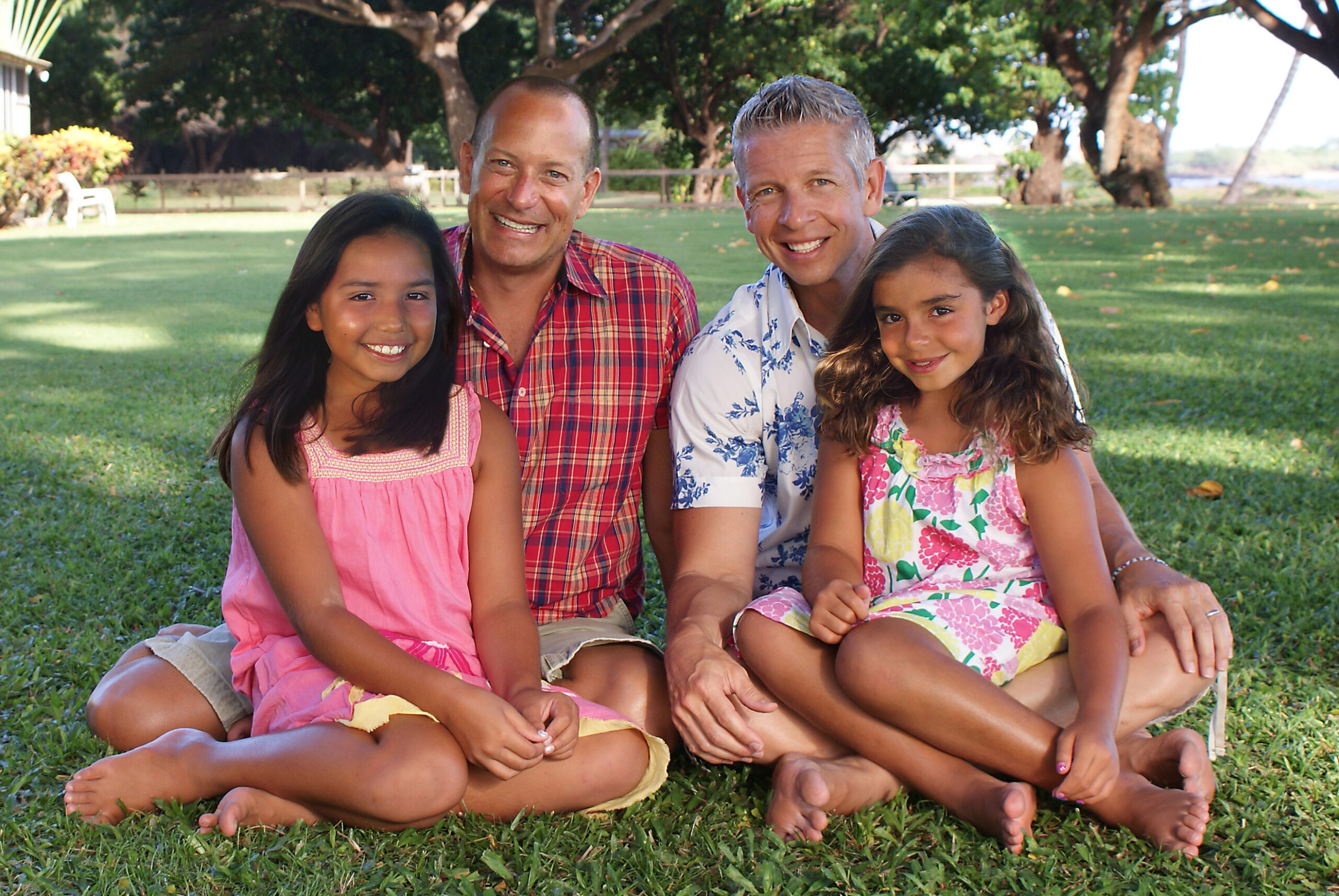 What are your top three favorite places to visit? Why?
Jon: Such a tough call when we have so many great memories.
1. Amalfi Coast of Italy – Our trip here seemed like clips from a romantic movie, complete with lazy beach days, incredible meals served family style, classic wooden speedboat rides to Capri, and zippy sportscar rides on the curviest roads ever. This is a destination our entire family still longs to visit again.
2. Ireland – South of Dublin and along the coastline from Cork headed east are some of the most beautiful places in that country. Greener-than-green pastures are filled with sheep, narrow country roadways barely fit cars passing each other, and the craggy coastline is dangerously breathtaking.
3. The Island of Kauai – We've been here more times than we can count, almost always staying at the same resort in the same cottage. Waimea Plantation Resort isn't the most luxurious, but its sweetly authentic Hawaiian vibe and random chicken flocks are a family favorite.
4. Mexico (any) – If you had asked for four favorites, I would add Mexico because its people are so warm and welcoming, the food is spectacular, and the experiences are always show-stoppers.
If you were going on a road trip with your family. What singers or bands are always on your playlist?
Jon: That's an easy one: ABBA Greatest Hits. I think our entire family knows every word of every song and is not afraid to sing along in public or private. There are actually a few dance moves that may play out as well, based on inspiration from classics like Muriel's Wedding and Mamma Mia!

You can follow the travel adventures of Jon, Triton, Sophia, and Eva on Twitter, Facebook, Instagram, YouTube, and Pinterest!