Miriam Bloom has found her queer calling with flowers
If you must buy imported roses from the bodega, Miriam Bloom has some handy hints on how to make them utterly fabulous. But the queer flower whisperer has more expertise to impart, and you have a chance to meet her and learn!
Self-taught super-florist Miriam Bloom is changing the way we choose, appreciate, and arrange flowers for everyday use in the home — and of course special occasions such as the Holidays or your big gay wedding day.
The Brooklyn-based Bloom (yes, that is her real name!) came from a background in restaurant hospitality and fortuitously ended up homing in on one of her favorite aspects of creating a welcoming environment: flower arranging.
Her surname proved to be a harbinger of a hidden talent. "Bloom is my real name. The Universe was like, Do this! It just took me a while to figure out," says the exuberant owner of Miriam Bloom Designs.
"I stumbled into this by accident. I was in hospitality and fine dining. A number of years ago in a restaurant in Tribeca my boss asked me to go to the store to get some bodega flowers and put them in little vases on all the tables." And so began a pleasurable pursuit in which Bloom found ways to expand and improve simple table decorating into something more elevated and expansive. She now works on large scale events such as weddings and corporate occasions where impressive installations using flowers and plants are required to impart a memorable, celebratory, and life-affirming atmosphere.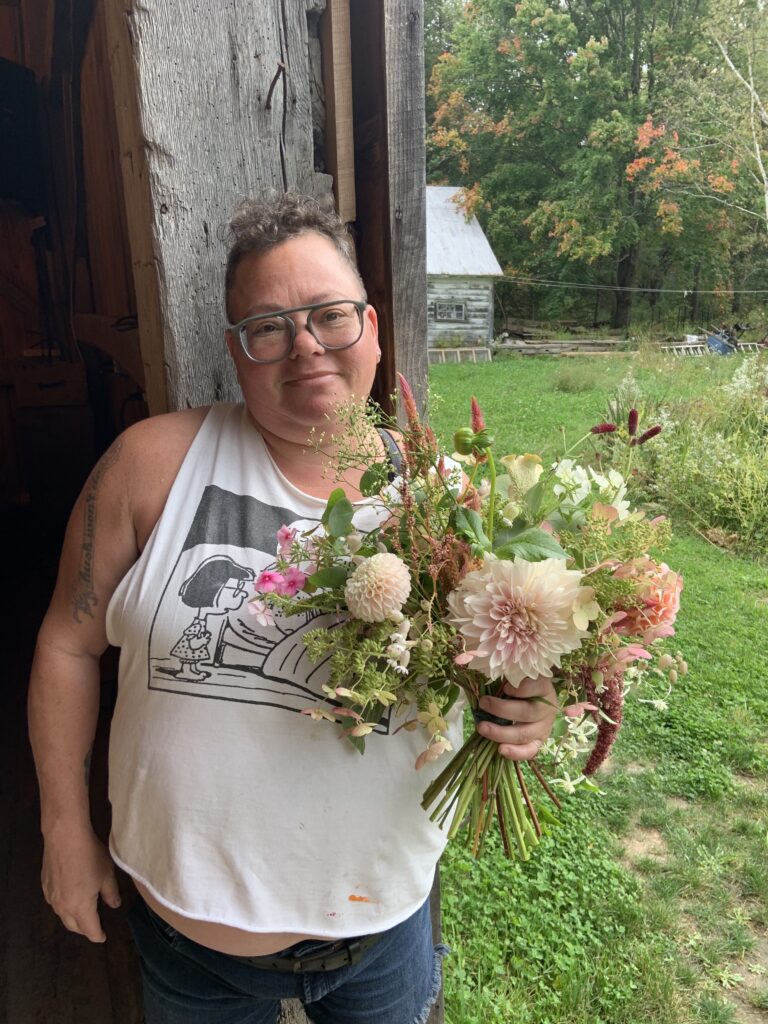 While hitting her stride in her maturity (Bloom is 51), her innate ability emerged at a young age through her uncanny observation skills. "When I was a kid I used to think I should be a private investigator because I always noticed the smallest details about things. I've always had an eye for design and color and have been a little bit craft-y."
Over the years she has developed both her aesthetics and her ethics, championing a natural approach to flower arrangements and working sustainably wherever she can. She orders flowers that are local and in season, and often travels with a pair of clippers so that she can go "urban foraging."
"You rarely find roses in my work because roses come from far away," she explains. Additionally, she never uses floral foam — that dark green packing substance that helps hold stems in place in commercial bouquets — because it is a toxic microplastic that never breaks down.
The coronavirus pandemic transferred Bloom's skillset out of restaurants and into weddings, especially queer, in New York, Brooklyn, and within about a 100-mile radius. Her goal, increasingly, is to focus on perfecting queer weddings and to collaborate with other queer wedding vendors. "It's my way of celebrating our love," she enthuses.
Another aspect she most enjoys about her work is its "meditative" side. "I have a big wedding this weekend so I'll buy a whole lot of flowers, unpack them, trim them, take the leaves off — and it gets me thinking, handling each stem — what is the curve of the stem, how might it want to be in a piece? Rather than trying to manipulate the flowers, I'm trying to see what they do and enhance that.
"It's important to stop and be in the moment," she says. "This moment is never going to happen again. It is meditative, it lowers our blood pressure, makes us more conscious. I get very philosophical about it. It's helped me to be a far more present person."
Lucky New Yorkers will have the opportunity to come to a Queer Forty event at BoConcept design store where Bloom will offer some of her expertise, just in time for the Holidays, when you might be thinking about flower arrangements for your table.
"I will take a bodega bouquet and prep and arrange the flowers, and demonstrate a couple of techniques where you don't use flower foam but can give your flowers more structure in the vase."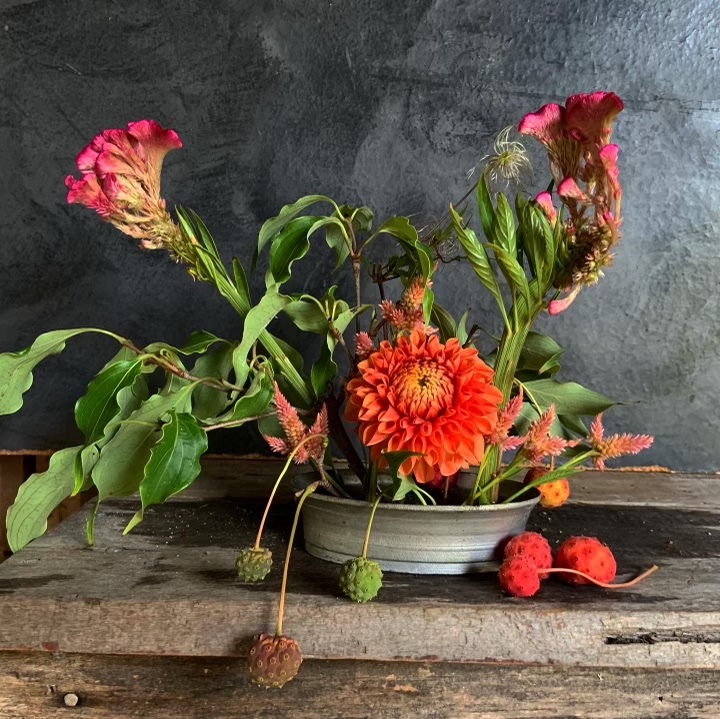 For the demonstration, she may or may not use the offending rose, or the ubiquitous carnation, judgment-free. But when it comes to her personal preferences, Bloom's heart is with peonies. Peonies are the first flower she remembers noticing as a child — and they bloom persistently in June, peak season for gay weddings. Another of her favorites is Waxflower, a variety of myrtle that has a wild and free appearance; it is a flower which she considers "unsung" and partly embodies her tagline: "wildcrafted, seasonally inspired, asymmetrically designed."
Explore more of Miriam's work on Instagram @miriambloomdesigns.
---
Enter our competition to be in with a chance of attending our exclusive BoConcept event on November 9th in New York City to see Miriam do her demonstration and enjoy free drinks and appetizers from our sponsors.
Fill out the form below and winners will be notified on Monday 7th November.