Musician Maia Sharp masters the art of change, and it sounds good
Nashville-based musician Maia Sharp has written songs for Bonnie Raitt, Trisha Yearwood, The Chicks, and Cher—to name just a few. An accomplished and prolific singer-songwriter in her own right, Sharp has a new album out, Reckless Thoughts.
The culmination of a 25-year career, Reckless Thoughts has nothing reckless about it. But it is deep, heartfelt, and continues in the confessional vein of 2021's Mercy Rising. That album marked the emotional upheavals caused by the end of a long relationship and leaving her home state of California — but this album mines the acceptance behind the latter in the excellent track "California." Life continues to be life and more soul searching is done on Reckless Thoughts in an album that almost indefinably blends alt-country, indie and pop-rock-folk to address the new composition of her life — the shedding of old dreams and the embracing of single selfhood in a supportive community where musical souls thrive. It's emotionally rich, it's honest, and it's very enjoyable. The satisfying, woman-centric opening track "She'll Let Herself Out" is a perfect precursor for the rest of the album which probes the myriad facets of an old soul.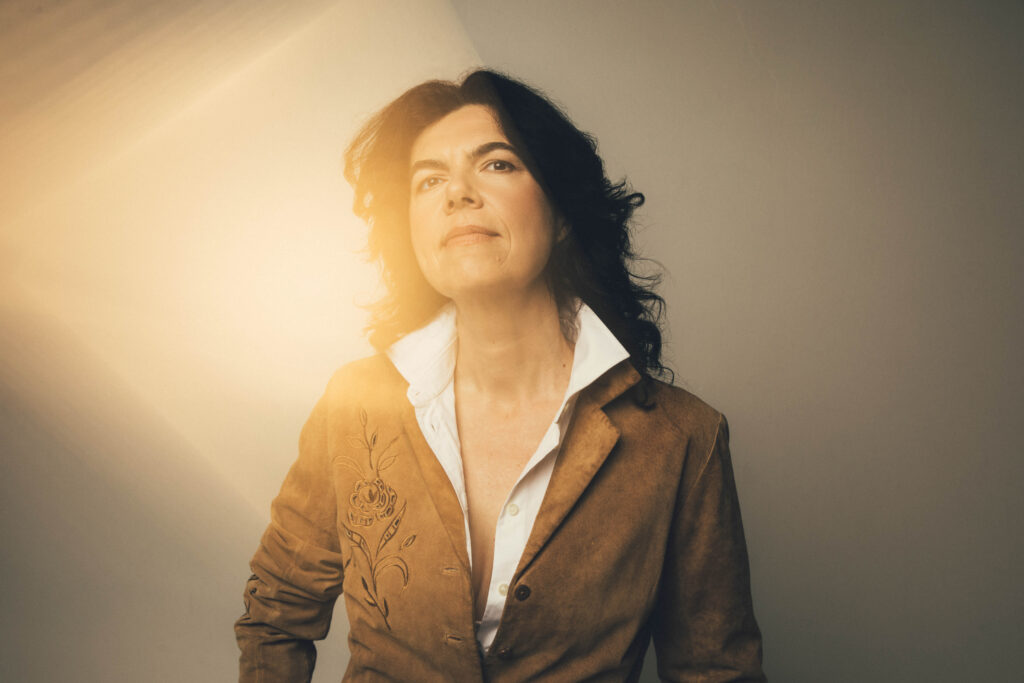 Sharp, 52, grew up in Los Angeles the daughter of Grammy-winning songwriter dad, Randy Sharp (Linda Ronstadt, Emmylou Harris), she studied music theory at California State University Northridge, and originally trained as a saxophonist. Influenced by her dad, and the likes of Bonnie Raitt, Ricky Lee Jones, and Paul Simon, she ventured into songwriting and performing in her 20s.
Soon she was working with Cher (on her 1995 album It's a Man's World) and being invited to songwriting workshops by Carole King! Sharp then carved out her career as a solo singer-songwriter, touring and performing live in the US and internationally, while being an NYU adjunct professor — and a longtime participant in Songwriting with Soldiers' writing retreats for veterans.
And so it's a variety of artistic influences and life experiences that show up in her music, showcased by an appealingly warm, androgynous voice — beautifully on show in the second track, "Old Dreams." The 10-track Reckless Thoughts has something for everyone who understands matters of heart and home and hope. Newer female talents on this turf are Angel Olsen and Phoebe Bridgers, but veteran artists like Mary Chapin Carpenter and Maia Sharp should never drop from your playlist because they come from a music lineage that is keeping the art of the album alive.
Self-produced, Reckless Thoughts is worth doing a deep dive into, so I grabbed Maia Sharp for a look into how she got it all together in this new installment of a long-practiced craft.
---
With the endless digital streaming offerings of music, how does an album come together aesthetically for you?
Maia Sharp: Once I had the title (Reckless Thoughts is in a line from the all too true "California") I could address the whole album image concept, then the singles one by one. If my masterful photographer/designer, Anna Haas, and I did our job there's a visual and emotional through line from image to image whether you're looking at a tiny square on your phone or a proper 12 X 12 vinyl cover.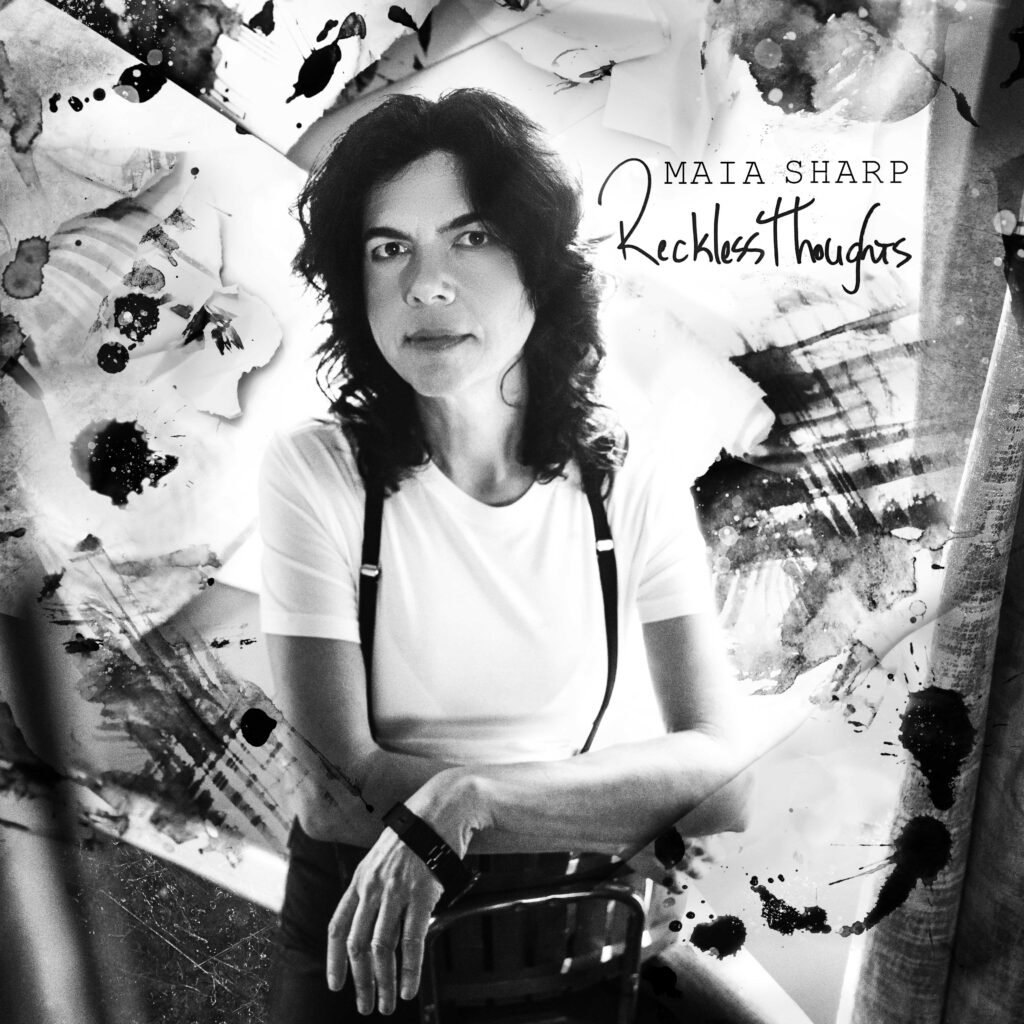 When do you know you have an album as a concept and collection of tracks and are they tied together by a theme? What is a conventional number of tracks these days – 10 tracks, 12, and is this affected by whether or not it will be out on CD and vinyl?
Maia Sharp: It always starts with one or two songs that haunt me until I know they're the flagships of the next project. Then I look through what I've written in the past few years for others that might play well with the first two. And when I've exhausted that pool, I write the rest with a whole album in mind. I never consciously have a theme but sometimes the songs know before I do. In an interview last month, I realized this album Reckless Thoughts is answering some of the questions my last album Mercy Rising was asking. Not sure why Mercy felt complete at 12 songs and Reckless at 10 but that's how it shook out. I don't think my plan to press vinyl affected the number but it definitely influenced the sequence. Side B track 1 is an ever-important spot.
In the case of Reckless Thoughts, the album, to me, seems to speak of limits and boundaries — what people need, how much people can take, what makes or breaks them. Especially "On a Good Day" and "Too Far Now" and "Gone Cryin'". How did these songs come about?
Maia Sharp: They came about in three different ways, but you're right, these are dealing with a similar push and pull. "On a Good Day" started with that cool, cyclical verse progression my co-writer, Kim Richey, brought into our session. It sounds like oscillation and it led to the idea of going back and forth between the good days and not-so-good but every time it goes south it's a little easier to get back on track. "Too Far Now," written with Mando Saenz, is celebrating the incremental too. I brought the lyrics of the first two verses in because it was so damn true. I moved to Nashville at the end of my 21-year marriage and at the beginning of that new chapter I had to trick myself into making progress. In a new state and new life, dizzy sometimes from the anxiety of it, all I could do was take a few steps forward and not look back until eventually I had gone too far to turn around. "Gone Cryin'" written with Elizabeth Elkins was one of the first Zoom writing session either one of us did right at the onset of the lockdown. John Prine had just died and we wanted to write a song inspired by him that did not apologize for the sadness we were both feeling about him and the unstable state of the world.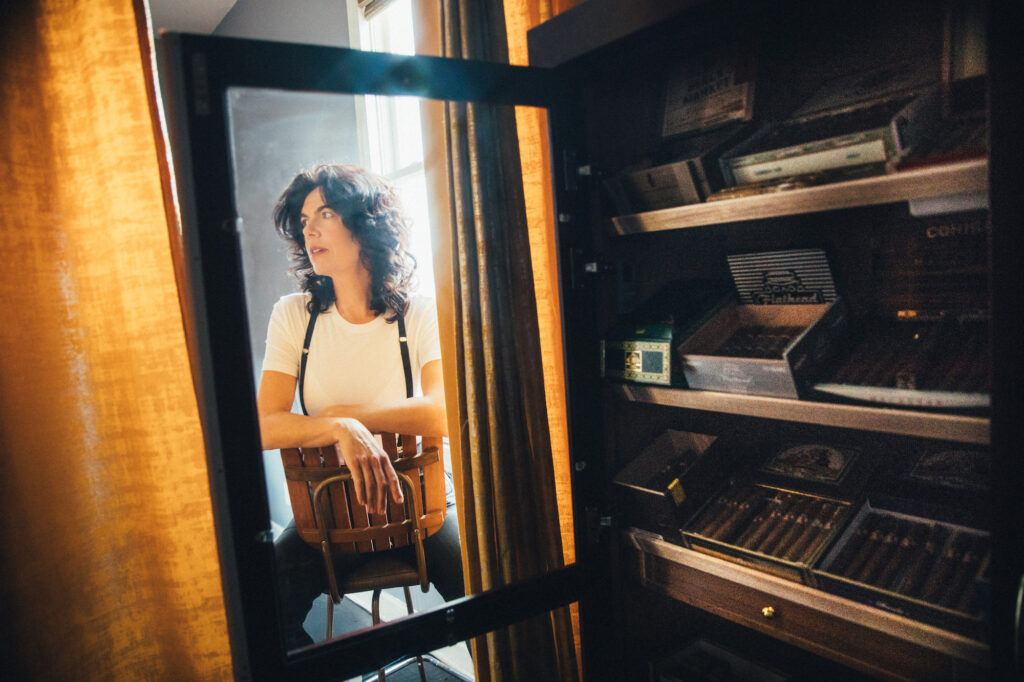 Songwriting process: What comes first? A potential lyric, some chords, a beat, a narrative. A fight, a wish, a prayer?…I've heard so many different theories and approaches but I'd be honored if you'd share some of your process with us. Would you use a track from the album as an example?
Maia Sharp: I wish I had a theory for you but each song has its own story. "Fallen Angel" came from a crush I had on a woman who once referred to herself as a fallen angel. Her saying that reminded me I'd had that whole first line of the song "she said 'honey, don't fall for a fallen angel' – I said, 'baby, you never had wings'" in the notes of my phone for months with no idea where the story could go until then. The crush didn't lead to anything more but the oxytocin was flowing enough to imagine a beautiful, song worthy next level.
"California," about the state you were born and raised in and left, is a lovely song. Does Nashville feel like home yet?
Maia Sharp: I get wistful for Los Angeles and the whole state of CA but, amazingly, Nashville does feel like home already. I have a great musical and social community here and (sorry, LA) it's easier to nurture it in this smaller city environment.
In the age of pronouns, can you share yours and where you belong in the LGBTQ+ community?
Maia Sharp: I'm she/her (I still get "sir"ed sometimes and don't bother to correct them). Technically I'm an "L" but I've never liked the sound of that word. It just doesn't align aesthetically like "gay" does. If it comes up in conversation, I say I'm a gay woman.
Please share any key dates coming up for gigs, tours and appearances for Reckless Thoughts.
Maia Sharp: There is a nice string of dates around the release of the album starting with my new hometown of Nashville, August 20 at Third & Lindsley then Columbus, Pittsburgh, upstate NY, Portland Maine, NJ to Wisconsin in September and Colorado in October. All the dates and details are posted at maiasharp.com.
Follow Maia Sharp on Instagram and Facebook and get the album here.