National Queer Theater joins Drag Story Hour NYC & Machine Dazzle
National Queer Theater (NQT), a New York City nonprofit theater collective dedicated to celebrating the brilliance of generations of LGBTQ artists and providing a home for unheard storytellers and activists, is getting behind two meaningful events.
Adam Odsess-Rubin, Founding Artistic Director of NQT, is producing two events: One will feature the work of renowned theater costume designer Machine Dazzle, outside of the Museum of Art and Design (2 Columbus Circle in New York, NY), on September 17. NQT will then collaborate with the Brooklyn Public Library and Drag Story Hour NYC to produce an event on September 19 in which drag queens will host a reading in front of the Brooklyn Public Library–Central Branch (10 Grand Army Plaza in Brooklyn, NY).
Odsess-Rubin is the Co-Founder of its acclaimed Criminal Queerness Festival, an NYC theatrical showcase of censored and criminalized works by LGBTQ+ artists from around the world, and also manages community-based theater programs such as Write it Out! for playwrights living with HIV, New Visions Fellowship for Black trans artists, DREAMing Out Loud for LGBTQ undocumented youth, and Youth Write Now for young queer playwrights. He is a founding Teaching Artist for Rainbow Connection, an intergenerational theater program for queer teens and elders on Fire Island.
The September 17 event will start at 1:30 pm at Merchant's Gate on Central Park West. It will feature genre-defying artist Matthew Flower, better known as Machine Dazzle, a self-described maximalist who has dazzled costumes, sets, and performances since he arrived in New York in 1994. The Museum of Arts and Designs's launch of the Queer Maximalism x Machine Dazzle, is the first solo exhibition dedicated to Machine Dazzle, which will take place from September 10, 2022, to February 19, 2023. According to the Museum of Arts and Designs, the exhibition will bring together more than 80 of the artist's creations for the stage, spectacles, and street theater, alongside a variety of environments, ephemera, material samples, photography, and video. Together they chronicle the metamorphosis of Flower, a closeted suburban kid from Upper Darby, Pennsylvania, into "Machine Dazzle," the queer experimental theater genius.
The September 19 event at the Brooklyn Public Library will be held from 1:00-1:40 pm. It will feature a unique reading of the book Julián Is a Mermaid by author Jessica Love by drag queens to over 100 Brooklyn public elementary school students. Following the reading, children, drag queens and other participants will join together to participate in a mermaid parade around the library.
Little Amal Walks NYC consists of 55 events spanning all five boroughs, in which Amal will be welcomed by artists, civic leaders, community groups, and young New Yorkers of all backgrounds. The New York walk follows Amal's 5,000-mile journey from the Turkey/Syrian border across Europe.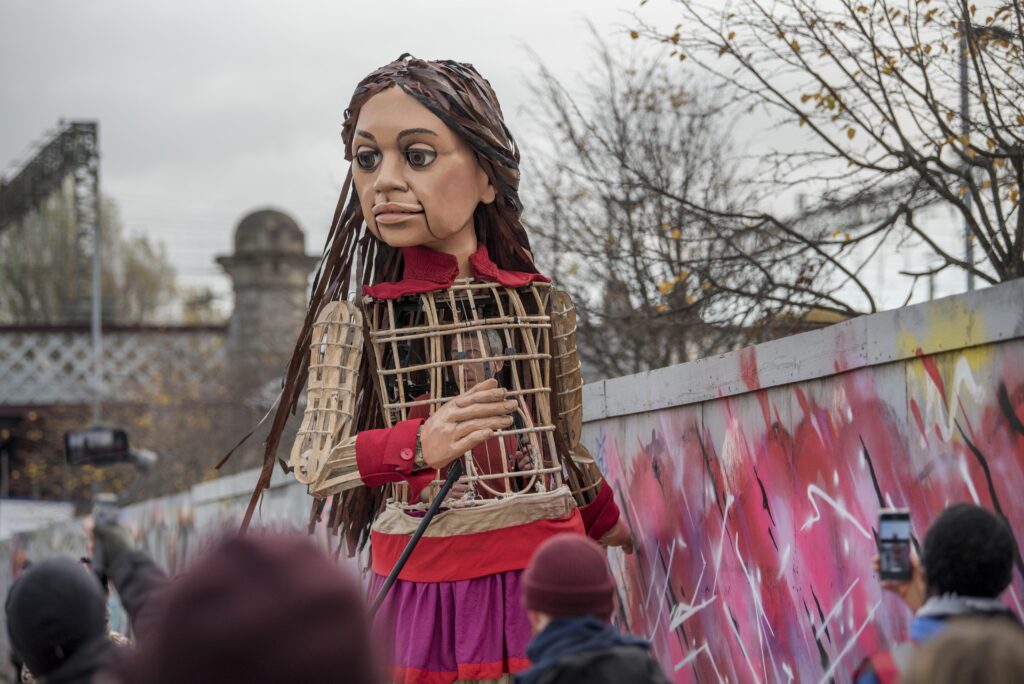 "National Queer Theater is proud to be part of Little Amal Walks NYC, and I am thrilled to produce two of the festival's events, featuring artists and voices from the city's vibrant and talented LGBTQ+ community," said Odsess-Rubin. "Our theater and queer communities make NYC great, and we are thrilled to welcome in collaboration with some of the city's greatest artists."
Little Amal Walks NYC is a co-production between St. Ann's Warehouse (Susan Feldman, Artistic Director), and The Walk Productions (led by David Lan, Tracey Seaward and Stephen Daldry). Amir Nizar Zuabi is the project's Artistic Director, Yazmany Arboleda is its Creative Producer, and BAM President Emerita Karen Brooks Hopkins is its Executive Producer. Little Amal was designed and created by Handspring Puppet Company (War Horse).
For more information about little Amal Walk New York, visit www.walkwithamal.org/new-york-city-2022.
For more information about National Queer Theater, visit www.nationalqueertheater.org.
About National Queer Theater
National Queer Theater (NQT) is a 501(c)(3) nonprofit theater company based in New York City, dedicated to celebrating the brilliance of generations of LGBTQ+ artists and providing a home for unheard storytellers and activists. By serving elders, youth, and working professionals, NQT creates a more just future through radical and evocative theater experiences and free community classes. Believing in the power of theater to effect sweeping social change, NQT cultivates a more just, joyous, and empowered intersectional queer community that is celebrated in all corners of society. NQT was founded on the principle that through art and free community programs, we are able to create and organize together, working towards a more equitable vision of a world bursting with pride. For more information about NQT, visit www.nationalqueertheater.org.