Netflix launches new LGBTQ+ series, Heartstopper
On April 22 Netflix launched the LGBTQ+ teen drama Heartstopper based on the graphic novels by Alice Oseman.
"Boy meets boy. Boys become friends. Boys fall in love.
When gentle Charlie and rugby-loving Nick meet at secondary school, they quickly discover that their unlikely friendship is blossoming into an unexpected romance. Charlie, Nick and their circle of friends must navigate the ever-relatable journey of self discovery and acceptance, supporting each other as they learn to find their most authentic selves."
This is the descriptor Netflix provides for this beautiful show produced by See Saw Films and directed by Euros Lyn. And while it's a great summarization, it of course can't impart to you just how lovingly this story is told. This is the kind of storytelling and representation our generation dreamed of as we were discovering ourselves in the 80's and 90's (and of course prior to that). The show represents the payoffs of 50+ years of activism by our queer elders and deserves your time and attention. This review will aim to not give away any major spoilers but if you want to go in blind then I suggest you stop reading here.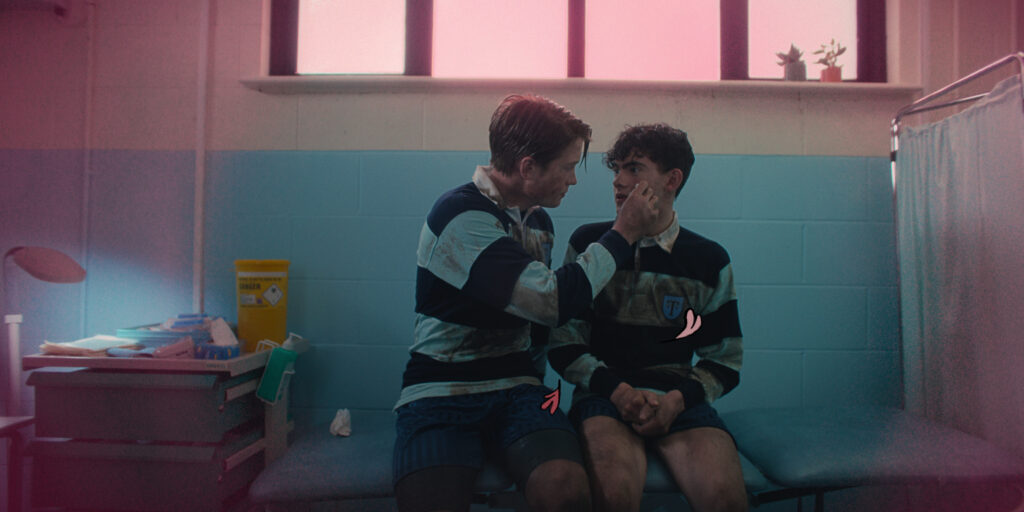 Alice Oseman, who wrote the show itself, in addition to the source material, has created a group of characters that you cannot help by root for. Charlie (Joe Locke) is an out gay teen at the Truham Boys School in Great Britain. We meet him in the midst of his Year 10 studies (equivalent to a US high school freshman) and come to understand that he was mercilessly bullied the year prior for being gay. While not as severe as before, Charlie is resigned to having to put up with cruel comments from time to time; a burden that is lightened by his tight knit group of friends. There's Tao (William Gao) who is his straight best friend and protector, the loving and supportive Elle (Yasmin Finney), a transgender teen who recently transferred from Truham to the Higgs school for girls and the sweet, quiet and ever loyal Isaac (Tobie Donovan). Upon their return to school after the holidays, Charlie is assigned to a new form (homeroom) and is seated next to Nick (Kit Connor). Their initial meeting is filled with all of the charm and awkwardness you'd expect from any rom-com and from there we are off to the races.
Nick is the star of the rugby team and, as such, a member of the popular crowd which includes the school bully rich kid Harry (Corman Hyde-Corrin) and his cronies. Intrigued by Charlie and seeing how fast he can run during gym class; Nick soon convinces Charlie to join the school rugby team as an alternate. The two become fast friends. Charlie develops a massive crush on Nick and its increasingly clear that Nick, who previously identified as straight, feels the same. The journey we take with Nick as he seeks to discover himself and his sexuality is one of the most heartfelt and moving things I've seen in quite some time. It is handled with such care and sensitivity and is completely reflective of the world we live in today with respect to the access to information youth has nowadays. Kit Connor delivers an amazing performance, conveying so much with a simple look or gesture. It was truly captivating to watch.
Naturally, there are many obstacles along the way. Nick asks Charlie to keep their relationship secret while he figures things out. Scrutiny and peer pressure intensifies from Harry and his crew causing all sorts of strife and arguments. Tensions develop with Charlie's group of friends as he becomes more involved with Nick. Charlie has to contend with a toxic and closeted ex that tries to stir things up and other such trials and tribulations.
Despite the challenges there are also many good things that happen along the way. Elle befriends Tara (Corinna Brown) and Darcy (Kizzy Edgell), a lesbian couple at Higgins who have their own struggles and triumphs with coming out at an all-girls school. Tao shows us what a true friend and ally looks like. Elle and Tao begin to discover a new layer to their relationship. Charlie grows in confidence and self-acceptance and so much more.
The show itself is a very easy watch, comprised of eight half-hour episodes. Since it is based on graphic novels, the reality is heightened with music, lighting and camera angles. My favorite thing they do though is use animation during key emotional sequences. For instance, lighting bolts will dance between characters hands when they touch or heart bubbles will bloom during a kiss. It just makes you smile from ear to ear and will elicit "awwws" from even the most cynical of viewers.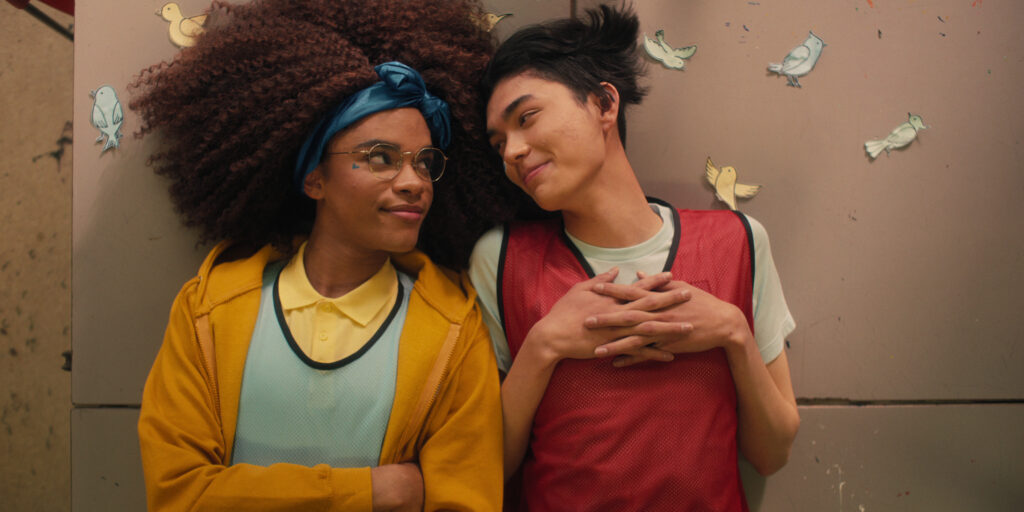 If all that isn't enough, they also cast Olivia Coleman herself as Nick's mom, Sarah. The scenes between Sarah and Nick are effortlessly poignant as you might expect.
The love story between Charlie Spring and Nick Nelson has quickly become one of my all-time favorite fictional romances. It's the type of thing I dreamed of when I was in high school, and I am sure you will feel the same. This is a feel-good show that is well made and astoundingly diverse. I cannot recommend it enough. I'm already hoping for a season two.