New film explores LGBT side of Greek immigration crisis
When brought to Athens in 2016 for a screening of his film DADDY, filmmaker Gerald McCullouch unexpectedly met a group of LGBT refugees fleeing persecution from their countries, only to find themselves trapped in immigration limbo in Greece.
Gerald McCullouch had hoped to vacation in Greece but instead found himself confronted and confounded by their circumstances, and compelled to document his education of a crisis facing countless members of his community who came to Greece under desperately different circumstances. The resulting film is a heart-wrenching and eye-opening documentary titled Stuck in Greece, in which we meet several gay, lesbian and trans refugees, and the activists and allies trying to help them have their status processed so they can move onto a better life somewhere in Europe.
McCullouch is an award winning filmmaker and actor best known for his 10 seasons as "Bobby Dawson" on the hit TV show CSI and for his critically lauded performances as "Roger" in the BearCity film franchise. He currently guest stars in the new seasons of Physical on Apple + and Messiah with Michelle Monaghan on Netflix and was honored by OUT magazine as one of the year's most compelling people.
McCullough filmed most of the action in Athens and around the port of Piraeus and the film presents a side of Greece rarely seen, especially from LGBT refugees seeking asylum from Syria, Egypt and other intolerant countries in the Middle East.
Some of the accounts of the people smugglers and the dangerous passage from the coast of Turkey in overcrowded lifeboats to the Greek islands are harrowing, as are the accompanying visuals of countless discarded lifejackets, clothing, water bottles on the shores of different Greek islands including Lesbos, Chios and Samos.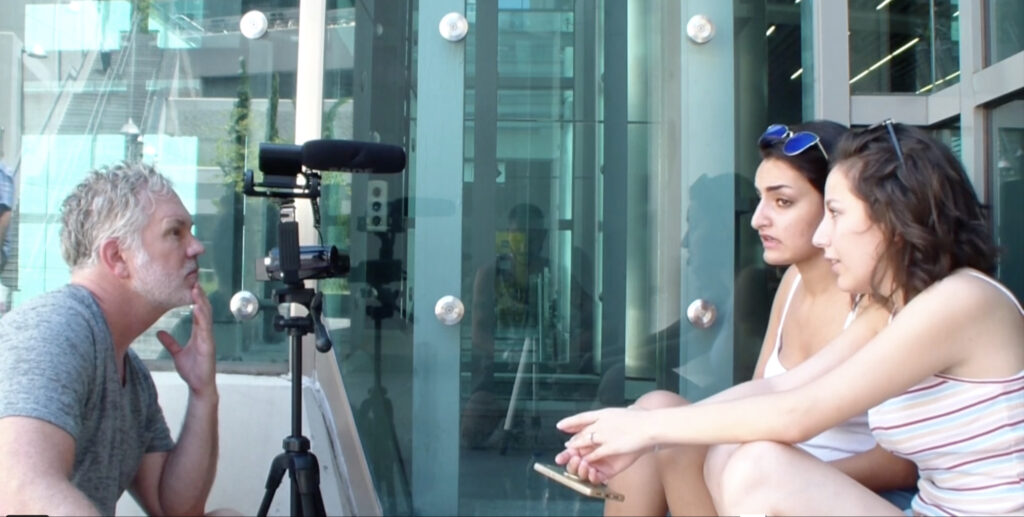 The interviews, which include the very articulate and horrifically abused Suma, a transgender woman from Egypt, reveal how the subjects not only didn't feel safe in their home nations—they don't feel safe in the hands of the people smugglers, the refugee camps, and in parts of Greece while waiting months — and in some cases years — for their applications for asylum to be processed. The reality is that while they wait, they are essentially homeless or must engage in sex work to survive.
"I ventured into some of the refugee camps outside of Athens, however most refugees identifying as LGBTQIA+ aren't able to live safely in the camps during the years-long asylum process as the camps are filled with the same people they're running from," says McCullouch, "So they face torture, rape and death in the camps. Due to this horrible situation, Athens is one of the rare havens where the LGBTQIA+ refugee community can find assistance and some modicum of safety during their asylum process."
McCullouch told Queer Forty that since filming the documentary, he has kept up with the participants via social media. "Some of the individuals have become very active in the global refugee crisis. The NGO (Non-Government Organization) which two of the refugees established during filming continues to assist LGBT+ refugees in Athens and has been properly acknowledged as an official NGO by the EU."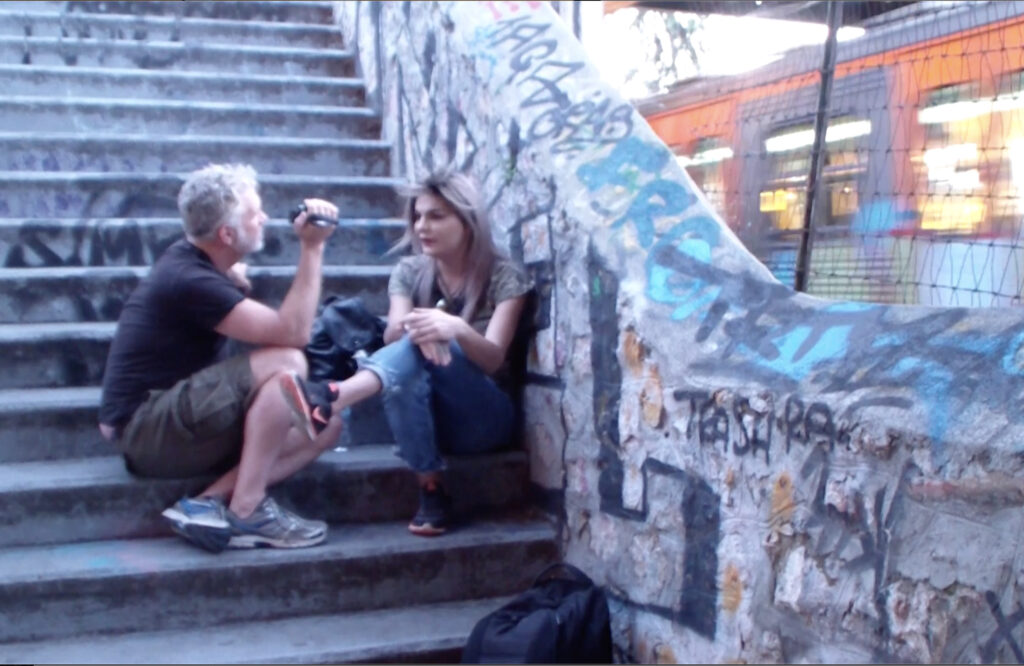 "Suma, the transgender refugee from Egypt, was one of the individuals responsible for forming that NGO, now called Emantes, and has since received residency in Germany. She not only spoke on the crisis at World Pride but was also invited onto a panel at the EU about Assistance and Solutions for LGBTQIA+ People in forced displacement. Others, like Hossam, have established online support groups. Some, however, remain forever stuck in Greece as the EU deems their countries of origin as 'safe' countries for the queer community so they were not granted asylum. For them, returning home would be a death sentence or a life of torture and abuse."
Given that Greece is widely acknowledged to have 'invented' both democracy and homosexuality, it is distressing to see LGBTQ refugees struggle on Greek soil; but it's also heartening to see Greek activists such as Eliza Goroya championing their cause.
"It's funny how the world perceives the history of Greece in regards to homosexuality and how the Greek people perceive their own history," says McCullouch. "The Greek culture and government are highly influenced by the very Orthodox Greek Church so although the global gay community flocks to Mykonos thinking that is the way of life for queer people on all the islands, that is not the case at all. It is a very religious country. Since I started filming, there have been many organizations that have evolved to focus on and support this community within the larger refugee community. But again, the camps are not safe for LGBTQIA+ refugees so Athens remains the destination goal for most of that ever-growing refugee community."
Since starting the documentary, McCullouch says Greece has "evolved immensely".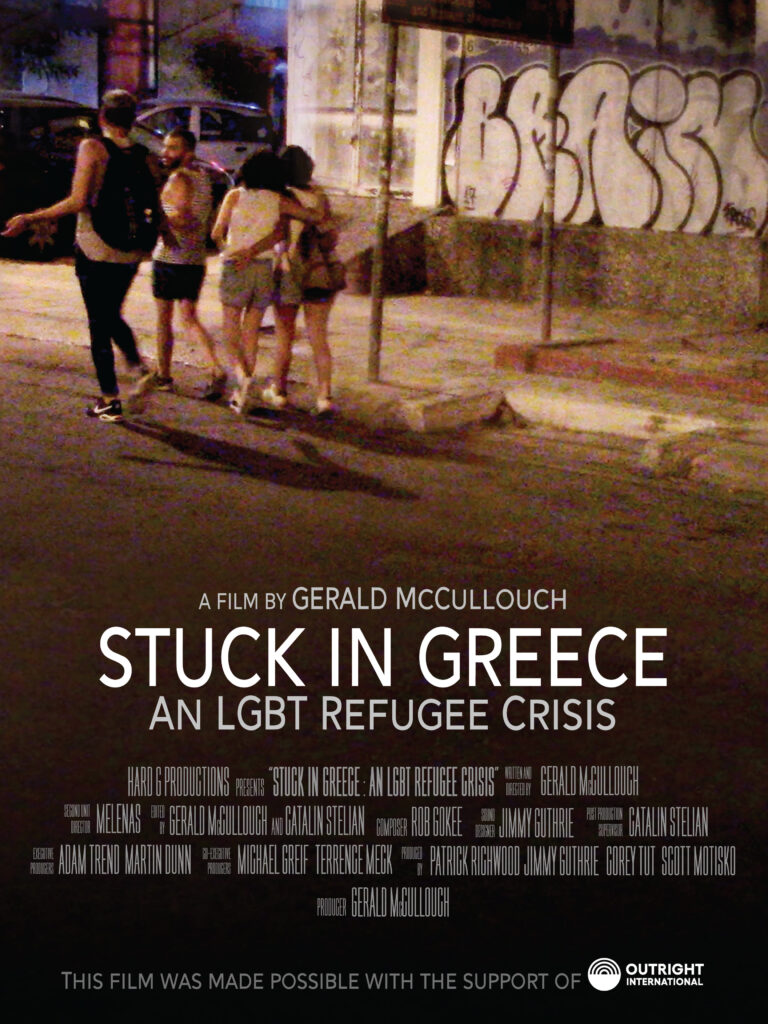 "Although the refugee crisis continues, there are now many newly-built, semi-permanent refugee camps throughout the country to better manage the crisis. However, until there is safe housing available specifically for LGBTQIA+ refugees, many of the stories revealed in my film will continue and repeat."
And as for that holiday in Greece McCullouch never got: "I just returned from the world premiere of [Stuck in Greece] at the International Documentary Film Festival in Crete. The film won Best International Documentary as well as a Jury Award, and after the screening I spent an unforgettable three weeks in Greece. I went from Crete to Santorini to my favorite island Sifnos and then on to another true gem of the islands, Serifos, before landing again at the Port of Piraeus for a few days in Athens.
"It was the most fulfilling, full circle experience where I got to reconnect and celebrate with many of the people I've met along the journey of making this film and in my travels to Greece. Reconnecting with not only some of the refugees but also many of the Greek activists and citizens was so rewarding. Witnessing how, in time, their lives have evolved was incredibly inspiring."
Stuck in Greece has its US premiere on September 27 as part of the the Out On Film Festival in Atlanta, then on Sept. 28 it screens as part of the 16th annual Cinema Diverse International Film Festival in Palm Springs. It screens during the San Antonio QFest on October 7, and then in DC as part of the Immigration Film Festival on October 21.
For more about the film including upcoming screenings visit stuckingreecethefilm.com.