Fabulous new French film The Origin of Evil is a darkly comic family melodrama
We love movies where lesbians behave badly, and new French thriller The Origin of Evil has just that! This opulent and eccentric family melodrama also features one of our faves: Laure Calamy in yet another show-stopping role.
The lowdown: In a luxurious but nutty seaside villa on the French Riviera, a hardworking queer woman finds herself in the company of a strange family: an unpredictable and wealthy patriarch, his campy, shopaholic wife, his stylish, narcissistic daughter, a rebellious photo-obsessed teenager, and their creepy kleptomaniac maid. But is this a family reunion or a devious plot to gain an inheritance? Who's the villain is this clan, and what exactly is the origin of evil?
If you're like us, and cannot get enough of French film star Laure Calamy (Call My Agent) you will be transfixed by The Origin of Evil. The title is arresting, and suggests a horror film. Well, it is — of sorts. It is a psychological horror film about deeply-buried motives and the theft of many things, including sanity and identity. This family psychodrama-thriller has lashings of black comedy and maximalist production values, and more than a couple of arresting plot twists.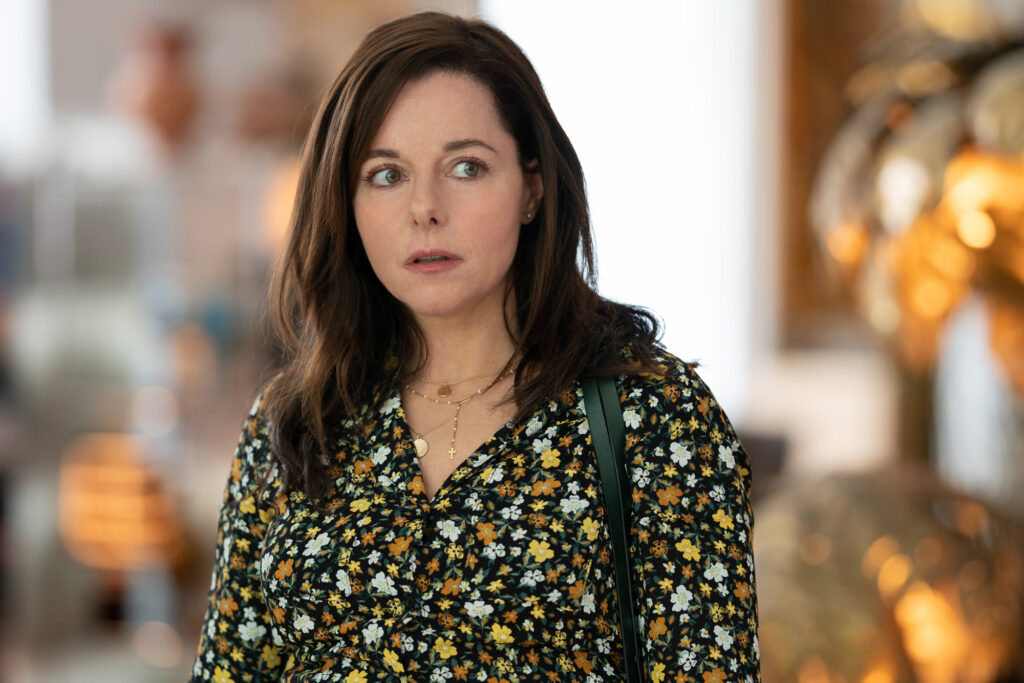 Calamy, as we have come to expect, delivers a boundary-pushing performance that travels the gamut between pathos and comedy in a dark, gripping, and heartrending thriller of a working class woman who knows no bounds when it comes to what she wants—which surprises even her. If you're intrigued by the idea of a lesbian-French version of The Talented Mr. Ripley, with a dose of White Lotus amorality, this is the film for you!
Watch a clip here:
Directed by Sébastien Marnier (School's Out), The Origin of Evil was shot during the spring of 2021, with Calamy, Doria Tillier, Dominique Blanc, Jacques Weber,Suzanne Clément and Céleste Brunquell in the leading roles. It's a fabulous ensemble worthy of Chabrol or Ozon, as it is floridly dominated by expressive female characters and carries a subtext about the nature of performativity in front of the camera and in our real lives.
Of the women cast members Marnier says, "There are several different types of relationships between female characters: lovers, sisters, stepsisters, and granddaughter… Everybody desires everyone without knowing how to actually love anyone. Yet it is possible to have physical interaction and tenderness despite the circumstances. The only thing the character of Stéphane ultimately strives for is to find her place in the family: that is the reason why sorority is the main notion underpinning the film."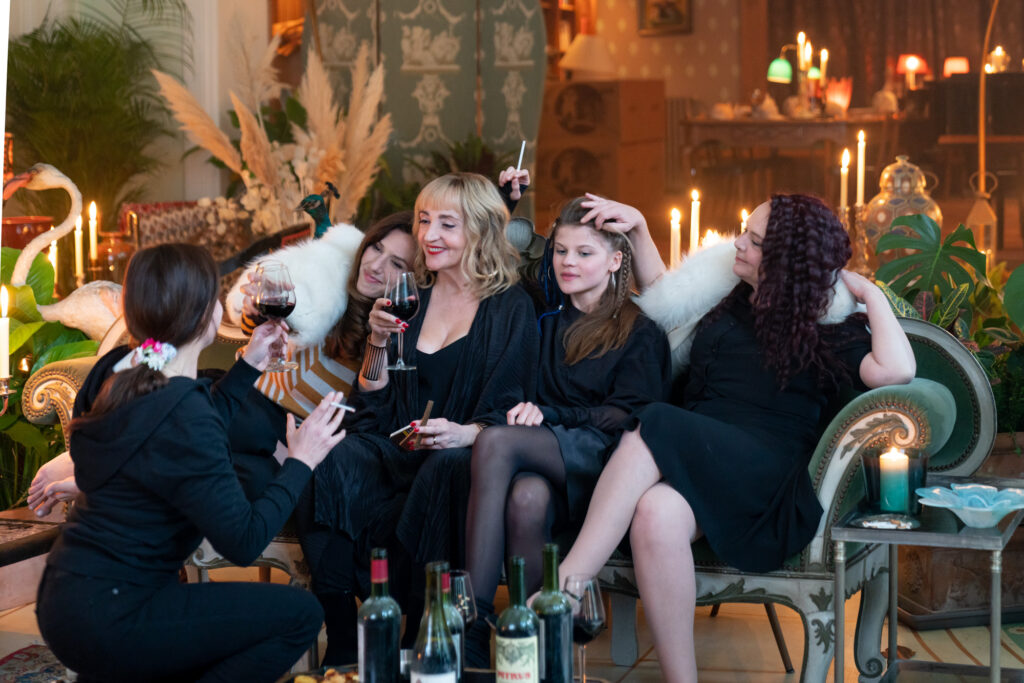 "The characters are meticulously outlined beforehand, specifically in their quirkiness and oddity, but also with respect to the life path each has followed, and which I explained to the actresses. I exchanged a lot with them. for The Origin Of Evil, this was made even richer because of the fact that I had picked very singular actresses. I poured their energy, their personal rhythm into their roles.
Constructing these characters was also done in a large part through their wardrobe. For Dominique Blanc, who plays the film's most colorful character, I didn't realize we'd take it that far. When she came to the fittings with Marité Coutard, my costume designer, we could see she was quite taken aback. Then, after many hours going through on her costumes, she understood what I had in mind for her – we talked at length about Sunset Boulevard, old actresses from Hollywood's golden age, as well as former French stage actresses. Once she had figured out and embraced this, she fully rolled with it. In this disheveled mess of a family, she instils a great deal of freedom."
The Origin of Evil blends themes of family origins with French class warfare. The lead character works in a factory that processes anchovies. Her girlfriend is in prison. She is connecting with a wealthy family whose way of life is in direct opposition to hers. What could possibly go wrong?
"When Stéphane joins her newly found family, she lies," says Marnier. "She is unable to come to terms with her social condition as a person from the lower-middle class in a household where the matter of money is so blatantly omnipresent. She is a blue-collar worker who volunteers as a prison visitor and earns minimum monthly wages… which corresponds to the price of the fine bottle her father takes out of the cellar to celebrate their reunion. This is why my film is like a fable: I've pushed the social markers quite far. In this house, the bedrooms are upstairs, but down in the basement the maid steals things and fights break out… it's the household's underbelly, the place where repressed things are."
The Origin of Evil opens in select theaters on September 22 courtesy of IFC Films.