New play offers fascinating slice of Norman Rockwell-era gay history
The Epiphany Theatre Company will bring to life a forgotten story from LGBTQ history when it presents Lance Ringel's In Love with the Arrow Collar Man at the Elliot Theatre in Fort Lauderdale for nine performances in February.
The play examines the lives of pre-eminent 20th-century American illustrator Joseph C. Leyendecker (1874-1951) and his model, muse, and life partner, Charles Beach.
In Love with the Arrow Collar Man recounts the true story of a pioneering long-term gay couple whose life together spanned nearly half a century. Leyendecker's immense popularity came primarily from his 322 covers for The Saturday Evening Post, as well as for the innovative use of his art in advertising – most notably the Arrow Collar Man, with Beach as the original model.
The play explores the challenge of balancing love, art, and commerce at a time when homosexuality was a crime, and depicts how Leyendecker achieved an unlikely triumph on all fronts. It also chronicles Leyendecker's turbulent relationships with two fellow artists: his talented but self-destructive brother, Frank; and Norman Rockwell, the protégé who surpassed him in fame.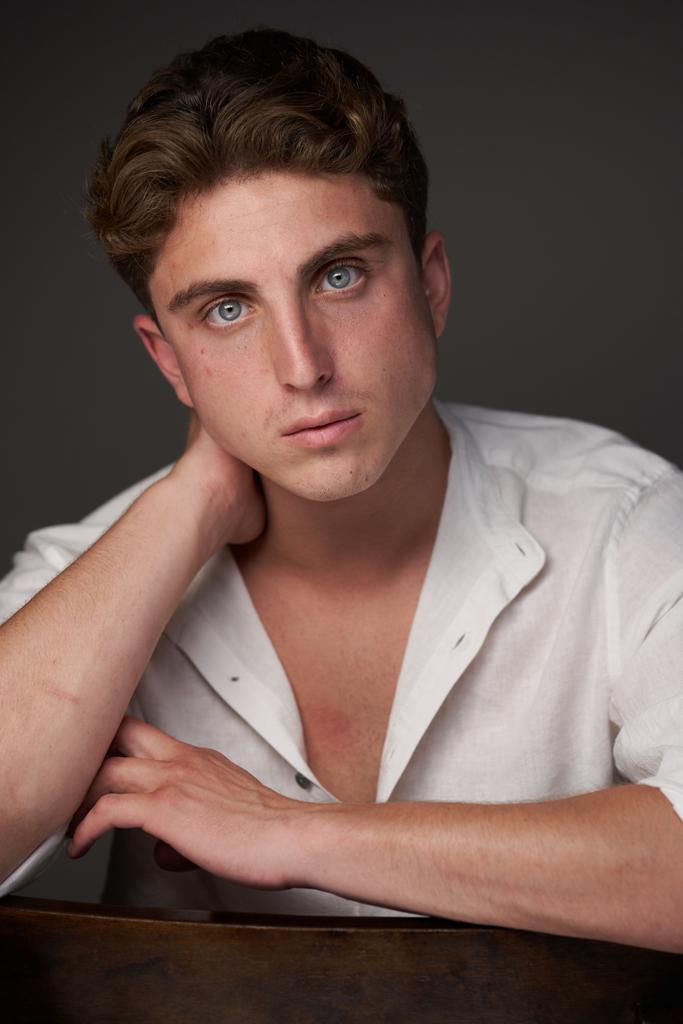 Artist Leyendecker is played by JJ Cherney and model Charles Beach is played by Christian Cooper. Lovers for 50 years, no one knew of their relationship. In his Will, Leyendecker told Beach to destroy their love letters and his artwork.
About the creative team
Playwright Lance Ringel's works for the stage also include Flash/Frozen, a drama based on true events about two champion male skaters whose lives fatefully intersect around the tragic 1961 plane crash that killed the entire U.S. Figure Skating World Team. Ringel's debut novel, Flower of Iowa, centers on two soldiers, one American and one British, who fall in love on the Western Front in World War I. It received multiple literary accolades, including the Foreword Indies Book of the Year Award for War and Military Fiction. Floridian Nights, his second novel, isa charged love story that unfolds against the backdrop of the AIDS epidemic of the late 1980s. In consecutive years, both novels were named as Finalists for the Lambda Literary Award in Gay Romance. 
Director Ed Sparan was the Director of The PWA (Persons With AIDS) Theatre in San Francisco. In 1994 he moved to Florida and worked with the Public Theatre of South Florida for many years. As an HIV educator he does public speaking engagements all over the US and this led him to be the Managing Director of The World AIDS and Educational Center. Sparan has written several plays and his play "Bert's Big Bed"  won the Playwrights Sanctuary  Award for  outstanding LGBTQ theatre.  His first book "Next To Easy St. Never On It" was published in 2020. In 2016 he made Epiphany Theatre's home at Elliot Hall in Ft. Lauderdale and is proud to direct and make In Love with The Arrow Collar Man a rebirth to the South Florida theatre community. 
Sparan says: "This play is an intelligent, eye-opening piece of theatre and LGBTQ history.  The play opens your heart during the performance and when you leave the theatre it uncontrollably forces you to look into the mirror of your own life. Where you have been and what your legacy will be."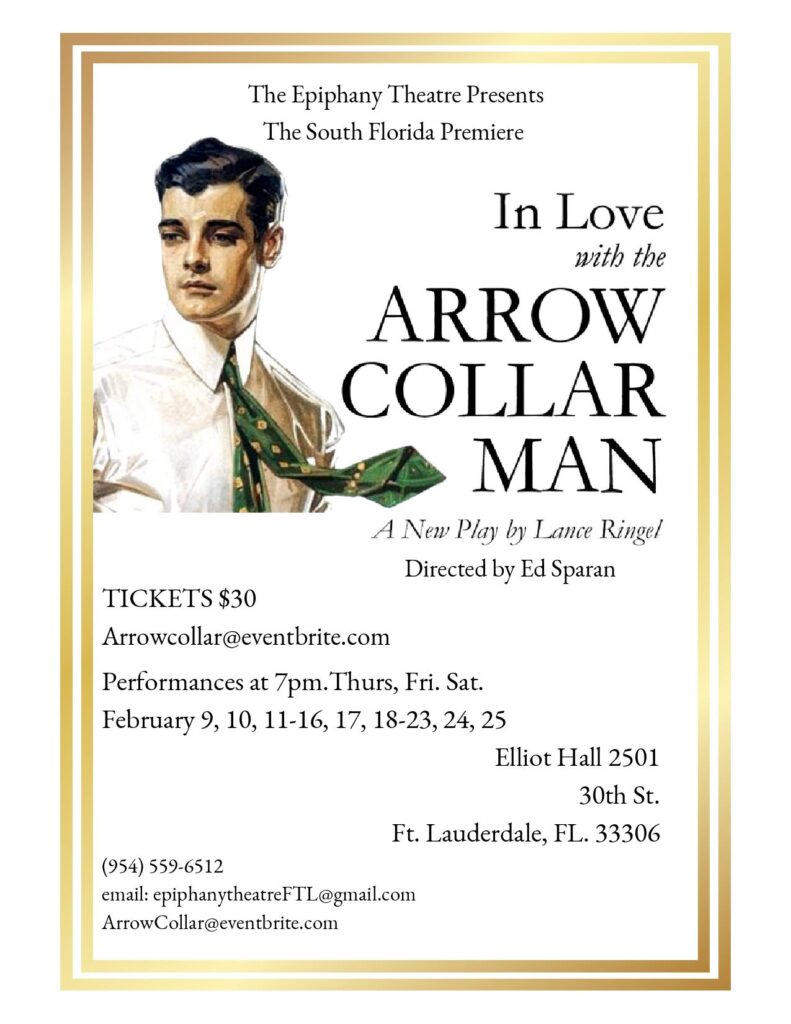 In Love with the Arrow Collar Man opens on February 9 for a three-week run through February 25, with performances at 7pm on Thursdays, Fridays and Saturdays. For more information and to purchase tickets, please go here or call (754) 213-7125 or email epiphanytheatreFTL@gmail.com.  
All performances  are at Elliot Hall 2501 N E 30th St. Ft. Lauderdale, FL. 33306.