New Whitney Houston biopic acknowledges her bisexuality but little else
*** This review contains spoilers for I Wanna Dance With Somebody
I Wanna Dance With Somebody, the new Whitney Houston biopic, was released to theaters on December 23 to mixed reviews and understandably so.
Whitney Houston had the greatest voice of her generation, if not all time. Her vocal range and talent were unmatched which is why her decline and ultimate death were so difficult for her fans to accept. The movie I Wanna Dance with Somebody, directed by Kasi Lemmons revisits the singer's tragic story but without any major new insights into Whitney's life.
What the movie does do, and gratefully so, is finally and categorically acknowledge Whitney's relationship with Robyn Crawford, a somewhat open secret amongst those in the know; but not really confirmed until Crawford's memoir A Song For You, released in 2019. Since the movie was produced by both Clive Davis and Pat Houston, Whitney's sister-in-law, former manager and an executor of her estate; it's essentially an admission from Whitney's inner circle that she was bisexual. Up until now no one in the Houston family has ever acknowledged Crawford as anything more than a close friend and assistant to the megastar despite what's been said in the media.
The film showcases Whitney and Robyn first as fast friends in East Orange, New Jersey, and then passionate lovers who are pressured by the Houston family to keep their association a secret to protect Whitney's image as an American pop princess. The movie makes sure to also show how Whitney struggled to reconcile her faith and her desire for a family with her love for Robyn; ultimately deciding to publicly date men with the goal of starting a family, while still keeping Robin around as her assistant and Creative Director. When Bobby Brown entered the picture, Robyn dutifully stepped aside, knowing Whitney wanted to quell the rumors of her homosexuality and address the frequent criticism that she was too 'white acting'. The film highlights the tension between Robyn and Bobby and notes how Whitney ultimately always sided with her husband over any concerns leveled by Robyn, which often had to do with Whitney's well-being and spiraling addiction. Finally, Robyn reaches her breaking point and refuses to witness Whitney's downfall and destruction, resigning as her creative director. The movie ends their story there although A Song For You goes on to detail how once they parted ways professionally, the pair's personal relationship also took a toll which it never fully rebounded from.
Besides Robyn, the movie also focuses on the close friendship Whitney shared with Clive Davis, a legend in his own right. We see the genuine affection the two shared for one another, which was also public knowledge. The film makes sure to include a scene early on of Clive telling Whitney that he does not interfere with the private lives of his artists, an oath he breaks later in the film when he tries to get Whitney into rehab. It is a powerful scene in the film, a scene where Davis' own latent homosexual tendencies are revealed as his lover takes Bobbi Christina outside to play with their dog so he and Whitney can speak in private.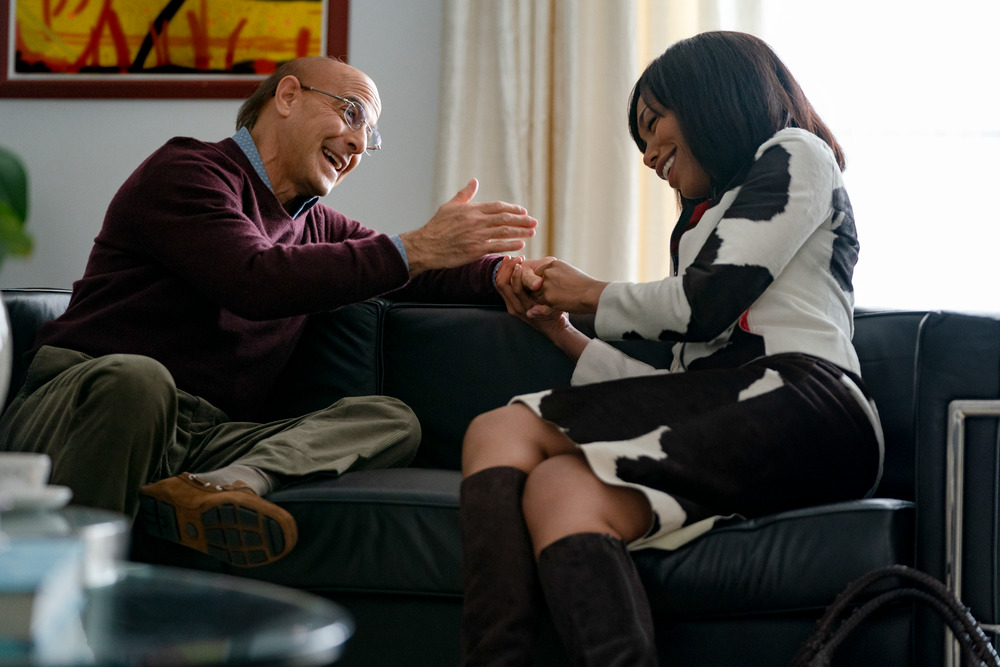 Outside of Whitney and Clive's queerness, however, no other revelations are to be had. In fact, it's a rather bare bones retelling of Whitney's story interspersed with wonderful musical sequences. The strife between Whitney and Bobby and her drug addiction are addressed but in an extremely non-exploitive manner. Its clear the filmmakers wanted her story told in a non-sensational way and I agree with that completely. I just wish we were given a bit more access into who this remarkable woman was considering that some of the people closest to her were responsible for bringing this movie to light.
The performances were great. Naomi Ackie does a noteworthy job portraying Whitney as does Stanley Tucci as Clive Davis and Nafessa Williams as Robyn Crawford. Special accolades are needed for Tamara Tunie who absolutely shines as Cissy Houston. For me the movie falls apart with the uneven storytelling, the omission of a lot of key events in the singer's life and the failure to shine any new light on this legendary entertainer, which I suppose falls on the shoulders of the film's writer Anthony McCarten.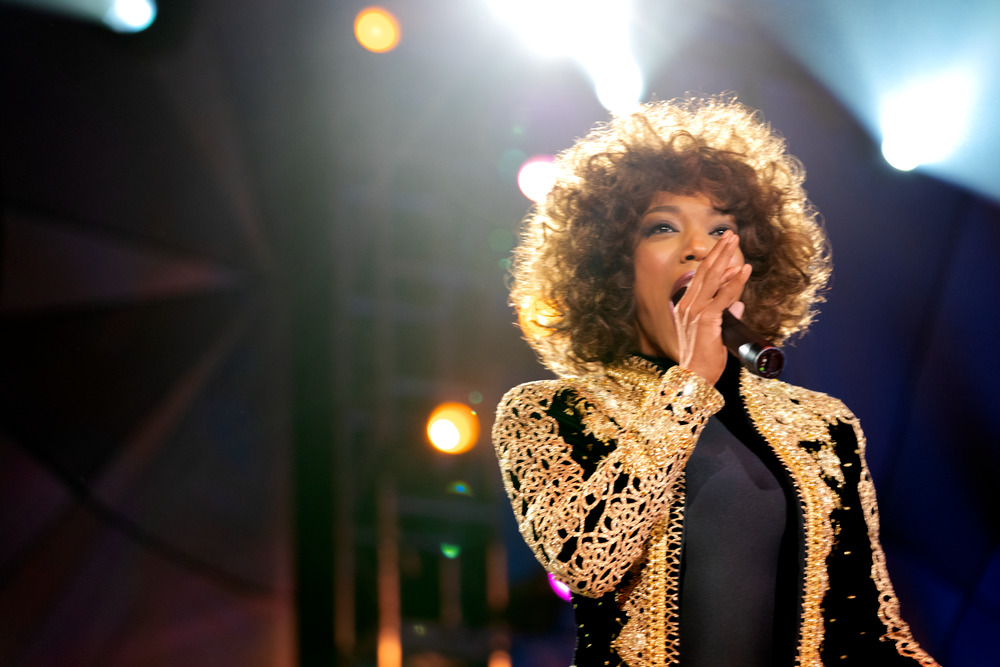 All in all, the movie is a heartbreaking but enjoyable watch if only to relive the music and hear that incredible voice. It is also incredibly important because it finally brings to light a long-hidden truth about Whitney Houston – the greatest vocalist of our time was a queer black woman.
I Wanna Dance With Somebody is now playing in theaters.
Listen to Whiney Houston's music here.