Now playing: Cecil Beaton's Diaries
Adapted and performed by Richard Stirling, Cecil Beaton's Diaries is an entertaining and moving one-man adaptation of the famous queer photographer and polymath's life.
Now playing until May 21 as part of the 2023 Brits Off Broadway season at New York's 59E59 Theaters, Cecil Beaton's Diaries is an exceptionally well-written, literate, and amusing solo performance. Part of this can be credited to the abilities of writer and actor Richard Stirling, but of course much of the credit must go to Cecil Beaton himself. A prolific and obsessive diarist who hobnobbed with the rich, famous, and titled and who fretted over perfection, Beaton's life has more than enough material for a one-man show.
One of Britain's Bright Young Things, Sir Cecil divided his time between cottages in the English countryside, New York City, and Hollywood. His work and aesthetic spanned most of the 20th Century, bridging the Edwardian era and late Modernism—right up until the Swinging Sixties and his death in 1971. He never stopped creating, whether that was photographing his sisters in artful poses, taking iconic portraits of Britain's royal family, designing sets and costumes for Hollywood and Broadway, or yearning for unattainable lovers such as elusive screen icon Greta Garbo or former Olympic fencer Kinmont Hoitsma. And he wrote all about it in his diaries, which Stirling has selectively adapted!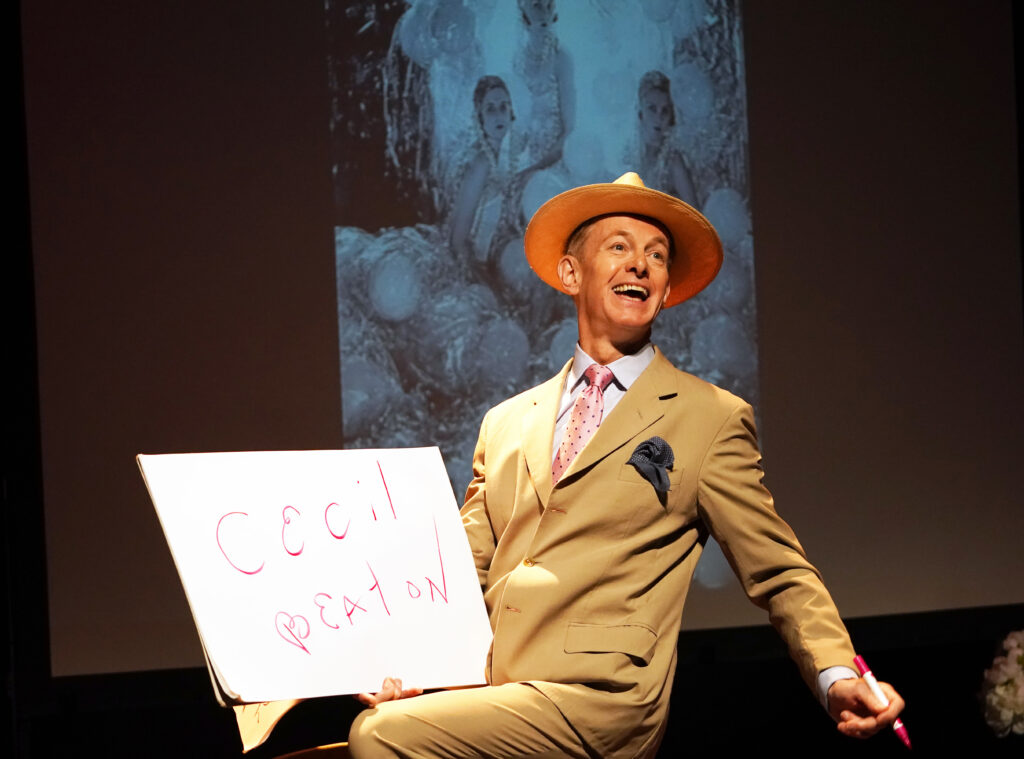 From the moment Stirling steps onstage he embodies the famously queer and persnickety photographer: beige suit, raffish hat, strained and affected English accent. And yet his presence is strangely endearing. Stirling is spot on in the way he holds the camera, mimics the artist's signature, and cherrypicks acerbic and witty anecdotes. He also gets the poignant subtext of Beaton's frenetic output: a longing to produce, and so to transcend economic struggle and live an aristocratic existence by association, if not entitlement. The only trouble is Beaton's habit of gossipy journaling, and some artistic quirks one of which was peculiarly anti-Semitic, amounted to an element of self-sabotage. But what worked for Beaton was undoubtedly his discovery of truly modern portraiture and his elevation of movie stars and rock stars beyond publicity headshots. And of course, Beaton always had thoughts and judgments about those folks. His deliberations on Monroe, Streisand and Jagger are incisive. His epic put-down of Katharine Hepburn is both shocking and hilarious.
The script is tight, entertaining, and races along at a cracking pace covering at least 50 years. Stirling has done a marvelous job taking reams of material and finding a through-line to a life that was crammed with productivity. There are some deeply moving moments that involve Beaton's photography of the Theatre of War, and his meditations on aging, fame, legacy, and romances that don't pan out. There is also the everlasting value of friendship, and the ability of a powerful work ethic to restore wholeness, even after a stroke.
Cecil Beaton's Diaries is a name dropper's delight, especially for fans of 20th Century culture. Stirling does all the accents of his contemporaries, succeeding at some more than others (he nails Truman Capote but his Garbo sounds more Scottish than Swedish).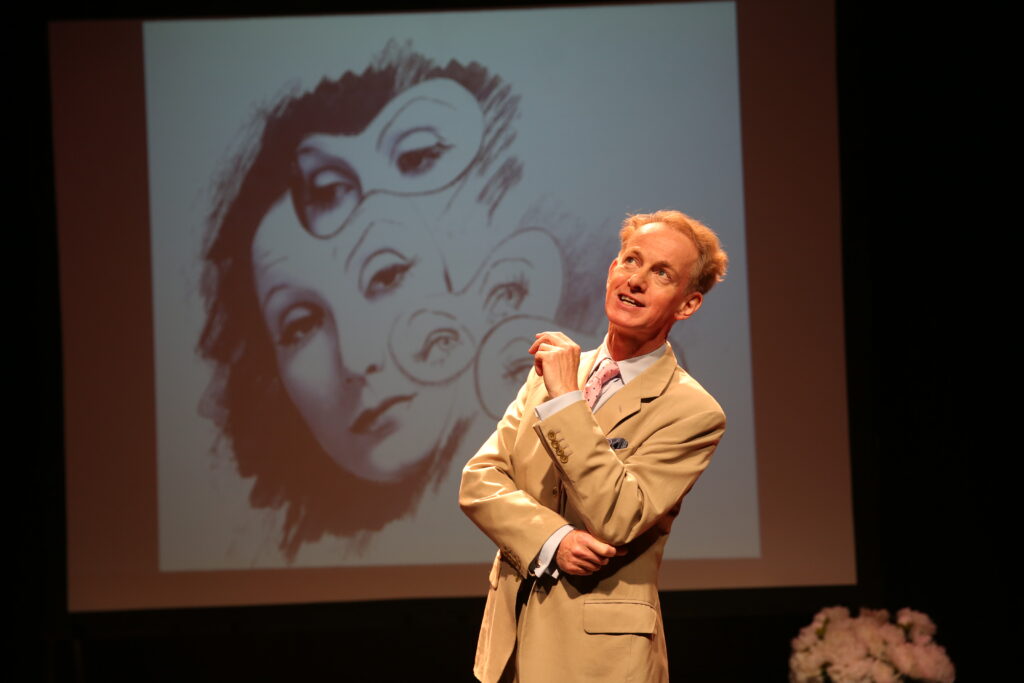 Beaton grew up with some economic insecurity and it left an indelible impression on him. I have no idea if he was familiar with this famous quote by Rilke but it's as though he took it to heart: "If your daily life seems poor, do not blame it; blame yourself, tell yourself that you are not poet enough to call forth its riches; for to the creator there is no poverty and no poor indifferent place."
Beaton manifested the wealth he coveted. Stirling has also found riches in the one-man show format with its spare set and just a few key images. He conjures with his briskly-knitted script a bygone era when the star systems of theatre, film, literature, and print media were peaking and entwined. Beaton dabbled in that magic, and gathered a little stardust for himself, too.
Tickets to Cecil Beaton's Diaries are here.