In conversation with Palm Springs event The Dinah's Mariah Hanson
The Dinah is returning to Palm Springs to celebrate its 31st anniversary from September 21 through 25. Founded by Mariah Hanson, the event has grown into the largest and most anticipated annual festival for queer women in the world.
Pulling out all the stops, the legendary event will move to one of Palm Springs' most iconic Hotels, The Margaritaville (formerly The Riviera), for five days of parties, music and fun in a safe space that promotes community and authenticity for the queer women in attendance. This year's event will benefit the Palm Springs Community Center.
The Dinah is set to continue their tradition of hosting a show-stopping, all-female entertainment line-up. Headlining acts include Fletcher, Haviah Mighty, Cassidy King, IV4, Zolita, Siena Liggins and 80s music superstar Taylor Dayne, thus offering a palette of incredibly talented female pop singers, rising artists, as well as new queer talent all poised to make a major impact in 2022 and beyond.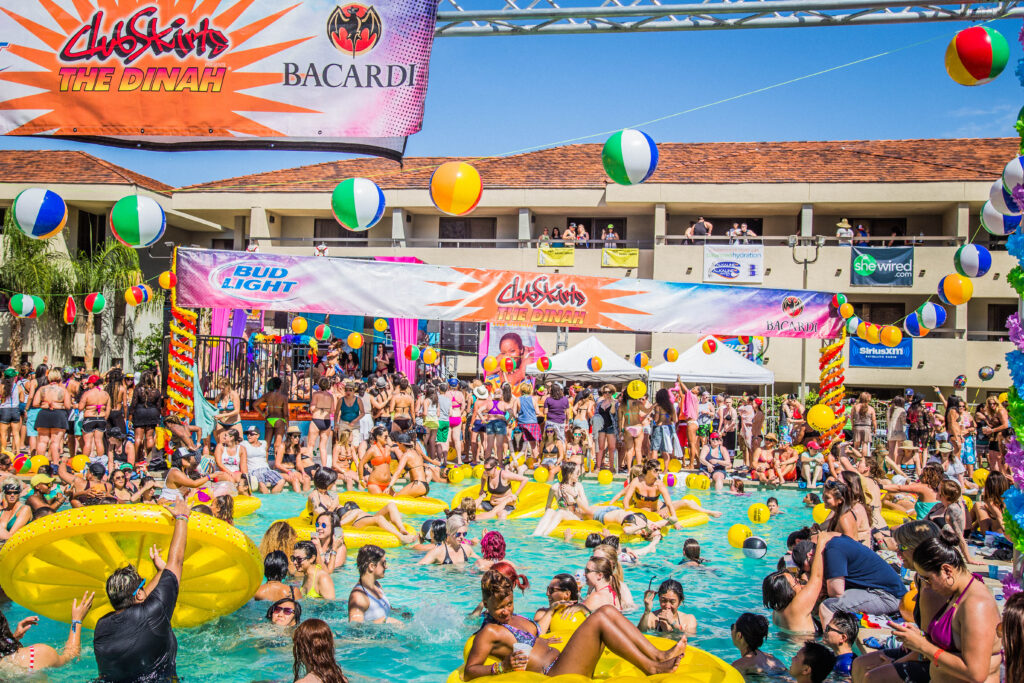 The Dinah was named after the legendary entertainer and golfer Dinah Shore who herself was not a lesbian. She was, however, the founder of the Colgate-Dinah Shore Winner's Circle women's golf tournament, now known as the Ladies Professional Golf Association's ANA Inspiration. The event would consistently draw lesbians to Palm Springs for the tournament each year during the late 1980's, after which there were loosely arranged gatherings amongst the women. It was just begging for someone to come along and organize it.
In 1991, Mariah Hanson took the initiative and coordinated the very first official Dinah Shore Weekend event, under her "Club Skirts" marquee. That initial party was held at the Palm Springs Museum of Modern Art and was sold out. To ensure attendees felt safe and the environment inclusive, Hanson booked out entire area hotels to ensure they were 100% lesbian occupied, brought in national sponsors, booked popular recording acts and designed the weekend so that all the events were held in a walkable distance from the hotel, thereby creating a unique world inhabited only by queer women within the city.
It was a recipe for success. The Dinah grew consistently year over year becoming internationally famous and a bucket list trip for most lesbians the world over. There's no denying the cultural impact the event has had on queer culture and so we wanted to sit down with Mariah Hanson herself and talk about it in the lead up to this year's festivities.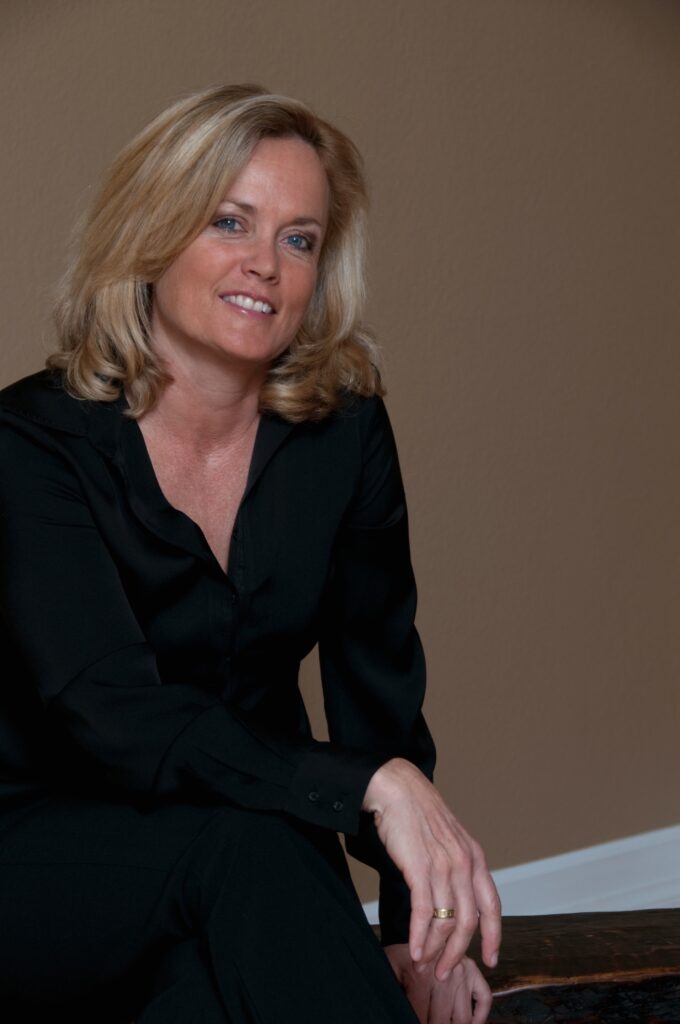 Queer Forty: Hello Mariah, thank you so much for taking the time to chat with us. The Dinah is a one of the biggest events for queer women in the world, and a favorite amongst our readers. For those unfamiliar, however, how would you describe what the Dinah to someone who knows nothing about it?
Mariah Hanson: The Dinah is the longest running queer women's music and event festival in the world. Queer women and their friends come from all over the globe to sojourn to Palm Springs, and spend five days and nights celebrating, listening to great music, sharing experiences and creating a Dinah bond. It's the most inspiring, magical feel-good Queer women event on the globe.
And how would you say the Dinah facilitates community building in the lesbian/ queer woman community?
Mariah Hanson: We bring together Queer women from all over the world, who have such diverse backgrounds and experiences, and yet, we manage to create an environment on site that allows the isms, the stereotypes, the fear of the unknown to melt into a pervasive acceptance and appreciation of each other and our common ground. It's a powerful, life-changing event.
That sounds absolutely wonderful. Why do you feel it is important to have queer women spaces?
Mariah Hanson: I am all for being accepted into mainstream society so that no matter, where you are, you feel safer than should you not feel accepted, and yet, at the same time there is an undeniable LGBT culture, rooted in the pain and challenge of coming out, the shared stories of our collective challenges, our hidden heartbreaks, our silent joy, that create a culture that is uniquely LGBT. In that sense, it's good to celebrate with likeminded people who get the punchline. No explanation needed.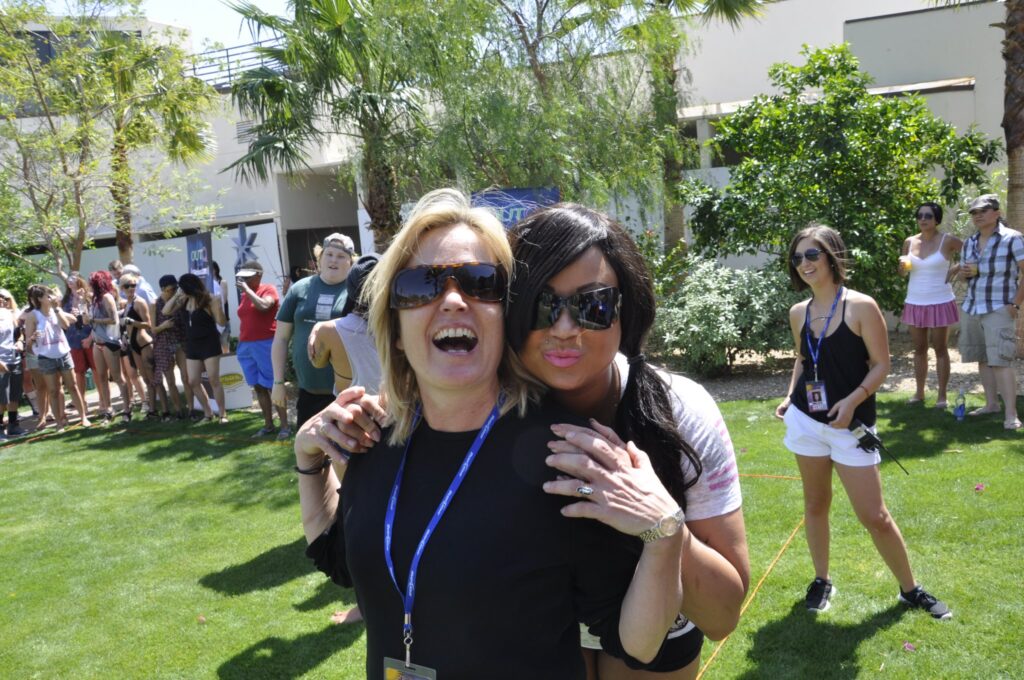 Perfectly said. So, you got your start producing club nights- Club Skirts in San Francisco, followed by The Girl Spot. What made you want to branch out into making a music festival? 
Mariah Hanson: I love presenting emerging talent to our community, especially when the talent is also queer. I saw early on how important it was to create community and I saw how I could do that nationally as well as regionally and I felt the call to break out into a national audience, to bring Queer women together from all over, to experience a collective unity, connected through music.
Music does make the people come together! Mariah, you have quite the reputation for picking stars on the rise for your headlining acts. What was it about Fletcher that made you want to book her this year?
Mariah Hanson: She's talented, beautiful and queer! I love that she is out, making music videos that reflect our narratives, our stories. She's an awesome role model, showing how hard work and dedication is the recipe to make our dreams come true.  We're also very excited about the other queer voices we booked this year. Siena Liggins, Haviah Mighty, Zolita, IV4, Cassidy King and Riela are also all queer female artists who are making a lot of noise for their extraordinary talent. They all embrace their queerness in such an authentic and unfiltered way, it is so inspiring! I'm also a huge fan of 80's pop star Taylor Dayne … she is such a gay icon! And she is exclusively bringing her full band to play The Dinah. What a treat! The Entertainment Line-Up this year is nothing we've ever seen before. It's going to be an epic Dinah!
It certainly sounds like it! Are there any dream acts you'd like to book in the future?
Mariah Hanson: Hayley Kiyoko. She once said something to the effect it would be a dream come true to play Dinah. I ask her every year and we get close to confirming but it hasn't happened yet. I think she needs to make my dream come true. Dinah needs us some Lesbian Jesus.
I think we all need some Lesbian Jesus!! (Laughs) What would you say The Dinah has to offer the 40 and above crowd? How diverse is the age range at the event?
Mariah Hanson: The age range is very diverse. I think a 40-50-60-70 year old enjoys watching the celebration, the sheer joy of the Dinah. Youth has no monopoly on the powerful feeling of living out loud, authentically and boldly. Every age gets something out of The Dinah. There is a wonderful crossover of age that for me is the perfect party.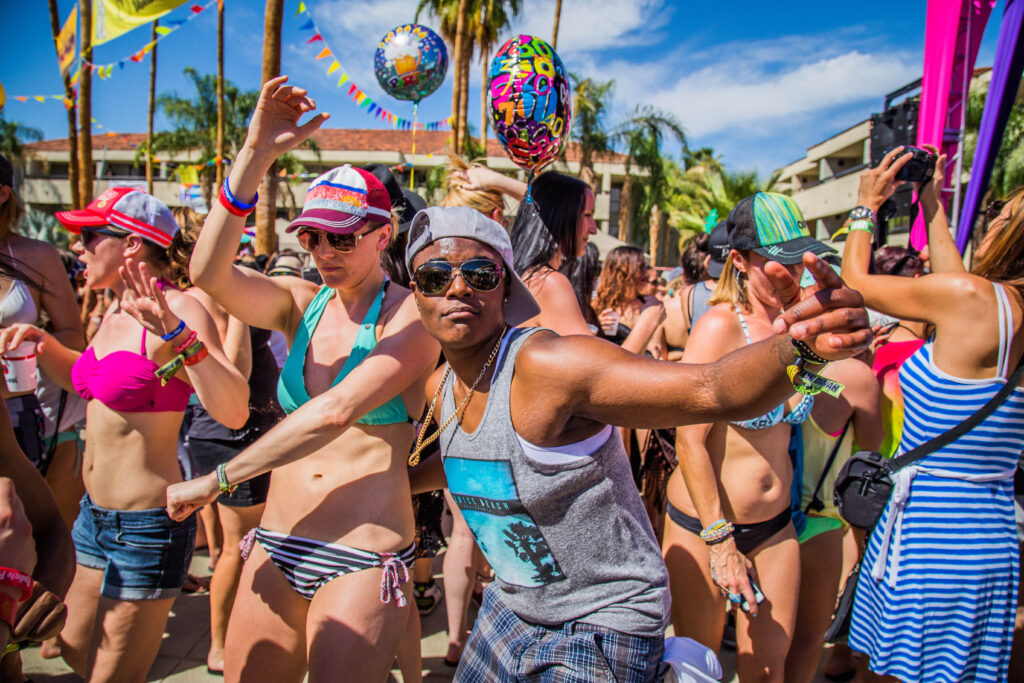 Sounds like it! The event has grown consistently year over year, but it saw a big boom after being featured on The L Word. What would you say was the impact that The L Word had on The Dinah? 
Mariah Hanson: The Dinah has always been relatively well known but having been showcased several times on The L Word, we went global. The exposure introduced us to a worldwide market and helped us become a bucket list event! I love The L Word and Showtime!
What is the best thing about putting on such a large-scale event?
Mariah Hanson: The best things for me are undoubtedly my customers and my staff. We have not only been providing a safe place for queer women to come together but also have been bridging the gender inequality gap in the event production field – a field typically known to be a boys' club. The Dinah opens up so many doors for women. Every single aspect of the event is run by women – from the staff, the managers, wranglers and drivers – to the artists headlining every year. As for my customers, there's no better feeling than to know and witness the tapestry of queer women in all fields from all over the world who attend The Dinah and are free to be who they truly are and gain a tremendous amount of self-worth.
I love that so much. Safe and empowering spaces for queer women are vital, now more than ever in this rapidly changing world. How has the lesbian/ queer women community changed since you started the Dinah?
Mariah Hanson: We are more comfortable in our own skin. Being out is much easier than it was 30 years ago. I think we are less likely to identify as group with a certain style, presentation. Being queer is now however you make it. No more flannel shirts!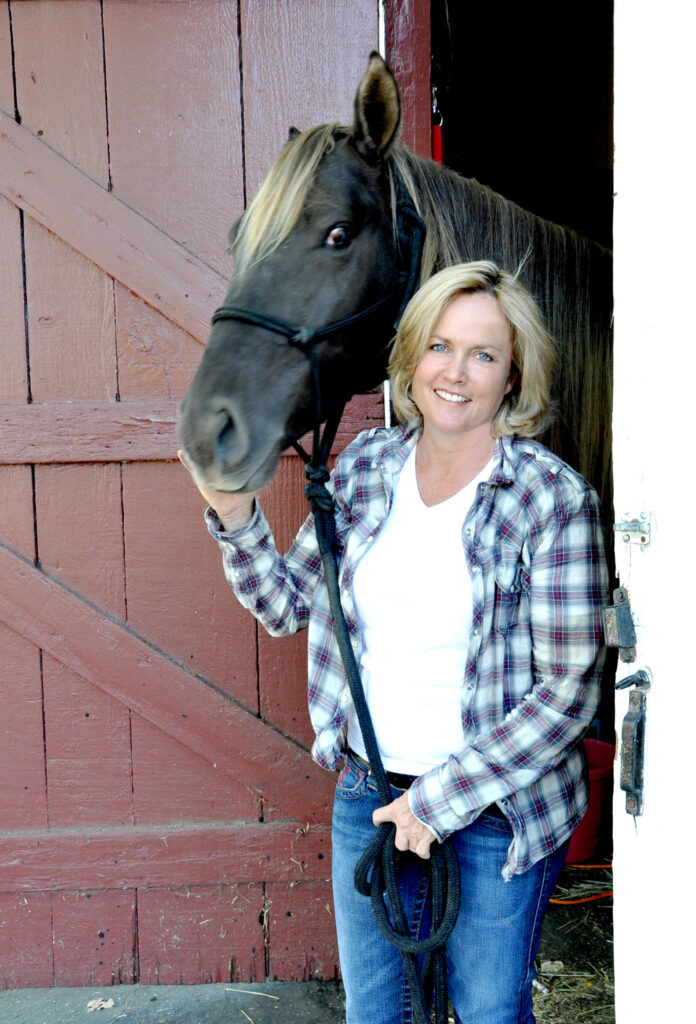 Getting as far as you have in your career takes a lot of grit and determination. Can you tell us who are some of your role models and inspirations?
Mariah Hanson: My Mother and my Grandfather– She was such an inspiration, grace personified and a heart of gold. My Grandfather was a Greek Immigrant, off the boat at age 5.  He became an American Success story. He taught me that the first step toward a dream is the hardest, and for most of us the step we never take. He always encouraged me to take that step, to be bold. Looking back, he was right. It's the first step that is the hardest to take but we must take it! 
There's lots of wisdom to be found if we take the time to listen to our elders. Speaking of which, what are your thoughts on seeming disconnect between Gen X'ers, Millennials and Gen Z within the LGBTQ+ community?
Mariah Hanson: Generation gaps are always with us. Then we grow older. We are either on one side of it or the other. It's a process that may feel atypical to each generation, but I do believe the process is quite mapped out. I would say all of us need to talk less and listen more. So much wisdom in age and experience, so much energy and imagination in youth.
That's great advice. We need to stay connected as a community in these uncertain times.  How would you recommend queer women specifically stay politically motivated and engaged?
Mariah Hanson: There are as many ways to stay motivated and engaged politically as there are queer women. For me, the question is when. You should always be engaged. Your political clout is embodied in everything you do, say, attend, purchase. There is never a time off. That's a myth. Doing nothing is as large a statement as doing something … anything.  But how? Donate your time, money. Read about issues and stay informed. Speak out kindly. Be counted. Share your stories. Come out! Support candidates who represent an inclusive world, locally, statewide and nationally.
Beautifully said. One last question, where are your favorite places to travel to? Can you recommend any places that are especially welcoming to queer women?
Mariah Hanson: My favorite country to travel to is Greece. I love the Islands, so gay friendly. But I think a weekend in the wine country in California is a wonderful queer getaway as well. It's so LGBT friendly and absolutely beautiful in October – and you might even run into me! Palm Springs is always a must see. Omaha, Nebraska is another favorite, believe it or not. I have two dear friends there and I love visiting. Great food! People are so down to earth and there are lakes outside of Omaha that are a blast and filled with Bald Eagles!!
For more information on The Dinah or to buy tickets click HERE.