Peaches Christ and Heklina's Mommie Queerest hits the road
Theatre is back and Mommie Queerest is about to start its nationwide tour. Well, it's starting in Palm Springs and then moving on to Seattle, so we can all hope that this live drag spoof of Mommie Dearest comes to our towns.
As for when the show will tour, Christ says, "At this point, we only have these two cities planned but it's the show that just keeps on chugging along so you never know where it might end up. The last time we did it was before the pandemic in Reykjavik Iceland of all places."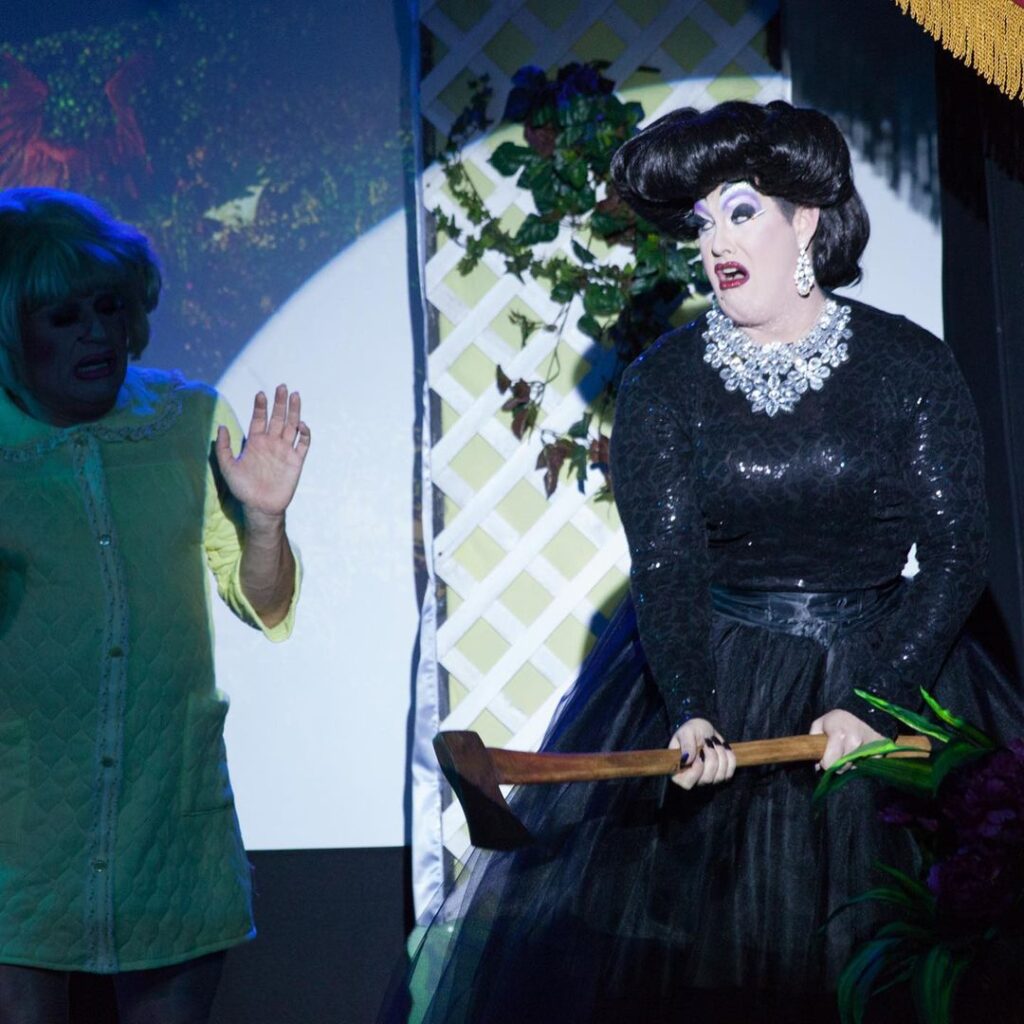 But there could always be more Peaches Christ Productions in Palm Springs. Her often co-star with equal billing Heklina has moved from San Francisco to Palm Springs. "I would like to present some Peaches stuff down in Palm Springs so we're talking about that," says Heklina. They worked on many show and movie spoofs for years in San Francisco when Heklina lived there. But of course, live theatre ceased when the pandemic hit but that didn't stop these two. "Peaches and I did a couple of shows together online during the height of the pandemic," Heklina says.
Bringing this classic re-telling of the cult film, Peaches Christ and Heklina are excited to return to live theatre with "Mommie" that Peaches thinks they've done "at least thirty times."
In a hybrid of a Peaches Christ Production, her Midnight Mass followers (who have endeared her fantastic spoofs and satires for over 25 years) can enjoy this live show at 7pm April 3 in Palm Springs at the Camelot Theatre, followed by a screening of the "Mommie Dearest" film with Faye Dunaway eating up the scenery as Joan Crawford.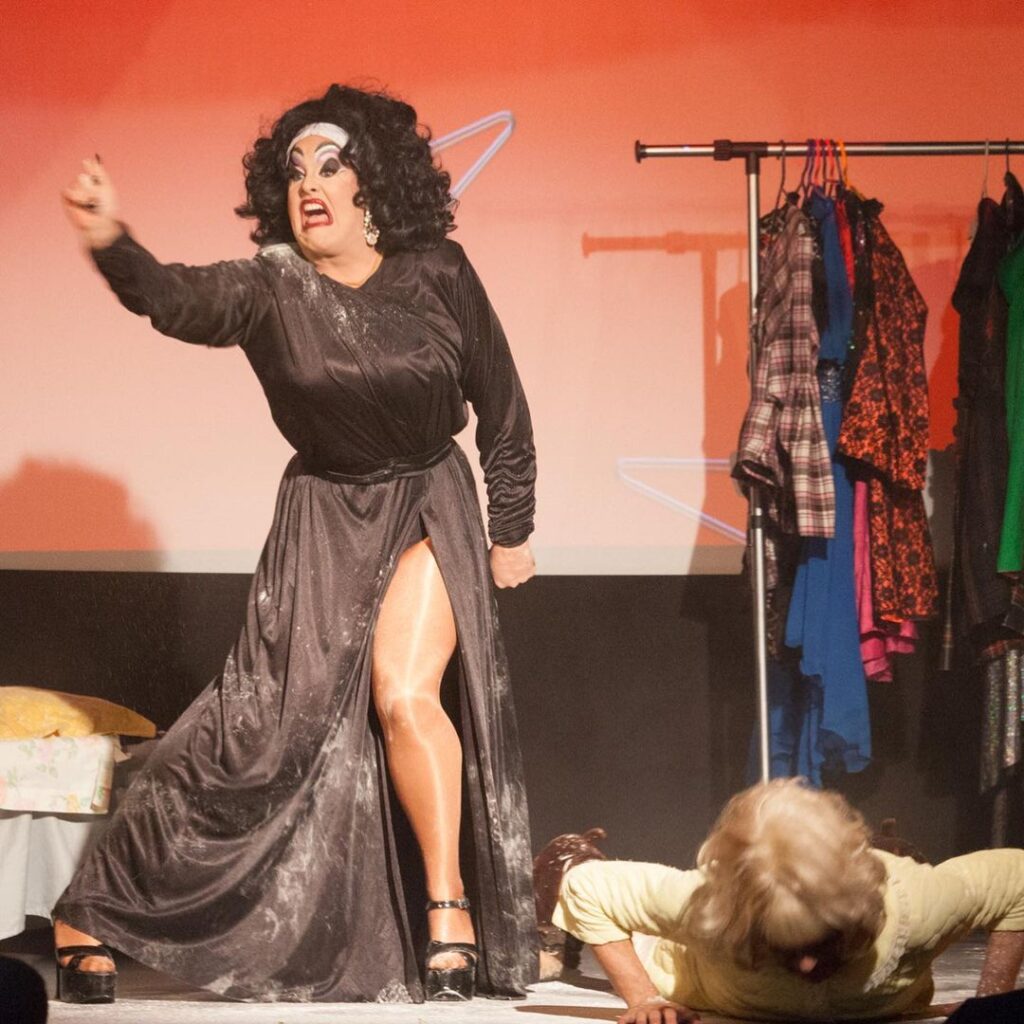 Then the show hits the road to Seattle and on Saturday, April 9 you can see the live show twice – once at 7:30pm and again at 10pm. Seattle is able to do it twice as there is no movie screening – just fun, camp and laughter.
How is Peaches Christ able to do these shows? She often does a performance or two of shows from per repertoire and then almost puts them back on the shelf. What about sets? "We use video projections and furniture, which is basically what we've always done with the show," Christ quips.
The cast isn't always the seem either. Christ says, "We typically change up the cast depending on where we are at and who's locally available." Both cities of course have Christ and Heklina and for these they also have the scene-stealing Nancy French and the popular Mario Diaz. In Palm Springs, they are lucky to have the additional of Vanity Halston and in Seattle, their co-stars will be Abbey Roads and Ada Connere.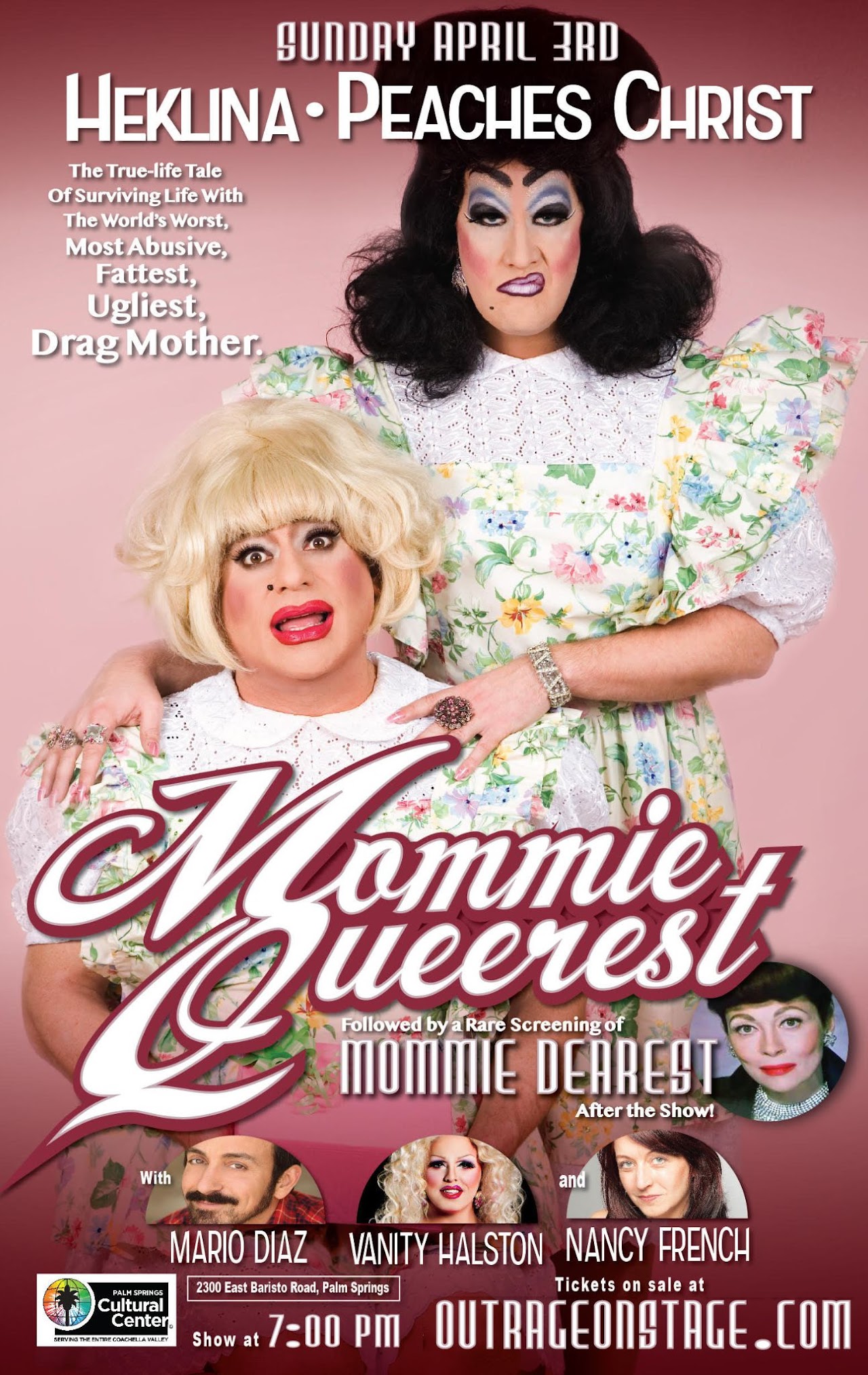 Neither drag superstar rests on their laurels. Christ says she "has been planning stuff behind the scenes, and am working on finally presenting "Drag Becomes Her" at the Castro Theatre with Jinkx Monsoon and BenDeLaCreme in August. This show has been postponed three times since 2020 so fingers crossed it actually happens this year. I'm also working on a brand new Terror Vault show for the San Francisco Mint in October." Christ also says that a special BluRay edition of her movie "All About Evil" is also in the works.
Heklina is also keeping busy between Palm Springs and San Francisco. "I'm just now being able to do shows and projects, everything was stop and start for a long time as you know. But I am gonna be doing my 'Big Opening' in Palm Springs at Oscars on May 13, and in general, I have gigs being booked for summer here in San Francisco and Palm Springs."
Get more information for this show at https://tinyurl.com/MQueerest.