Pride gifts that make a difference
Enjoy this rainbow basket of seasonal LGBTQ-themed goodies and help make our world a better place.
CONTRIBUTE TO THE FIRST-EVER RWANDA PRIDE
Albert Nabonibo spent much of his life building up a successful career as a gospel singer in Rwanda. In 2019, he came out as a gay man and his world was turned upside down. "Suddenly, my story was making headlines around the world," he says. "While some people on the internet praised my decision, here in Rwanda it was devastating. Friends disowned me and refused to talk to me. I was terrified I was going to lose my job… or worse." But he found a local LGBT+ community of beautiful, vibrant, and inspiring people who embraced him.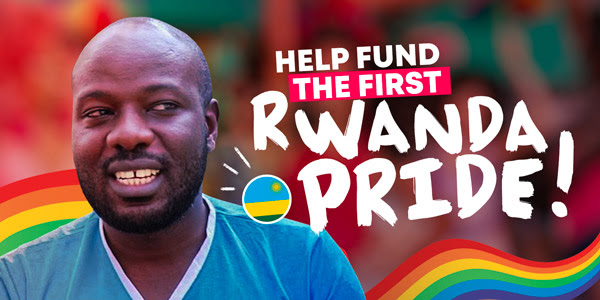 Now they want to hold the very first Pride celebration in Rwanda! "This will be a life-changing chance to show LGBT+ people in Rwanda that they are not alone and that our lives should be celebrated – not forced into the shadows," says Albert. "Rwanda is largely still an intolerant country for LGBT+ people. We have zero protections and experience little acknowledgement that we even exist. Many people use twisted religious views to call us sinful or evil. Young LGBT+ Rwandans see virtually no positive representation here. And that's exactly why we need Pride Rwanda. We want to put a special twist on this important event. In addition to events around connection, celebration, and education, we'll also have a soccer match as a way to bring one of our country's most popular sports into Pride. Everyone loves a good soccer match here and it will help show that LGBT+ people are just like other Rwandans!"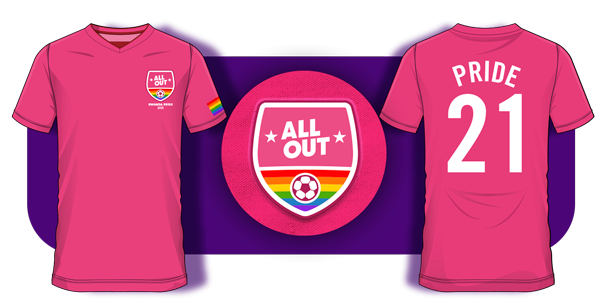 All Out has designed a special Pride 2021 jersey to help celebrate the event. Donate $50 or more and they'll send one to you as a special thank you gift. Donate today to help fund the inaugural Pride Rwanda today!
STOLI® VODKA & THE HARVEY MILK FOUNDATION COLLECTOR'S EDITION BOTTLE

The limited edition Stoli® Harvey Milk Global Collector's Edition Bottle, featuring art from Paraguayan artist Oz Montania on individually numbered bottles of Stolichnaya® made-in-Latvia premium vodka, is a fabulous way to drink to Pride.
"The Harvey Milk Foundation is excited to see our long term partnership with Stoli Vodka go global this year", said Miriam Richter, Harvey Milk Foundation Education Director and Counsel "The 2021 HMF/Stoli collaboration is a message to people all over the globe that visibility is vital and that hope can not be silenced, not just LGBTQ+ people, but for ALL people".
"As a company recommitting itself as a true global organization devoted to sustainable equality, there could be no better partner for the first true Stoli® Global LGBTQ+ Limited Edition than the Harvey Milk Foundation (HMF)" said Patrik Gallineaux, Global LGBTQ+ Ambassador for Stoli®. "Harvey Milk's legacy and spirit and the Harvey Milk Foundation's unparalleled work around the globe transcend borders and uplift Stoli®'s promise to liberate authentic voices in pursuit of a better world."
"Creating the art for the second Harvey Milk commemorative bottle with Stoli is an honor and a privilege for me," said Oz Monania. "The image is taken from the 1978 Gay Pride Parade in San Francisco, where Harvey Milk and other marchers held signs protesting the Briggs Initiative – a state proposition that would have made it mandatory for school boards to fire openly gay and lesbian teachers. Using those iconic reference images, I re-imagined a contemporary crowd in the background, depicting Harvey Milk's leadership legacy that continues to this day. This work serves to honor the legacy of an exceptional human being," said Oz Montania.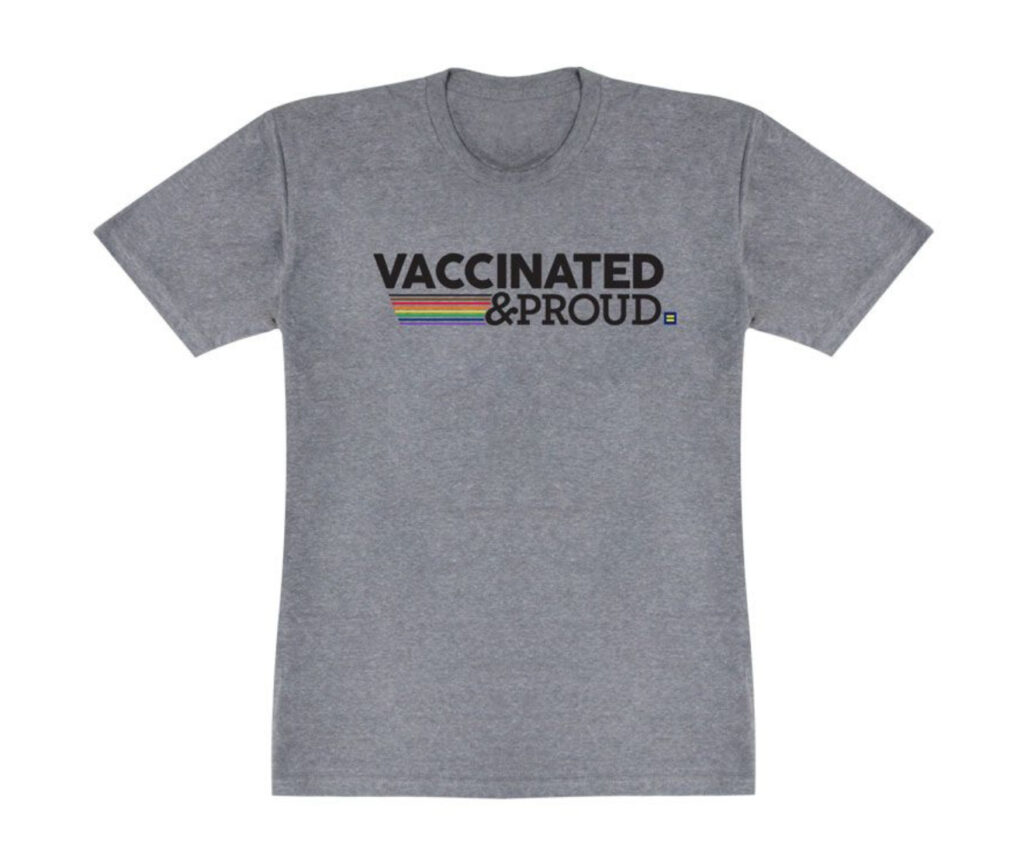 VACCINATED AND PROUD T-SHIRT
Tell the world you are out and proud about everything — including that you are Covid-safe, vaxxed and relaxed, and ready to mingle — by wearing this Unisex fit, Made in the USA, super soft cotton blend T-shirt. And even better, know that your purchase gave back to the fight for equality. Just $29 here.
LEGO LGBTQ-THEMED SET
Branded as Everyone Is Awesome, the 346-piece set is comprised of LEGO figures representing every color in the most recent version of the rainbow flag, including Black Lives Matter and the transgender flags. Perfect for kids or the kid inside you! Designer Matthew Ashton said he wanted to create a model that symbolizes through the monochromatic-colored individual mini figures the diversity of LEGO's fanbase and the LGBTQIA+ community.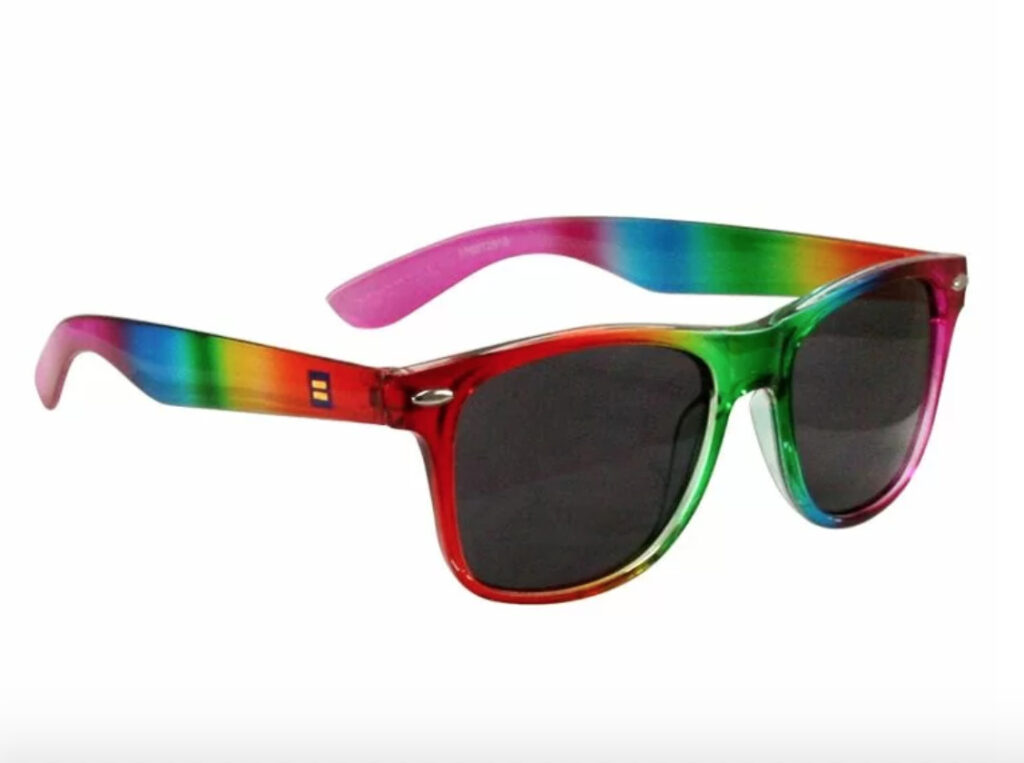 PRIDE SUNGLASSES
HRC'S got the perfect pair of rainbow sunnies for you if you are out and about this Pride. Made from translucent plastic, and providing 100% UVA and UVB protection, these cheerful specs come with the HRC logo screen print on one side, and they do the job — plus at just $9 a pair you won't lose your cool if you happen to lose them while having fun at your favorite Pride March or gay bar!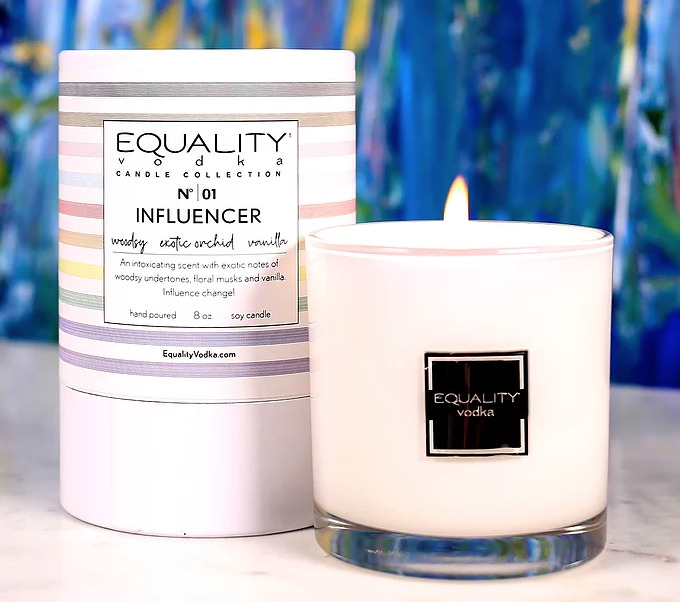 EQUALITY CANDLE
Refresh your home with a fragrant candle emanating delicious scents inspired by classic and favorite cocktails from EQUALITY vodka! A portion of profits from each candle sold are donated to Lambda Legal to help in the fight for LGBTQ equality.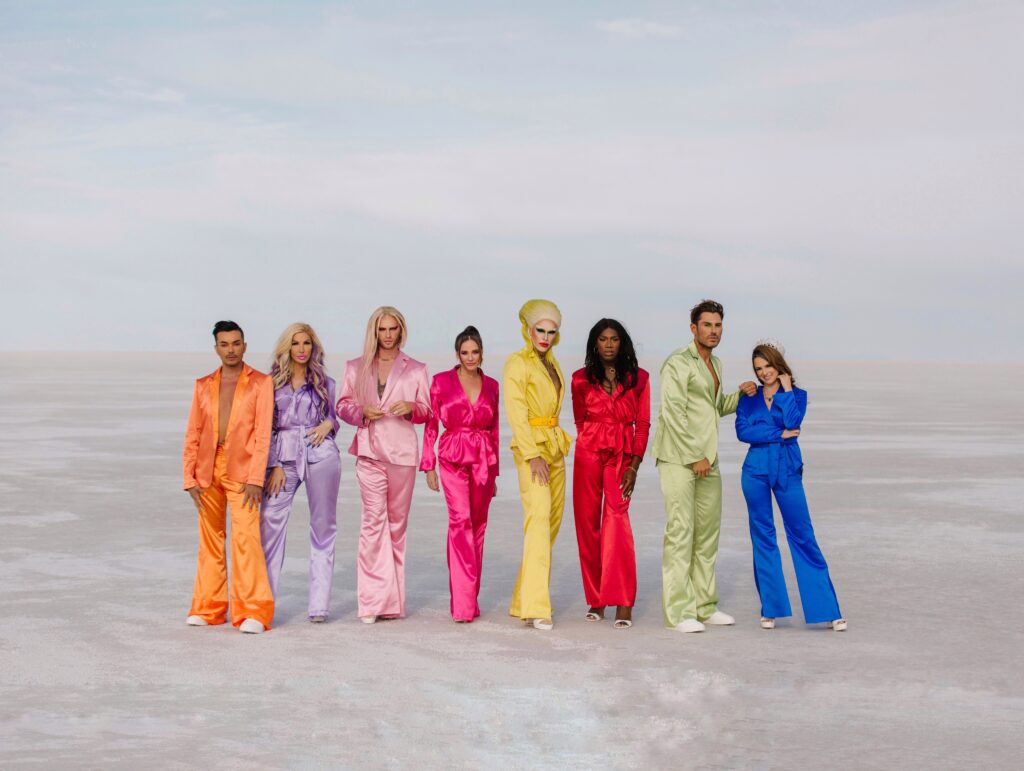 MEREDITH MARKS
GLAAD has announced a new partnership with designer and "Real Housewives of Salt Lake City" star Meredith Marks in order to raise critical funds for LGBTQ acceptance. Marks will donate a portion of proceeds of all online jewelry sales for the month of June to GLAAD. She has also designed a limited edition "I'm Engaging with LGBTQ Rights" t-shirt, available now at www.meredithmarks.com, with sales benefiting GLAAD.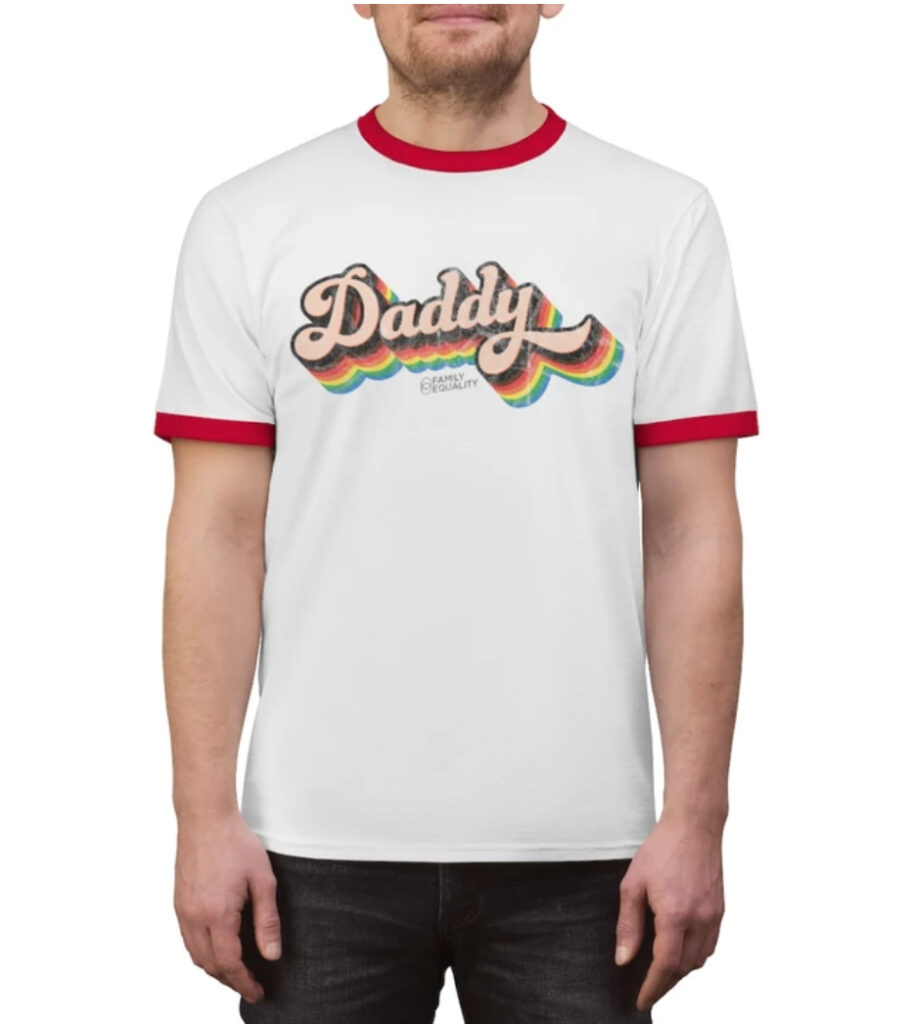 DADDY T-SHIRT
This LGBTQ+ Daddy Unisex Ringer T-shirt is a cheeky reminder that our rainbow families come in all styles. Sporting a 'classic-cool' look this T-shirt is a summertime must have purely for its versatility! Make heads turn as you hit the boardwalk or hit the gym. Best of all, by purchasing this shirt, you are helping to support Family Equality and the work it does to advance legal and lived equality for LGBTQ families.
​