Queer and over 40: Matt Gross and Boshko Boshkovic
The married couple and small business owners share the story of love, living together, and learning how to grow their respective businesses.
Matt Gross, 41, and Boshko Boshkovic, 46, may have met online but they were also neighbors who realized they had a lot on common despite growing up oceans apart, and working in seemingly unrelated fields—public relations, and reiki. But the couple are all about bringing out the best in people, themselves, and each other.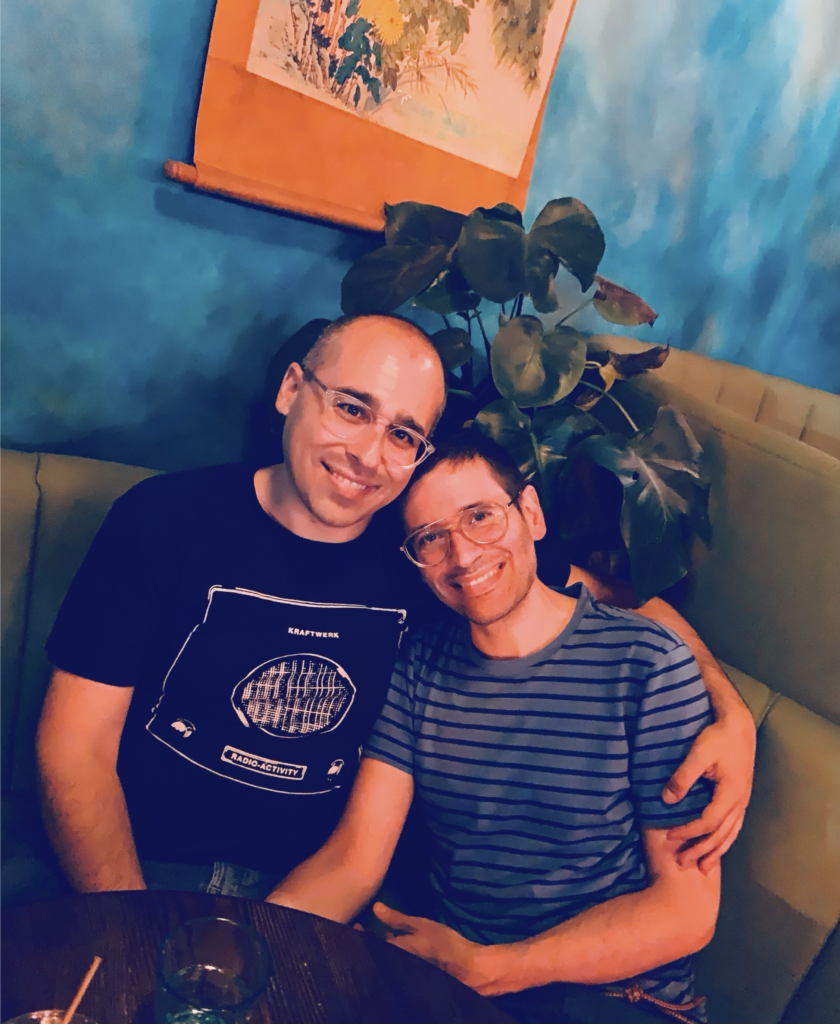 When, where and how did you two meet?
Matt: We met online in July of 2011. We lived within a few blocks of one another (in Brooklyn, NY) and met up shortly after chatting with one another. Our first date was at a great Indian restaurant named Gandhi that sadly just closed!
How long have you been a couple and how did you choose to formalize your relationship?
Matt: We've been a couple for nearly twelve years and got married in Maui on the beach in August of 2019
You each have your own businesses. Matt, yours is in PR, Boshko, yours is in healing. That's kind of unusual to both have businesses and in quite different fields. How does it affect your relationship?
Matt: I think it's great! We get to see a lot more of each other than other couples that have 9-5s in different physical workplaces – plus we get to bounce ideas off of each other throughout the day. I love that.
Boshko: I feel that we get to spend much more time with each other since we both work primarily from home. We are also pretty good about keeping the boundaries not to mesh work and our personal time, which I think is important. I feel lucky that I am able to brainstorm work ideas with Matt since I trust and value his opinion.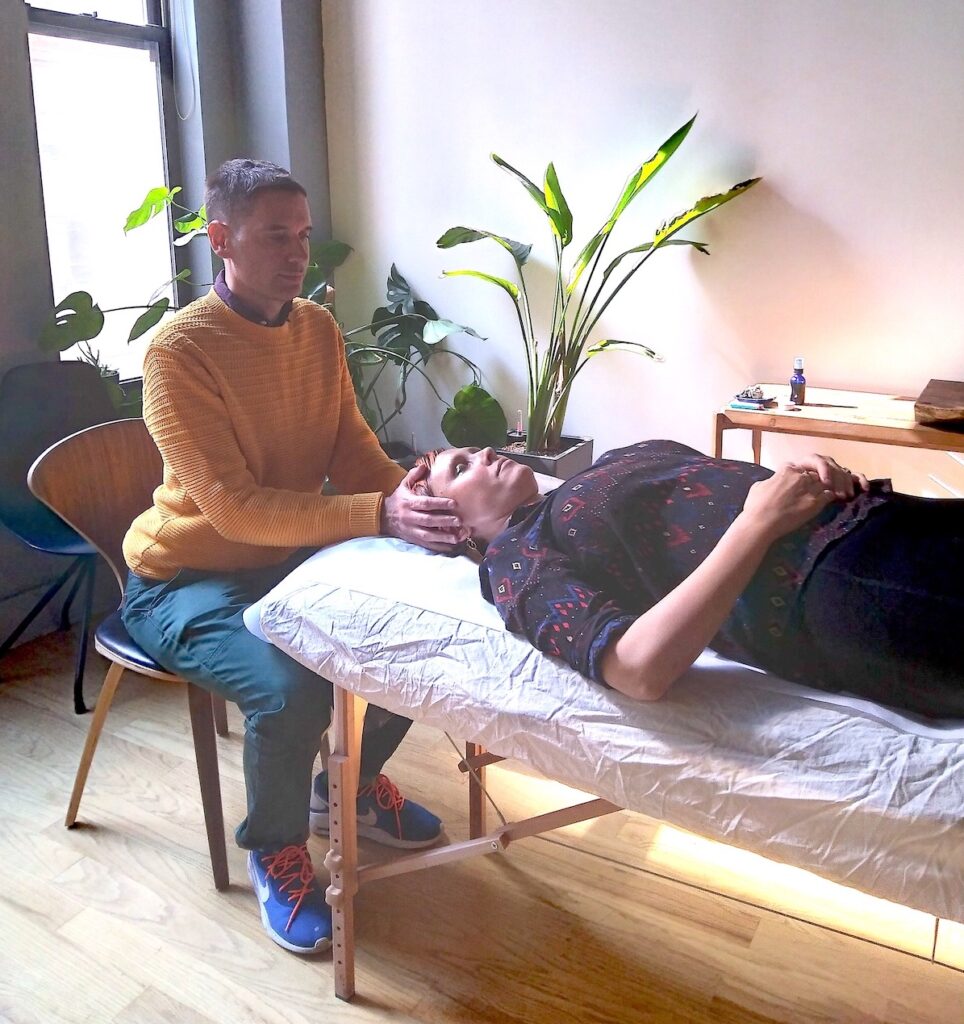 Please describe each of your businesses and what was the ah-ha moment that made you feel like this was a good idea and a service you needed to offer? What does an average day at work look like to you?
Matt: I am a publicist specializing in the disciplines and cross sections of performance art, all things queer (including lots of drag), live theater and cabaret. The artists, venues and institutions that I work with are local (to NYC), national and international. Some of my beloved long-term clients: Jinkx Monsoon & BenDeLaCreme (their annual holiday tours and beyond), Isaac Mizrahi (his Cafe Carlyle residencies and beyond), Play On Shakespeare, Queer|Art, the Bearded Ladies Cabaret and so on. I'm very fortunate to collaborate with clients that I truly adore — and I highly respect their work, all of them. Shortly after graduating with a marketing degree from the University of Maryland, I went to work at an LGBTQ+ print publication. During my time there I wore many different hats — including but not limited to ad sales, website editorial, accounts receivable, copy editing, managing social media, etc.
After about a decade in that position, I needed a change and shifted entirely to the world of PR pretty much overnight. I worked at a small firm for about six years, focusing primarily on music clients before expanding my roster. Due to the pandemic that company was forced to downsize, and I was laid off in the summer of 2020. Shortly thereafter I had my ah-ha moment and started Heart Spade PR. It's been going swimmingly the last two and a half years. Re: an average workday — it honestly varies. Some days I'm running around doing in-person press with a client, some days I'm in front of the computer writing press releases, pitching story ideas and setting up features. You always have to be on your toes (and glued to the inbox if I'm being 100% honest).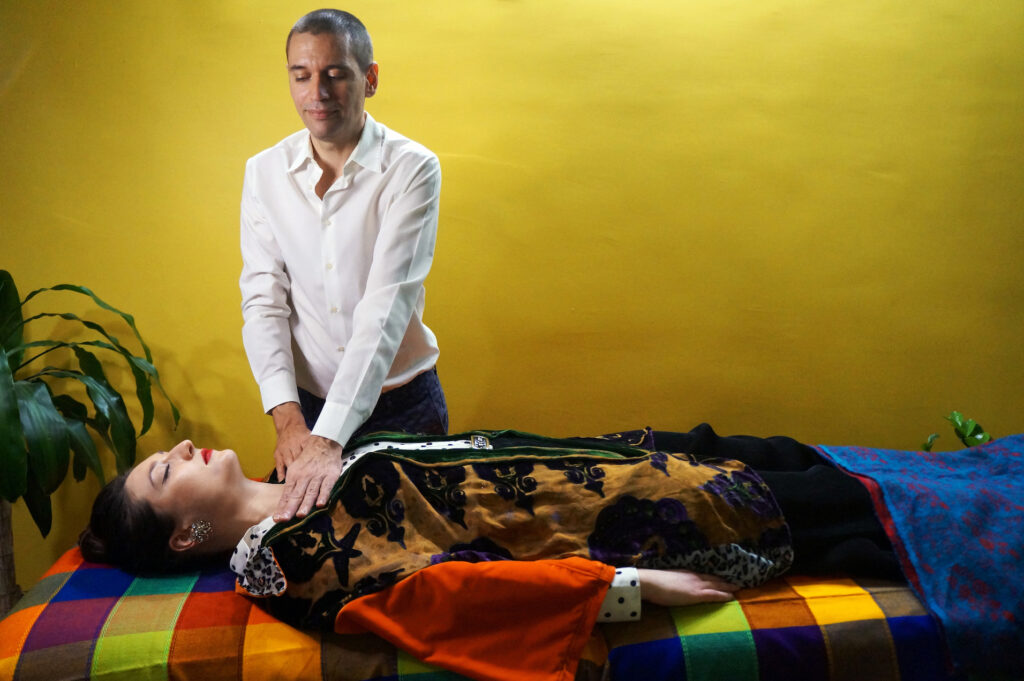 Boshko: I am a Reiki & Sound healing practitioner; Reiki is a healing touch therapy originating from Japan. It uses specific hand positions on the human body which correspond to our energy centers or meridians similar system used in acupuncture and helps release emotional and physical constraints.
My switch to Reiki was gradual, I started training in this modality while I still had my last full-time employment. Then I left my job without knowing what the next step was, which was the first time I have ever done something like that in my life. About 8 months later I decided that I wanted to dedicate most of my time to the practice of Reiki so I started giving Reiki sessions systematically — first to all my friends. Later on I started participating in Reiki clinics in New York City with different organizations like Maha Rose, the Jewish Community Center and Minka Brooklyn. These places offered Reiki treatments at a sliding scale rate and these experiences gave me the confidence and realization that I wanted to continue being on this path.
I start my day with doing Reiki on myself as well as certain meditative practices and routines that help me stay centered, aligned and grounded. I use part of my day to communicate with clients and plan. I also create my own social media content for Instagram and email campaigns. Afternoons and evenings are usually spent with clients in sessions in-person or virtual. Reiki sessions can be done via Zoom as well, I teach 2 virtual classes per week at two different senior centers. They are 60-minute sessions that include segments of Sound Healing, guided meditation and Reiki. I also conduct a Sound Meditation and Reiki evening group session once a week in person at Grand Street Healing Project in Williamsburg. I really enjoy the interactions that I have with the public during these group sessions.
What are the unique training, skill set, mindset you each need to bring to your practice and business?
Matt: I think one of the reasons that I've built such strong relationships with clients and writers alike is that I'm optimistic and also straightforward. No drama. From 2006-2018, I also ran two different and fairly successful music blogs on the side [The Music Slut and A Heart is a Spade, respectively] — so I'm familiar with how a pitch works and what separates a great one from a terrible one. I don't think many publicists have been on the other end of the seesaw like I have.
Boshko: I have formal training in both Reiki and Sound Healing but what is really important is that I continuously practice these modalities on myself and do self work in order to be as clear as a vessel for the clients I serve. Being compassionate towards the clients I work with is important but also having a clear boundary at the same time so I do not take anything that is not mine. A mindset of being curious and open is always a good thing in my opinion.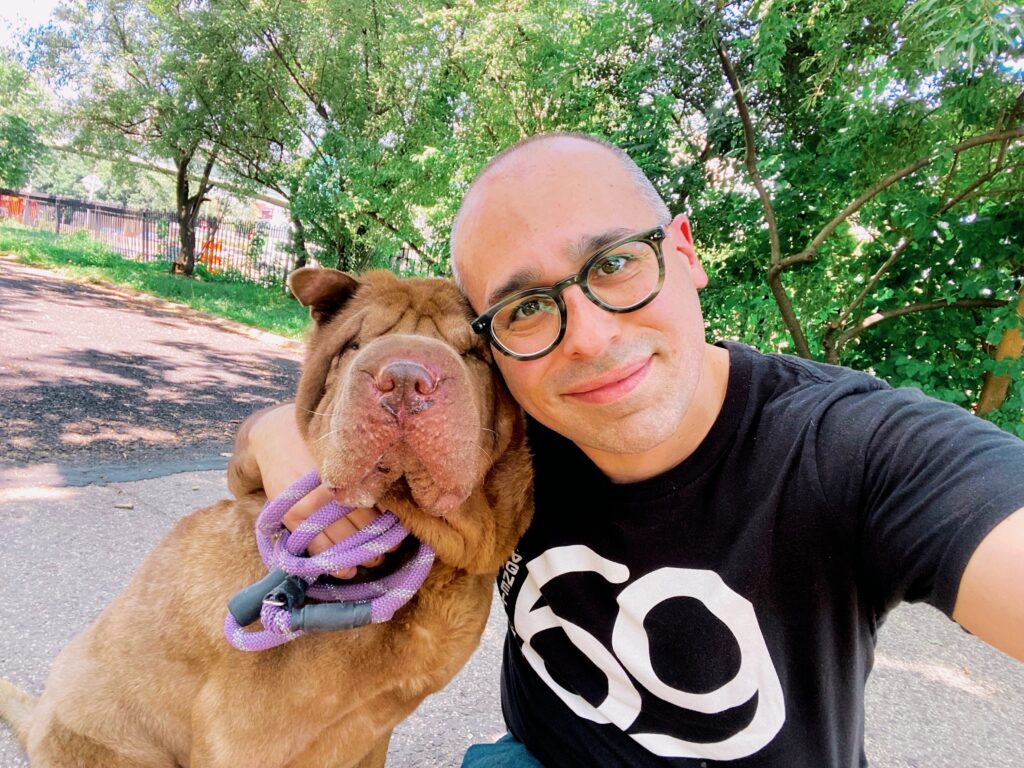 If you didn't do these jobs you would be… any other profession or occupation?
Matt: I'd definitely be running my own animal rescue (see below) — that's such a passion of mine.
Boshko: I would be doing something in the field of contemporary visual art. Prior to becoming a Reiki practitioner, I worked as a curator in different capacities.
Where do you currently call home? And what do you do to relax when you have time off?
Matt: We live in Brooklyn, NY — specifically in the neighborhood of Prospect Lefferts Gardens. When I have time off, I love to go to my local animal shelter, Sean Casey Animal Rescue. I try to go at least a few times a month. From time to time, I like to attend IRL and virtual figure drawing classes. Also, I'd be remiss if I didn't include bumming around and watching my 8,000th Golden Girls marathon, my all-time favorite show since I was 5 years old.
Boshko: As Matt mentioned, Brooklyn is our home but I do have another place that I call home, which is Belgrade, Serbia where I am originally from. I still keep a connection to my hometown, family and friends and visit once a year. When I have time off I try to see close friends, I like to spend time in Prospect Park and I also enjoy cooking and reading books.
Connect with Matt Gross at @heartspadepr and follow him @mattheartspade. For professional inquiries email: matt@heartspadepr.com.
Connect with Boshko Boskovic @letshealnyc. For inquiries email: letshealnyc@gmail.com.