Queer | Art announces mentors for 2022
Queer|Art, NYC's home for the development of LGBTQ+ artists, has announced the new mentors for the 2022 program cycle.
The Mentorship program is the cornerstone of Queer|Art's work, providing support for LGBTQ+ artists focused on creative issues and long-term sustainability of artistic practice. Now in its 11th year, the organization's celebrated year-long creative and professional development program expands nationally for the first time, supporting remote and in-person participation between early-career and established LGBTQ+ artists from across the country. This year Queer|Art welcomes six new Mentors and six returning Mentors.
The 2022 Queer|Art|Mentorship Mentors by Field

FILM
Silas Howard (Filmmaker, Writer; Director, A Kid Like Jake, 2018; More Than T, 2017; Co-Director with Harry Dodge, By Hook or by Crook, 2001)
Angelo Madsen Minax (Experimental Filmmaker, Sound and Music Performance Artist, Text and Media Installation Artist; Director and writer, North by Current, 2021; Kairos Dirt & the Errant Vacuum, 2017)
Tourmaline (Activist, Filmmaker, and Writer; Director, Salacia, 2019; Co-Director with Sasha Wortzel, Happy Birthday Marsha!, 2018; 2021 Guggenheim Fellow)
LITERATURE
Alexis De Veaux (Writer, Lecturer, Activist; Yabo, 2014; Warrior Poet: A Biography of Audre Lorde, 2004; The Woolu Hat; 1997; An Enchanted Hair Tale, 1987)
Torrey Peters (Writer; Detransition, Baby, 2021; Glamour Boutique, 2017; The Masker, 2016; Infect Your Friends and Loved Ones, 2016)
Saeed Jones (Writer; How We Fight for Our Lives, 2019; recipient of the 2019 Kirkus Prize for Nonfiction and the 2020 Stonewall Book Award)
PERFORMANCE
Morgan Bassichis (Comedian and Musician; Nibbling the Hand that Feeds Me, Whitney Museum, 2019; Klezmer for Beginners, Abrons Arts Center, 2019)

Will Rawls (Multi-Disciplinary Choreographer; What Remains, Museum of Contemporary Art, Chicago, 2017; The Planet-Eaters, The Chocolate Factory, 2013; recipient of the 2015 Foundation for Contemporary Arts Grants to Artists Award)
Julie Tolentino (Performance Artist, Writer; Slipping Into Darkness, bury.me.fiercely, 2019, Performance Space NY; REPEATER, Commonwealth and Council, 2019; Always, Already, Haunting, "Disss-co," Haunt, The Kitchen, 2019)
VISUAL ART
Lola Flash (Photographer, Activist; Lola Flash [SUR]PASSING, Autograph, 2019; Utopian Imagination, Ford Foundation, 2019; Lola Flash: 1986-Present, Pen+Brush, 2018)
Jeffrey Gibson (Multimedia Artist; Because Once You Enter My House It Becomes Our House, Socrates Sculpture Park, 2021; Jeffrey Gibson: Like A Hammer, Denver Art Museum, 2019; 2019 MacArthur Foundation Genius Grant recipient)
Constantina Zavitsanos (Multidisciplinary Artist, Performer; L&D Motel, Participant Inc., 2019; Nobody Promised You Tomorrow, Brooklyn Museum, 2019; Straying from the Line, Schinkel Pavillon, 2019)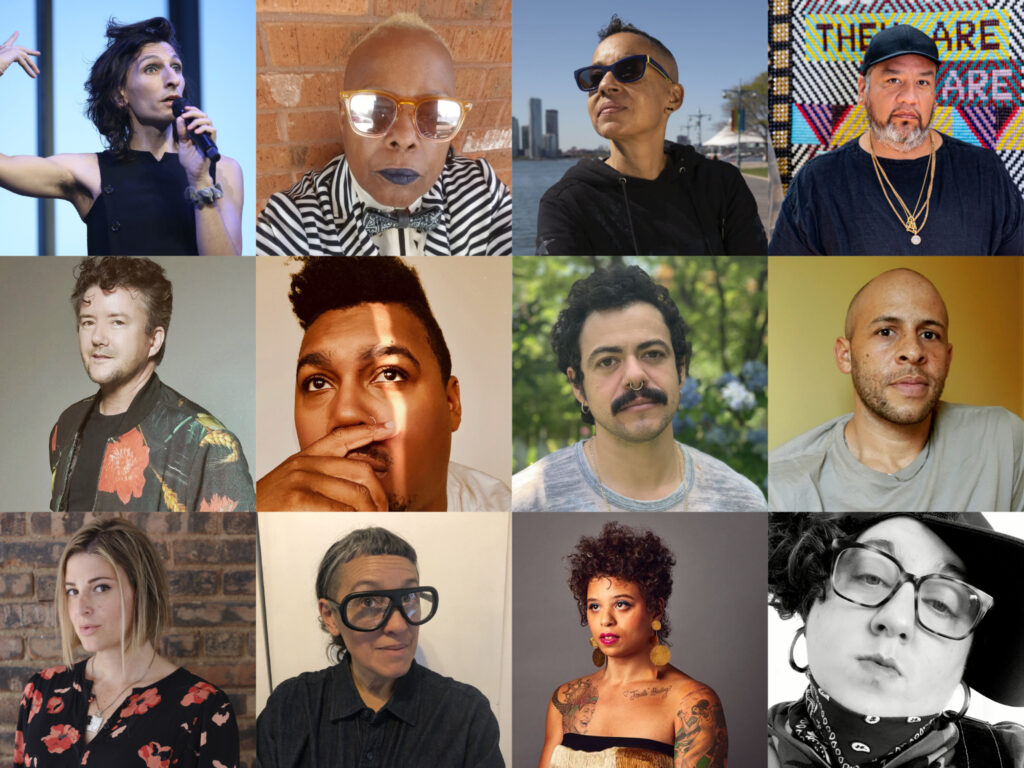 Image credits, clockwise from top left: 1.Morgan Bassichis, image by Paula Court; 2. Alexis De Veaux, image courtesy of the artist; 3. Lola Flash, image by Lola Flash for the 2019 Queer|Art Community Portrait Project; 4. Jeffrey Gibson, image by Brian Barlow; 5. Silas Howard, image courtesy of the artist. 6. Saeed Jones, image courtesy of the artist; 7. Angelo Madsen Minax, image courtesy of the artist; 8. Torrey Peters, image by Natasha Gornik; 9. Will Rawls, image by Kennis Hawkins; 10. Julie Tolentino, image courtesy of the artist; 11. Tourmaline, image by Mickalene Thomas; 12.Constantina Zavitsanos, image by Allison Harris
Applications are now open at www.queer-art.org/mentorship Application Deadline: July 22, 2021
About Queer|Art|Mentorship
Queer|Art|Mentorship (QAM) was launched in 2011 to establish an intergenerational and interdisciplinary network of support and shared knowledge for LGBTQ+ artists. Now entering its eleventh year, QAM has graduated 110 Fellows, with 69 Mentors, producing a diverse and vibrant community of filmmakers, authors, performers, visual artists, and curators. The program's enduring success is in the many creative and professional relationships it has nurtured, which continue to propel the careers of a new generation of artists.