Queer horror-thriller Party & Prey is coming to the big screen
The queer horror-thriller Party & Prey is being made into a movie.
As reported by Deadline, Legendary Entertainment and the publishers Aftershock Media have reached a deal to translate the provocative graphic novel to the big screen. Created and written by Steve Orlando & Steve Foxe with art by Alex Sanchez, Party & Prey is described as a "gay Get Out crossed with Criminal, Stray Bullets or Dead Inside".
According to the book's official synopsis the premise is as follows:
"Alan is an older gay man on the prowl for a young, 30-ish hookup. He finds the perfect match in Scott, but when they go back to Alan's sprawling estate, "Scott" suddenly turns on his older date. Turns out, Alan isn't the picture-perfect sugar daddy, but a sociopath responsible for the disappearance of numerous young gay men. "Scott" isn't really looking for a boyfriend, but revenge for a fallen friend…unfortunately for Scott, he may have underestimated Alan and when he finds one of Alan's victims still alive, his mission swerves from one of revenge to a rescue…"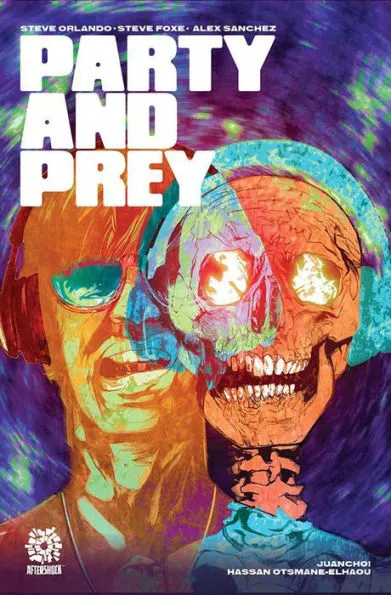 Patrick Brice, director of the hit horror film Creep, will direct a script to be written by Rob Forman of iZombie fame. No word yet on any potential casting choices. AfterShock Media and Legendary Entertainment are slated to produce the film alongside Lee Kramer, David Sigurani and Jon Kramer, with Orlando and Foxe exec producing, and Max Zupanovic serving as co-producer.
"I couldn't be prouder of this book" Orlando told Deadline, "its lens, its action, its horror, and its representation across the board. We created the comic we wished would be on the stands, and now I couldn't be more honored and energized for the world to see it on the screen!"
Orlando is a GLAAD Media and Eisner Award-nominated comic book writer noted for his work on titles like Midnighter and Batman while his co-writer Foxeis The Eisner and Ringo Award-nominated author of 75+ comics and children's books including Razorblades: The Horror Magazine, and X-Men '92: House of XCII.
Party & Prey is part of a growing trend within the horror genre of spotlighting queer storylines. This year alone saw the release of They/Them, a horror film set in a gay conversion camp, Queer For Fear, a four part docu-series tracing the queer origins of horror, the continuation of the Chucky series which is centered on a gay teenager and the introduction of a lesbian protagonist into the Scream franchise.
No word yet on a potential release date for Party & Prey.