Queer podcast Two Dykes and A Mic with McKenzie Goodwin and Rachel Scanlon on tour
Two Dykes and a Mic, the queer podcast chart-topping show hosted by queer comedians McKenzie Goodwin and Rachel Scanlon, will be traveling across the U.S. and Canada for a number of live podcast-taping shows. 
Two Dykes and a Mic is a weekly podcast and internationally touring comedy show dedicated to sex positivity, queer dating, and building a community filled with laughter and gayness.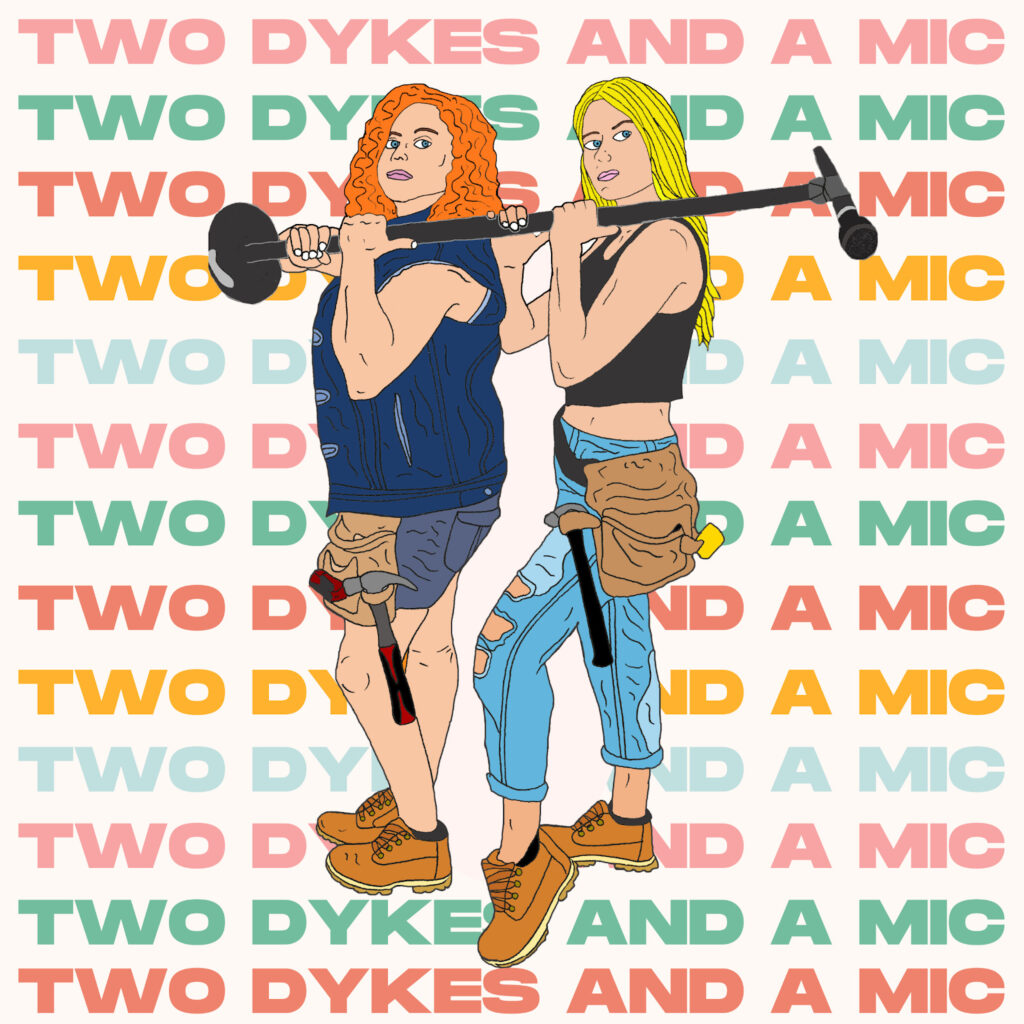 "We're out here trying to make queer people laugh," says Scanlon. On their show, best friends Goodwin and Scanlon keep listeners up to date with the Gay News segment, give relationship advice with Ask a Dyke, share dating horror stories with Bumble Fumbles, and keep their audience laughing with fan-favorite segments What's Gayer?, Who Tops Who? and more. "Let queer people be silly and full of joy even when June ends. The other months are super gay too!" says Goodwin
At their Two Dykes and A Mic live tour dates, the audience gets to see comedy and the podcast come to life. They'll talk all things queer including the dangers of letting your bi friend drive, address the question: is wearing a flannel while straight queer bating?, and talk through the jawlines that ripped them out of the closet. They'll also interview surprise guests along the way including Margaret Cho, Mae Martin, and E.R. Fightmaster. 
Follow Two Dykes and A Mic online: Twitter | TikTok | Facebook | YouTube | Spotify | Apple Podcasts
Two Dykes and A Mic Tour Dates
August
1 – Houston, TX @ Houston Improv
2 – Austin, TX @ Vulcan Gas Company
3 – San Antonio, TX @ Laugh Out Loud
16 – Hartford, CT @ Funny Bone
17 – Albany, NY @ Funny Bone
21 – Los Angeles, CA @ Largo at the Coronet
September
5 – Calgary, AB, Canada @ Laugh Shop
6 – Vancouver, BC, Canada @ House of Comedy
7 – Edmonton, AB, Canada @ The Comic Strip
9 – Boise, ID @ Lounge at the End of the Universe
10 – Salt Lake City, UT @ Wiseguys
13 – Omaha, NE @ Funny Bone
14 – Kansas City, MO @ Improv
26 – Brooklyn, NY @ Bell House
28 – Asbury Park, NJ @ House of Independents
29 – Toronto, ON, Canada @ Comedy Bar Danforth
30 – Toronto, ON, Canada @ Comedy Bar Danforth
November
5 – San Diego, CA @ Mic Drop
7 – Detroit, MI @ Comedy Castle
8 – Cleveland, OH @ Hilarities
9 – Pittsburgh, PA @ Improv
15 – Raleigh, NC @ Improv
16 – Richmond, VA @ Funny Bone