Reclaim Pride Coalition announces details for Pride
Days ahead of Pride Sunday in New York City, the Reclaim Pride Coalition confirmed plans for their third annual Queer Liberation March. 
"We need to march like we used to, when the diverse LGBTQIA2S+ communities gathered every year as one people, in peaceful, protest marches," said Paul Nocera, an RPC organizer. "Our communities are still reeling from the COVID pandemic and the resulting shutdown of support services and community spaces. It's times like this that we need to March — instead of supporting a corporate takeover dressed up like a parade."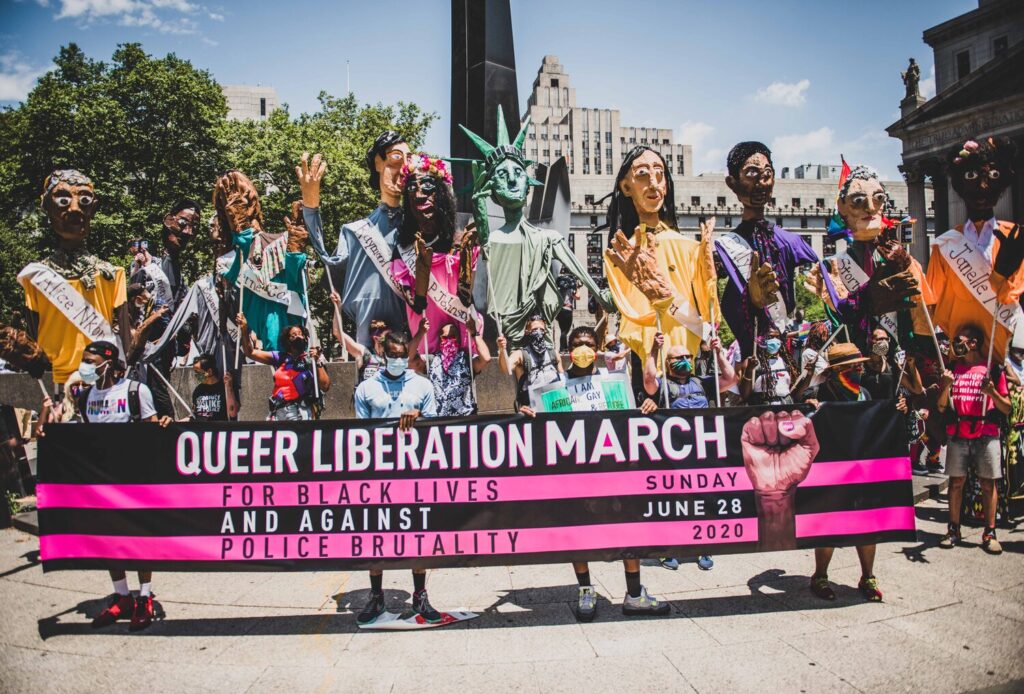 Here is everything you need to know about this non-corporate event:
THE 2021 QUEER LIBERATION MARCH ROUTE
The third annual Queer Liberation March will begin at Bryant Park, marching west along West 41st Street to 7th Avenue, and then down 7th Avenue to Sheridan Square and the Stonewall National Monument, then east along West 4th Street to Washington Square Park to disperse in community. There will, however, be no formal rally at either end of the March.
COVID VACCINES AT BRYANT PARK
At Bryant Park, the New York City Department of Health and Mental Hygiene will be providing two vans to administer COVID vaccines along the south side of the park on W 40th Street between 5th and 6th Ave. Both single dose Johnson and Johnson vaccines and first doses of the Pfizer vaccine will be available to anyone who wants them.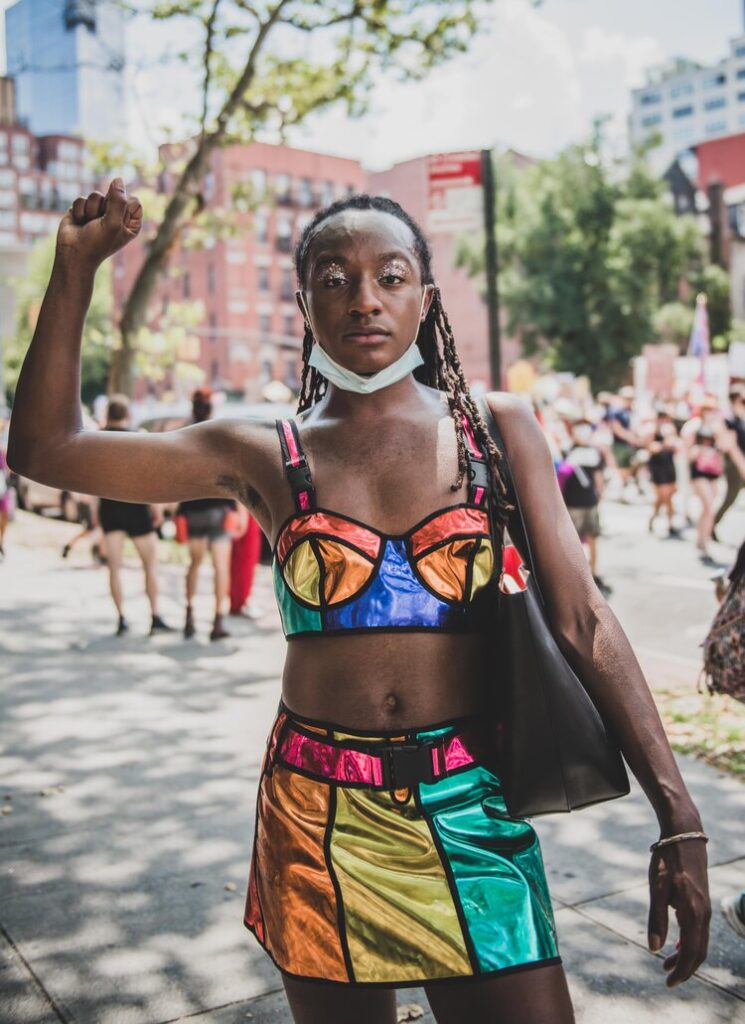 DISABILITY AND ACCESSIBILITY
The March will be led by our accessibility bus which will drive community members who cannot march through the streets. Some other disabled community members who are comfortable marching in the streets will also be at the front of the March. Other members of the Disabled Queer community will travel the route in wheelchairs provided by RPC and pushed by fellow community members. ASL interpreters will march alongside deaf people, to fully include them in both following and leading chants.
SAFETY TEAM
Dozens of community members, including on foot and on bicycle, will serve as safety marshals for the March, as an example of the ways that "WE KEEP US SAFE." Communities exercising their own agency, in an attempt to reduce the risk of harm is both a principle and activity that has received increased focus by grassroots organizations as mutual aid efforts have sprouted up across the city and the nation in the wake of the pandemic. RPC volunteers have worked for months to ensure that the event can occur without the need or involvement of police.
LIVESTREAM
The march will be live-streamed beginning at 3:30pm across Reclaim Pride's social media channels: Instagram, Facebook, and YouTube. Additionally, a supplemented livestream with live, onscreen ASL interpreters will be broadcast on the DeafQueer.org Youtube Channel.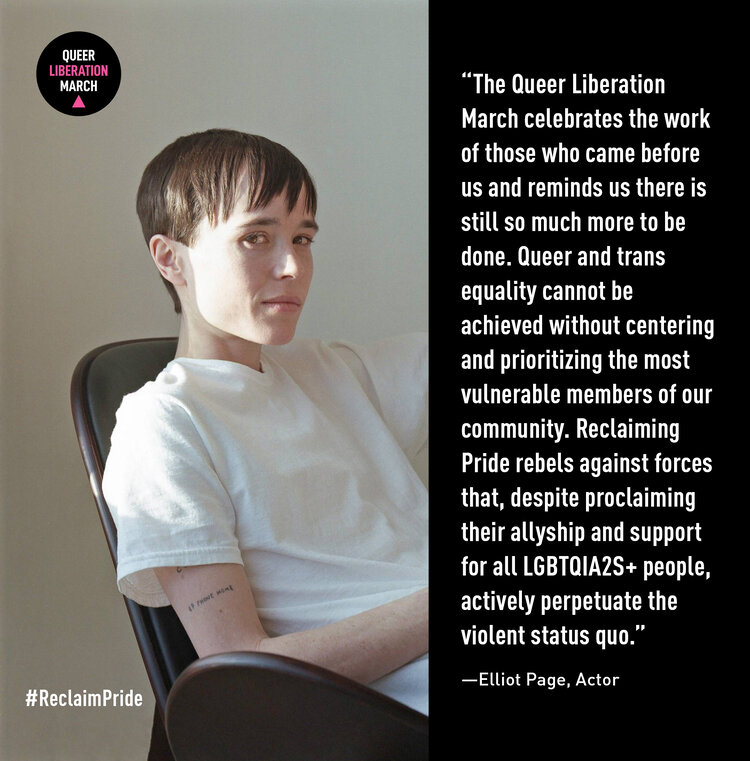 The program will be hosted live from historic Judson Memorial Church, by River Ramirez and Cole Escola and feature live footage from the march, interviews with marchers, and short documentary segments examining urgent issues for the LGBTQIA2S+ communities:
Resetting & Healing BIPOC Queer and Trans Bodies,
AAPI Love,
COVID's Long Lasting Impact On the Queer Community,
Radical Sex Positivity,
Trans* Safety, and
Queer Refugees.
Community members featured in the segments include Anesu Nyatanga, Brandon Cuicchi, Ceyenne Doroshow, Christian Urrutia, Edafe Okporo, Iman Le Caire, Jaime Cepero, Jennifer Love Williams, Junior Mint, Lydia X. Z. Brown, Mohamed Q. Amin, Oscar Nñ, Reginald Brown, and SRĐA.
Blake Pruitt, a Reclaim Pride Coalition live stream organizer, points out, "This deep-dive program expands the range and impact of our communities' voices as well as the messages of rage, hope, and resiliency in the face of ongoing societal and institutional oppression that we still face fifty years on since the Compton Cafeteria and Stonewall Inn uprisings."
ACT UP FOR HEALTH FAIR & MORE COVID VACCINES
Starting at 12 pm, there will be a vaccine bus parked in front of Judson Memorial on Washington Square Park South. At the end of the March, the ACT UP For Health Fair will be set up from 3-9 pm on Thompson St between Washington Square Park South and W 3rd St. At 4pm, a vaccine tent will be added to the ACT UP For Health Fair adding another 20 vaccines per hour. Both should be offering the Pfizer and Johnson and Johnson vaccines.
Also at the ACT UP For Health Fair, Housing Works will be offering HIV testing and counseling, and other community orgs will be providing other STI testing as well as testing drugs for fentanyl.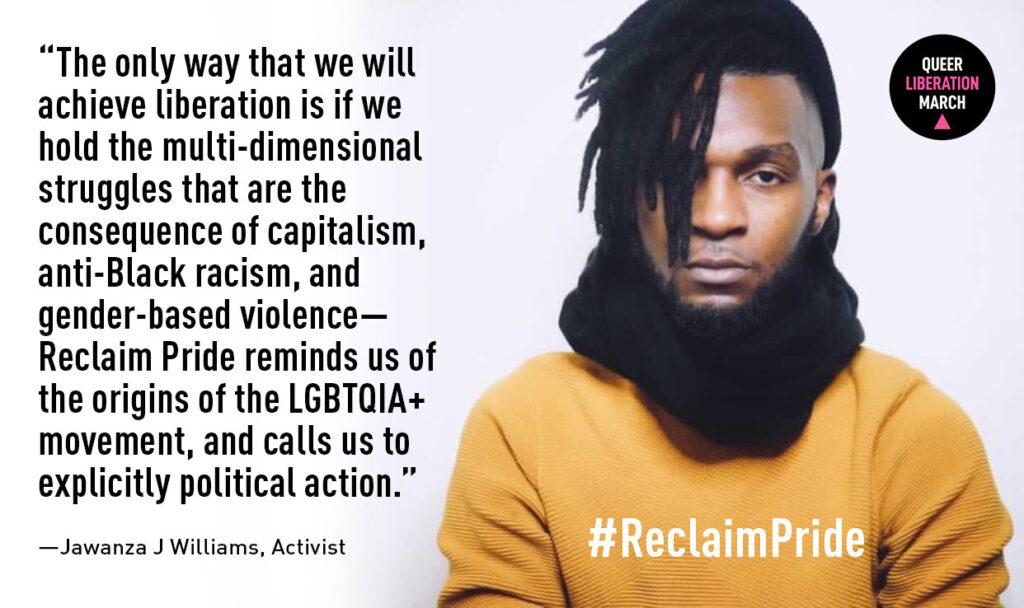 JOINTS FOR JABS
Reclaim Pride is proud to support ACT UP's "Joints For Jabs 3" program which will give a free marijuana joint to people over 21 who show proof of vaccination, either from earlier in the year or that day. The Queer Liberation March marks the first time "Joints For Jabs" will happen alongside COVID vaccinations in New York City, allowing people to get vaccinated and an incentive joint at the same time.
"Marijuana has served as medicine and comfort for people with HIV from the beginning of the AIDS epidemic 40+ years ago, and with "Joints for Jabs," ACT UP is happy to be providing it as medicine for LGBTQIA2S+ and HIV/AIDS communities during COVID," said Kellen Gold of ACT UP.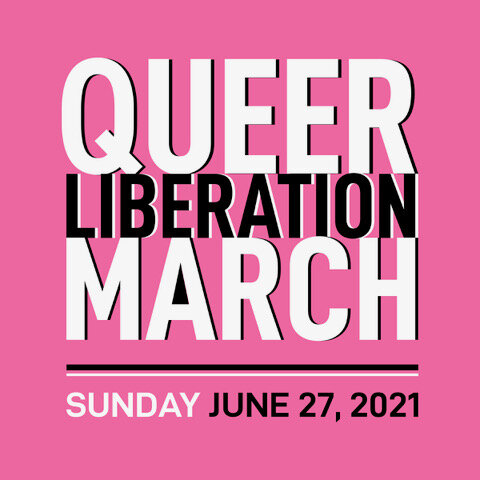 WHAT: 3RD Annual Queer Liberation March
WHERE: Bryant Park, 6th Avenue Between 40th and 42nd Street
WHEN: Sunday, June 27, 2021
TIME(S): Gathering begins at 2:30pm; March Step-off at 3:00pm following brief remarks.