San Francisco Playhouse conjures winning comedy classic, Clue
San Francisco Playhouse has spent the last 10 years earning the title of the Bay Area's Most Award-Winning Theatre Company. And rightfully so.
Featured image: Miss Scarlet (Courtney Walsh), Mrs. White (Renee Rogoff), Mrs. Peacock (Stacy Ross), Professor Plum (Michael Gene Sullivan), Mr. Green (Greg Ayers), and Colonel Mustard (Michael Ray Wisely) eavesdrop in San Francisco Playhouse's "Clue," performing March 9 – April 22. Photo Credit: Jessica Palopoli
Their current production of Clue, which opened March 15 and runs through April 22, had been a popular live production in the Bay Area for years but has never mounted by the Playhouse until now.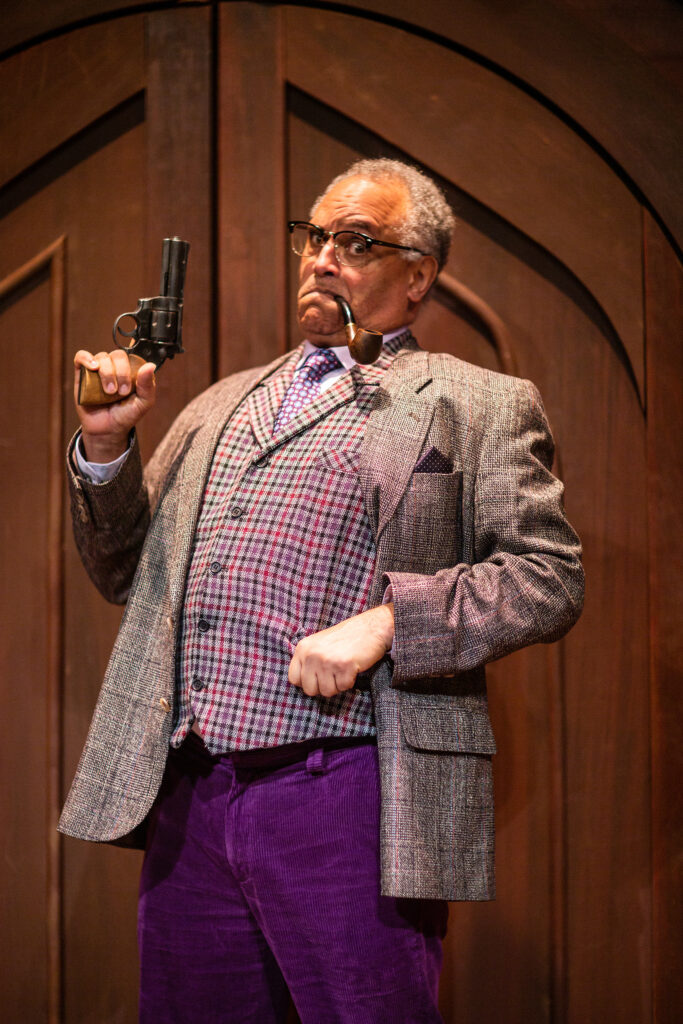 Apparently, sometimes you just need to wait for the perfect cast.
The play written by Sandy Rustin (with some help from Hunter Foster and Eric Price) first was a board game and then a cult film starring the likes of Tim Curry, Madeline Kahn, Lesley Ann Warren, Christopher Lloyd, Michael McKean and Eileen Brennan. All of those movie stars are comedy geniuses and it would take a ballsy, talented bunch of locals to try to fill their shows. And yet they did.
Most noteworthy is Renee Rogoff who takes on the Kahn role as Mrs. White. Wow – what shoes to fill and yet she does. Rogoff almost conjures up the spirit of Kahn as if she is the mere portal for Kahn to come back from beyond the grave and still provide winning performances. Also, Stacy Ross who plays Mrs. Peacock (Brennan's role in the movie). She has a piercing yet comedic scream that is used a lot. Did she have to scream it in her auditions?
There's truly not a false note among the cast of this comedy whodunit. And like the movie, they offer various scenarios at the end of possible resolutions to the crimes at hand. The ending is well-played and well-executed.
Director Susi Damilano has another triumph on her hands as she finds nuances among the actors to enhance their characters and performances all the while making the average size stage seem like a sprawling mansion. Kudos also to scenic designer Heather Kenyon, lighting designer Derek Duarte, props designer Michaela Creedon and costume designer Alice Ruiz, all of whom add to the richness of the production and believability of characters' opulence and individuality.
Get tickets and more info at: https://www.sfplayhouse.org/sfph/2022-2023-season/clue/