San Francisco Playhouse ends season with singular sensation, A Chorus Line
San Francisco Playhouse ends its 20th season with a perfectly staged production of the Pulitzer Prize-winning musical A Chorus Line.
SF Playhouse pulls out all the stops in this magical musical that revivals the production value and quality of any current Broadway musical.
A fan of the show, even the poorly received movie version, A Chorus Line brings to the forefront stories of the performers who often blend into the background of musicals as they try out to be in the chorus of a new musical.
James Kirkwood and Nicholas Dante's book is based upon real stories from people of the chorus who gathered decades ago. Weaving together their backstage tales brings humanity to the unsung heroes of the stage and gives them a voice. Almost one-by-one, we learn the back story of 16 finalists competing for eight spots on the chorus.
Bill English's direction and Nicole Helfer's choreography pay homage to Michael Bennett's original Tony Award winning production. They find a way to give each character a way to shine and find little nuisances within the characters.
Helfer takes on the titular role of Cassie herself. Her big number, "The Music and The Mirror," is a big dance number to take on and Helfer masterly blends many dance styles all the while being able to sing when a less seasoned actor would need a moment to catch their breath.
Alex Rodriguez, who also is an award-winning choreographer in other productions, puts his trust in the production and pulls out a sensitive, layered performance as Paul, a shy and awkward young dancer who shares some of his secrets with us. Another theatre favorite Keith Pinto takes on the less sympathetic role of the tough-talking, matter-of-fact Zach, the director/choreographer character who is the catalyst to make each character share their stories.
Lovers of A Chorus Line will be thrilled with this production. Super geeks like me will watch the opening number and imagine from the troupe what actors on stage will play what parts and fortunately, SF Playhouse does not disappoint in picking the perfect person for each role.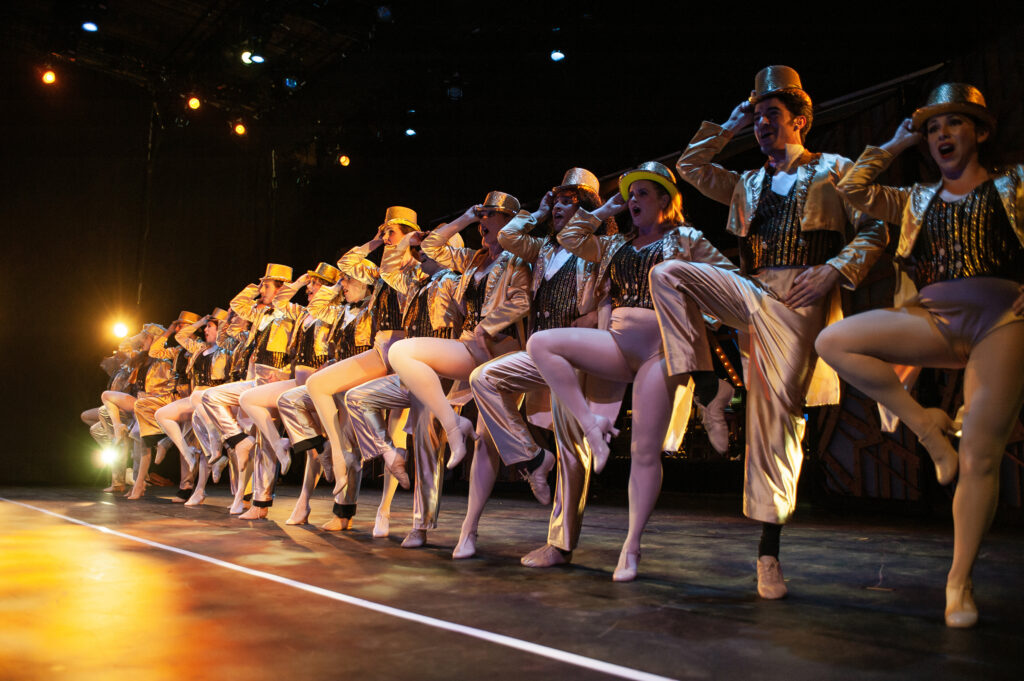 Tony Conaty nails the role of Mike, Dalton Bertolone's smirky smile screams that he is definitely playing Gregory and Alison Ewing is exactly what you'd expect from the character Sheila. Danielle Cheiken may not be the Maggie I envisioned but her final note in the song "At the Ballet" makes her my favorite Maggie.
This is truly a highlight of the theatre season and is a must-see for musical lovers. Get info and tickets at http://www.sfplayhouse.org.