Sexy new music collaboration between Ali Sethi and Nicolas Jaar
Ali Sethi and Nicolás Jaar collaborate for November 17 album release, Intiha. Pre-order today!
Named to TIME Magazine's "2022 TIME100 Next list," the NYC based Sethi spent his childhood in Lahore, Pakistan and is now a U.S. citizen. He infuses his music with the same multitudinous space that Sethi occupies — Punjabi folk mixed with contemporary beats and a queer aesthetic from South Asia.
Sethi rose to prominence with the publishing of his debut novel in 2009, The Wishmaker. Since then, he has been involved in numerous musical, film and literary projects all inspired by his unique identity, a diasporic voice fusing ancient artistic inspiration with a thoroughly modern and urgent outlook. Jaar is a musician whose work has spanned various shades of pop, ambient, noise, and club music. In recent years, he has mainly focused on education, teaching sound-editing and listening workshops to emerging musicians and non-musicians alike in institutions such as the Museo de la Memoria in Santiago, Chile, Akademie Der Kunst in Munich, Germany, free.wav in Attappadi, India, among others.
They have so far shared the single "Muddat" – for centuries, ghazal poetry has been associated with misfits and madmen, silhouetted souls who speak in puns about the charms of forbidden love. From medieval Persia to modern-day India and Pakistan, poets have used the ghazal's rhyming verses to express a playful, many-hued melancholy, now praising the charms of a veiled lover, now railing against the norms of an unjust society. The single is a song steeped in that mood of flamboyant resistance. Taking the opening lines of a canonical ghazal — written as the British were decimating India's precolonial traditions, the elaborate rituals and etiquette of its courtesans and noblemen — the two musicians build a genre-bending trance that brilliantly evokes the loss of a cherished milieu: "It's been long since my lover was a guest of mine," sings Sethi in his native Urdu, drawing on classical ragas to improvise the phrase. "And my world was suffused with the glow of wine." Jaar's goading hand-claps keep time for these husky vocalisations until they give way to a euphoric techno blaze, obliterating the temporal frame and delivering us into a dance both ancient and modern.
For Ali Sethi tour dates go here.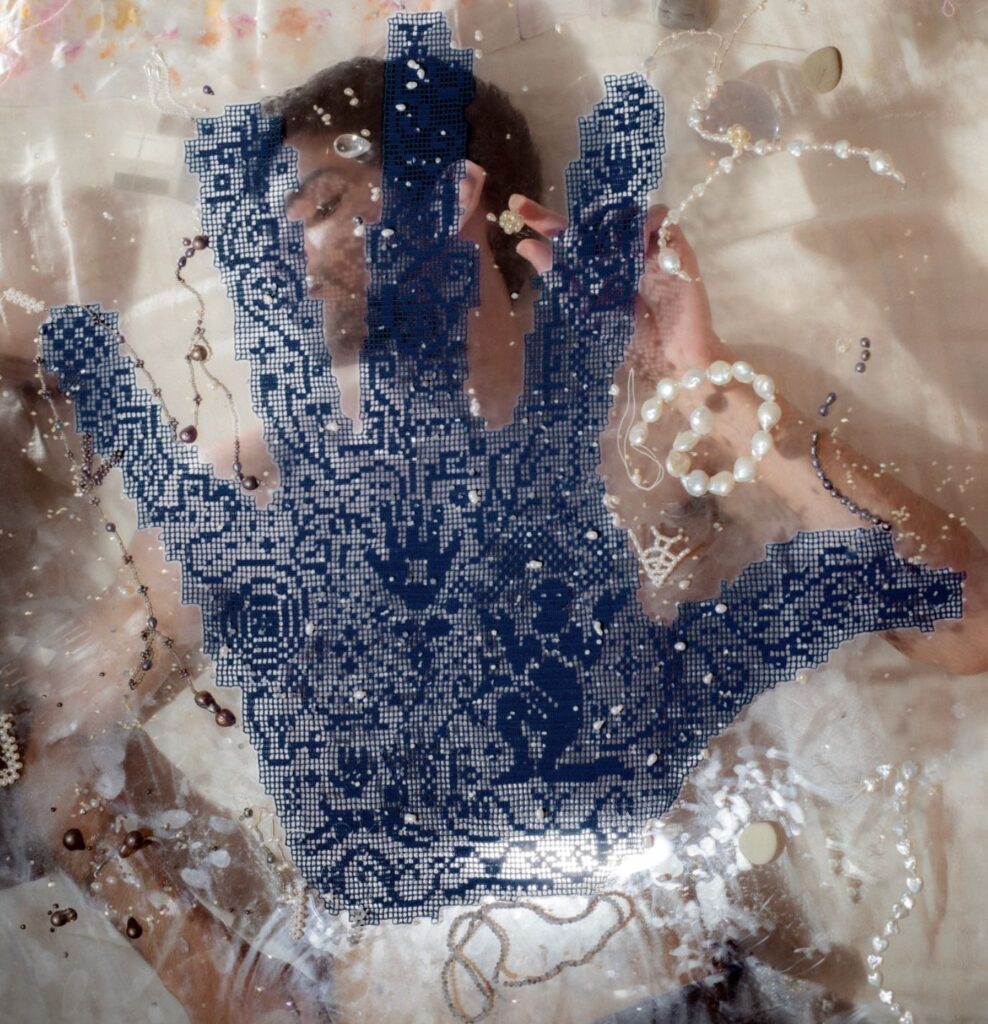 Ali Sethi & Nicolás Jaar – Intiha
Singer, songwriter and author Ali Sethi had been entranced by Nicolás Jaar's music long before they began collaborating. He'd absorbed the sounds over a number of years, listening casually and taking in their subtleties in bars and rooftop parties across Lahore and London. "It felt familiar to me, that sense of adventure you have when you hear his music, like a tale that teases you and plays with your expectations as it unfolds," says Sethi. "In that sense it resembled the leisurely improvised ghazals and qawwalis I grew up hearing in Pakistan."
So when the two were finally introduced by Indian visual artist Somnath Bhatt, a regular Jaar collaborator who also handled the album's artwork, Sethi was well prepared. He began to sketch out voice notes using loops snipped from Jaar's acclaimed 2020 album Telas, improvising vocalizations and seductive Urdu poems over Jaar's weightless, time-bending productions. Jaar was astonished by the result; "It was what Telas had been missing," he explains.
Improvisation has been important to the Chilean artist for many years. Before he had even started making electronic music, Jaar jammed on accordion with friends on the street in New York City. It's at the core of his practice, "a moment in time," in his own words. "Intiha," the opening track on the album, is the first they finished together, and positions Sethi's evocative phrases over Jaar's faded, metallic percussion. It's a perfect proof of concept, re- imagining the world of "Telas" and augmenting it with a sense of ancestral melancholy and giddy euphoria that's truly transformational.
Sethi is best known globally for his attempts to revive the ghazal, an ancient poetic form that was taken by Sufi mystics from the Arab world to Persia and throughout the Indian subcontinent, where it captivated the royal court. It's been unfashionable in the last few decades, a mannered style associated with decadence, and Sethi offers it a new lease of life through his playfully revisionist covers and renditions. (His most popular single "Pasoori" is a global phenomenon, one of the most Googled songs of 2022, with hundreds of millions of listeners tuning into its timeless message of forbidden love.)
Sethi updates the ghazal form by using his years of training in raga music, lifting metaphors that reflect his journey as an out-of- place queer kid in Pakistan who became a US citizen and now lives in New York City.
On "Nazar Se," he sings a soft and sensual poem from his teacher Farida Khanum – the queen of ghazal – over slowed-down samples from "Telas," transforming a polite lyric about the pleasures of eye-contact into a reverie on cruising. Jaar responds by adding new improvised elements, prompting a playful back-and-forth that's echoed throughout the record. Genre is evoked, but in gestures only – the music transcends its formulae, using cultural reverberations and distinct repetitions that lull listeners into a placeless trance. Jaar takes the ground away on "Dard," leaving Sethi's vocals to soar unaccompanied. The title means pain or pathos, and Sethi's rendition of this 19th century ghazal is a whisper to the beloved, a paean to longing itself that is stretched out over almost eight minutes and subtly punctuated by Jaar's feathery instrumentation. The duo experiment further on "Chiragh," a dirge that's alchemized into an ear-splitting, dubbed-out blare, or "a scream from inside," in Sethi's own words. "Muddat" meanwhile reconciles the lusty rebelliousness of the medieval 'kotha' or courtesan's salon with the madness of a modern-day rave, veering cryptically into techno but staying tethered to Sethi's cries for union with his Beloved.
Between them, Jaar and Sethi have spawned a body of work that seduces but challenges us at every moment, articulating new identities that evoke several cultural contexts at once. It's "a sound that I hope can operate on multiple levels," says Jaar, a borderless, playfully ambiguous set of improvisations that sing confidently of love, loss and belonging.
Intiha, a collaboration between Ali Sethi and Nicolás Jaar, is out on November 17 via Other People.