Shocking new study shows massive health disparity for transgender people
The transgender community is under attack and a now a new report finds that a startling number of transgender individuals have attempted to kill themselves, in addition to a prevalence of substance abuse and mental health problems.
A new study by the Williams Institute finds that 81% of transgender adults in the U.S. have thought about suicide, 42% have attempted it, and 56% have engaged in non-suicidal self-injury over their lifetimes.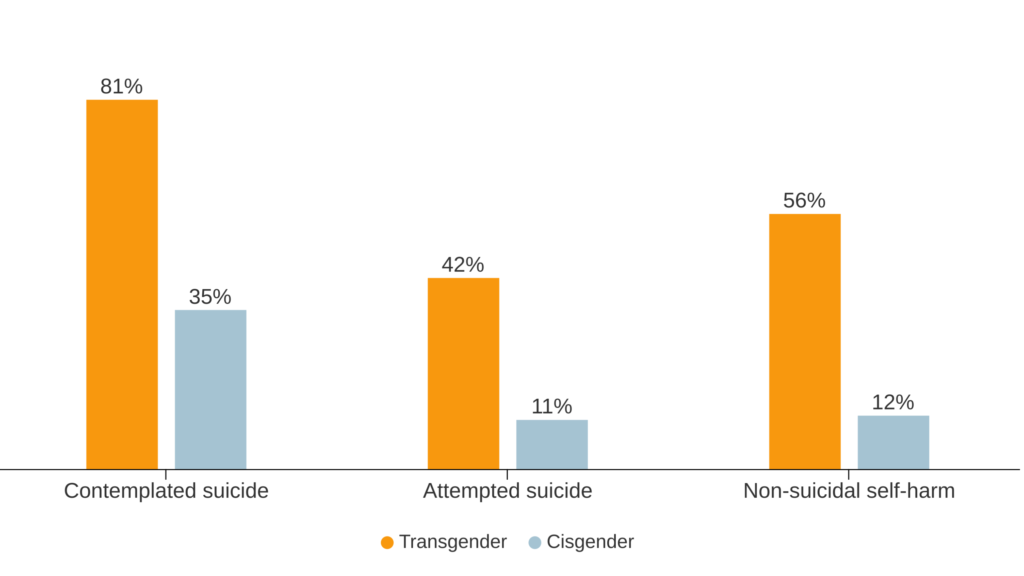 Using data from the U.S. Transgender Population Health Survey (TransPop), researchers examined the prevalence of hazardous drinking, problematic drug use, serious psychological distress, suicidality, and non-suicidal self-injury between transgender and cisgender adults. Results from this study, which is the first national probability sample of transgender people in the U.S., support previously reported findings that showed significant disparities in health outcomes for transgender as compared with cisgender Americans.
While transgender and cisgender adults reported similar rates of hazardous drinking and problematic drug use, transgender people were significantly more likely to experience poor mental health during their lifetimes. Compared to cisgender adults, transgender adults were seven times more likely to contemplate suicide, four times more likely to attempt it, and eight times more likely to engage in non-suicidal self-injury.
 
Notably, transgender nonbinary adults reported higher rates of harmful substance use and poor mental health than transgender men and women.
 
"The rates of suicidal ideation and self-injury among transgender people are alarming—particularly for transgender nonbinary adults," said study author Ilan H. Meyer, Distinguished Senior Scholar of Public Policy at the Williams Institute. "A lack of societal recognition and acceptance of gender identities outside of the binary of cisgender man or woman and increasing politically motivated attacks on transgender individuals, increase stigma and prejudice and related exposure to minority stress, which contributes to the high rates of substance use and suicidality we see among transgender people."
Additional Findings
Nearly one-third of transgender individuals reported hazardous drinking (28%) and problematic drug use (31%).
Among transgender adults, 44% reported recent suicidal ideation, 7% reported a recent suicide attempt, and 21% reported recent non-suicidal self-injury.
The majority (82%) of transgender people have accessed formal mental health care, compared to 47% of cisgender adults. About one-quarter (26%) of transgender people sought support from other sources such as religious and spiritual leaders and alternative medicine practitioners, compared to 20% of cisgender adults.
Transgender nonbinary people were four times more likely to engage in hazardous drinking compared to transgender women.
Compared to transgender men, transgender nonbinary people were four times more likely to report problematic drug use, three times more likely to experience serious psychological distress, six times more likely to have recently thought about suicide, and four times more likely to have engaged in non-suicidal self-injury at some point in their lives.
"Evidence-based interventions are needed to mitigate the risk of serious mental health outcomes among transgender people," said lead author Jeremy D. Kidd, Assistant Professor of Clinical Psychiatry at Columbia University. "This might include increasing access to gender-affirming care, or improving transgender community connectedness, which are related to lower rates of suicidality." 
The Williams Institute at UCLA School of Law, a think tank on sexual orientation and gender identity law and public policy, is dedicated to conducting rigorous, independent research with real-world relevance.
Read the finding of the report here.