Robin Roberts shares gorgeous backyard wedding day snaps
After offering a behind-the-scenes look at her wedding prep, TV anchor Robin Roberts has shared glimpses of her beautiful wedding day.
Reactions from fans and wellwishers were enthusiastic with the Human Rights Campaign posting: "Congratulations! Wishing you both so much love, joy & happiness". Celebs such as Katie Couric also weighed in, posting: "Congrats! Here's to good health and happiness for you both!!!!" followed by three red heart emojis. Roberts and her wife and both breast cancer survivors.
It comes as Good Morning America viewers were given a sneak peek at the décor and flowers co-anchor Robin Roberts and her fiancé Amber Laign have selected for the big event.
In an adorable TV segment titled Road to the Ring, event planner and producer JoAnn Gregoli shared that the key words Roberts and Laign kept using to describe their vision for their wedding were "ethereal," "romantic" and "midsummer's night dream," which were the cues Gregoli and event designer Jen Gould used to realize the couple's vision of their big day.
Watch the segment here courtesy of ABC News/"Good Morning America.
Good Morning America co-anchor Roberts and Laign have been a couple for 18 years and late last year finally decided to tie the knot after thinking they'd never experience being brides.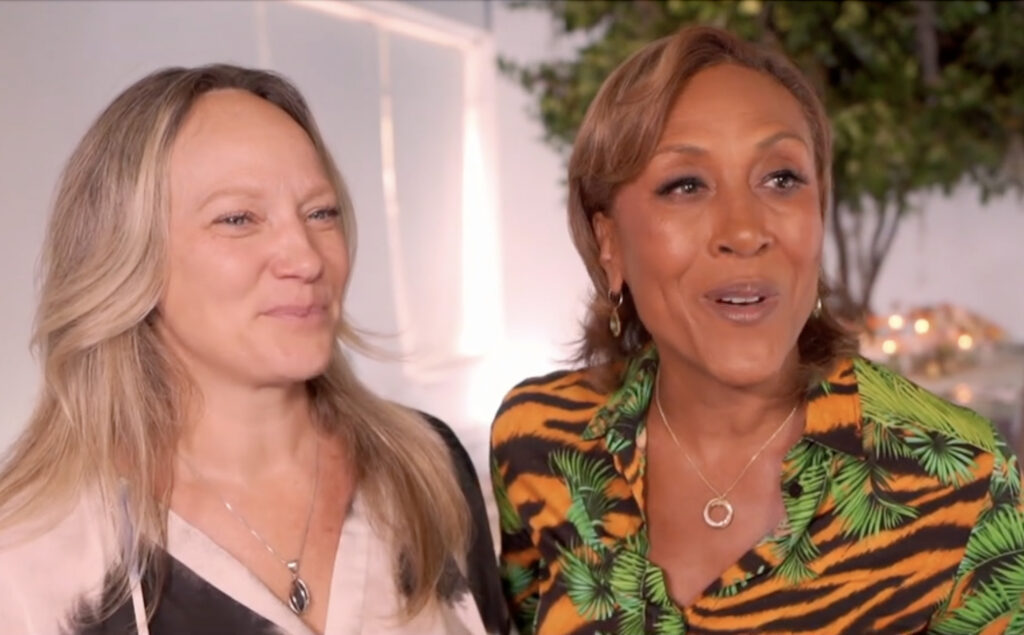 Roberts and her Laign are less than a fortnight away from saying "I do." GMA viewers were treated to sneak peeks at the couple's choices for everything, from wedding dresses to their flowers, wedding cake and more. The wedding has been in the planning stages since January this year.
"It's been fun watching sweet Amber, just watching her get emotional and having fun and giggling," Roberts said. "That's been the best part of it."
"I never really thought I would be doing this, ever," Laign added. "Just having it all unfold and discovering parts of myself I didn't really know were there. It's been fun."
Roberts and Laign did some of their wedding dress shopping together with designers Mark Badgley and James Mischka, but are keeping their final choices a secret.
"The final fitting, we're doing separately," Roberts said. "I want us to each see each other in the final dress for the first time on the wedding [day]."
The venue will boast a cascade of flowers to greet guests as they enter, a round table anchoring the dance floor and a custom bar that built specifically for the wedding.
"The wedding is the feeling of an enchanted garden," Laign said. "Our colors are white, blush, pink, a little bit of green, ethereal…When you express what you want or what you feel and what you have in your mind, to walk in and actually see it executed beyond what you even imagined, it just takes your breath away"
Roberts added, "Wow is the word and you just hope that when you express what it is that you're hoping that that special day, not just for ourselves but for our family and friends who are going to be there, we want it not just [to] be a joyous occasion for us but for them as well. It makes your dream come true."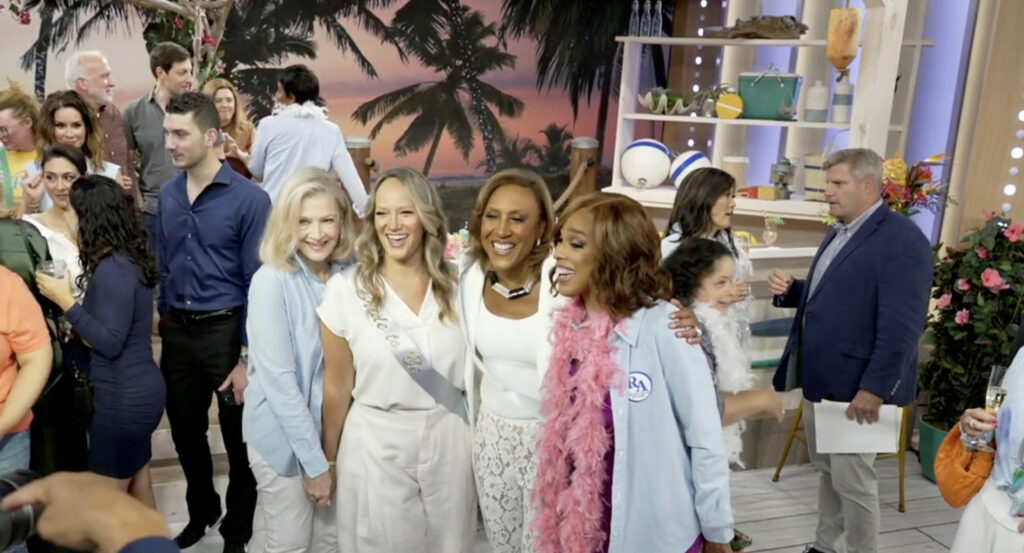 On Wednesday, Roberts co-hosted one last broadcast before heading off to tie the knot, and friends and family sent in their wedding well wishes and advice ahead of their upcoming nuptials.
The pair received video messages from Katy Perry, Diane Sawyer, Gayle King, Niecy Nash, and more.
King expressed her happiness for the couple by calling them "the ultimate ride-or-die," adding that she will be "cheering them on always," while Nash quipped that she was shocked when she heard Roberts was marrying Laign because she thought they were already married, as Roberts' sister Sally-Ann wished them many happy and healthy years together and that she wishes they "enjoy peace, prosperity, purpose and freedom" together.
Roberts was overcome with emotion after seeing the outpouring of love and said she felt "abundantly blessed" and "so eternally grateful."