Special Pride season screening of Milk
Pride month has just begun and there's a way to start it off and for a good cause.
The Oscar winning LGBTQ+ film Milk returns to San Francisco's historic Castro Theatre June 2 at 8pm — the same theatre where the movie made its premiere in 2008.
Not only with you be reminded of what a wonderful performance Sean Penn gives as the murdered first openly gay San Francisco politician Harvey Milk, but we can watch the movie while supporting a good cause.
This special screening benefits two local Castro based LGBTQ nonprofits: The LGBT Asylum Project (www.lgbtasylumproject.org) and the Rainbow Honor Walk (www.rainbowhonorwalk.org). Tickets are $ 25 general admission and $ 100 VIP which includes a pre-show reception and special concessions. Tickets may be purchased online.
The Castro Theatre is the perfect place to kick off LGBTQ+ Pride Month, says Mary Conde, Vice President for Another Planet who is in charge of the overall Castro Theatre Project as Another Planet has future plans for the theatre including more live events. "More importantly, this screening will raise funds for, and awareness of, two esteemed local LGBTQ+ nonprofits," she adds.
"The Rainbow Honor Walk is so grateful for this," said Rainbow Honor Walk board president Donna Sachet. "Long supportive of the LGBTQ+ communities and progressive causes, Another Planet has stepped forward to help the Rainbow Honor Walk keep alive its mission of educating about those queer heroines and heroes that have walked the walk for equality and justice."Just this week, the latest "class" of Rainbow Honor Walk honorees are being installed in the sidewalks of the Castro District, including film icons Divine and Vito Russo.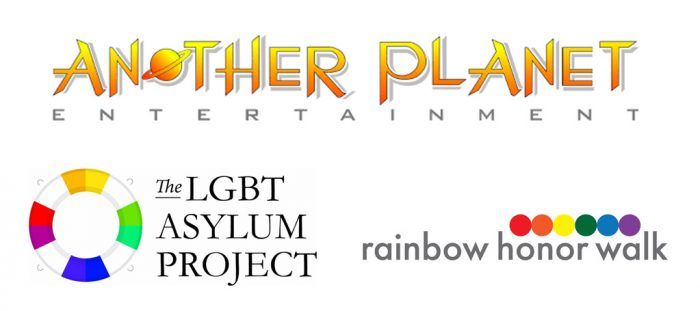 "The LGBT Asylum Project was founded to make sure that all LGBTQ+ asylum-seekers receive high-quality legal representation so they don't have to go back to countries where they could be harmed or even killed for being who they are and who they love," says Okan Sengun, founder and Executive Director of The LGBT Asylum Project. "We are proudly based out of the Castro because the Castro has always been a beacon of hope for the LGBTQ+ community and at the center of that beacon is the Castro Theater. We are thankful to Another Planet Entertainment for organizing this benefit and providing much needed funds at a time when hate is on the rise across the globe."
Keep up with Another Planet Entertainment and hopefully read updates on the future of the Castro Theatre at apeconcerts.com.