Spend Valentine's Day with Cinderella
Nothing would be more romantic than spending time with Cinderella on Valentine's Day.
The Seth Concert Series couldn't have scheduled two-time Tony Award nominee Laura Osnes at a better time than this coming weekend. The star of Broadway's "Cinderella," perhaps the most romantic story ever told, will perform with Seth Rudetsky in his weekly fun format of chatting with a star and then performing with them songs from their resume.
Produced by Broadway World and Mark Cortale Presents, the story of Osnes will likely be an interesting one. She was discovered in a reality TV series. But not one of those housewives shows with flipping couches and cheating husbands. She was in the series "You're the One that I Want," a talent competition show looking for someone to play Sandy in the revival of "Grease."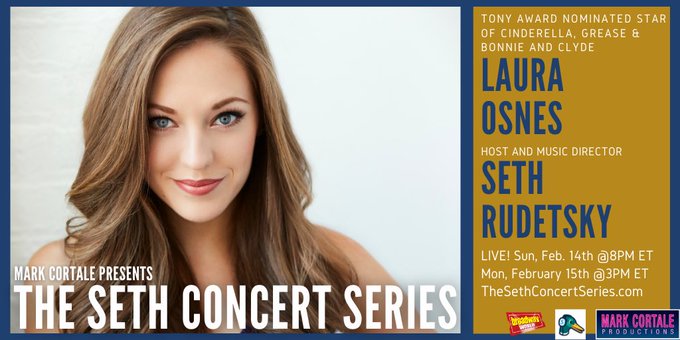 Osnes won the competition and the lead role in "Grease." She went on to Broadway's "Bonnie & Clyde," "South Pacific" and "Bandstand."  She also did a lot of out-of-town and Off-Broadway work in impressive shows such as "The Threepenny Opera," "Show Boat" and even "The Sound of Music." Lovers can enjoy the rich and beautiful tone of Osnes' voice live this Sunday, Feb, 14 at 8pm EST. It will be repeated as an encore on Monday, Feb. 15 at 3pm EST.
Get tickets on this and see what's coming up on www.thesethconcertseries.com. (Next week: Prince Charming will be Seth's guest!)