Spooky, cozy, festive fun! Explore Provincetown this Fall and Winter
Provincetown might be our favorite Summer place, but its calendar of events for LGBTQ folks is robust throughout Winter and Fall. Here's why we love the Cape's queer vacation mecca all year round!
In the so-called 'off season,' Ptown's calendars fill up with holiday shows and events, memorable dining experiences, reduced rates on accommodations, and a chance to experience why Provincetown is one of the world's top LGBTQ+ destinations at a slightly more leisurely pace.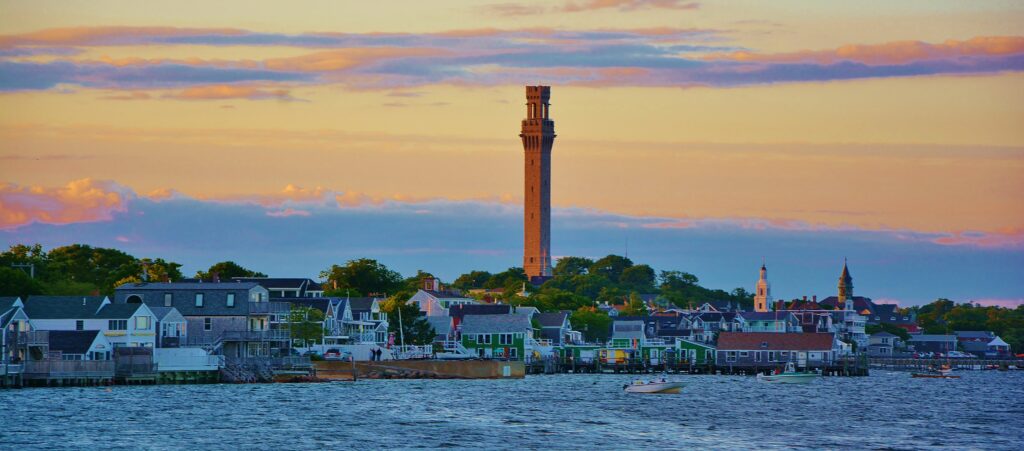 Beautiful, crisp Autumn days, and cozy, picturesque oceanside Winter days make Ptown a delightful Holiday destination. This year, the town's calendar is already filling up with shows and events, and the hospitality scene is offering memorable dining experiences, reduced rates on accommodations, and a chance to experience why Provincetown is one of the world's top LGBTQ+ destinations without the peak season crowds.
"The fall and winter are an ideal time to visit Provincetown because no matter what 'type' of traveler you are, and what kind of experience you are looking for, you will find it here," says Trevor Pittinger, executive director of the Provincetown Business Guild (PBG). "Whether you want to stroll on a snow-covered beach, don an elaborate Halloween costume and dance, read in front of a roaring fireplace, see creative and wildly entertaining performances, check off your holiday shopping list, or take a dune tour, Ptown's diverse cooler seasons are not to be missed."
This year's Fall and Winter in Provincetown will feature many annual theme weeks and weekends, including the Washashore Queer Music Festival hosted by actor, playwright, songwriter, and director John Cameron Mitchell, Women's Week, TransWeek, Spooky Bear, and New England Leather Weekend, plus the Provincetown Food & Wine Festival, Pink Friday, Holly Folly, and First Light New Year's Weekend.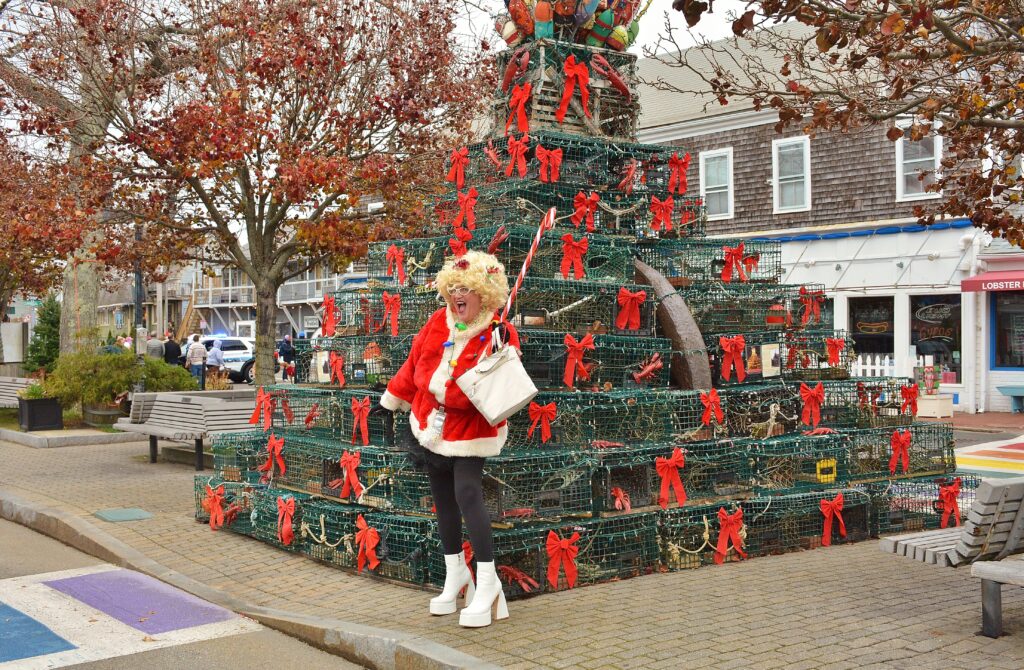 Provincetown's artistic and creative legacy shines during Halloween with elaborate costumes, superstar entertainment, and a dose of spooky flare. Produced by Northeast Ursamen, Spooky Bear will feature multiple costume balls, the Bear-Mart, and more. Venues around town present Halloween events and entertainment, including Tammie Brown's Halloween Spooktacular at Red Room, Dina Martina at the Crown & Anchor, a new "Haunted Masquerade Ball" at Gifford House, Possessed III Halloween & Costume Party at Red Room, and Bianca del Rio at Town Hall.
Viewable across town and for miles up the Cape, join the community on Veteran's Day, November 11, for the lighting of the Pilgrim Monument. Then starting November 16, take a photo in front of the Lobster Pot Christmas tree in Lopes Square, where 120+ lobster pots are stacked over two stories high, decorated with ribbons, garlands, and thousands of festive lights to create a unique and historically significant reinvention of the Christmas tree.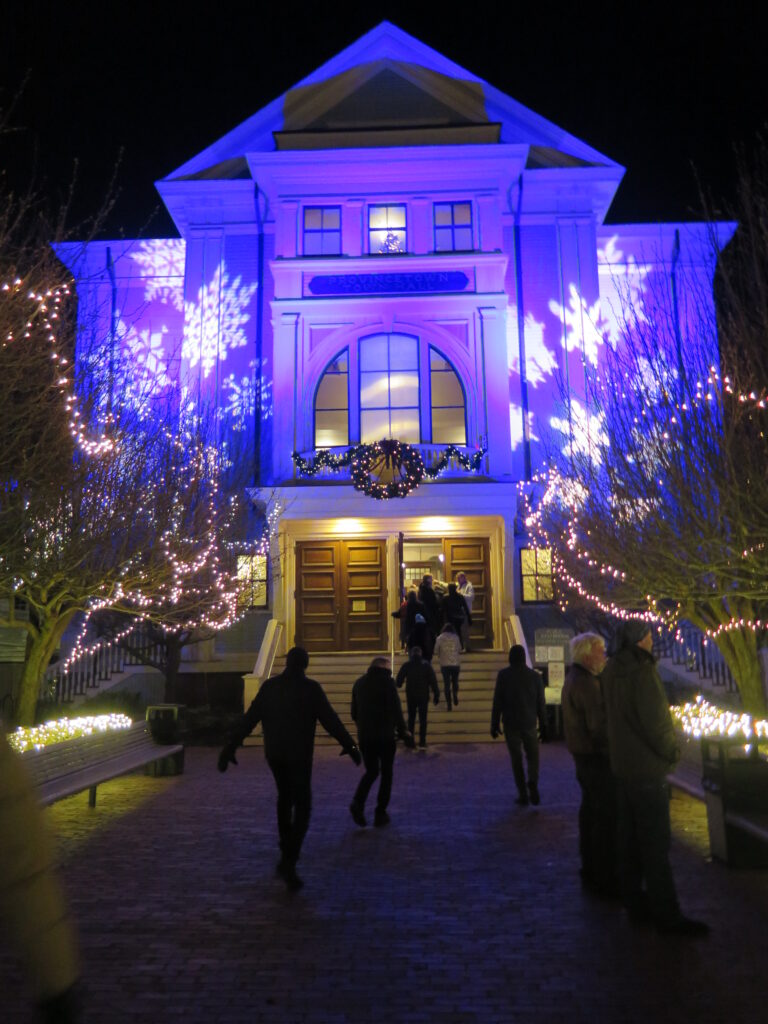 On Thanksgiving Day, many restaurants welcome visitors and locals for a holiday meal with menus ranging from the traditional to the modern. The day after Thanksgiving is 'Pink Friday' in Provincetown. A local spin on 'Black Friday,' 'Pink Friday' highlights the wide range of "Mom & Mom" or "Pop & Pop" -owned shops that pack Provincetown with one-of-a-kind gifts. Start the day after Thanksgiving at The Canteen's Holiday Market (open through December 30). The Canteen transforms into a magical Austrian chalet adjoining a marketplace pop-up perfect for gathering, enjoying holiday food and drinks, and buying handcrafted goods from local artisans. Visit the Crown & Anchor courtyard for additional artisans, local goodies, and wine' n wassailing.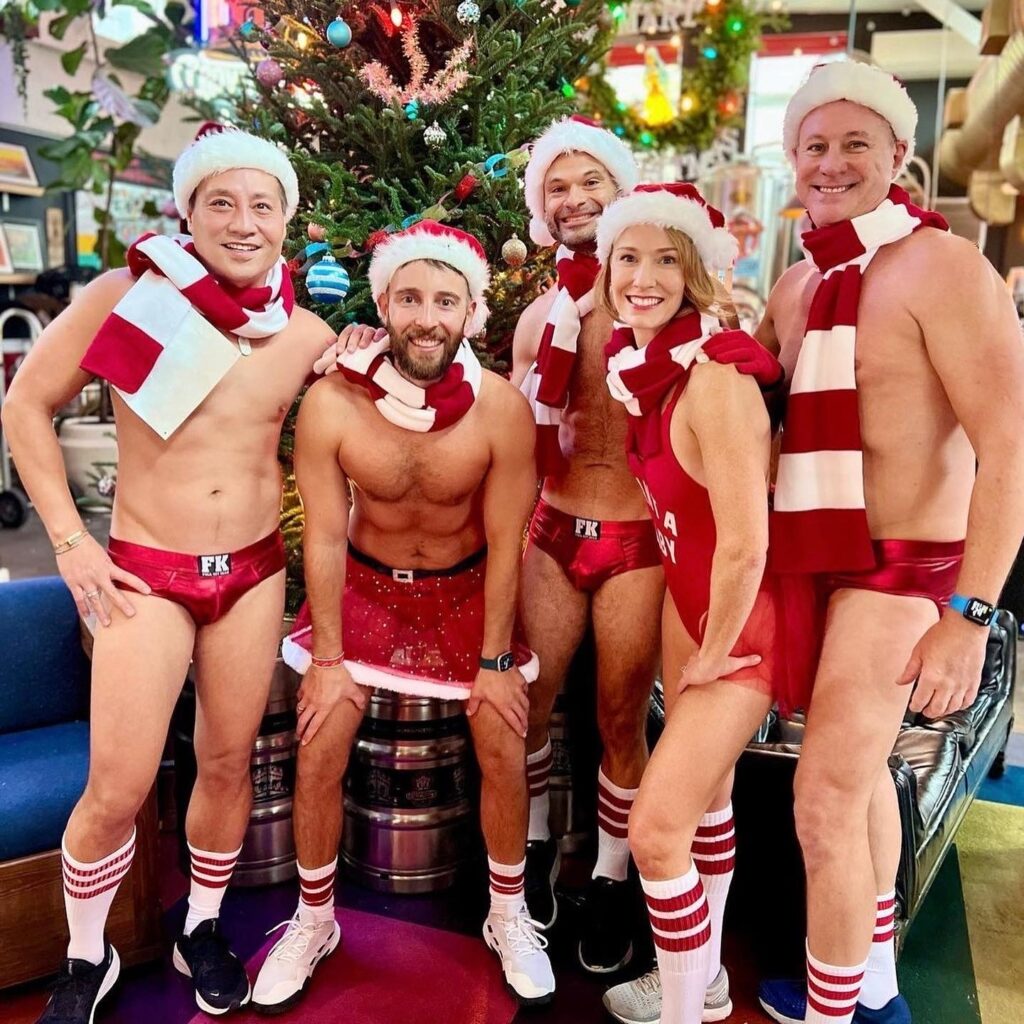 After Thanksgiving, the festive season in Ptown kicks into high gear with Holly Folly, one of the only LGBTQ+ holiday festivals in the country, December 1-3, 2023. The three-day festival is filled with unique entertainment, fabulous food, holiday shopping, gallery strolls, innkeeper open houses, nightlife, the Jingle Bell Fun Run down Commercial Street, and additional merry events created to welcome the winter season to Ptown. The centerpiece of Holly Folly is the all-new show Green & Gleeful: The Boston Gay Men's Chorus Returns to Provincetown. On Saturday, December 2, the Chorus will fill Town Hall with music, glitter, glamor, and holiday cheer for the first time since 2019. Also happening at Town Hall is the Holly Folly Follies presented by the Crown & Anchor on Friday, December 1.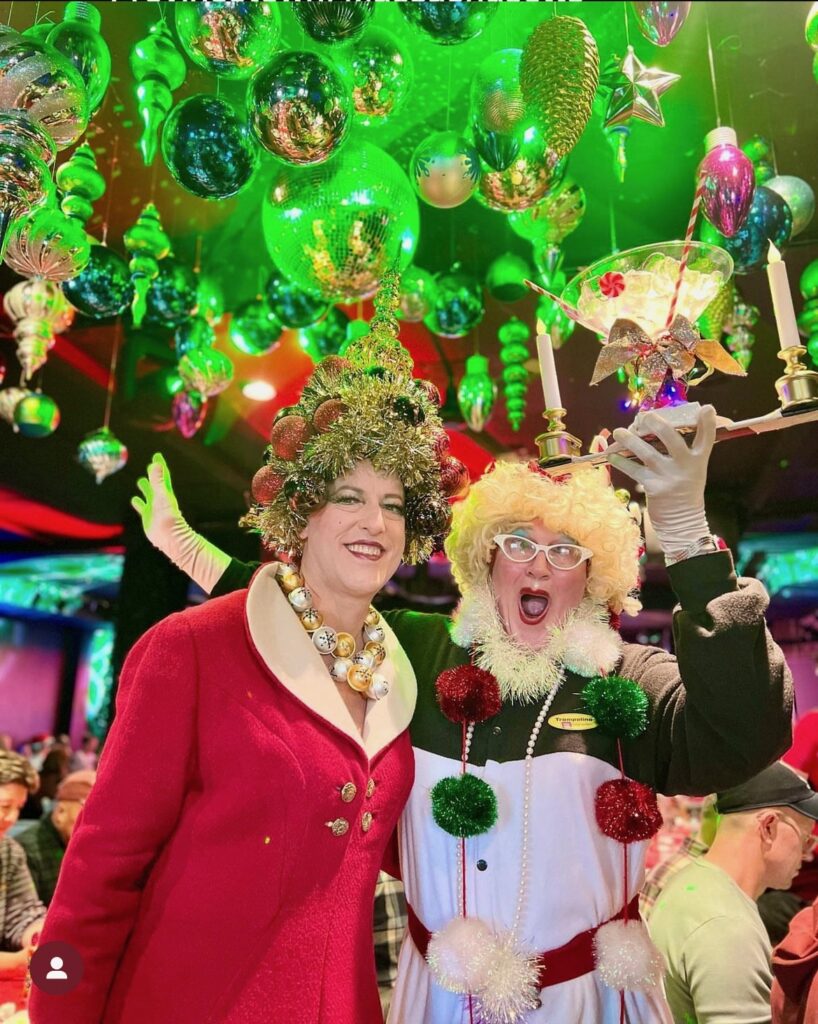 "The holiday tradition of the Boston Gay Men's Chorus performing in Provincetown goes back decades," said Sarah Shoffner, Boston Gay Men's Chorus Executive Director. "After a few years away, we are thrilled to return to Ptown during Holly Folly, help support the small businesses and local economy in town, and showcase the wonderful talented voices of the BGMC. The 350+ members of the chorus are excited to share their lives through music with a fabulous dose of holiday flare."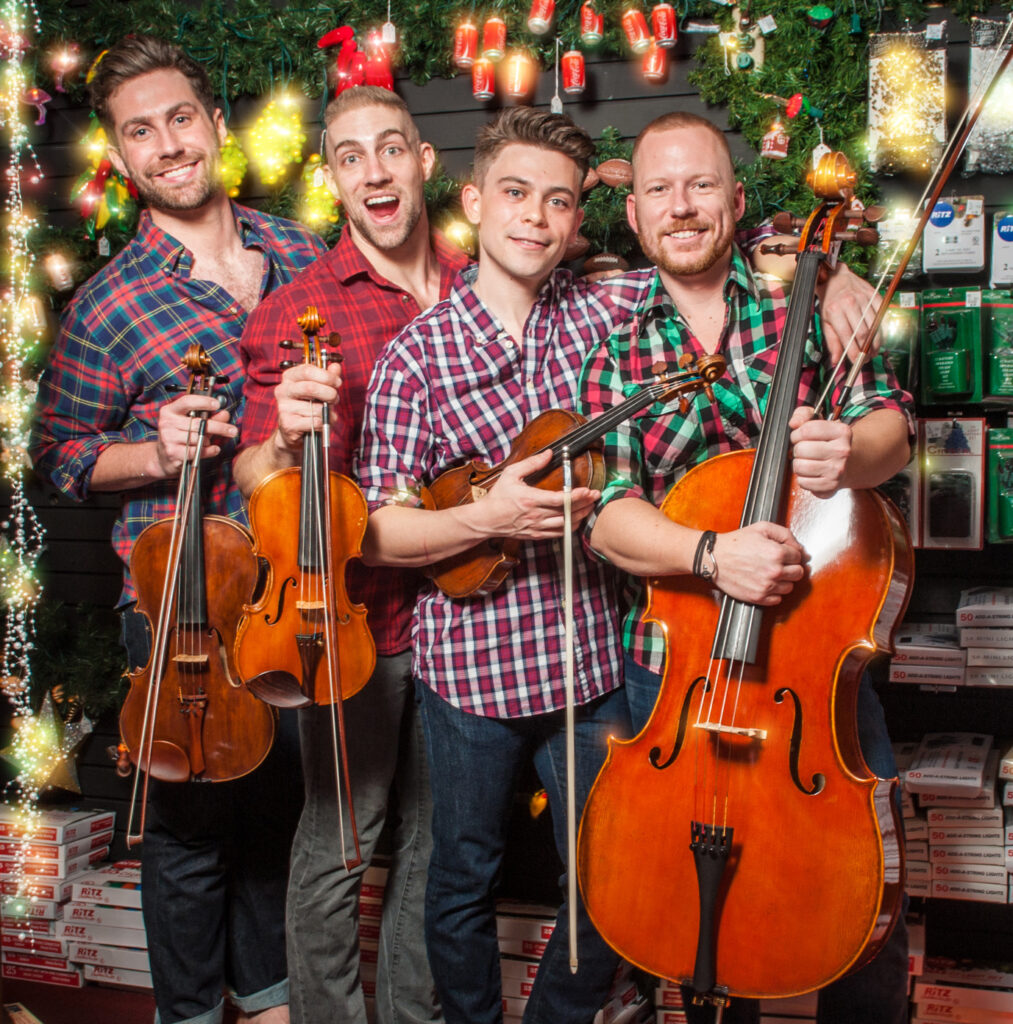 Celebrate the end of 2023 and ring in the New Year in Provincetown with fine dining, fireworks, and the New Year's Day tradition of the Polar Plunge. Enjoy a glass of champagne at one of the many harborside restaurants while watching the fireworks at MacMillan Pier sparkle over the bay. Enjoy the NYC-based singing string quartet Well-Strung in 'A Holiday Reunion' at Town Hall on Saturday, December 30. The string quartet, with a modern twist, plays universally recognized classical pieces while singing hits from Dolly Parton to Rihanna to Taylor Swift for a uniquely engaging holiday experience.
Dance into the final hours of 2023 at the A-House or The Gifford House's full-space New Year's Eve takeover, then welcome 2024 on January 1 by jumping into the Provincetown Harbor at the Provincetown Polar Bear Plunge, a fundraiser for The Center for Coastal Studies. Warm up post-plunge with a celebratory cocktail at Harbor Lounge.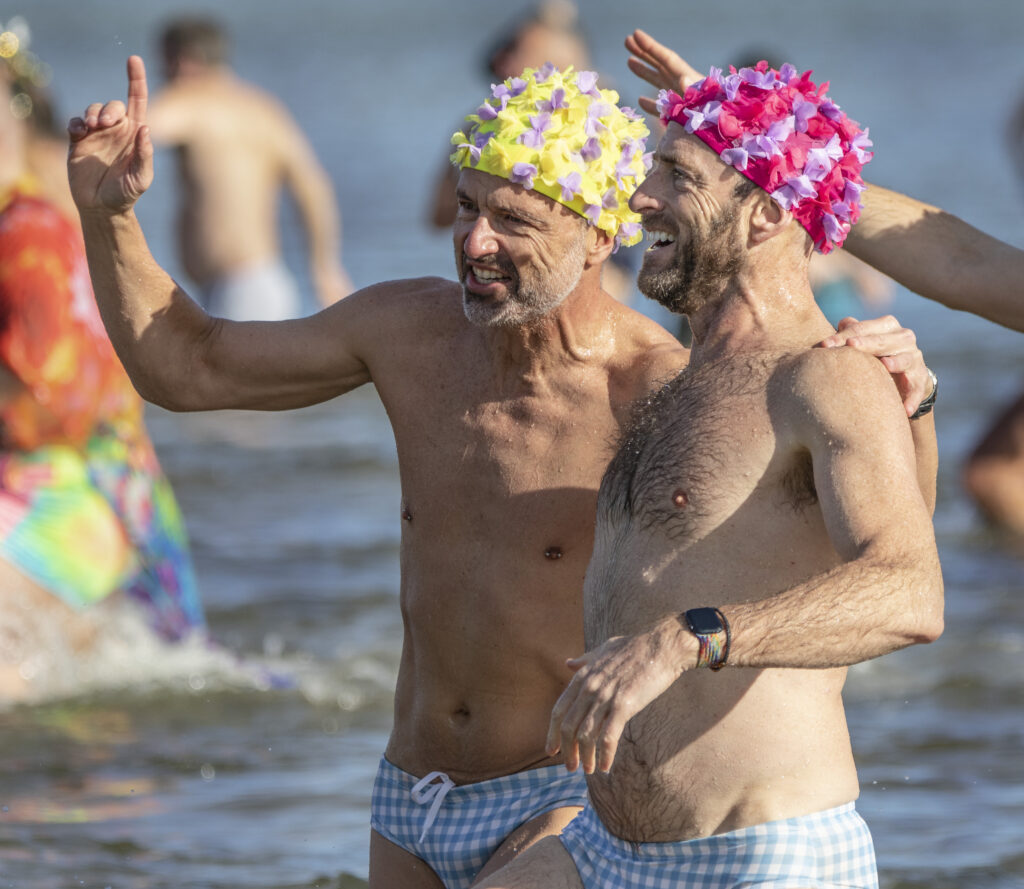 "Since last year's Polar Plunge was 54 degrees on January 1 in New England, this is a stark reminder that supporting environmental marine labs like the Center for Coastal Studies is crucial, particularly now," said Bryan Legare, Seascape Ecologist, Center for Coastal Studies. "Last year's Plunge was the biggest event to date. It's inspiring to see how much we can grow this event in the next few years. Partnering more closely with the PBG will allow that to happen!"
For tickets and the complete fall and winter schedule of LGBTQ+ events in Provincetown, visit ptown.org/calendars.
A Brief Calendar of Events
Fall Monumental Yard Sale Weekend, October 6-8
Washashore Music Festival, October 6-8
The Crown & Anchor and Provincetown Brewing Co.
washashorefestival.com
Women's Week, October 9-15
Multiple venues
womensweekprovincetown.com
TransWeek, October 15-22
Multiple venues
transweek.org
Spooky Bear Weekend, October 27-29
Multiple Venues
ursamen.org
Tammie Brown's Halloween Spooktacular, October 26 & Friday, October 27
8:30 PM, Red Room, 258 Commercial Street
redroom.club
Possessed III Halloween & Costume Party, October 28
9:30 PM, Red Room, 258 Commercial Street
redroom.club
Masquerade Ball Gifford House Halloween Townie Takeover
Sunday, October 29, 9:00 PM
Gifford House, 9 Carver Street
giffordsprovincetown.com
The Provincetown Food & Wine Festival, November 2-5
Various venues
ptownfoodandwinefestival.com
Lighting of the Pilgrim Monument, November 11, 6:00 PM
Pilgrim Monument Provincetown Museum
1 High Pole Hill Road
Lighting of the Lobster Pot Christmas Tree, November 16
Lopes Square
New England Leather Weekend, November 17 – 19
The Crown & Anchor and Provincetown Brewing Co.
Canteen's Annual Holiday Market, November 23 – December 30
The Canteen
225 Commercial Street
Pink Friday, November 24
Small businesses throughout Provincetown
Pink Friday Bingo, November 24
World AIDS Day Candlelight Vigil, December 1
Provincetown AIDS Memorial, East Lawn of Town Hall
260 Commercial Street
Holly Folly Follies, December 1, Town Hall, 260 Commercial Street
Green & Gleeful: The Boston Gay Men's Chorus Returns to Provincetown
December 2, 8:00 PM
Town Hall, 260 Commercial Street
Tickets             
Jingle Bell Fun Run, December 2, 9:00 AM
Holly Folly Bingo, December 3, 3:00 PM
Crown & Anchor, 247 Commercial Street
Townie Holiday Extravaganza, December 15-17, 2023
Provincetown Theater, 238 Bradford Street
provincetowntheater.org
First Light – New Year's Weekend, December 29, 2023 – January 1, 2024
Ball Drop Bingo, December 31, 3:00 PM
Crown & Anchor, 247 Commercial Street
Well-Strung, A Holiday Reunion, December 30, 2023
Town Hall, 260 Commercial Street
Tickets