Summer is grilling season and here's the perfect side dish
Nothing says summer like fresh tomatoes bursting with flavor and this salad makes a great accompaniment to grilled meats.
A month or so ago I made a batch of this salad for a contactless catering gig I did for a friend's birthday. I broke out my Vitamix blender and combined the garlic, herbs, oil, vinegar and the feta cheese and pureed them into a silky, creamy vinaigrette ready to be tossed through with the tomatoes for serving.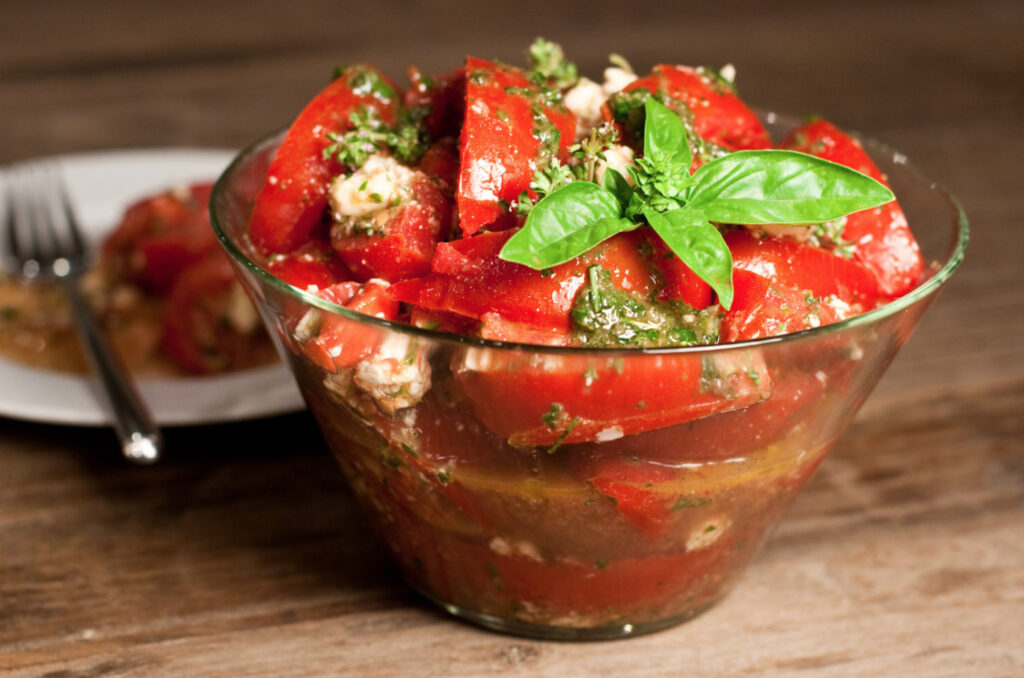 To be honest, there are things I like about all three. It photographs beautifully with the chopped herbs. Pounding them with garlic and salt creates a wonderfully sharp, pungent flavor, and the creamy dressing from the blender has an entirely different texture, the taste experience being more evenly blended.
So, I'm listing the original recipe below, the one with the pounding in the mortar and pestle. But you can make it any way you would like. After all, if we set something as simple as this recipe in stone simply because it is in print or on television, what else have we set in stone that can (and maybe should) be generously released without consequence or perhaps to great improvement?
And you thought I was just going to talk about a salad.
Herbed Tomato Salad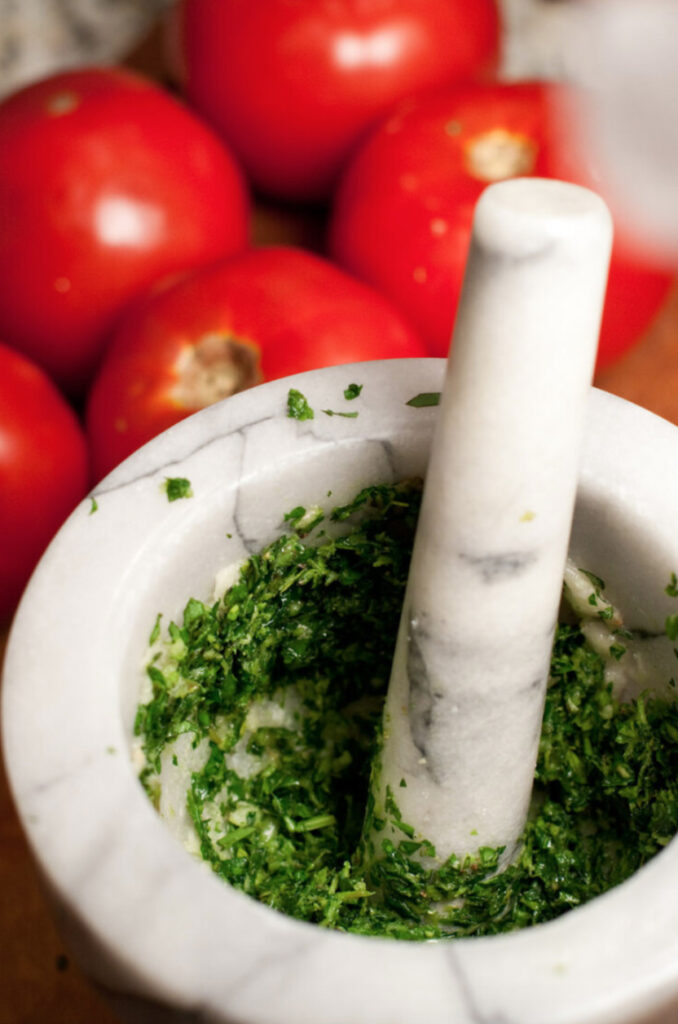 Serves 6 – 8
This salad is so good it deserves hyperbole. Here goes. In the summertime, when the corn is high this simple salad celebrates tomatoes at their beautifully-balanced, sugary, acidic best. Sweet tomatoes, sharp, salty feta and the bright, earthy herb and red wine vinaigrette combine three big personalities on one stage and share the limelight in perfect balance delivering one delicious experience.
Ingredients:
4 cloves garlic, minced
2 tbs each chopped basil, parsley, chives and oregano
1 tbs chopped thyme
1 tsp Dijon mustard
1 ⁄3 cup red wine vinegar
2 ⁄3 cup olive oil–the good stuff!
5 medium tomatoes, cut in small wedges
1 ⁄2 cup crumbled feta
Directions:
Make herb paste: Place the garlic in a mortar, sprinkle with coarse salt and mash into a paste. Add chopped basil, parsley, chives, oregano and thyme to the mortar. Pound into a paste with garlic, adding additional coarse salt if needed.
Make vinaigrette: Transfer herb paste to medium bowl, and whisk together with Dijon mustard and red wine vinegar. Season to taste with pepper. While whisking, drizzle oil into vinegar mixture. This will form a creamy emulsion. Taste vinaigrette with a tomato wedge. Season to taste with additional vinegar or oil, salt and pepper.
Assemble salad: Lightly dress tomatoes with vinaigrette and toss with feta.
TIP: Once chopped and dressed the tomatoes will give off extra liquid, diluting the dressing. If making ahead, save 1/3 of the dressing to bump up the flavor before serving.
Jonathan's Kitchen world is now streaming on demand at Revry.tv. The show is produced by Parrlime Productions & Tarnów Entertainment and directed by Jonathan Bardzik.
Jonathan's Kitchen: Seasons to Taste sponsors include Central Farm Markets, Five Ways Forward LLC, All-America Selections, Red Bear Craft Brewery, and Seasons Olive Oil & Vinegar Tap Room.