Take a tour of Descanso Resort, Palm Springs
Long-time gay destination popular with both men and women, Palm Springs, has a newish resort ripe for men who want to relax poolside with likeminded guys! Descanso Resort offers gay men a luxurious boutique hotel experience just minutes away from Palm Springs' buzziest restaurants, nightclubs, and shopping.
Descanso Resort opened in January of 2022 and quickly established itself as a top destination for sophisticated gay travelers, earning hundreds of 5-star guest reviews and consistently ranking at the top of Trip Advisor's Specialty Lodging and Small Inns categories.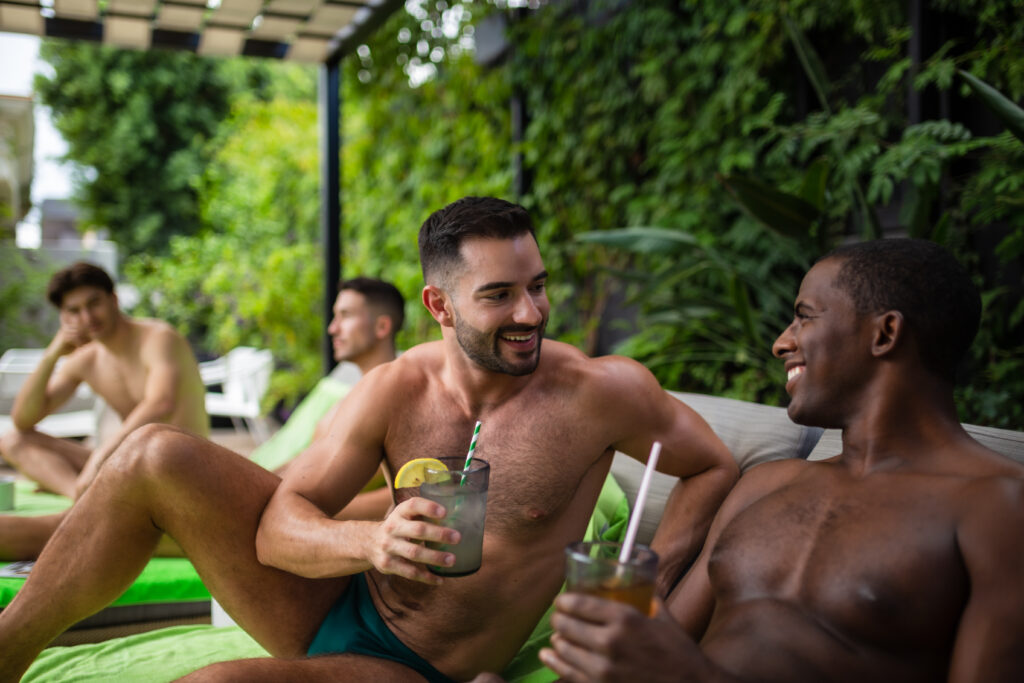 Inspired by Palm Springs' history as a destination for Hollywood stars to unwind in privacy, Descanso offers guests a casual yet modern take on the legendary midcentury style.
The creative team behind Descanso Resort also revitalized Palm Springs' much-loved luxury men's hotel, Santiago Resort and recently launched the all-new Twin Palms Resort, the beloved boutique hotel for gay men.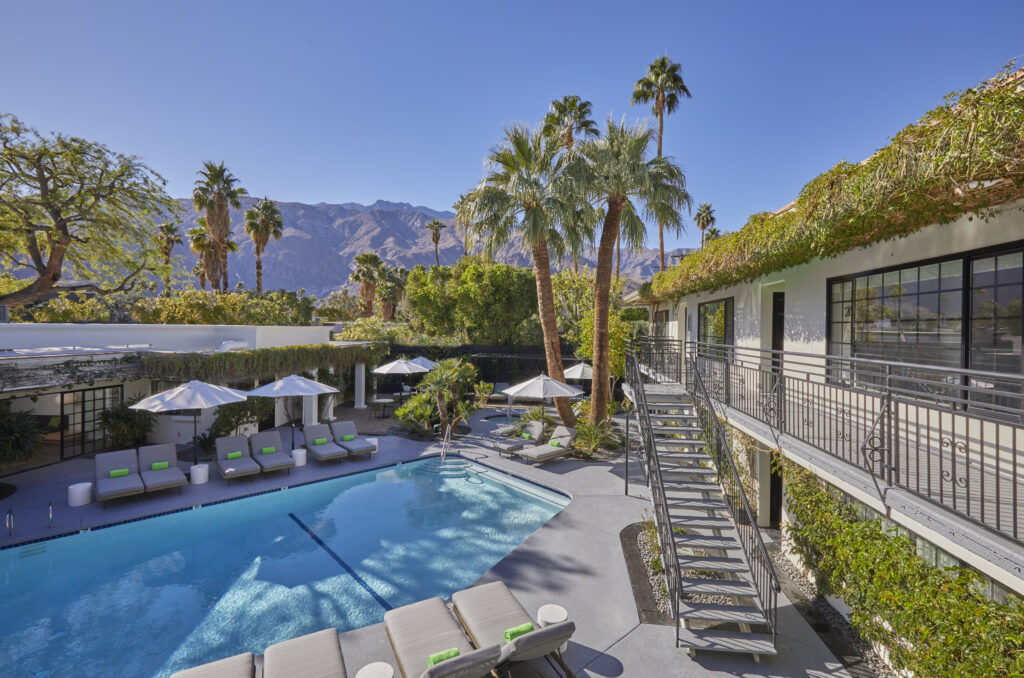 Descanso property has been extensively remodeled and completely transformed from top to bottom prior to opening. The open-air lobby sets a luxurious tone, with provocative contemporary artwork and a fresh color scheme that echoes the verdant courtyard garden beyond. Plantings include California natives, Mexican flame bushes, giant Birds of Paradise, and several types of palm trees. At the center of the resort, guests enjoy a sparkling salt water pool and spa, a mist-cooling system, and outdoor shower. Almost every spot in Descanso's courtyard boasts stunning views of Coachella Valley's iconic San Jacinto mountains.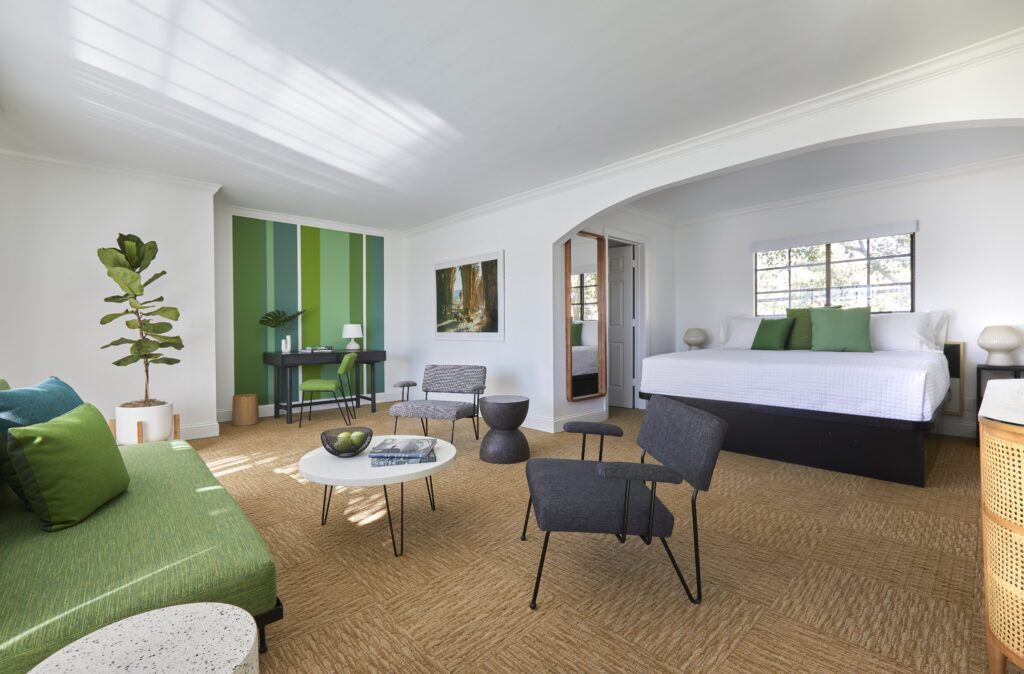 Choose from 15 breezy guest rooms featuring custom-designed furniture, King-size beds, luxury linens, and bespoke materials and finishes. Rooms on the resort's upper level include large picture windows framing panoramic views of the San Jacinto mountains. One special suite even boasts a free-standing bathtub. Rooms on the ground level are just steps from the pool, perfect for enjoying the gardens day or night.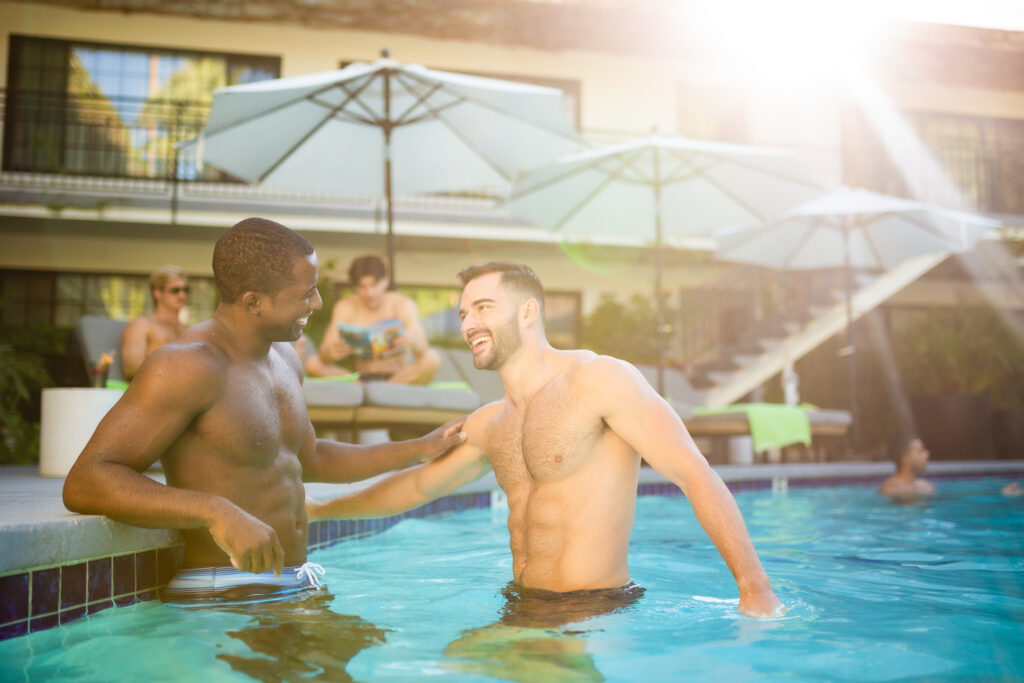 Amenities include complimentary Continental breakfast, a 'stay & splash' lunch, a 24-hour snack cantina, and 'Wine O'Clock' Happy Hour on the weekends. For guests who need to stay connected, the entire property is equipped with blazing fast Wi-Fi. Multi-speed bikes are available for exploring the surrounding midcentury neighborhoods and public art installations. Like the Hollywood stars before them, guests at Descanso are encouraged to unwind, relax, and rest in style.
Book your stay here.