The Great British Picnic Menu
It may come as no surprise that I like a good picnic. I have a lovely wicker basket with flatware, plates, and plastic wine glasses. With the no one being able to go out to dinner, a few recent picnics for two away from the masses has been a godsend.
Our friends at VisitBritain have put together a great guide to British picnic staples, perfect for pretending you're on vacation somewhere on the British Isles! So, please read on: 
Whether enjoyed in one of London's Royal Parks, in the middle of the countryside or on a stretch of charming coastline, an outdoor picnic (with all the trimmings) is a much-loved British tradition.
And while the very first London Pic-Nic Society was formed in 1801, dining al fresco has gained a new level of importance for friends and families in Britain in 2020 too.
Brimming with sandwiches, scones, and other treats, these finger-food extravaganzas are a fun way of enjoying a socially-distanced get together. So dig out that picnic blanket and get creative in the kitchen, for a British-themed dining experience to remember.
The Scotch Egg.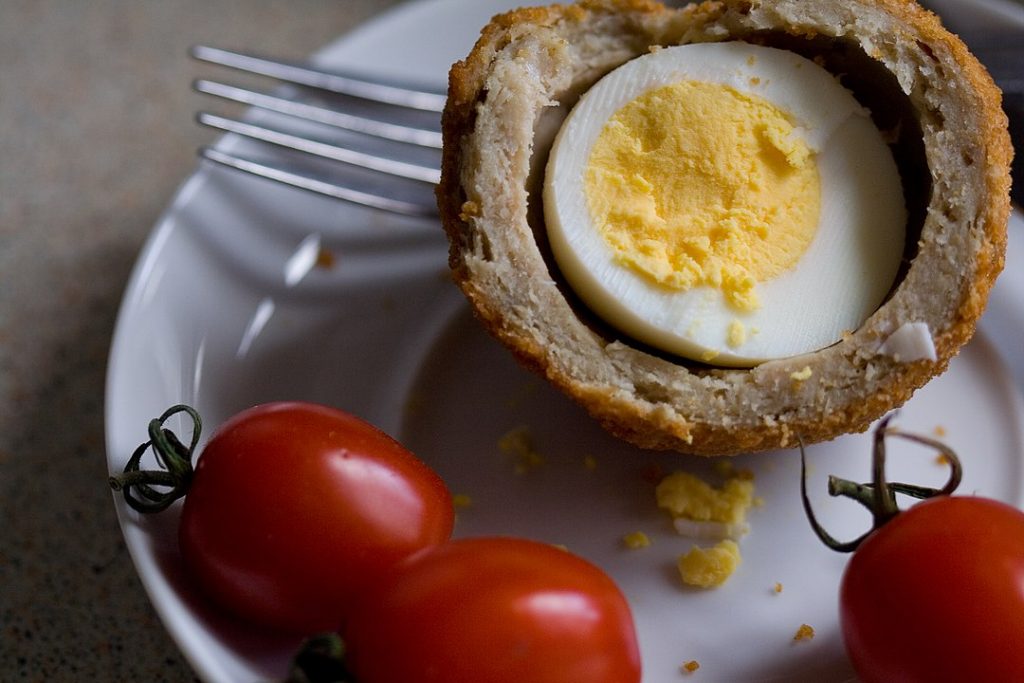 There are a number of theories as to the origin of the Scotch egg, from its creation at London's luxury department store Fortnum & Mason in the 18th century, to more humble beginnings in the coastal city of Whitby in Yorkshire in the late 19th century. Wherever these savoury snacks hail from, one thing is certain: this British classic makes for an utterly sumptuous picnic treat…
Made by wrapping breaded meat around a boiled egg, Scotch eggs can be enjoyed hot, cold or with a touch of mustard.
Ingredients (makes 6):
6 eggs (large if possible)
2 beaten eggs
20g (7/8 cup) thyme
20g (7/8 cup) parsley
1 tablespoon Worcestershire sauce
300g (1 ½ cups) minced meat/Ground Beef
400g (1 ¾ cups) skinned sausages/
Pinch of salt and ground pepper
1 teaspoon English mustard powder
Flour (for coating the eggs)
100g (1 cup) dried breadcrumbs
Oil for cooking
Preparation:
To prevent cracking, carefully pierce the eggs with a needle and place in a saucepan to boil for five minutes. Once cooked, run under a cold tap and gently peel from their shells.
Next, mix the sausage meat with the minced meat in a large bowl, along with the Worcestershire sauce, mustard powder, and the herbs. Season with salt and pepper and mix until combined. Spread the contents of the bowl evenly on baking paper and cut into six squares. Coat each of the eggs with flour and then place one on each of the meat sections, wrapping around the egg entirely. The encased eggs then need to be coated with the flour, followed by the beaten egg and finally the breadcrumbs.
Pour oil into a high-edged frying pan until five centimetres deep, and heat. Place each of the eggs into the hot oil using a utensil and being mindful of splashes/spitting. Rotate onto each side once golden, until completely cooked. This should take around seven minutes, depending on the temperature of the oil.
Top tip: Use cling film to help wrap the meat mix around the egg.
The Sausage Roll.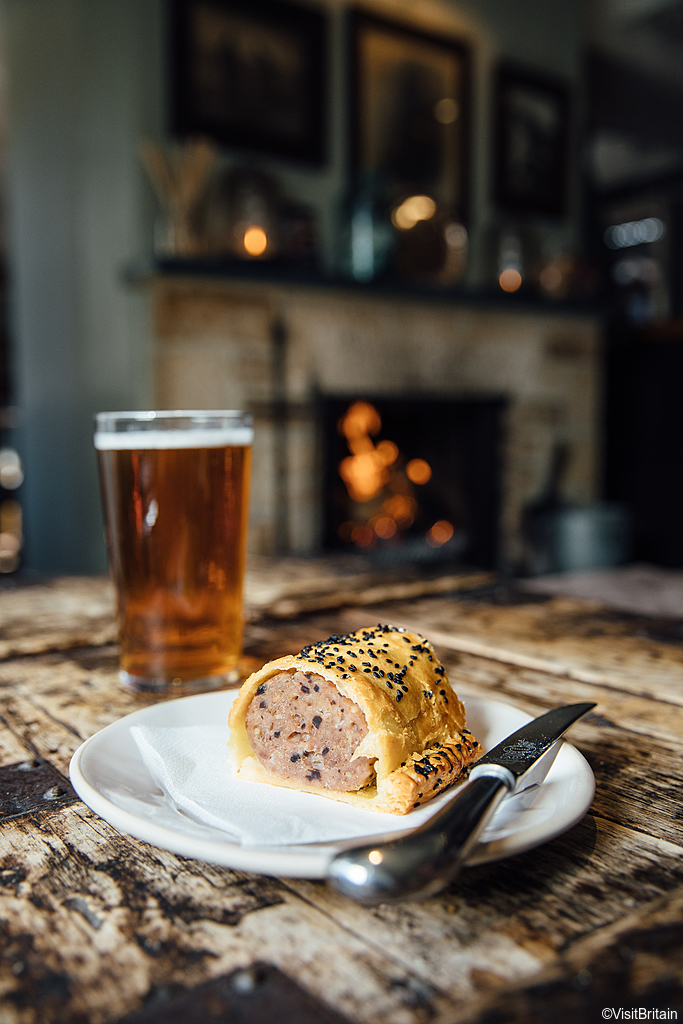 Loved by city-dwellers and village folk alike, the sausage roll first became popular in the capital during the Napoleonic Wars in the early 1800s.  Little is known about the snack during the Victorian era, although a criminal case in 1894 uncovered an incident of an apprentice soaking brown bread in red ochre, salt and pepper to give the appearance of a meaty filling and save money!
This is far from the case with modern versions of this pastry-based treat, which can contain meat or vegan fillings, helping to make the sausage roll a staple of British picnics…
Ingredients (makes 8 rolls):
8 skinned sausages
2 teaspoons dried sage
Pinch of salt and ground black pepper
2 crushed garlic cloves (optional)
375g pre-made puff pastry
1 beaten egg
Preparation:
Preheat the oven to 220°C (428°F, Gas Mark 7), roll out the pastry, cut into eight squares and leave to one side. Next, prepare the filling by mixing the meat, garlic, sage, salt and pepper in a large bowl. Once combined, divide into eight equal sized cylinders and place one on one side of each pastry square. Brush with the beaten egg and cover the filling with the other side of the pastry, using fingers to seal together. Place onto a greased baking tray and brush the top with egg before cooking for 25-30 minutes, until golden in colour and piping hot throughout.
Coronation Chicken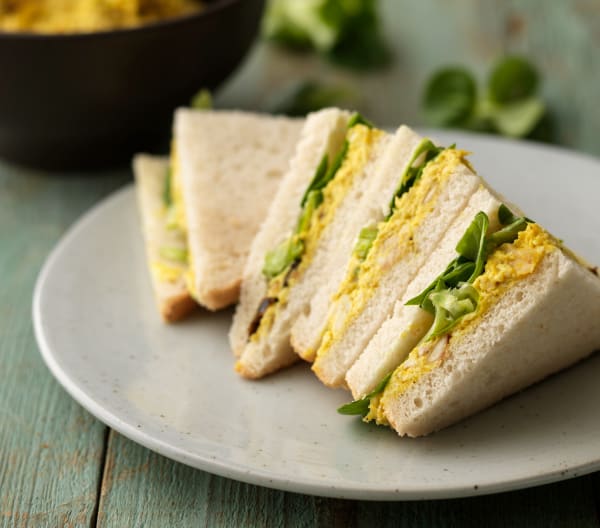 Created by Le Cordon Bleu chef Rosemary Hume to celebrate Queen Elizabeth II's Coronation lunch in 1953, this dish is enjoyed by royals and street party-throwing Brits alike! A quintessential British classic to add to any picnic, it can spice up a simple salad or work as a delicious sandwich filling.
Ingredients (serves 4-6):
6 tablespoons of mayonnaise
3 teaspoons of mild curry powder
½ teaspoon ground cinnamon
2 tablespoons of mango chutney
2 tablespoons of sultanas
500g (4 cups) cooked, shredded chicken
Method:
Mix all the ingredients, except the shredded chicken, together in a large mixing bowl to make a thick sauce. Once combined, mix with the chicken. Add to a simple bed of salad leaves or spread between two slices of bread to create a delicious picnic sandwich.
Potato Salad
Although hailing from Germany, potato salad is a popular addition to any British picnic. There are many delicious variations to this traditional recipe, but here is a simple way to produce a potato salad that is regularly gobbled up across Britain.
Ingredients (serves 4):
400g (2 2/3 cups) white potatoes (peeled or with skins left on, as preferred)
2-3 tablespoons mayonnaise
1 teaspoon chopped dill or chives
1 tablespoon of chopped spring onion
1 teaspoon ground black pepper
1 boiled egg
1 tablespoon chopped fresh parsley
1 teaspoon mustard (preferably Dijon)
Pinch of salt
Preparation:
Start by chopping the potatoes into bite-size chunks and boil in a saucepan of seasoned water. Once soft, drain and put back into the saucepan to steam for a few minutes. Slice the boiled egg into small pieces and add to the steaming potatoes. Next add the mayonnaise, chopped fresh herbs, mustard and salt. Carefully stir until combined.
Transfer the potato salad into a bowl and leave to chill in the fridge for 30 minutes – after this the salad is ready for the picnic basket!
Fairy Cakes or CupCakes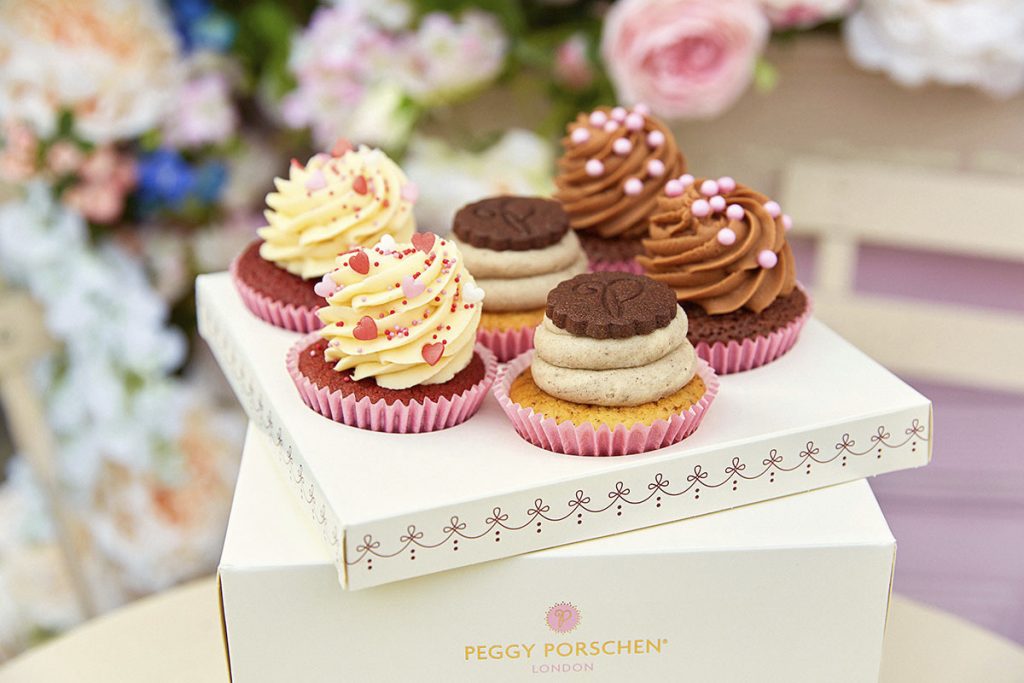 Those who have visited the perpetually pink Peggy Porschen in west London know how seriously cupcakes are taken in Britain. Although originating in America, fairy cakes (as they are often called) are a dainty and delicious addition to any outdoor feast. Why not go full Anglophile and add blue and red food colouring to your frosting mix to create a Union Jack themed sweet treat?
Ingredients (makes 12):
150g (2/3 cup) butter
1 teaspoon of vanilla extract
300g (3 cups) icing sugar
2-3 tablespoons of milk
1 or 2 drops of food colouring, depending on the desired effect
110g (1/2 cup) butter
110g (1/2 cup) caster sugar
110g self-raising flour (1 cup) – this can also work with plain flour by adding a teaspoon of baking soda
2 eggs
1 teaspoon of vanilla extract
Pinch of salt
Preparation:
Preheat the oven to 180°C (356°F, Gas Mark 4), and place 12 paper cupcake cases on a baking tray. Grab a large mixing bowl and use a hand whisk or electric mixer to combine the butter and sugar until fluffy. Next, slowly add the eggs and vanilla extract, mixing for a few minutes more. Add the salt and continue to gradually add the flour into the mix, stirring continuously. Once the ingredients are fully mixed, carefully spoon into the cases and place into the oven. They will only take 15 minutes to turn golden brown, but use the skewer test to make sure they are fully baked through – a clear skewer poked in the middle of a cake means they are done.
While the cakes bake, make a start on the buttercream frosting. Start by mixing the room temperature butter with a hand mixer or wooden spoon until fluffy. Sieve the icing sugar into the butter and add the vanilla extract. Once mixed, add the milk and continue to beat for a few more minutes. Separate the mix into three and stir in the food colouring to create the red, white and blue colour scheme.
Flapjacks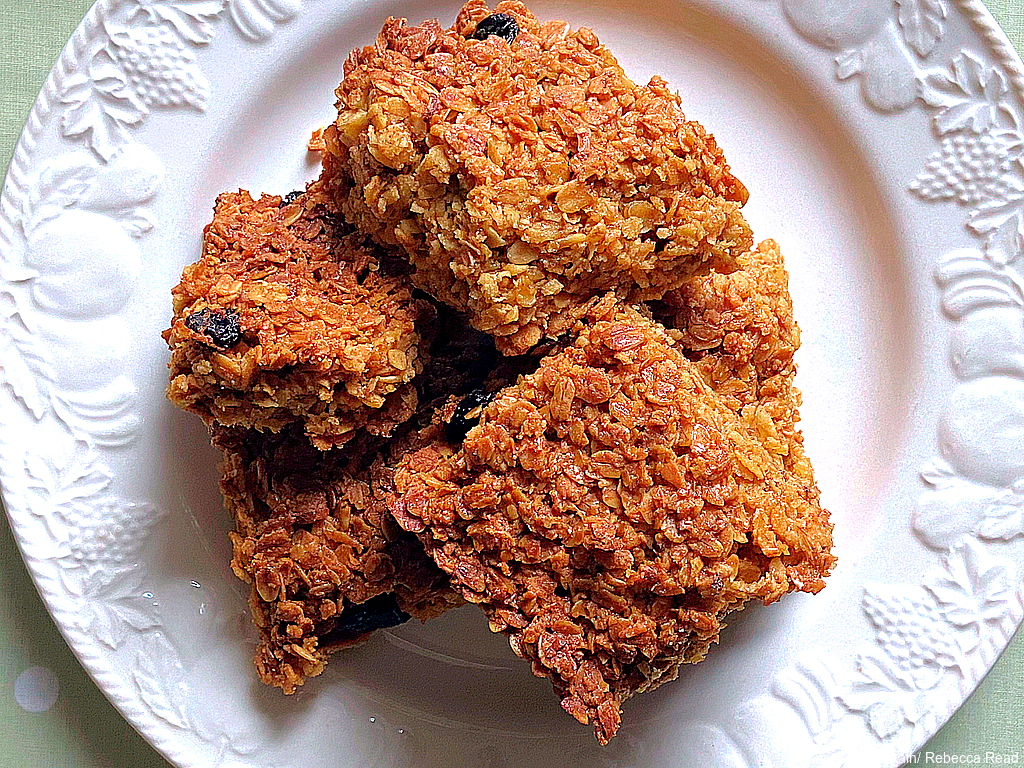 Golden brown and brimming with golden syrup, the oat flapjack is a picnic pudding loved throughout the nation. The word flapjack has been used in Britain since the 16th century, with Shakespeare himself mentioning 'flap-jacks' in Pericles, Prince of Tyre, as reference to a common English pudding. However, the dish we know and love today was not created until 1935.
Ingredients (serves 6):
600g (6 cups) porridge oats
300g (1 1/3 cups) butter or margarine
250g (just under 3/4 of a cup) Golden Syrup
200g (1 cup) caster sugar
Handful of sultanas (optional)
2 teaspoons of cinnamon
Line a baking tray with butter or greaseproof paper and pre-heat the oven to 180°C (356°F, Gas Mark 4). Pour the sugar, syrup and butter into a saucepan and heat slowly, stirring until they are melted and combined. Take the pan off the heat and add the oats, cinnamon and sultanas, mixing until the ingredients have bound together. Spread onto the baking tray and pat down. Bake for 25 minutes or until golden brown.
Remove from the oven and cut into equal pieces while hot, leaving to cool before enjoying.
Royal warrant holder and drinks maker, Pimm's is a British liqueur that sparks fond memories of summer fun for many Brits. Made from a secret gin recipe infused with caramelised orange, warming spices and herbal botanicals, this drink is best served with a refreshing mixer, a selection of sliced fruits, ice and mint leaves.
Pimm's No 1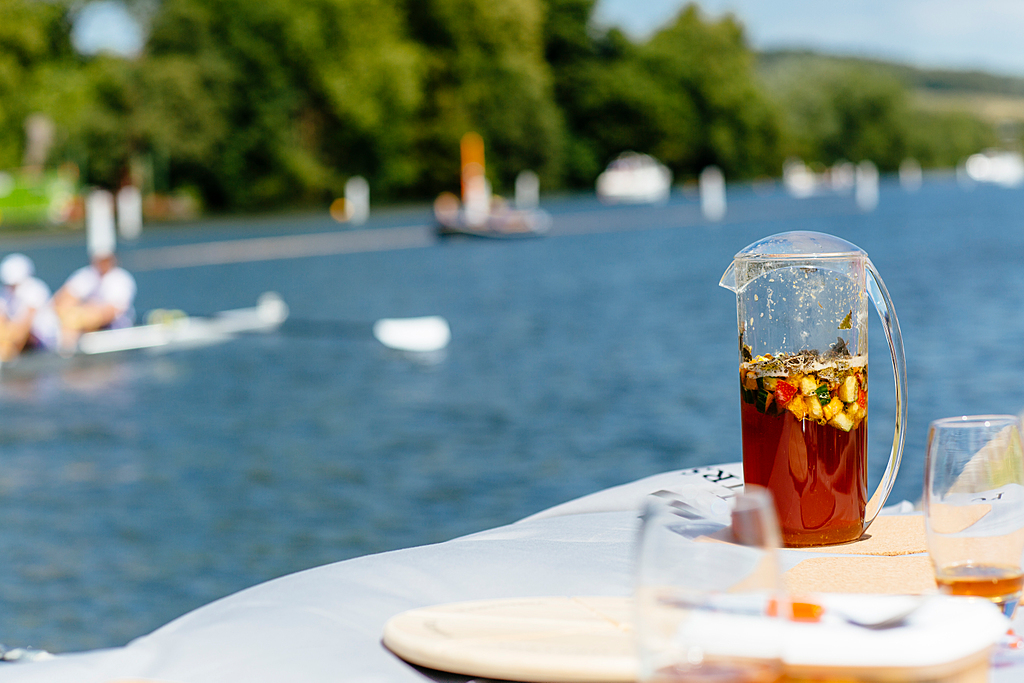 It is particularly popular as a refreshment at Wimbledon tournaments, summer parties, and of course, British picnics!
Ingredients (all to taste):
Pimm's No. 1. (similar drinks are also available, such as Austin's, Jeeves and Pitchers)
Ginger ale or lemonade
Cucumber slices
Lemon slices
Orange slices
Strawberries (halved)
Sprig of mint
Preparation:
Place a few ice cubes in a glass and pour one part Pimm's to two or three parts ginger ale/lemonade, depending on the desired strength. Add a slice of cucumber, lemon, orange and strawberries, as well as mint leaves. Gently stir the cocktail and enjoy! This recipe can also be used in bigger portions to create a sharing pitcher.
Pork Pie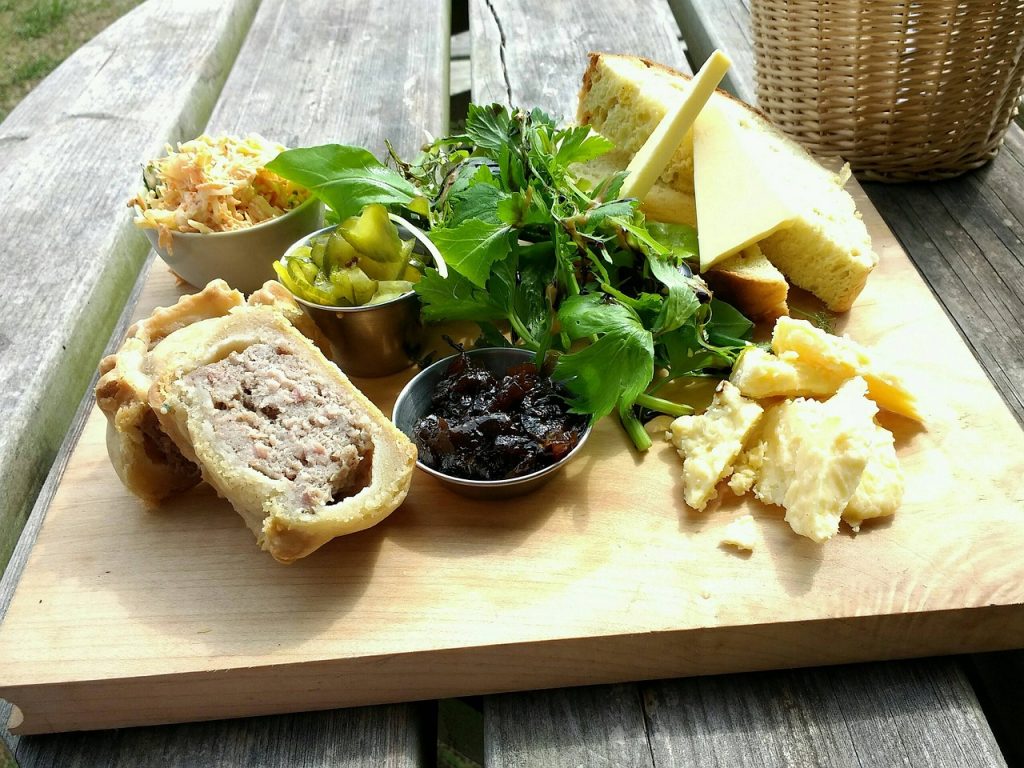 Pork pies have been eaten in Britain since medieval times, when their thick pastry crusts were simply used as a way to preserve their meaty fillings. The confection itself has seen many variations over the centuries, from meat and fruit combinations to adding half a pint of white wine into the mix. Today, it takes the form of a classic high crusted pie, with the meat surrounded by a layer of jelly to help it retain its moisture.
Having used the same traditional pork pie recipe since 1851, Ye Olde Pork Pie Shoppe in Molton Mowbray, Leicestershire, is the home of the pork pie, a taste that foodies can attempt to replicate for their very own British picnic…
Ingredients (makes 4 pies)
3 tablespoons milk
40g (2/5 cup) lard
40g (2/5 cup) butter
340g (1 cup) plain flour
1/2 teaspoon salt
500g (just over 2 cups) pork shoulder, cut into 1cm cubes
120g (1/2 cup) pork sausage meat
180g (3/4 cup) chopped bacon
Pinch of nutmeg
Pinch of salt
1/2 tablespoon finely chopped fresh or dried sage
1/2 tsp ground black pepper
1 beaten egg
150ml (2/3 cup) chicken stock
3 sheets of gelatine
Preparation:
Start by creating the pastry. Put 110ml (1/2 cup) water in a small saucepan, add the milk, lard and butter and slowly heat until the hard ingredients have melted, then turn up the heat and bring to a boil.
Using a sieve, mix the flour and salt together in a large mixing bowl and carefully add the just-boiled wet ingredients. Mix until it forms a dough, kneading lightly with your hands until the dough is smooth. Wrap tightly in cling film and set aside to rest at room temperature for 20 minutes.
Thoroughly combine the meat, nutmeg, sage, and black pepper in a mixing bowl with a large pinch of salt. Next, cut away 1/3 of the dough and separately wrap it in cling film, before dividing what is left into equal pieces.
Grab four average sized jars and wrap the bases in cling film. Divide the remaining pastry into four even pieces, mould each one carefully around the base of the jar, until it reaches about nine centimetres from the base.
Cover each of the jars evenly, mindful to not to make the base too heavy. Once all four are covered place upside in the fridge for one hour. Whilst waiting for the four pie bases to chill and turn hard, divide the remaining pastry into four equal parts. Roll each of them to create a circle around eight centimetres in diameter, these can then be covered with cling film and left at room temperate until needed.
Preheat the oven to 180°C (356°F, Gas Mark 4) and carefully remove the now chilled pastry bases from their refrigerated jar moulds by pouring boiling water into each jar. Once loosened they can then be gently pulled off and placed on a baking tray.
Spoon the pork filling into each of the cases. Now add the pastry circles on top of the filled pies and secure them by pinching the edges together by hand. Brush the pies with beaten egg and use a skewer or thin knife to make a small hole in the top of each.  
Cook for 50 minutes, until completely golden brown.
Heat the stock until almost boiling before removing from the heat. Soak the gelatine sheets in cold water for five minutes to soften. Squeeze the sheets to remove any extra water then add the gelatine to the hot stock, stirring occasionally.
To add the distinctive jelly to these savoury creations, carefully funnel the stock through the holes at the top. This can be done with a small funnel or piping nozzle, making sure to allow time for the mixture to fill the gaps between the filling and the pastry without flooding. Once full, leave to cool and then chill the pies for a minimum of four hours so that the jelly has time to set.