The next gay mecca is Cleveland!
Put Cleveland, Ohio on your map for your next gay vacay. You'll get to visit a new breed of gayborhood that has nothing to do with gentrification and everything to do with intentionally building a diverse and accepting oasis for LGBTQ+ visitors and residents. Yes, big things are happening for the LGBTQ+ community in the 216.
I had never been to Cleveland, but a dear friend and colleague who has always been gorgeous, generous, and a total mensch was born and raised there, and thus unintentionally advertised it to me as a place of note. Cleveland is just under a two-hour flight from my home base of New York City — I can't believe I haven't visited already. Certainly, "Cleveland," Episode 20, Season 1 of 30 Rock in which Liz Lemon flirts with deserting Manhattan for the Sixth City sells it short—especially now that The CLE has a new LGBTQ precinct to rival anything in Manhattan!
Studio West 117
Studio West 117 is a first-of-its-kind neighborhood created for and by the increasingly diverse LGBTQ+ community with a bold mission to create thoughtfully curated and aesthetically conceived spaces where LGBTQ+ people can be themselves and thrive. This means taking into account the full spectrum of community members and anticipating the intersectional needs of visitors and residents — across age, race, cultural background, (dis)ability, gender identification and sexual orientation.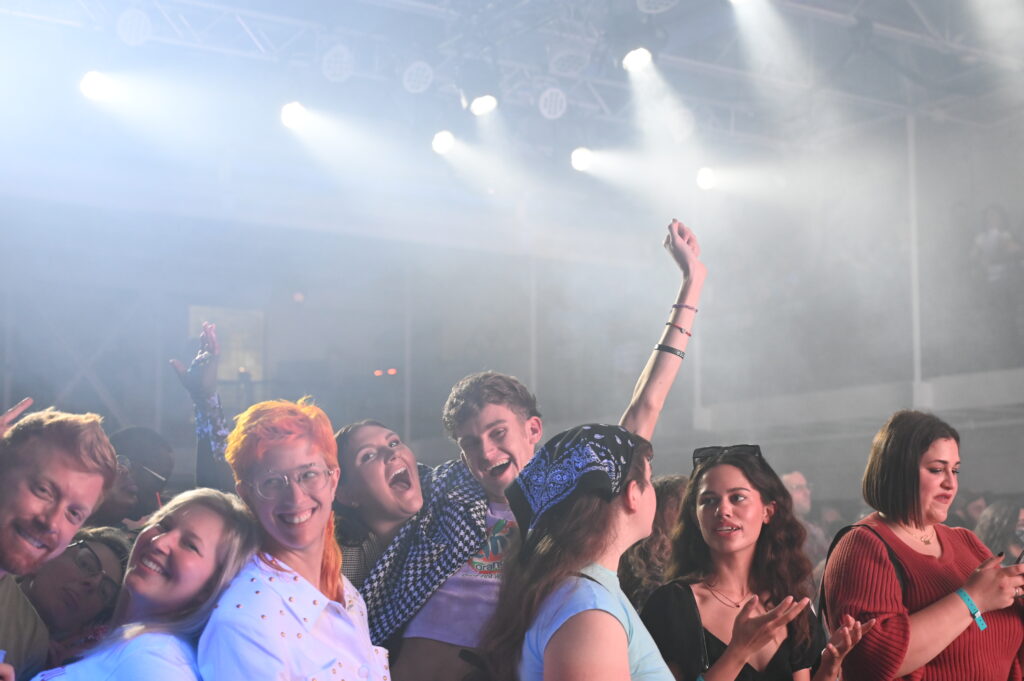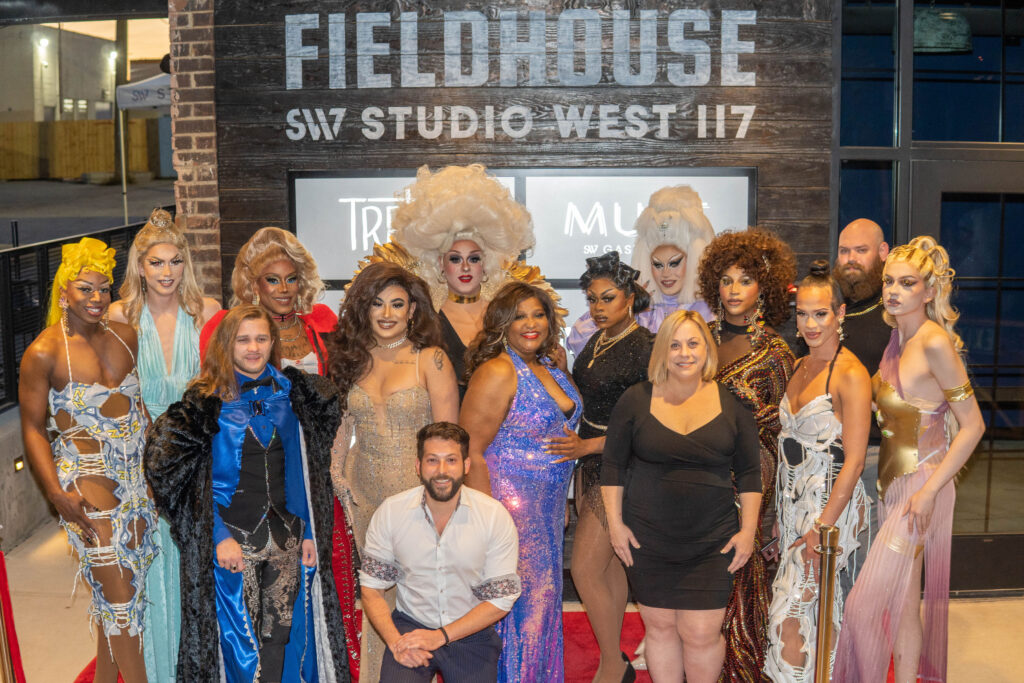 To this extent the precinct, which is located in the Lakewood neighborhood of Cleveland, includes Fieldhouse, a new athletics complex with gymnasium, courtyard, and exterior rock climbing wall; a swish rooftop bar called Trellis; restaurant Muze Gastropub; Eat Me! Pizzeria; a gender-affirming barbershop Babercult, a minority women-owned barbershop owned by Ariana Perez; gender-affirming upcycled clothing store, Margie's Closet; The Edge artisan fair, a marketplace for LGBTQ+ artists and makers — and much more to be completed including a dive bar, theatre and concert space. 
Now, just as an example, Muze Gastropub is as good as any big city gay venue gets, with regular events, food and drinks specials, theme nights, dance parties, DJs, and of course drag! And let me tell you about the Fieldhouse's cycle & sip spin class, or the Youth Basketball Academy, or the Burlesque Ball dinner and dance party that rang in NYE 2023, or the weekly Sunday Funday sports-themed Brunch Bowl… It's not just for Pride. It's not just for men or for women. It's not just for youth or for retirees. It's for everyone, all the time!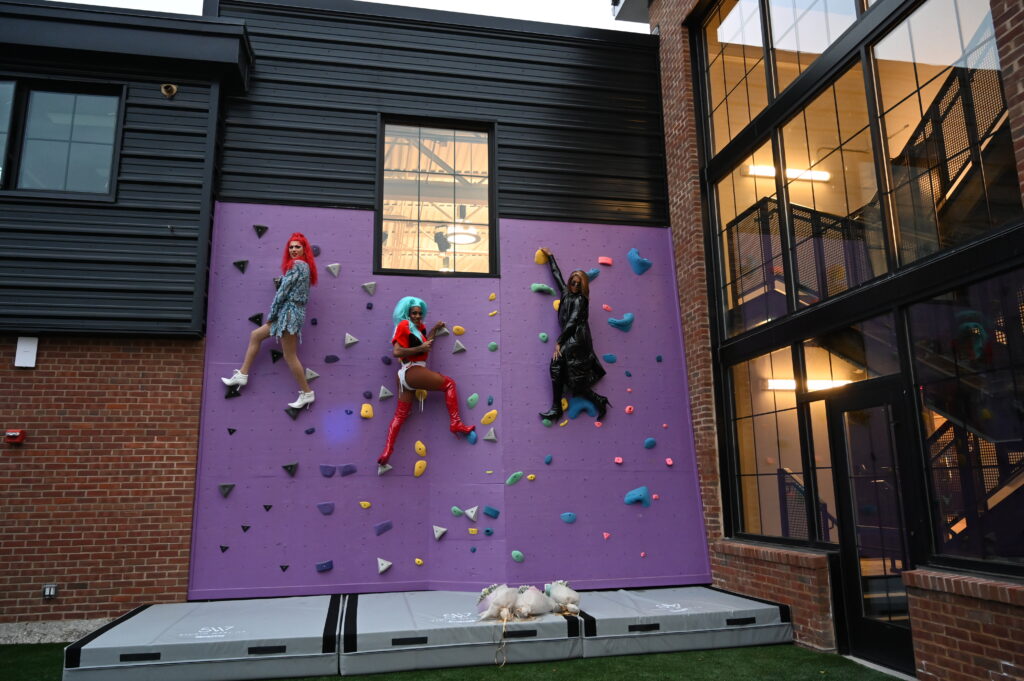 There is so much going on at Studio West 117, from recreation to residential spaces, nightlife to health and wellness… the best was to get more info is to go here to see what's coming up, and sign up for the newsletter to be notified about and events and opportunities. After its grand opening last fall, SW117 is only going to get bigger and better!
Where to stay in Cleveland: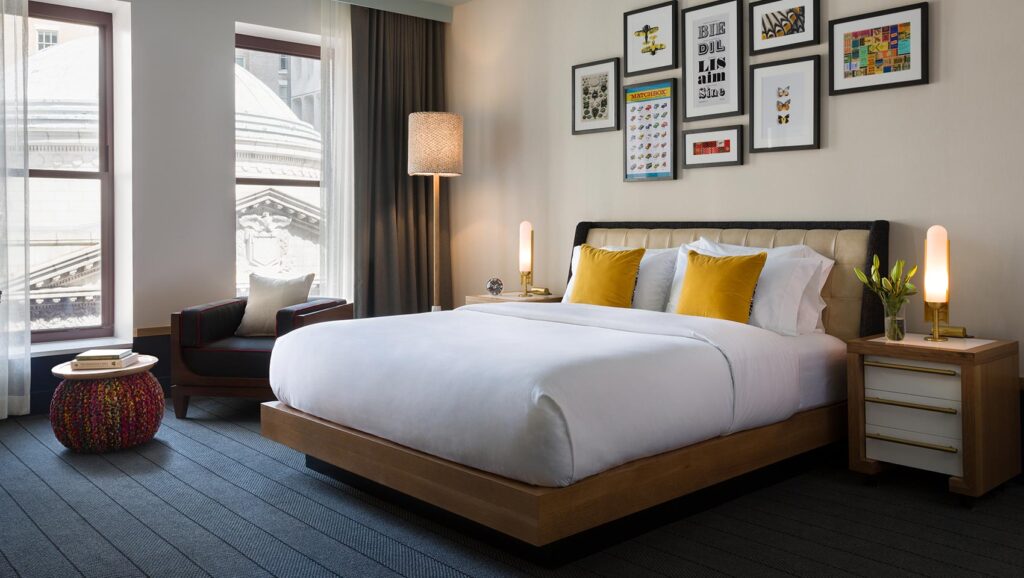 The Schofield Hotel, which is a Kimpton, is centrally located and offers large, modern rooms with beautiful and uncluttered contemporary design — with classic Kimpton quirky touches. When staying at a Kimpton you can always count on a queer-friendly welcome, comforting and stylish amenities including a plush bath robe, fine quality bedding, interesting artworks, state of the art decor, and something a little out of the box. In this case, it was my gigantic, walk-in, two-way shower. I loved feeling at home at The Schofield, which also has residences for long-term stays. The friendly staff and the street views of buildings harking back to its heyday as a key 19th Century industrial city had me sold from the moment I checked in. Grab a delicious breakfast, lunch, dinner or glass of wine and a snack at the onsite restaurant, Betts.
Where to eat:
Or you can head out and start your day off right with a big American breakfast at Yours Truly. It's just a block and a half's walk from The Schofield Hotel and it offers casual Midcentury American diner ambience and super friendly service. All your breakfast classics are served all day—from eggs over easy to waffles with ginormous strips of crispy bacon with coffee refills served by sympathetic wait staff. Fuel up here and explore the city.
There are many dining options when it comes to something special for dinner and like other parts of the Midwest, Cleveland is undergoing a culinary renaissance. The current restaurant scene is influenced by more than 100 ethnicities found throughout the city, from Indian at Amba, to Primo African Quisine.
Whatever you decide, make sure to book a table at Salt+ restaurant—headed by a two-time James Beard Award nominee Chef Jill Vedaa. This restaurant blew me away with its innovative take on small plates that are both cutting edge and comforting, with a melange of cultural influences, from Asian to Middle Eastern. Think of white bean purée, mashed olives + grilled bread; steelhead trout, harissa butter + smoked lentils; ostrich, mushroom marmalade + celery root hash; and lamb neck shawarma, sorrel + whipped parsnips. Some old favorites stay on the menu while others change, driven by seasonal produce and a creative impulse that is truly artistic. And the artisanal cocktails are just as expressive and experimental.
Things to see and do:
Arts and culture have a very strong presence in Cleveland and the city is immensely accessible by walking and ride-sharing. Of course you must check out the Rock & Roll Hall of Fame where you are to no doubt discover artifacts and memorabilia pertaining to your oldest or newest pop star crush, from Joan Jett to Taylor Swift. And we're thrilled about the 2023 nominated inductees who include musicians of queer iconic status: Kate Bush, Missy Elliott, Cyndi Lauper and George Michael.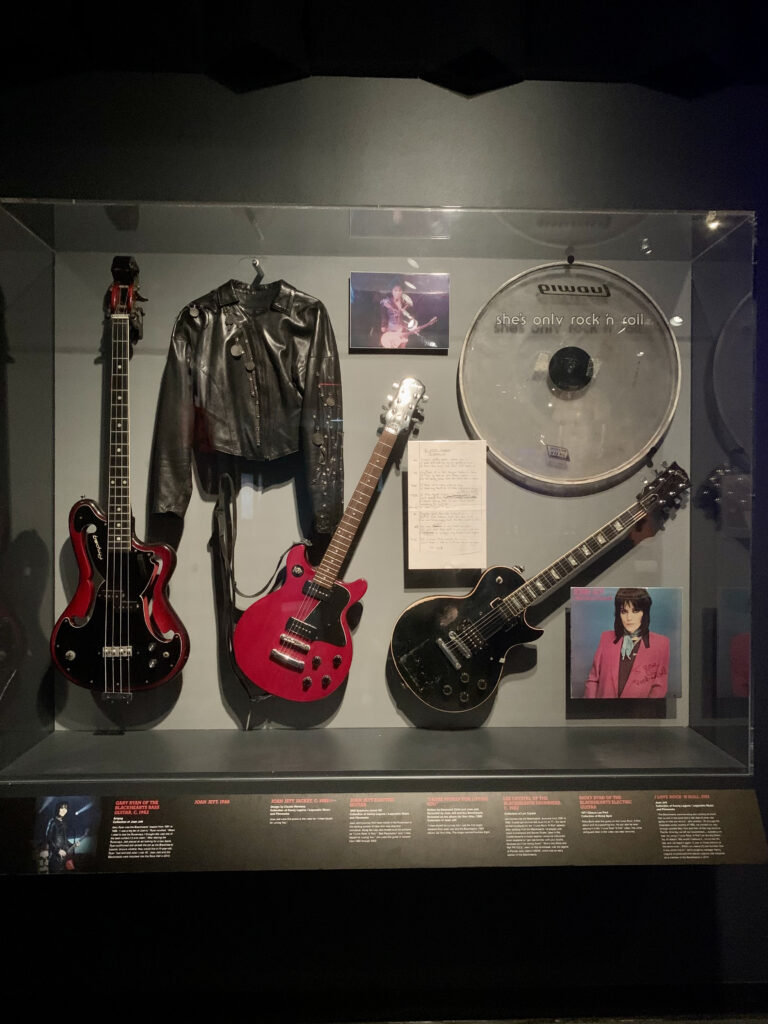 And not far from the Rock & Roll Hall of Fame, in Downtown CLE The Leather Stallion Saloon is one of the oldest gay bars in the Midwest and has been serving Cleveland since 1970 from.
The iconic and stately Cleveland Museum of Art is definitely worth tarrying in, so check out the upcoming exhibitions here, including their newest exhibition, which will leave you feeling like a queen.
But where is the gayborhood, I hear you ask?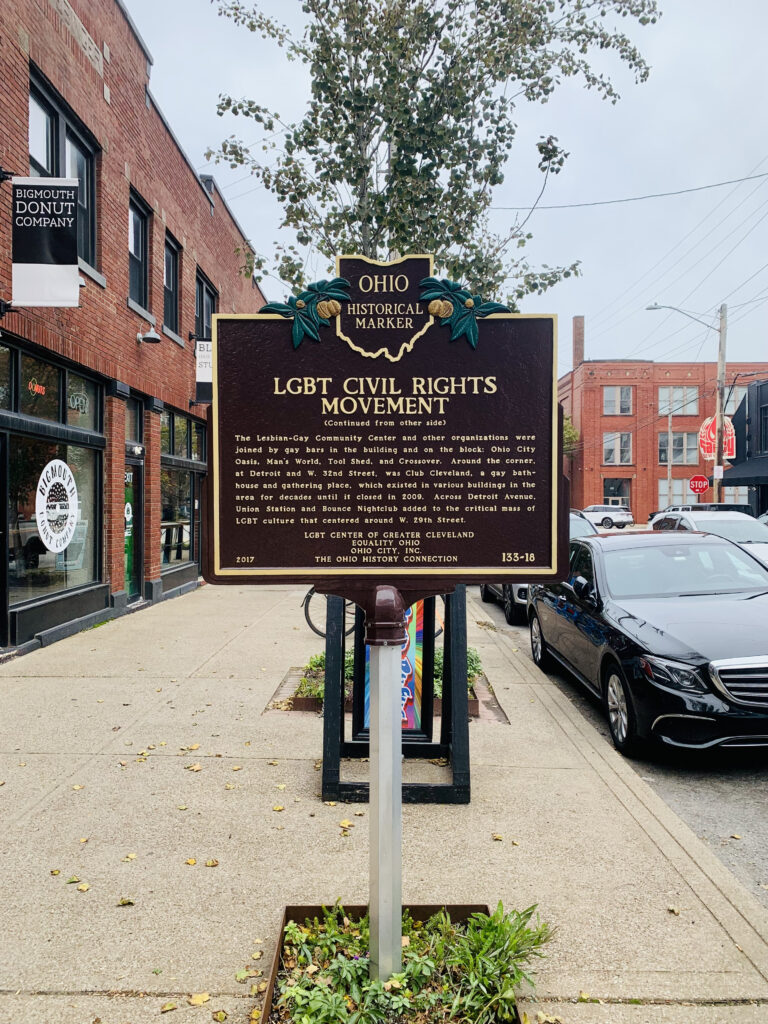 In addition to Studio West 117, and Lakewood in general, Cleveland has areas that have, and are considered to be, LGBTQ-friendly or gay-centric, including Tremont, and the Detroit Shoreline Area. But it's in Lakewood you'll mostly see the rainbow flags flying in folks' yards and a smattering of delightfully gay-owned businesses. But Greater Cleveland has its own thriving grassroots LGBTQ community all over, with a PFLAG, a GLSEN, an LGBTQ chamber of commerce, Plexus, and it even has a local chapter of Old Lesbians Organizing For Change.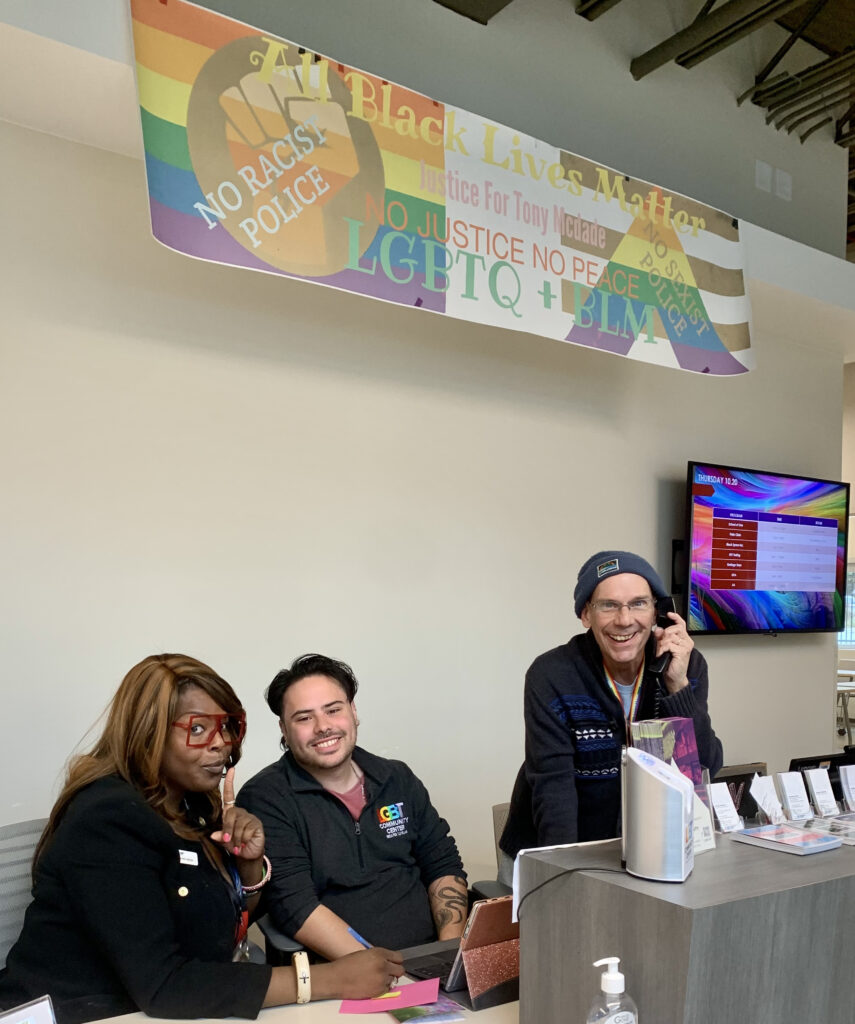 The LGBT Center of Greater Cleveland under the leadership of Executive Director Phyllis "Seven" Harris is in some ways the conscience of the community, offering a safe haven in a state of the art building on Detroit Avenue. The minute you walk in you are welcomed by friendly faces staffing the front desk. The Center is a full service community space with everything from business incubator to medical consulting room to outdoor terrace, living room, kitchen, and more. Constructed purposefully, and continuously funded to be a resource for LGBTQ people in the greater Cleveland area, the space is bright, modern, airy, and full of good vibes! Drop by and see how our community does it right! The Center also has a comprehensive list of local organizations and services, depending on what you are looking for. The Northeast Ohio Women Over FORTY and Their Friends (WOFFs) meets regularly at the LGBT Center.
There are numerous LGBTQ-owned businesses sprinkled throughout Cleveland. Be sure to drop in to the gay-owned Him & His Design, which specializes in interiors and homewares; and grab a coffee and a browse at Brewella's creperie, café and antique shop. But perhaps the gayest spot I dropped into on my visit was The Dean Rufus House of Fun, a queer and general store and adult boutique just a few doors down from Him & His. Owned by former DJ, music executive, and longtime LGBTQ activist Dean Rufus, the store is like a cabinet of queer wonders—from jockstraps to gemstones, swimwear to CBD, vintage 12″ LPs to brand new 12″ dildos. It might just have what you need on this trip!
If you're lucky and Dean is in the store when you visit, be sure to chat to him about the local scene. And if not, Twist Social Club, between Lakewood and Edgewater, is a friendly LGBTQ+ bar and restaurant and a great place to drop in, sit at the bar, watch a drag show and make new friends.
Start planning your trip to Cleveland here.