The Smithsonian's National Museum of the American Indian celebrates Pride
Youth in Action: Wearing Our PRIDE
Thursday, June 1, 1 p.m. ET (available on demand afterwards). Fashion is often used to confirm identities, challenge social structures, and display personalities. Discover the joy of fashion in our conversation celebrating PRIDE month. Joining us will be Angel Aubichon (Cree/Métis), Alex Manitopyes (Cree/Anishinaabe), Adrian Stevens (Northern Ute/Shoshone-Bannock/San Carlos Apache), and Sean Snyder (Navajo/Southern Ute). Moderated by Christian Allaire (Ojibwe). In English with English and Spanish captions This program is part of the Youth in Action: Conversations about Our Future series, which features young Native activists and changemakers from across the Western Hemisphere who are working towards equity and social justice for Indigenous peoples. Program generously supported by The Coca-Cola Foundation.
Saturday, June 17, 1–3 p.m. First come, first served. The National Museum of the American Indian is proud to present a special screening of Shelley Niro's latest feature film at our New York museum in conjunction with the exhibition Shelley Niro: 500 Year Itch. A Q&A with director Shelley Niro follows the film. Preceded by a book signing of the exhibition catalog at 10 a.m. outside the Museum Store on Level 2 with Shelley Niro, David Penney, and Greg Hill. The exhibition catalog will be available for purchase in the store.
(Director: Shelley Niro [Six Nations Mohawk], Canada, 2023, 97 mins.)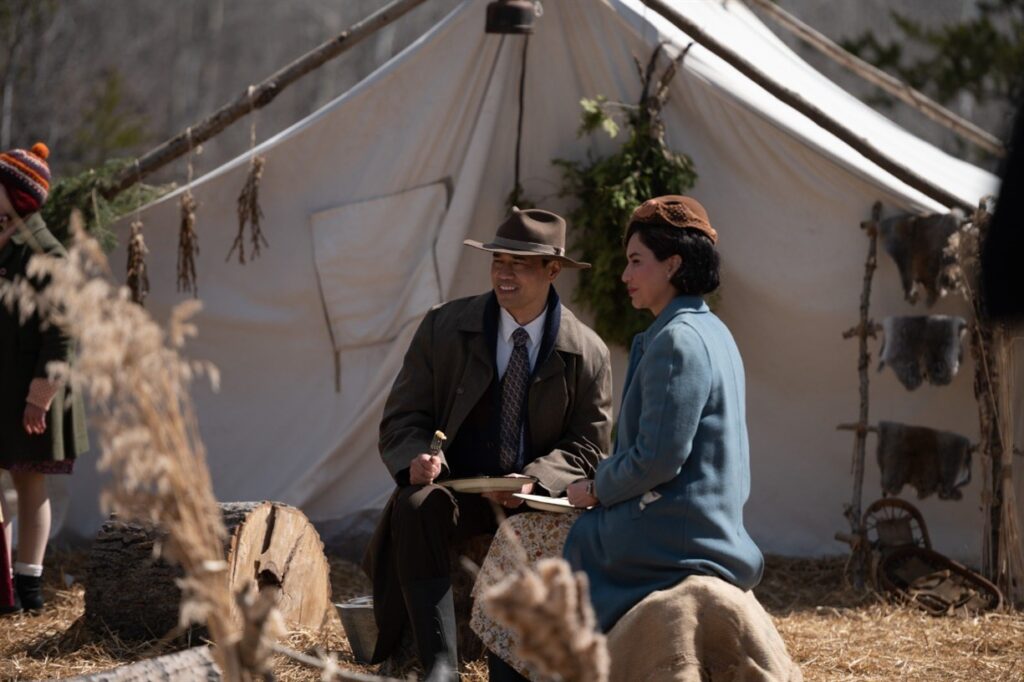 In a small Saskatchewan town in the 1960s, Yvette Wong, a young girl of Chinese and Cree heritage, struggles with her Indigenous identity amidst family tragedy in this coming-of-age film directed by Mohawk artist and filmmaker Shelley Niro. Yvette's mother, Katherine, discourages her from embracing her Cree identity, so she explores it in secret. As she learns more about herself and her Indigenous heritage, Yvette finds a friend in Maggie Wolf, who embraces being part Mi'kmaq and encourages Yvette to be proud of being Cree. When her classmates learn about her Cree ancestry, Yvette encounters the realities of being Indigenous, facing prejudice with pride and holding fast to her dream of becoming a doctor. Café Daughter is inspired by true events and based on Kenneth T. Williams' play of the same name.
Organized and circulated by the Art Gallery of Hamilton with the Smithsonian's National Museum of the American Indian and with curatorial support from the National Gallery of Canada. Major support for the project is provided by Canada Council for the Arts, the Terra Foundation for American Art, The Andy Warhol Foundation for the Visual Arts, and the Smithsonian American Women's History Initiative Pool. This program is supported, in part, by public funds from the New York City Department of Cultural Affairs, in partnership with the City Council.
Thursday, June 22, 6–7:30 p.m. First come, first served. (Director: Erica Tremblay [Seneca/Cayuga], USA, 2022, 90 mins., English and Cayuga)Following her sister's disappearance, Jax, a Native American hustler (Lily Gladstone) kidnaps her niece Roki (Isabel Deroy-Olson) from the child's white grandparents and sets out for the state powwow in hopes of keeping what is left of their family intact. The pair hit the road and scour the backcountry to track down Roki's mother. What begins as a search gradually turns into a far deeper investigation into the complexities and contradictions of how Indigenous women at the mercy of a failed justice system move through a colonized world. Screening presented in conjunction with the closing night of The Americas Film Festival NY and preceded by the TAFFNY Awards Show.
Friday, June 23, 7–9 p.m. First come, first served.
This year's NYC Pride theme is "Strength in Solidarity." To celebrate, the Smithsonian's National Museum of the American Indian is presenting an evening of dynamic and fun performances that showcase the rich diversity of the Indigenous LGBTQIA+ community. Landa Lakes (Chickasaw) hosts an extravaganza of dance, music, and humor featuring fellow Indigenous drag performers Lady Shug (Diné [Navajo]),Sage Chanell (Shawnee/Ponca/Otoe/Lakota Sioux), and Papi Churro (Coahuiltecan/Nahua-Otomi). The evening's events will be soundtracked by DJ Jonray (Laguna/Acoma Pueblo).
All events are free. The National Museum of the American Indian is free, open daily 10 a.m.–5 p.m. and is located at 1 Bowling Green, New York, NY 10004. For information, visit AmericanIndian.si.edu.