Beach day? Here are some simple summer skincare tips
Summer can be hard on older skin, especially August. Here's some handy hints on how to protect your largest organ.
All around us the heat is on. Record breaking temperatures seem to be just about everywhere as well as wildfires, smog, and the usual stress caused by world events and viruses. But we all long to get more outdoors time in an effort to unwind and rid ourselves of stress. However, there are a few things to factor in to your hours under the summer sun: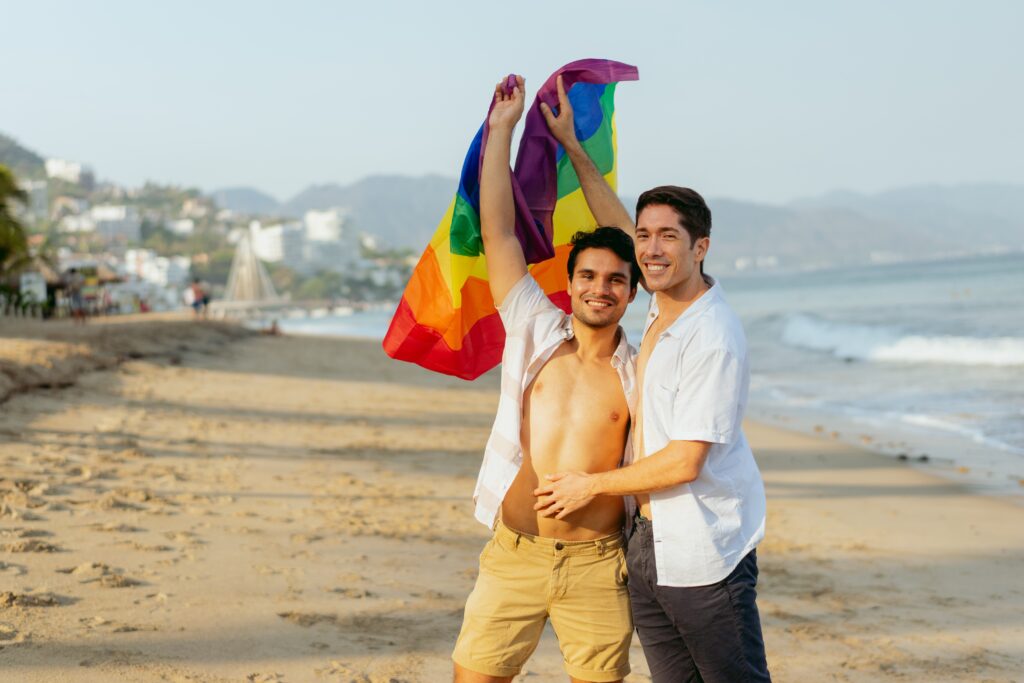 Climate change has increased the number of days of extreme heat in Europe, according to recent studies. Asian countries are seeing an increase in average temperatures with reports indicating that by 2050 parts of Asia may be experiencing lethal heat waves. Many parts of the US have shown warming trends, particularly the North, the West, and even Alaska. South America, Australia and Africa have been affected as well. Not that surprising considering 2011–2020 was the warmest decade on record worldwide.
If you're heading to Fire Island, NY, Sebastian Beach, Ft Lauderdale, Provincetown MA, Rhode Island, Will Rogers State Beach in LA, Lake Washington, Seattle, Rehoboth Beach, DE or any of the thousands of LGBTQ-friendly beaches, lakes, parks and amusement areas in your area, remember that with sunshine can come sunburn.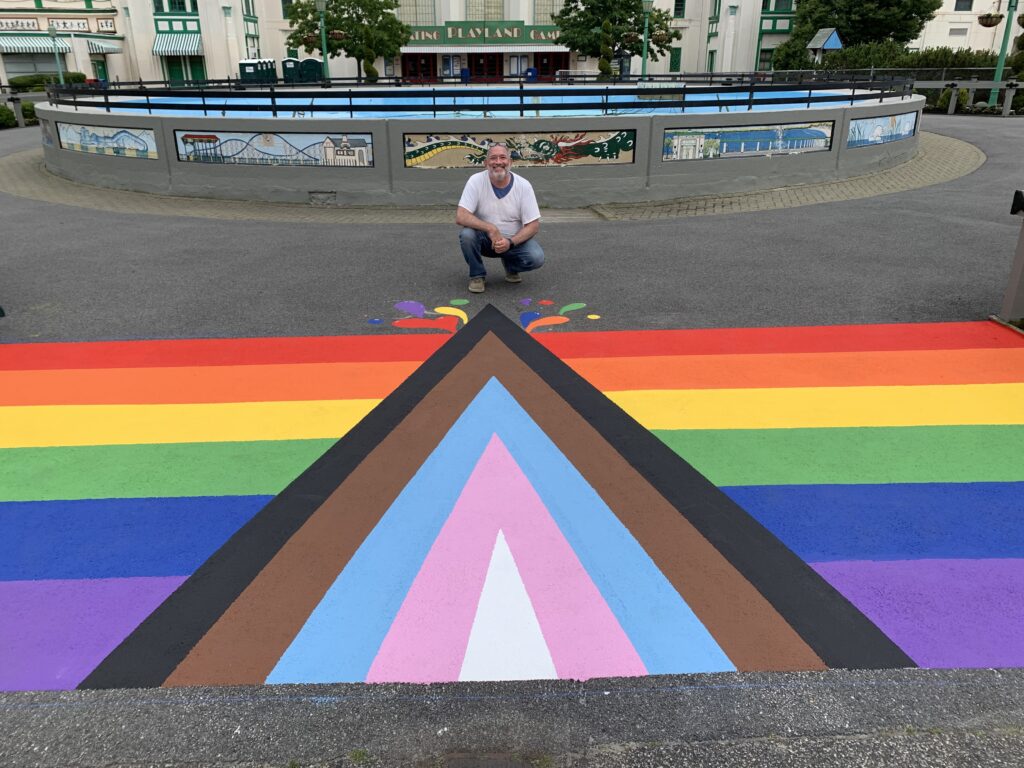 Several weeks before the official start of summer, I made the mistake of being outdoors without reapplying sunscreen. I happened to have the opportunity to design and paint a version of the Progress Pride flag on the walkway leading to a rather popular amusement park in the suburbs north of NYC, Rye Playland. 
Over 7 hours, with the help of a dozen or so volunteers from The LOFT LGBTQ+ Community Center, Queery and Regeneron, the entryway in front of the fountain was transformed into a literal rainbow of color. 
But when all was said and done, I was seeing red. I had gotten so involved in the painting that I failed to reapply my sunscreen. When I got home to shower off, I saw the unmistakable crimson tan lines of my brand new, pre-summer sunburn.
So allow me to share some tips to help YOU avoid getting a sunburn this season.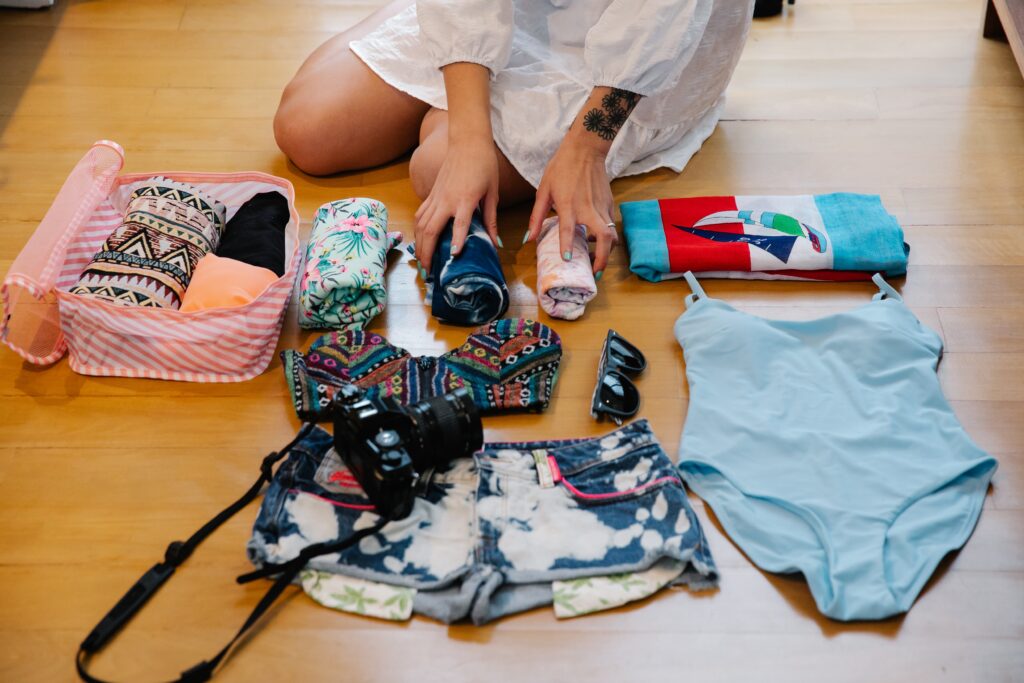 Dress for the sun
"Clothes make the person," to paraphrase Mark Twain. But clothes also offer protection from the sun's harmful rays. And unless you're at the nude beach, you're likely to be wearing some type of clothing. Most clothes offer some basic UV protection, for example wearing a t-shirt is like applying SPF 5 sunscreen. 
While loose fitting and light fabrics provide minimal sun protection, thicker materials can offer much more. A simple rule is if you can't see light through the material, it will be more effective at blocking UV rays. But be warned, you can get a sunburn through any clothing if you're in the sun too long.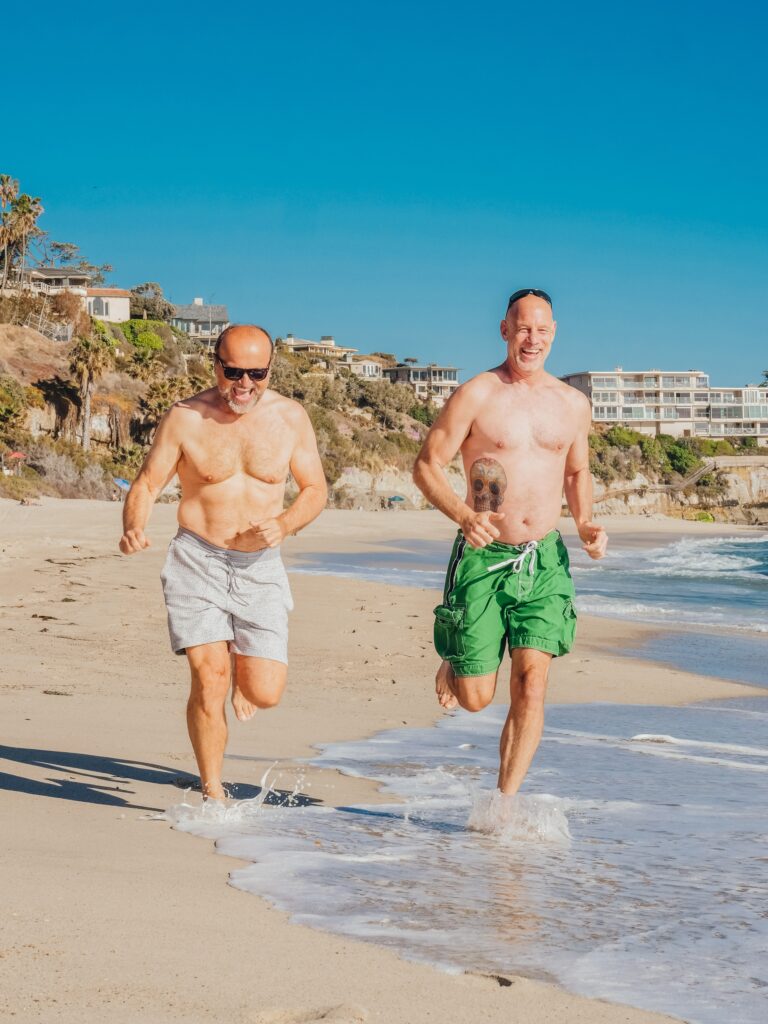 Lighter colored clothing reflects heat, while darker colors absorb it. This makes it sound like a white t-shirt is the way to go. But science says no! Here's why. That white t-shirt does reflect heat away from its surface, but it is also reflecting your body heat back towards your body. Black, on the other hand, absorbs more UV light, as well as the heat from your body, thereby cooling it. So choose your colors wisely. 
It may seem counterintuitive to wear more clothes on a hot day, but covering up your body can also prevent sunburn. A hat, a long sleeve shirt or long pants can help you from feeling the effects of too much sun. You can even layer your clothing, removing and replacing the outer layers as needed to allow for more protection. 
*TIP:  it might feel cooler to stay in wet clothes, but if your clothing gets wet it will lose some of its protective ability and become more transparent, exposing your skin to more of the sun's UV rays.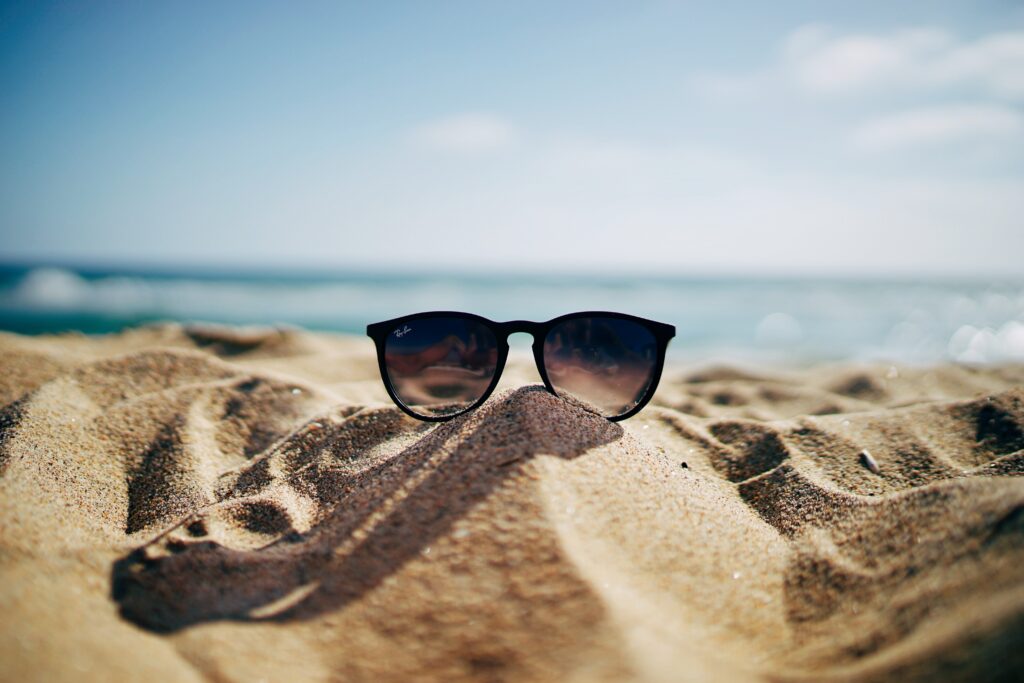 Sunglasses
Sunglasses are more than a simple fashion accessory. Don't forget, you need to protect your eyes as much as your body. Get a pair of sunglasses that block 75-100% of UV rays because, believe it or not, your eyes can get sunburned. Photokeratitis, as it's called, can cause redness, tearing, watery eyes, blurry vision, light sensitivity, headaches, twitching of the eyelids and, in severe cases, blindness. Shades can also protect your eyelids and the sensitive skin around your eyes.
*TIP: a frame that fits close to your eyes and face can help prevent sun exposure from all sides.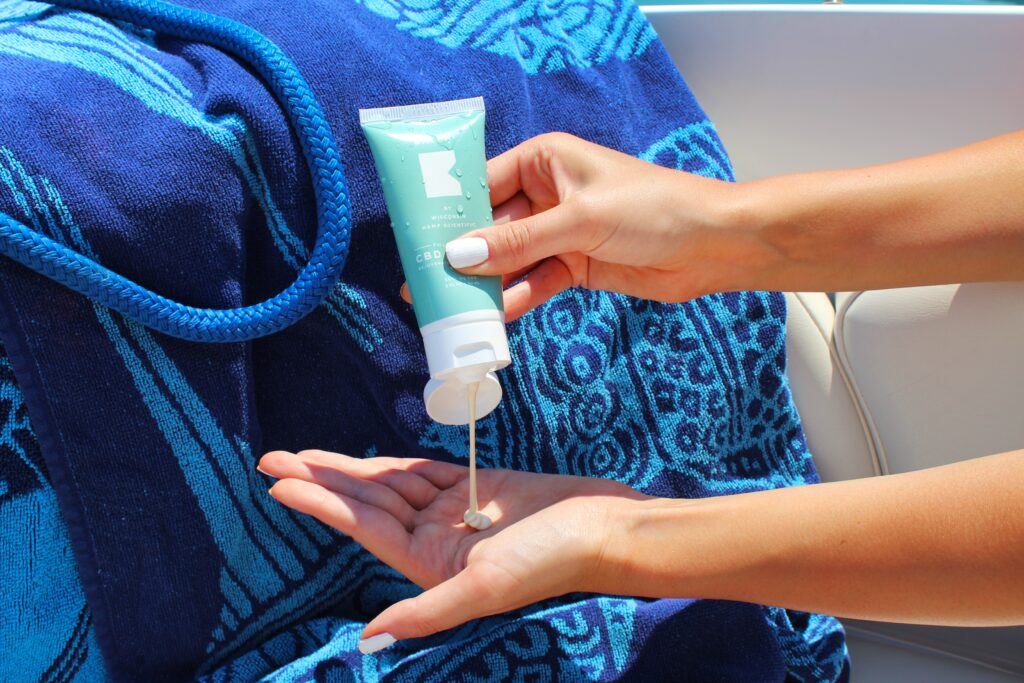 Sunscreen
Sunscreen comes in all "shapes and sizes," such as sprays, lotions, creams, even shampoos for your hair and in the cosmetics you use. There are water resistant and sports versions as well, all with a variety of sun protection factors. SPFs in most sunscreens range from 15 up to 100. 
According to the American Cancer Society's website, "SPF 15 sunscreens filter out about 93 percent of UVB rays, while SPF 30 sunscreens filter out about 97 percent, SPF 50 sunscreens about 98 percent, and SPF 100 about 99 percent." UVB rays are the rays known to cause sunburn and skin cancer. 
At the beach, lake or pool, remember that water reflects the sun back at you and also washes away sunblock. Sweat will also remove your sunscreen, especially while playing sports, exercising, even a walk outside. So lotion up before heading out into the sun for the day and remember to reapply every so often based on your activity.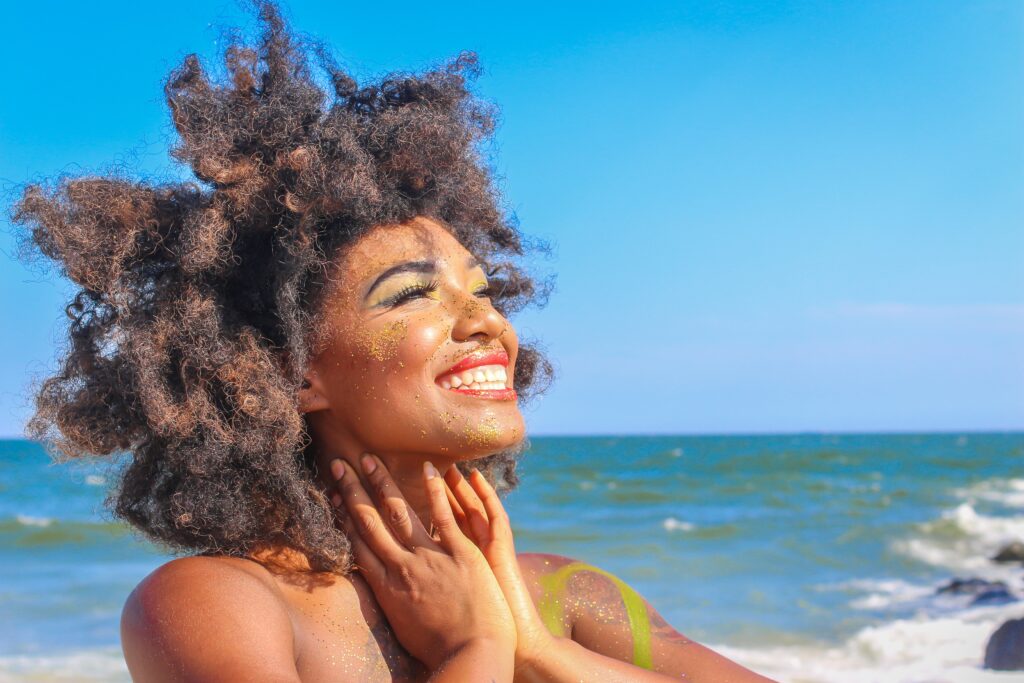 If you're spending some time at the nude beach or enclosed backyard to maintain that perfect all-over tan or trying it out for the first time, I highly recommend sunscreen ALL over. Note that your private parts can easily get sunburned, especially if they haven't had any previous sun exposure. Even if you have a base tan and want to continue tanning you should apply a layer of sunscreen. Allow it to dry, then apply tanning lotion over it. Remember, lighter-skinned people, and lighter body parts, can burn more easily than those with darker skin. 
*TIP: be sure to put sunblock on these most commonly missed body parts: your scalp, eyelids, tops of the ears, lips, chest, hands, belly button, backs of the knees and the tops of your feet. 
Situational awareness
Time of day can be a factor in how easily a suntan can become a sunburn. The intensity of the sun's rays changes throughout the day, with the strongest rays occurring between 10am and 4pm. Since this is a significant portion of the day, it may be best to limit exposure during these particular times. 
*TIP: the sun can be intense even on cloudy days and since UV rays can pass through clouds, you can still get sunburned.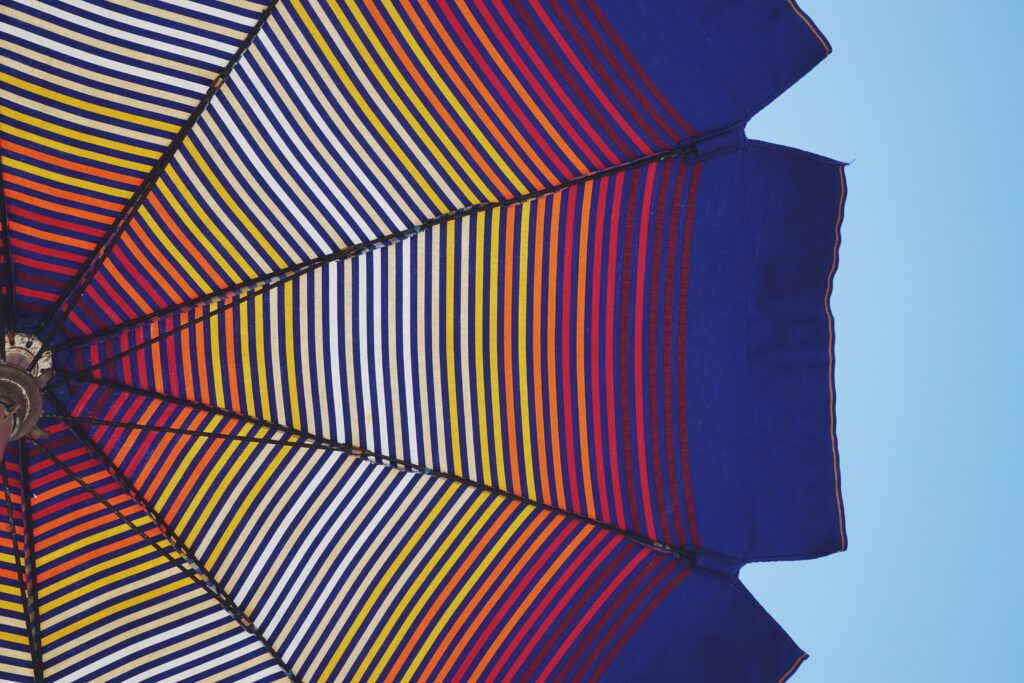 Seek shade
While it may not be "safe" to throw shade at your friends (mine will just throw it back at me), it can be a safe way to avoid a sunburn. An umbrella, tree coverage, a canopy or pergola can offer you that needed sun protection. You'll still be able to feel the warmth of the day without getting burned.
Of course it's also important to know some of the signs that you are getting too much sun exposure. 
•  Itchy skin can be the first warning sign that it's time to find some shade.
•  Redness is the initial visible sign you're beginning to burn. This is your blood vessels dilating as your body increases blood flow, bringing immune cells to the skin to help heal the affected area. For many people, this happens after 10 minutes of overexposure…yes, that quickly. 
•  Hot skin is a common signal that a sunburn is occurring. If you're not sure if your skin is hot, have someone else check. 
•  Pressing your skin is another way to tell that it may be time to get out of the sun. If you press on your skin and the redness there whitens due to you cutting off your body's increased blood flow, you likely have a sunburn.
Now that you know more about avoiding a sunburn and the signs that you have a sunburn, here's what you can do to get some relief.
•  Avoid soap when you take that cool shower. Soap can be drying to the skin and you'll want to keep your skin moisturized. And keep the water at a cool, comfortable temperature…never hot!
•  Aloe vera and coconut butter lotion (not to be confused with cocoa butter) are great moisturizers for a sunburn after a shower. They are soothing and cooling to the skin. For a bit of added relief, keep your lotion in the refrigerator.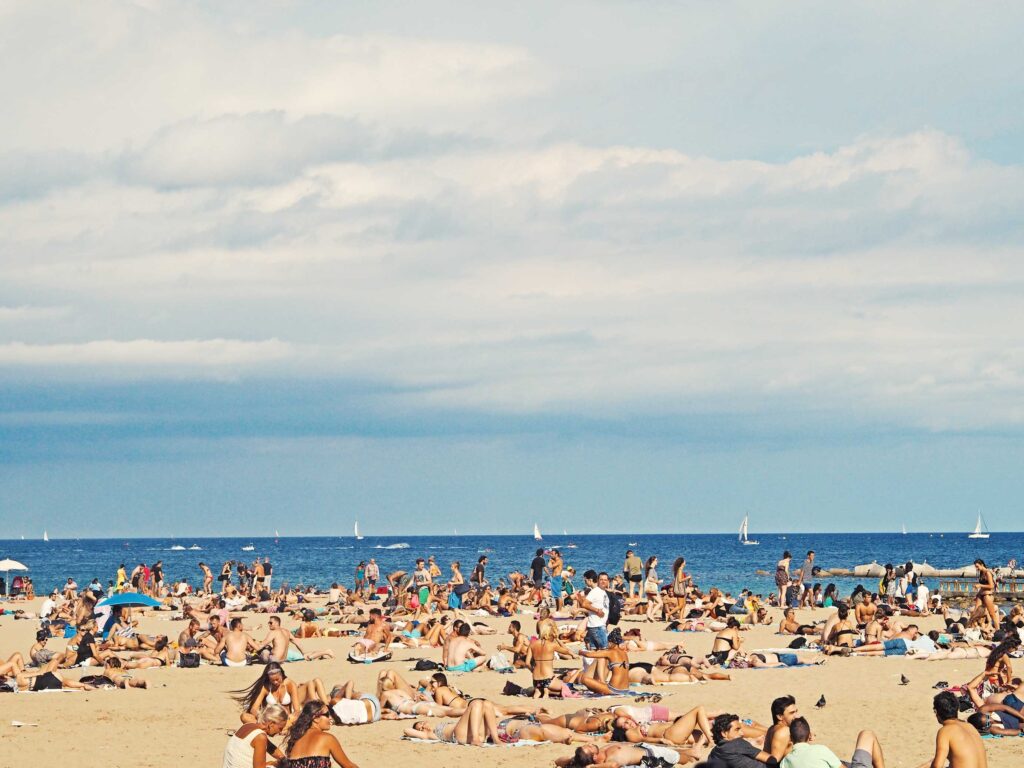 •  Drinking water and staying hydrated can help after a sunburn. Your sunburned skin needs fluids to counteract the drying effect of all that sun. Be sure to drink plenty of water and/or fluids with electrolytes until your sunburn is healed.
•  Your healthcare professional is the one to turn to for heavily sunburned skin. Should you experience fever, nausea, chills, weakness, severe itching, or blistering skin after sun exposure, definitely seek medical attention. 
My sunburn is gone now. And so is an entire bottle of aloe vera. But it did help soothe my skin and take the sting out of my bad sunburn. Now I'm always prepared with enough sunblock to reapply throughout the day. I hope you enjoy the rest of your summer, sunburn free.