Toronto pride & remembrance run returns with a new call to action
Toronto's pride & remembrance run returns to the Church-Wellesley Village on Saturday, June 24 for its 27th annual event. Registration opens April 5.
Join them for a 5KM run, 3KM walk, or kids race in the heart of Toronto's gay village as Pride Month comes to a close. This year's Run will also be offered virtually across Canada and the United States.
The them is Remember your why, which places equal importance on pride and remembrance. It is an opportunity for participants to celebrate the progress of 2SLGBTQ+ community and to reflect on a path forward to combat the inequities that remain in our community. The inaugural pride & remembrance run was held almost three decades ago in remembrance of founder Alan Belaiche's friend, Richard Robert Leroux, who died of AIDS in early 1996.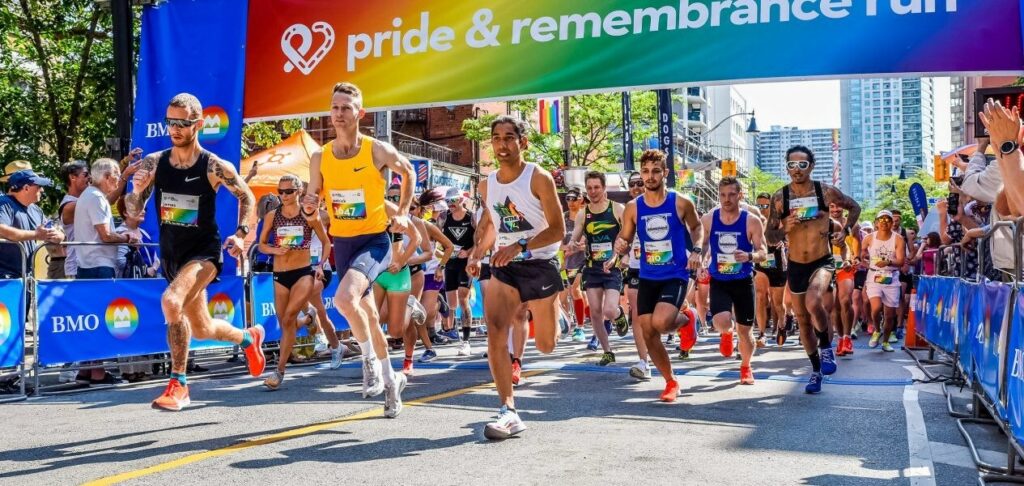 "As a community, we're so proud of everything we've been able to accomplish for 2SLGBTQ+ people since the first Run took place in June 1996," said Gabriel Jarquin, Co-President of the Pride and Remembrance Association, which organizes and executes the annual Run. "But when it comes to the remembrance aspect of the Run, we're constantly reminded there is still work to be done in honouring the memory of those who came before us."
The Run's new branding and visual identity reflect the Remember your why theme, including a range of tones and shapes signifying the complex history and diversity of our community. This year, we have selected beneficiary organizations working directly with marginalized communities:
Asian Community AIDS Services
Black Coalition for AIDS Prevention
Buddies in Bad Times Theatre
The 519
The Pride and Remembrance Foundation
"What makes our event so unique is its genuine inclusivity: we welcome people of all ages, athletic abilities, sexual orientations, gender identities, and are one of the rare family-friendly pride events" said Julia Trench, Co-President of the Pride and Remembrance Association.
Since 1996, we're proud to have raised more than $2.7 million for dozens of non-profit organizations across the Greater Toronto Area and around Canada. Help us in our mission to support the 2SLGBTQ+ community so that we can honour our past while building toward a better future. The Run is made possible by registration fees and the generous support of many sponsors, including BMO, who returns as our lead sponsor this year. This allows 100 per cent of our fundraising dollars to go towards our charitable beneficiaries.
As a 2SLGBTQ+ event, our party atmosphere sets us apart. We'll have drag queens, DJs, rainbows, and more! Our cheer sections and memorable after party in Barbara Hall Park will get you moving and feeling energized in the summer heat! Stay tuned for the upcoming announcement of this year's Run Ambassadors!
Whether you're a competitive runner or here simply to show your pride, you can run, walk, or roll at your own pace. Celebrate Pride Month's only annual athletic event and bring your most authentic self to the heart of Toronto's gay village.
Registration opens on Wednesday, April 5 at 11:05 a.m. Mark your calendars! We're excited to see you tie up your laces on June 24!
We all run for a reason. Remember your why!
ABOUT THE PRIDE AND REMEMBRANCE ASSOCIATION
The Pride and Remembrance Association (PRA) is a leading non-profit, volunteer-run organization dedicated to supporting Toronto's 2SLGBTQ+ community. The PRA brings the community together in pride, celebration, and solidarity by organizing the annual Pride & Remembrance Run during Toronto's iconic Pride Weekend every June. Since 1996, more than 50,000 people have participated in the Run in the heart of the city's Church-Wellesley Village. Over the past 27 years, The PRA has raised over $2.7 million dollars benefitting more than two dozen 2SLGBTQ+ organizations across Canada.
— SOURCE Pride and Remembrance Association / Run