Tourism Australia welcomes the FIFA Women's World Cup 2023 kicking off this week
Tourism Australia has launched a special installment of its global Come and Say G'day campaign in celebration of the incredible decade of global sporting events to be hosted by Australia, including the FIFA Women's World Cup 2023™ which kicks off this week.
The new Holiday Highlights campaign recaps iconic Australian experiences as if they were sporting replays, showcasing the country's remarkable destinations and friendly locals with a warm welcome for international travelers to plan their next holiday to Australia.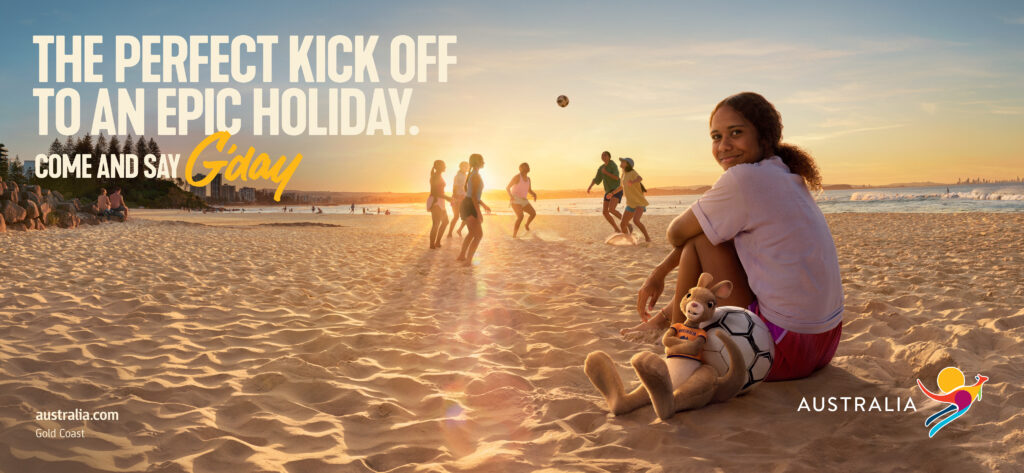 To celebrate Australia's place in the global spotlight during the month-long World Cup tournament in which the United States Women's National Team are competing, the new campaign encourages visitors to go beyond the stadiums and sporting matches and immerse themselves in Australian culture and experiences.
Tourism Australia Managing Director Phillipa Harrison said the first Women's World Cup to be held in the Southern Hemisphere is a big opportunity for Australia's tourism industry.
"With games to be hosted in five cities across Australia, the FIFA Women's World Cup is a momentous occasion to put Australia's distinctive and diverse holiday experiences on the world stage, as billions tune in to the tournament around the globe."
"The FIFA Women's World Cup is just the beginning of a huge line up of major sporting events taking place across Australia over the next decade. From the 2026 Commonwealth Games in Victoria to the 2032 Brisbane Olympics, Australia is excited to welcome sports fans from all over the world and invites visitors to plan an unforgettable holiday."
Holiday Highlights sees the return of Tourism Australia's Brand Ambassador, Ruby the souvenir kangaroo, voiced by Australian actress and Tourism Australia's Global Ambassador Rose Byrne. Ruby was introduced to the world via a live-action animated short film titled G'day, and a multichannel Come and Say G'day campaign, which launched in 15 key international markets last October.
Tourism Australia Chief Marketing Officer Susan Coghill said it was important to harness a cultural moment that could build on the momentum of the Come and Say G'day campaign.
"With the world's eyes on Australia during the Women's World Cup, this was the perfect moment to cast the warm Aussie welcome into the global spotlight. Once again using a distinctive character like Ruby, and recognizable destinations like Bondi Beach and the Great Barrier Reef, our winning formula reminds consumers what they already know and love about Australia and extends a warm invitation to visit."
In the new Holiday Highlights TVC (30-second and 15-second), Ruby returns as a sports commentator alongside an emu character from the G'day short film, reporting on the breadth of destinations and experiences on offer across Australia. The TVC also features rising stars from Queensland Indigenous Football's young female team who are playing kick-about under a starry night sky on a Gold Coast beach.
The CEO of Queensland Indigenous Football Damian Munday is immensely proud to team up with Tourism Australia to showcase the warm Aussie welcome to the world and celebrate women in sport.
"It is incredibly exciting for our foundation and our young female players to be part of Tourism Australia's global activity around the FIFA Women's World Cup. This is also a unique opportunity to raise awareness of our mission to create more access to football opportunities for young Indigenous Australians."
Australia and New Zealand are co-hosting the FIFA Women's World Cup 2023™ from 20 July – 20 August 2023. A total of 64 matches will be played by 32 national teams cross nine host cities in Australia and New Zealand, including Australian cities Adelaide/Tarntanya, Brisbane/Meaanjin, Melbourne/Naarm, Perth/Boorloo, and Sydney/Warrane. Sydney will host the World Cup final at Stadium Australia on 20 August 2023.