Transgender march on Broadway against Cameron Mackintosh anti-trans casting comments
After the knighted theatre producer called casting transgender actors in cisgender roles such as Mary Poppins "stunt casting" that would "damage the integrity" of classic shows, Broadway's trans community wasn't having it.
On Sep. 6, New York saw its first transgender-led protest march against the comments made by Sir Mackintosh, producer of mega-budget musicals such as The Phantom of the Opera.
Trans actors and advocates for greater trans inclusion in casting major roles on Broadway gathered in Manhattan's theater district for the inaugural Trans March on Broadway.
The marching route went from Central Park to Broadway's Schubert Alley and started at noon. The crowd was estimated to be roughly 200 and included former Jagged Little Pill cast-members Iris and Nora Schell.
"I'm not marching because of Cameron Mackintosh. I'm marching because there is trans erasure in this industry, and I want to have a conversation about trans people, led by trans people," said Sis, an actor, activist told Variety in an interview before the event.
Cameron Mackintosh's recent comments to The Telegraph newspaper provided the opportunity to start a discussion about transgender casting in so-called "classic" roles, with participants arguing on Labor Day for consideration and inclusion of transgender performers in mainstream casting.
Shows like Tootsie and Mrs. Doubtfire profit from transvestism without addressing serious transgender issues both on and off stage.
Peppermint, from Rupaul's Drag Race, said "Of the trans faces I see, I see actors, performers, speakers, writers and creators. And I don't see a single 'gimmick.' What I see are opportunities, and it's time that they—they who are in the business of Broadway—know it."
In 2018, Peppermint became the first Black trans woman to originate a principal role in an original Broadway cast with Head Over Heels.
After there was a furor including Alexandra Billings writing an open letter to Mackintosh, the producer tried to walk back his statement. "Unfortunately, my answer has been misinterpreted to suggest that I am opposed to casting a transgender performer to play the role," Mackintosh said in a statement. "This is absolutely not true. I meant only that I would not as a producer disregard the author P.L. Travers' original intention for the character."
"To be clear, whether a person is trans has no bearing on their suitability for any role in any of my shows, including Mary Poppins, as long as they can perform the role as written," he added. "I am very sorry for any distress caused by my remarks being misrepresented. Trans actors are welcome to submit and audition for any of my productions."
Peppermint shared with the crowd: "When we were starting to rehearse 'Head Over Heels,' there was one person who identified as nonbinary and was sorting that out during the rehearsal process. They asked their supervisor to use their pronouns and their name, went through so much turmoil, and was eventually fired. I felt so horrible that I couldn't protect this person. This Broadway show that was claiming cred in every newspaper also had other transgender and nonbinary people who were feeling unsafe."
Iris also revealed the reality of working on a Broadway musical as a gender-variant or transgender performer.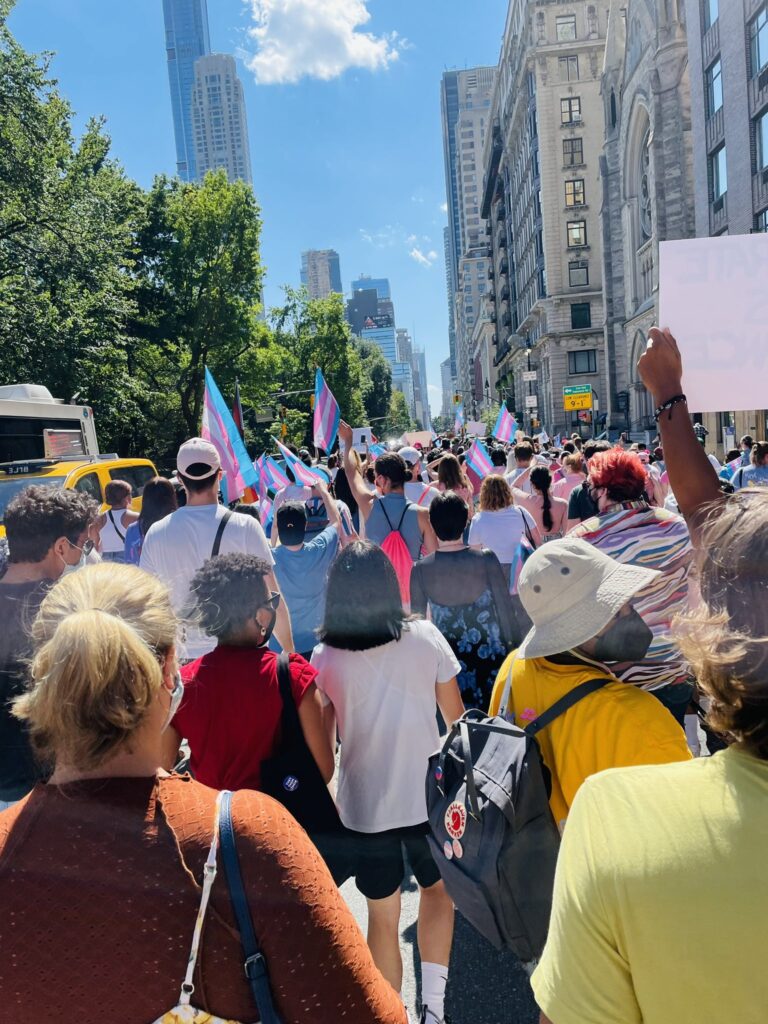 "What happened to me was insidious and violent transphobia," zie told hir audience on Central Park lawn about their experience on Jagged Little Pill, which was widely praised for its social justice themes.
"I've spent countless hours untangling the messaging in my head that I received from people in positions of power who claimed to support me and my community, and I've cried in rage about the fact that none of my cisgender cast members spoke out against the transphobia I was facing."
"I was bombarded with invasive questions about my experiences as a trans person from cast members and members of the creative and producing team. I understand now that my position was simple: Offer up my trans experience as consumption as cis people in positions of power took from [my] lived experience, decided what to keep in their cis re-telling of [my] experiences, and chose to call it a trans narrative."