Try Jonathan Bardzik's Minted Garlic Scape Potato Salad for July 4
Summer side dishes are essential for your Fourth of July party. But when it comes to a great potato salad, hold the mayonnaise!
Don't get me wrong, I love mayonnaise and think no turkey sandwich or steamed artichoke is complete without it, but mayo presents three problems at your next summer cookout.
First, pool parties and cookouts were made for grazing. We set out the buffet and take small (or large) plates several times over several hours of frivolity. That big gloopy bowl of mayonnaise disguising the pieces of potato or pasta concealed inside sits congealing in the hot summer sun. Yum!
Problem two: Summer cookouts usually involve grilling (yay!) and that means fattier cuts of smoky meat with a crisp char. The last thing I need with rich meats, poultry and seafood off the grill is a rich, fatty bowl of potato salad. Where's the acidity for balance and brightness?
Finally, my husband hates mayonnaise, almost as much as he hates beets and even more than he hates blue cheese. If you're inviting Jason to your party – and you should, he's hilarious and gifted at getting your guests to remove their bathing suits as the sun goes down – you really want to serve a potato salad he likes. This is good for my marriage. Thank you in advance. Oh, and I like my burgers medium-rare.
Minted Garlic Scape Potato Salad
Serves 4-6
Fresh mint, a sharp bright vinaigrette, and the bold, sweet garlicy flavor of the scapes make this the perfect light, fresh-tasting potato salad. Perfect with roast lamb or grilled chicken!
For salad:
4 cups small potatoes
3 tbs mint
1/4 cup finely chopped garlic scapes
For dressing:
1 clove garlic
1/4 cup Champagne vinegar
1 tsp Dijon mustard
1/2 cup olive oil – the good stuff!
Directions:
Begin vinaigrette: Mince garlic and mash it into a paste with coarse sea salt. Whisk together with Champagne vinegar and mustard. Season with pepper. Set aside to rest while flavors develop.
Boil potatoes whole in salted water until they are still firm but can be easily pierced through to the center with a knife. Drain potatoes.
Cut warm potatoes in 1" pieces – either halved or quartered. Add potatoes to a large bowl with mint and garlic scapes and toss together. The heat from the potatoes will release oils in the mint.
Finish vinaigrette: While whisking, drizzle oil into vinegar mixture. This will form a creamy emulsion.
Toss vinaigrette with potatoes. Dress lightly so not to overpower the other flavors. Season to taste with salt, pepper and additional mint.
TIP: The sharp edges of coarse salt crystals are important. They make the task of shredding minced garlic down into a paste easy. Just drag the salt and garlic together across your cutting board with the flat edge of your knife.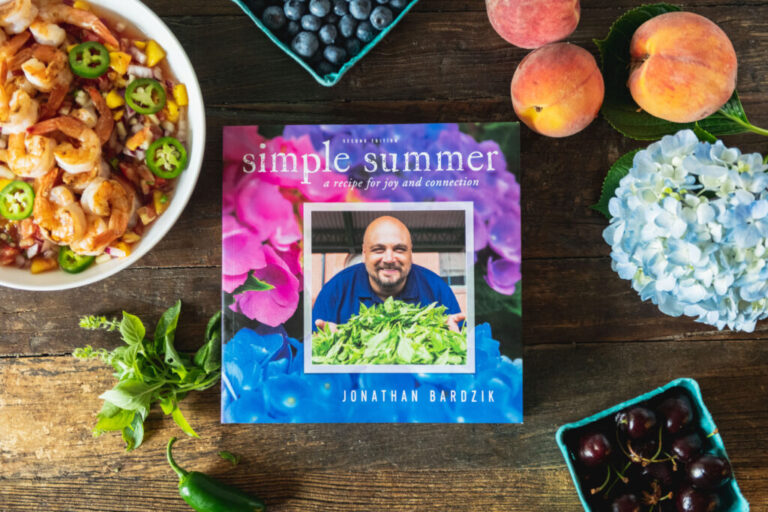 Get my newest cookbook Simple Summer: a recipe for joy and connection at jonathanbardzik.com/cookbooks.
Jonathan's Kitchen: Seasons to Taste is now streaming on demand at Revry.tv. The show is produced by Parrlime Productions & Tarnów Entertainment and directed by me.
Jonathan's Kitchen sponsors include Central Farm Markets, Five Ways Forward LLC, All-America Selections, Red Bear Craft Brewery, and Seasons Olive Oil & Vinegar Tap Room.