Tune into Angel Olsen's latest album concert livestream
The special event gives Olsen fans access to the very first full-band performance of Olsen's excellent new album, Big Time.
It's time to get Angel Olsen on your playlist, if you don't already, that is. The out indie musician spans the genres of folk, country, and pop and with the heartrending, gorgeous throwback quality to her voice and sensitive lyrics, her sixth studio album Big Time is more proof that she is one of the finest talents of her generation. Olsen, who hails from Missouri and was raised by older adoptive parents who passed away last year, sings about the sorrows and joys of life in a way that is reminiscent of Tammy Wynette and Lucinda Williams. You may have heard her excellent duet "Like I Used To" with Sharon van Etten. You can also see Olsen in her film/video clip for the song Big Time.
The 35-year-old has now teamed up with Atlas Obscura, the popular travel and entertainment company, and Veeps, the streaming service that offers direct access to live concerts, music, and events from anywhere in the world, for Atlas Obscura Day Tripper with Angel Olsen, Presented by Veeps.
Filmed on location earlier this month, the special concert showcases Angel Olsen and her first-ever full-band performance of Big Time.
Big Time was written during the time Olsen was coming out as queer, and introduced the world to her partner who also made a unique contribution during a period of grief with their saying, "I love you big time," which became the album's title.
The album balances feelings of love and loss, heartbreak with self-discovery. The result is incredibly mellow and beautiful, with Olsen's vocals soaring in "Right Now" and dropping down reflectively in "This Is How It Works." And album closer "Chasing the Sun" with its luxurious strings and Olsen's versatile voice is stunning and hypnotizing.
To mark the release of the album, Olsen and her band completed their very first recorded performance of Big Time in front of a live audience at Theatricum Botanicum in Topanga Canyon, CA on June 4. Olsen recorded the album in the summer of 2021 with producer Jonathan Wilson at his studio just down the road from the theater, making this the perfect setting for an intimate concert debuting the songs from it. Her team worked with Atlas Obscura to bring the concert to life, becoming the first live experience from the brand's newest event series, Day Tripper.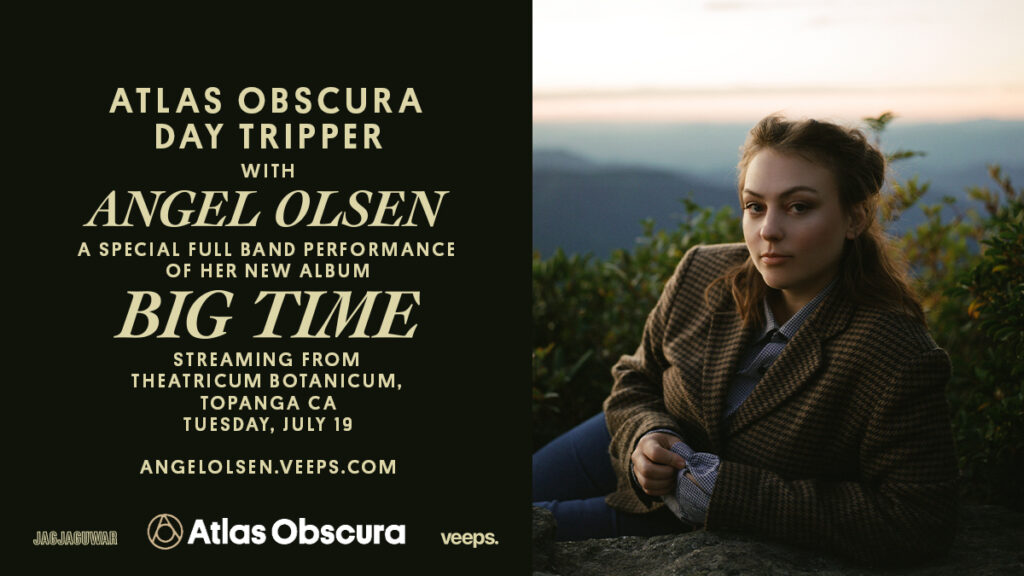 "After years of canceled concerts and events, we knew one of our main priorities at Atlas Obscura was to bring people back together to experience the wonders of live entertainment in awe-inspiring, truly unique spaces, and that's how our Day Tripper series was reborn," said Megan Roberts, Creative Director of Brand Partnerships at Atlas Obscura. "Working with Angel Olsen and her team to put on this spectacular concert was the perfect way to kick off our new event series, and having an opportunity to highlight Topanga Canyon's historic Theatricum Botanicum made it even better. As the series continues to grow, we're thrilled to be working with Veeps to bring Angel's incredible performance to fans around the world to celebrate her first full performance of Big Time."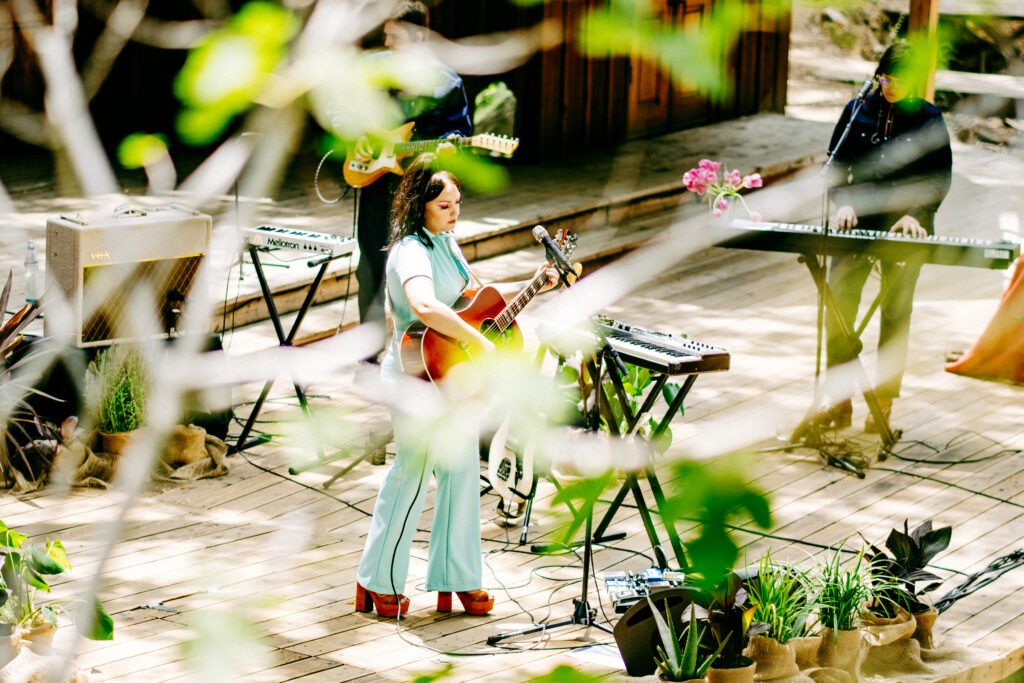 Partnering with Veeps, which offers performances by award-winning artists and shows from the most iconic venues and landmarks, the previously recorded livestream HD experience of Atlas Obscura Day Tripper with Angel Olsen, Presented by Veeps will premiere on Tuesday, July 19 at 9:00pm EDT and be available for rewatch for 7 days after the start of the event. Tickets are currently on sale for $17.99 and can be purchased by fans globally here. Once tickets are purchased, viewers can stream the performance through the Veeps app via a smart TV, smartphone, tablet, or computer. 
Fans can stream Big Time on all music platforms now and follow Angel Olsen on Facebook, Twitter, Instagram, YouTube, and her official website https://angelolsen.com/.