What the passing of Queen Elizabeth means for LGBTQ folks
As shockwaves go around the world after the passing of British monarch Queen Elizabeth II at the age of 96, we look back at her history of support for the LGBTQ community.
Queen Elizabeth II, Britain's longest reigning monarch, has died "peacefully" at her estate in Balmoral, Scotland, after 70 years on the throne of England.
She has always been a fixture in my life. I grew up in Australia, which was, ostensibly for most of my developing years, firmly attached to the British Empire as a colonial member of the Commonwealth. My grandmother was British and bred corgis. My mother took QE2 quite seriously as an example of how to behave in public, how to carry oneself with decorum, and how to maintain standards even when things seemed to be falling apart. Old fashioned? Undoubtedly, but how I have come to value such values with the world currently, seemingly, in the grips of entropy.
Nevertheless, as a young woman growing up, by my own reckoning, queer and feminist, the significance of the royals was firmly and problematically yoked to compulsory heterosexuality and the patriarchy—not to mention classism and colonialism. Every move made by the royal family was reported on and became fodder for newspapers, tabloids, and women's magazines. Who married who. Who wore what. Who was having a royal baby. Who cared? Not lesbians, surely. It took a very long time and a lot of heartbreak for me to identify with the colonizer-in-chief, even if she was a woman.
But the colonizer saw her colonial subjects as a "great imperial family to which we all belong," so said Elizabeth in a speech broadcast in 1947, from Cape Town. It's this assumption — that we are all along for her ride — that was problematic for me. Did Elizabeth see gay people as she did Black people: as subjects she served but with the unspoken clause that we did not question that silent relationship or her view of us?
Nevertheless, the older I have become, the more I have found respect for the Queen as a strong female leader who is consistent. Before the paradigm of second wave feminism was even formed, here was a young woman who stepped into her father's shoes without a murmur; who survived the Blitz and enlisted in the military, the first female member of the royal family to do so; who by most accounts chose her consort and life partner — not the other way around; and whose place at the head of The Firm arguably has had a lot to do with the UK's better record of electing female leaders than the US. One of the last public duties the Queen performed was to welcome incoming female Prime Minister Liz Truss who, by the way, has a hell of a job ahead of her. Are any of these good things? They are strong things.
But what of LGBTQ rights? Was Elizabeth friend or foe? In an episode of The Crown, the Queen (Olivia Colman) refers to a character as a "friend of Dorothy," so that impeccably-written series did wish to signal that Her Majesty (unlike Queen Victoria) at least knew of and possibly was even entertained by our very existence. But most LGBTQ activists saw Elizabeth as a distant if not disapproving monarch whose personal views on same-sex identity and relationships were opaque, to say the least. Our community chose rather to embrace Princess Diana, whose allyship towards the gay community in the 1980s and '90s was evident: from her friendship with celebrities such as George Michael, Gianni Versace and Freddie Mercury to her vocal support of issues such as HIV/AIDS. She was glamorous and she was genuine. But what of the Queen?
In 2012, in an opinion piece for The Guardian, LGBTQ activist Peter Tatchell lashed out at the Queen for not doing enough for the LGBTQ community. Tatchell wrote:
"While I doubt that Elizabeth II is a raging homophobe, she certainly doesn't appear to be gay-friendly. Not once in her 60-year reign has she publicly acknowledged the existence of the LGBT community – or gay members of her own royal family. The Queen has turned her back on queens."
In 2018 Queen Elizabeth II's third cousin Lord Ivar Mountbatten got married in the first royal same-sex wedding, but neither Her Majesty, nor any of her close relatives, attended the wedding. The Daily Mail reported that Lord Ivar's best friend Prince Edward and his wife Sophie, Countess of Wessex approved of the wedding but were unable to attend. "Sophie and Edward know of our plans and are really excited for us," said Lord Ivar. "Sadly they can't come to the wedding. Their diaries are arranged months in advance and they're not around…"
But there are times the Queen — and increasingly, the rest of the royal family — showed firm and public support for our community. Here are some of them:
In 2003, the Queen told Parliament her government would bring forward legislation to legalize civil partnerships, seen as a step toward recognizing same-sex marriage.
In 2013, Queen Elizabeth II gave royal assent to the Marriage (Same Sex Couples) Bill, which paved the way for same-sex marriage to become a reality in England and Wales.
In 2017, in her speech at the opening of Parliament, the Queen said her government would address "discrimination against people on the basis of their race, faith, gender, disability, or sexual orientation."
And over the years, numerous LGBTQ people made the Queen's Birthday Honours List for their services to the LGBT community through activist support groups in London, Manchester, and elsewhere. A number of openly gay personages have also made the List, including in Australia.
But perhaps most importantly, Queen Elizabeth modernized the monarchy enough to allow her descendants to speak freely, break away, and forge closer ties with our community.
Prince William made history in 2016 by becoming the first member of the royal family to appear on the cover of a magazine geared towards a gay readership.
And in 2019, William visited the Albert Kennedy Trust, a charity working with LGBTQ homeless youth in east London. When visiting the charity, William said he would be "absolutely fine" if one of his children told him they were gay.
In the same year, Prince Harry invited Susie Green, CEO of Mermaids, a charity for transgender youth, to a discussion hosted by his mental health charity, Heads Together. Harry and Meghan Markle posted a Pride message to their Instagram account that year, too, and they continue to preach a message of diversity and mental health, including their own.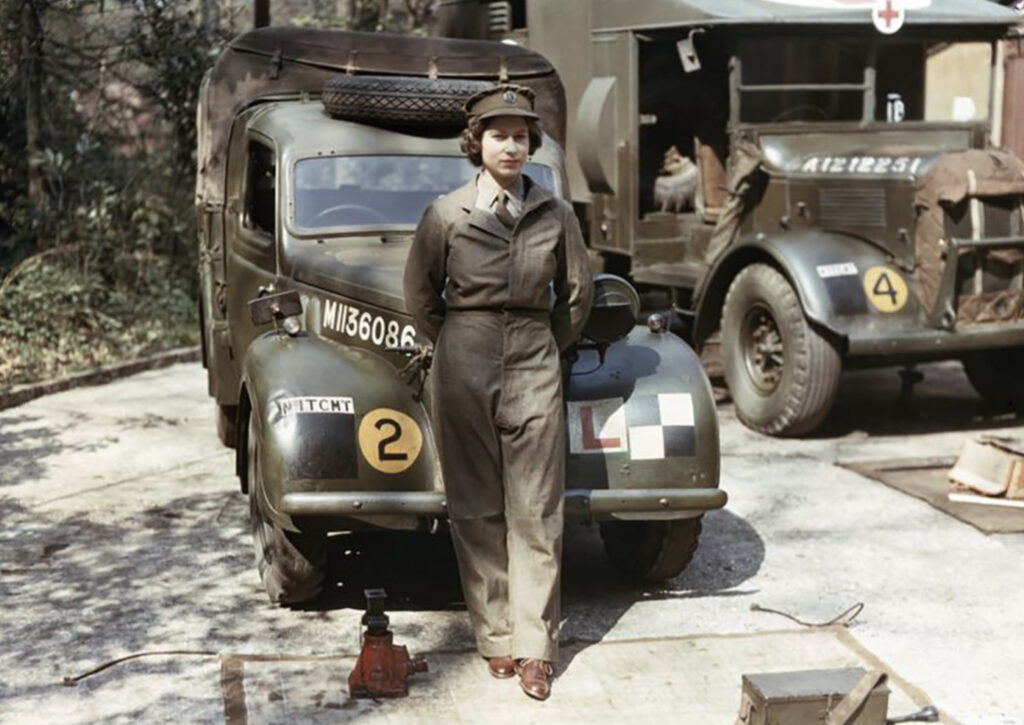 I like to think that the early adoption of the Keep Calm and Carry On motto by gays and lesbians was a nod to the Queen's famous resolve, which is perhaps her biggest legacy. And as Orwellian as the slogan may seem, that catchphrase was created by Britain's wartime propaganda department, the Ministry of Information, during the absolute pit of World War II — horrific conflict on British soil that forged the spirit of a 13-year-old Princess who acceded to the throne to become her nation's longest-serving monarch and arguably the greatest monarch of all time, ruling three-quarters of a century of unprecedented global upheaval and change.
As I see the outpouring of admiration and grief at the Queen's passing from many of my LGBTQ friends, I think that perhaps we have more in common than just all being "queens": We share the will to carry on as long as we are able to, as long as we possibly can.
Add to that, gay icon Cher approves of the monarch:
The Queen outlived my mother, and other substitute mothers. That makes her the most consistent and continuous female figurehead of my lifetime. Whatever my reservations, I am going to miss her.
What did you like most about Queen Elizabeth? What does her passing mean to you?