Why I love river cruising
If sailing on a big scale scares you these days, think smaller. A river cruise might be just your speed.
As someone who has cruised on large ocean ships for my entire life, I was apprehensive about what it would feel like on my first river cruise. My first river cruise experience was in 2012 on the Danube River and well, I fell in love with the experience. There are many perks with large ship sailing but the intimacy and luxury of a river cruise is truly unsurpassed. Don't get me wrong, I love an ocean cruise but if you are looking for a different type of experience, river cruising might be the right fit for you.
Sailing by river means enjoying all of the conveniences of a traditional cruise, along with the benefits of inland travel. Stopping in multiple destinations on every trip, you'll visit bustling cities and hidden gem villages while only unpacking once. Even while on board you'll be immersed in the local sights, with ever-changing views right outside your window.
With only an average of 120 people onboard and unmatched service, river cruising can offer personalized attention that you will never experience onboard larger vessels. By nature, sailing on the rivers means constant proximity to land and shoreside resources. Also, the ability to stop the ship and disembark at any time if necessary.
River Cruising is never restricted to coastal towns and ocean liner ports. They can take you to the heart of your destinations and dock in the center of town so you can step right off the ship and start exploring. Unlike on an ocean cruise, you won't have to deal with wait times for embarking and disembarking and on tours, tour guides can bring you right past the long tourist lines at popular attractions.
All About Uniworld
Now, I need to share my opinion on my favorite river cruise line as they won me over a number of years ago. The Uniworld sailing experience is an absolute indulgence in all things that I love…travel, food, wine, entertainment and luxury. For me, it was important that the company as a whole had taken part in LGBTQ sensitivity training. From the President to the cleaning crew, each one understands the travel needs of our community. They did all of this prior to marketing to the LGBTQ community. This is important as they are not just taking the gay dollar without the internal structure put in place.
Besides that fact, Uniworld's unique, luxurious and all inclusive experiences are really a traveler's dream come true. You can expect in-room amenities, free flowing premium wines, beer and spirits, five star farm to table dining onboard, multiple options for daily excursions, onboard entertainment and much more.
The ships are like floating boutique hotels while each one is artfully designed to be an extension of the destinations they sail through. There are no two ships that are the same. Uniworld boasts one of the highest crew to guest ratios in the industry with a 1:2 ratio. This means personalized attention on your vacation!
I have been fortunate enough to have hosted LGBTQ river cruise charters and groups with Uniworld for the past few years. Each one has been a distinctive experience and has created life long friendships for our guests. Our goal has always been to explore the world with our friends and Uniworld has offered us that opportunity.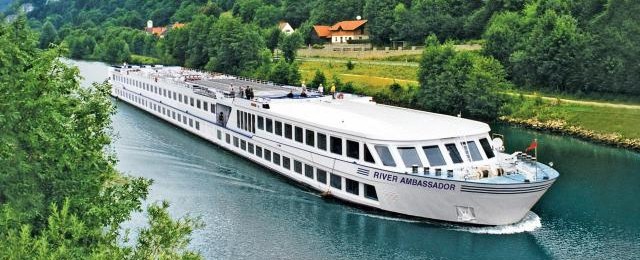 Want to Try a River Cruise?
I am excited to announce that we have two amazing Uniworld full ship charters coming up. With things beginning to open up and the roll out of the vaccine, these trips are selling quickly!
For more information, please look below or email me at kelli@rfamilyvacations.com
OUT ON THE DUORO
A fully chartered LGBTQ experience through Spain and Portugal
August 1-8, 2021
https://www.rfamilyvacations.com/portugal-overview
OUT IN VENICE
A fully chartered LGBTQ sailing on the Po River exploring Venice and the Venetian Islands.
May 1-8, 2022
https://www.rfamilyvacations.com/venice-overview