Refresh your tastebuds with this watermelon gazpacho recipe
Watermelon is a wonderful fruit, sweet and sugary, but it is a terrible vegetable. How do I know? Because I fell in love with the idea of watermelon gazpacho.
Take a refreshing summer soup and add finely diced, sweet, crisp watermelon and it sounds like the perfect start to a summer meal on a sweltering August night. But…
Bowl after bowl at restaurant after restaurant proved disappointing. The sweetness was gone leaving the watermelon tasting more like cucumber than sweet summer fruit. And sweet or salty, we are best when we play to our strengths. So I beefed up the watermelon flavor by juicing half a watermelon to provide the liquid for the soup. A little honey made sure that watermelon's sweetness strutted its stuff against the acidic tomatoes while a splash of vinegar keeps things bright.
So it's time to hit the patio, set a table for those you love. 'Cause around them you're always at your best, just being you.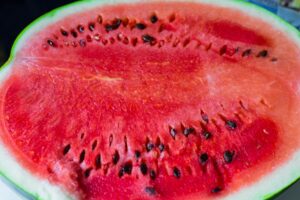 Watermelon Gazpacho
Serves 6-8
Handy hint: Leave out the watermelon juice and add some cumin to make a watermelon salsa for fried fish tacos!
Ingredients:
6 cups watermelon diced and separated
2 large tomatoes, diced, about 2 cups
1/2 red onion, diced
1/2 tsp lime zest
2 tbs lime juice
1/2 jalapeño seeded and minced
2 tbs basil, finely chopped
1/4 cup Pomegranate or red wine vinegar
2 tbs honey
Directions:
Mix together 4 cups of the diced watermelon with the tomato, and onion.Add lime zest and juice, jalapeño and basil. Stir together.
Press remaining 2 cups of watermelon through a food mill or puree in a food processor and strain through a fine sieve to remove solids.
Add watermelon juice, and vinegar and honey to soup. Season to taste with salt, pepper and additional honey, if needed.
If you make this soup ahead of time, check the seasoning again before serving. The watermelon and tomatoes will release more moisture and dilute the salt, vinegar and honey.
Jonathan's cookbooks offer simple recipes prepared with farm and garden-fresh ingredients to share with the people – friends, family and farmers – who make our lives matter.
Bring one home today or share one with someone special, click here.