You're invited to a gay men's yoga retreat
It's been a stressful year. Maybe it's time you tried Yoga With Chuck.
When Chuck Raffoni started a Men's Yoga Workshop where an out gay couple attended, he "horrified" to see them treated badly, particularly at a yoga event. He decided he would put the focus on gay men and welcome "open-minded men."
"I wanted to be as clear as possible that this was a safe space," he says. "I wanted to strive for something in the middle of what I was seeing in the marketplace. It was either nothing being offered or very erotic, nude classes. I see the value in classes that allow for that freedom but personally, I wanted to create a space in the middle. I kept the groups small — 10 to 15 guys so we could truly develop connections throughout the day. We would have two full movement practices; one more vigorous in the morning and end with a relaxing session. In the middle of the day we would share lunch and then spend 90 minutes in conversation about issues in our life we wanted to explore with our peers. The conversations would range from the practical to the theoretical and were always insightful."
In one session, in a group spanning men between their 20s and their 70s, Chuck remembers sharing "the differences and commonalities in our experience from generation to generation and it was a truly powerful, profound and unique experience for us all as the topics ranged from having to live closeted lives, through the AIDS pandemic and modern life with the emergence of digital apps."
Since that time he has offered and facilitated destination retreats that have been open to all. This Fall Weekend in Vermont expands the Men's Day to a destination weekend. Initially scheduled for Fall of 2020, the event sold out almost instantly. Due to Covid it has been rescheduled to Fall of 2021 and there are a few spaces still available. We caught up with Chuck to find out more about the retreat.

Why yoga for gay men?
Yoga is so much more than the exercise or asana class that so many people associate it with. Yoga is not something you do but the quality in which you do something. For me the intention here is to create a weekend of brotherhood that allows the men to step out of their comfort zones and use it as an opportunity to reconnect with their true nature and perhaps realign if they feel they have come off course. To go and live in a house for a weekend with people you may not know allows you an opportunity to see yourself through the fresh eyes of others. Situations like this often help form us into adults when we are younger for example; if we have the opportunity to go to Summer Camp as children or moving into our college dorms but rarely as adults do we find ourselves in a similar situation sharing a living space with and an experience like this with others. It's the interaction, the connections and coming out of your comfort zone where the most significant impact can be found. That being said, each day will include Yoga Movement Classes, Conversation Based Workshops and experiences that will come about organically based on who ultimately completes the group. There will be a more vigorous practice in the mornings and a gentler, meditative practice in the afternoons. I would say that able bodied guests who are able to sit, stand or lay on the floor for extended periods and get themselves up from sitting on the floor are good candidates to consider this retreat. It's ok if you can't touch your toes! The yogic quality of how you do things I hope will also permeate how we share meals together, explore the area and connect by the campfire or in the hot-tub.

What was your mission? Have you achieved it?
Another reason why I decided to initially offer the day retreats for gay men was I was featured on the Pride Connections podcast and they acknowledged me as "making the world a better place for the LGBTQ community" as part of the reason why they invited me on a guest. I honestly didn't feel I had done much in that regard, besides spearheading a Pride Season Campaign for a Men's Yoga Brand I had been working for as a director at the time. I wanted to earn that compliment. I have seen friendships and relationships form as a direct result of the day retreats and that feels really good to create that space for others. The conversations we've shared have felt really impactful and oftentimes what we see on Social Media of Yoga for Men can feel really intimidating and more like gymnastics, I want people to learn that Yoga comes in many forms. In addition to my yoga retreats that are open to all, like one I have coming up in Tulum, Mexico in Winter 2022, I would like to be able to offer this type of Men's Retreat annually. When this is done, I want to listen to the guests' feedback, assess and make each year better so I would say that continued growth and development would be my on-going mission.

What is your history /experience with yoga?
I initially came to yoga in my mid-twenties when traditional medicine was unable to help me with a compromised immune system. Combining yoga with other natural healing, I was able to restore my immune system. Through the practice, it also helped me get in touch with myself and aided in my own personal coming out process. When I was faced with a career shift in my early 40s, the doors opened up for me to teach yoga after I enrolled in a Yoga Teacher training program to reconnect with my personal practice while I figured out my next professional steps. I chose to act upon opportunities to connect with great teachers and was given the freedom to be creative in how I shared yoga with students. One of those creative approaches, offering yoga to men in partnership with a local craft brewery, led to me being featured on NBC's Today Show in November of 2018. The philosophy and mindset of the practice also helped me get through a traumatic divorce. Helping others get through grief and reconnect with themselves is another way that I can now see that difficult time in my life as an opportunity to be of service to others.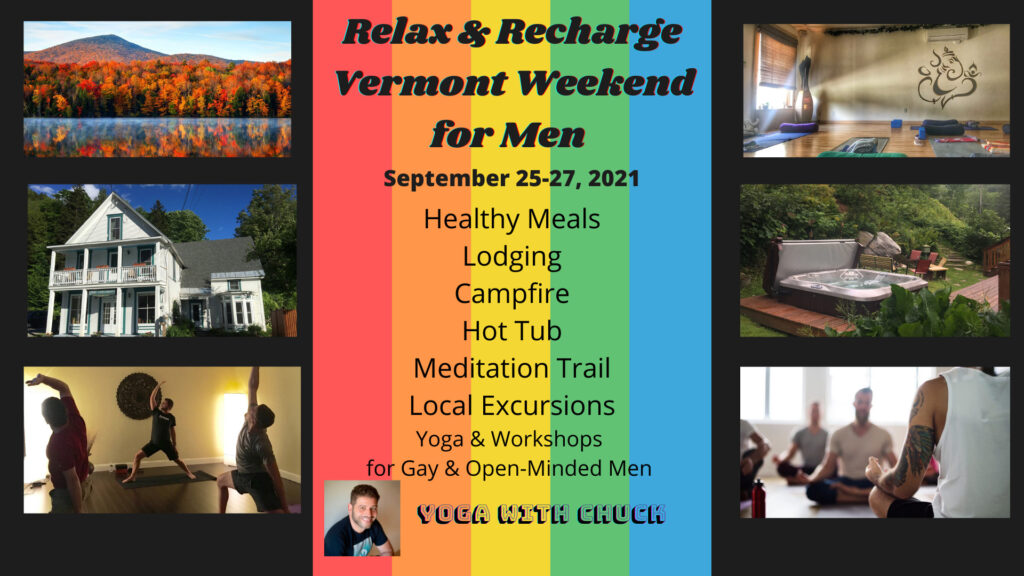 Where are you based?
I am based in MA/Southern NH and offer classes locally. One of the positive outcomes of the pandemic was that it gave me the push I needed to take my teaching online. I now have a Patreon Platform with both on-demand and live content that is available for as low as $1.75 per week. I've found that connecting virtually is actually just as meaningful and more convenient for the clients of my coaching/mentoring/accountability sessions and I can also offer Private Virtual Yoga sessions which help me reach people wherever they live. Offering retreats like this one in Vermont or next winter in Mexico, can provide us an opportunity to meet in great destinations for in-person connection.
The Retreat is September 25-27th, 2021 at Good Commons, Plymouth VT. Fee $499. More information at www.yogawithchuck.com.