Billy Porter dazzles at Outfest premiere
Billy Porter's directorial debut has thrilled Outfest and will launch globally on July 22.
Billy Porter premiered his highly anticipated film Anything's Possible as a kickoff to Outfest LA on July 14. The film, written by Ximena Garcia Lecuona, is a modern Gen Z coming-of-age story. It centers around Kelsa, a confident high school girl who is trans, as she navigates through senior year. When her classmate Khal, an Arab-American boy, gets a crush on her he musters up the courage to ask her out, despite the drama he knows it could cause. What transpires is a romance that showcases the joy, tenderness, and pain of young love.
Porter, ever the style icon, graced the red carpet in the colors of the trans flag. He was rocking a hot pink blazer dress with gold embellishment that was fitted at the top with a modest flare towards the bottom, along with dramatic frosty blue eye shadow. "It signifies a transition in this space where we get to tell real stories of marginalized people through the lens of joy, through the lens of celebration. And its magical!" He said when asked what the film means to him.
In addition to premiering his film, Porter was on hand to accept the 2022 Outfest Annual Achievement Award, the festival's top honor. It was presented to him by Eva Reign and Abubakr Ali, who play Kelsa and Khal in the film. It was during his fiery acceptance speech that Porter really dazzled that night.
"F#@k SCOTUS!" Porter exclaimed to the cheering audience filling the Orpheum Theater. Of course, he was referencing the recent overturning of Roe v Wade which took away the federal protection of abortion rights. Its also an allusion to the very real fear that the Court will proceed to overturn marriage equality in the coming months.
He went on to say: "Our messaging has to change. We thought we won something, the Democrats, the progressives. We got civil rights, we got Roe versus Wade, we got marriage equality, we got all the rest. We got a Black president. And then we all sat on our asses and ate bonbons for eight years and then the unthinkable happened. We're a part of it too. Frederick Douglass said 'Eternal vigilance is the price of liberty.' We lost our vigilance. It's time to get that sh*t back."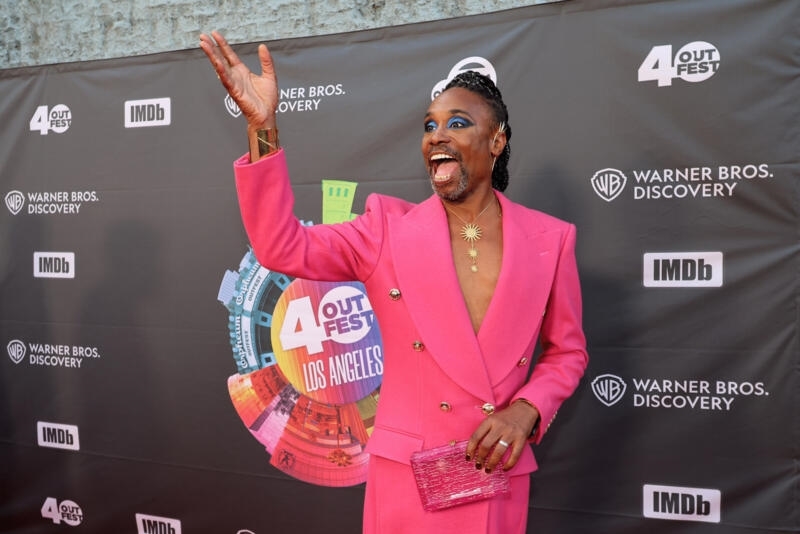 After the self-described 'soapbox moment' of his speech he shared the highs and lows of his career and spoke to the difficulties he faced in Hollywood as a flamboyant gay black man who was trying to make a name for himself. He spoke to the lowest point in his life which came in 2007 when he was diagnosed with Type 2 Diabetes, filed bankruptcy and later that same year was diagnosed with HIV. "…And there it was, what I had feared the most. I had become the exact statistic the entire racist and homophobic world said I would be," he said. "This was the moment, my come to Jesus moment. Would I choose life anyway?"
And choose life he did. A big break came his way in 2013 with the musical adaptation of Kinky Boots in which he played the lead and earned himself a Tony award and a Grammy as part of the cast album. He would ultimately find his way to the critically acclaimed show Pose for which he earned an Emmy in 2019. All of that, in turn, has led to his debut as a film director and now… the sky is the limit!
Anything's Possible will launch globally on Prime Video July 22.