Here's what happened for older gay men in 2022
Looking back on all that happened in the wider culture in 2022, where did things land for gay men of a certain age?
After the scariest midterms since the one I took in college the morning following my 21st birthday (I think I was still drunk); after another year of Covid fatigue (both the tiredness induced by the virus and the tiredness of people getting it repeatedly); after an end of summer streak of two good horror flicks, Smile and Barbarian—that anomaly happens about as often as Ted Cruz says something interesting; and after I started seeing someone on a serious level (ditto), it feels right to wrap up where we are in regards to older-gay representation in pop culture. Just because audiences ignored Bros doesn't mean I should too. And while, unlike Beyonce, I don't have 24 writers to help me out with this piece, I'll give it my best shot. Not unlike Jamie Lee Curtis, I'm gonna end it, too.
Here's the thing about Bros: the much-ballyhooed gay rom-com flop that sold itself as the first one of its kind to be distributed by a major studio, with a queer cast to boot (the director and co-writer, Nicholas Stoller, is straight): While there have been almost as many theories as to why the film failed to attract an audience as there have been Big Lie conspiracy opinions, the most obvious one has pretty much stayed in the closet—it wasn't particularly great. 
Sure, it had some fun moments (a brief four-way scene was LOL and Debra Messing nailed her cameo), but, overall, it was clunky, with a lot of flat jokes and a nonspecific goal as to the kind of film it wanted to be. (For guidance on how to do a gay romance, see 2018's Love, Simon, which followed through with its gay John Hughes theme from start to happy ending finish.) And word on the street is that Billy Eichner is annoying as a leading man, his range limited to either grating or deadpan Jason Bateman impersonator. It's hard to imagine heartthrob Luke Macfarlane spending two minutes with him, let alone one hour and fifty-five (that would be the audience). 
And while I'm thrilled that a 40-year-old gay character is the lead in the film, both Eichner and Stoller lose points by playing the blame game as soon as the bad numbers came out. Stoller struck out bigtime when he said that audiences are "trained" to avoid comedies, especially after the rom-com Ticket to Paradise came out a couple of weeks later and grossed, oh, about a hundred million dollars in a week—oops. By the way, while Paradise isn't exactly a brilliant flick either, its leads, George Clooney and Julia Roberts, have more chemistry than Walter White's meth lab. No favors are being done to the future of queer cinema by behaving like bitchy schoolgirls when you don't make the cheerleading team.
While my favorite gay-themed movie of the year, so far, is Firebird (though completed in 2021 it didn't hit U.S. theaters until last spring), the leads were young and hunky so I'll pass on critical discussion—psst… see it. Amazon Prime released English Brokeback Mountain, er, My Policeman, and, in addition to showcasing whatever-his-sexual-inclination-is Harry Styles, last seen in the gay-free dystopian thriller Don't Worry Darling, it did give us real-life-gay Rupert Everett (no, really, he's queer!) in one of the leading gay roles. It's not a fantastic film, but props for casting the Best Friend's Wedding co-star, a sex symbol trailblazer who came out way before Hollywood caught up to him.
While I've heard great things about Brendan Fraser's performance in The Whale, at press time it's not been released, so I can't comment on the homophobic accusations sure to fly once the straight actor receives his accolades and inevitable Academy Award nomination for playing gay. On a side note, I played straight for sixteen years of my life and no one gave me a damn award. Granted, I wasn't particularly good at it, but still…. 
In TV news, I've already written about my dislike of Uncoupled, but let me clarify that, while I found the show rather trite, I think we're starting to see a great trend of older, male, gay characters doing what they've always done—namely, the same things as their younger counterparts—but with visibility as main characters. I hope the creative team behind the show work harder to make the second season funnier and less stereotypical. We've come a long way, baby, from Murray Bartlett's poop-spewing, drug-digesting White Lotus lead as pretty much our sole representation on the small screen, something that wouldn't have bothered me if there were other, older gays to look up to. Granted, it's hard not to look up to Euphoria's Dad Eric Dane, but that's usually because his loathsome, closeted character is waving a prosthetic penis in our face.
Messing's TV counterpart Will Truman was the first of his kind and, for a while, anyway, it seemed like the last. A shout out is also needed to Martin Sheen and Sam Waterston, who left the final season of Grace and Frankie as gay octogenarians with a youthful zest for life.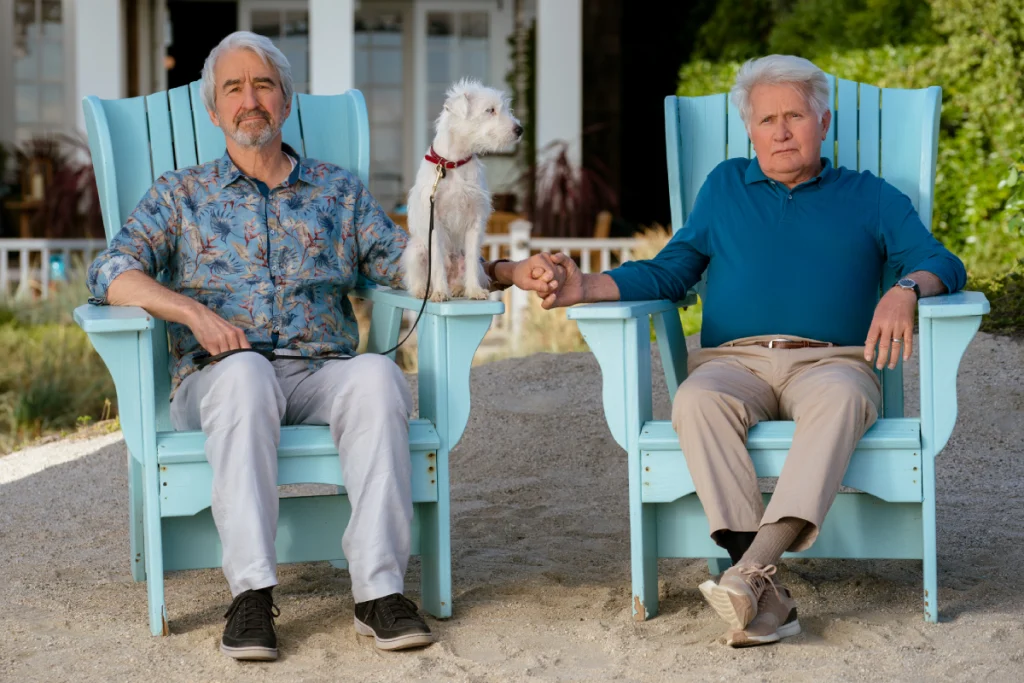 Shows like Sex Education, Heartstopper, and, spin-off time, Love, Victor are doing an excellent job of representing gay youth, but for whatever reason, it often feels like the older queers don't exist—woah, deja-1980s vu. When we do get snippets of Gen X, like Mario Cantone on the gay-by-proxy And Just Like That.., they're, well, bitchy schoolgirls. Speaking of the fairer sex, there's another trend of adding a lesbian to pretty much every new show and ignoring gay men altogether. While lesbian representation is vital in pop culture, this feels more like a way of avoiding backlash—since the dawn of celluloid time, women with women has always been less threatening than man on man. There's actually a sort of media-ingrained homophobia in going that route. 
All of this leads us to Ryan Murphy's 11th installment of American Horror Story, which makes sense because pretty much every time you turn on your TV your lead to something Mr. Murphy has cooked up. Oh sure, he's also whipped-up of late Hollywood, The Politician, Halston, and, the oh-so-cute Dahmer story, all of which include gay characters of different ages and, um, occupations, but the new AHS, simply subtitled NYC, delves into the dark world of monsters and disease in New York, circa 1981. It should be the show we've all been waiting for, America's version of the wonderful British drama It's a Sin, but it's probably the dumbest thing I've seen on TV since The Dating Game host asked a couple about making whoopee. 
While Murphy has often been called a horror genius, I think he's more of a horror hustler, tossing out cheap thrills with lots of blood and sex but few thrills and chills (see "Mike Flanagan" for the real-deal Netflix horror mastery of late). Real-life gays portray the major characters, but poor Russell Tovey, Zachary Quinto, et al, are stuck just trying to say their lines without laughing, while Joe Mantello can't seem to stop screaming. Or whining. Or screaming. Sandra Bernhard's in it too, and I'm almost certain she thought it was supposed to be an extension of her stand-up show. The direction is clumsy, the plot is ridiculous, and the fact that it got made with such a well-known cast (cry for Patti LuPone) is the true American horror story here.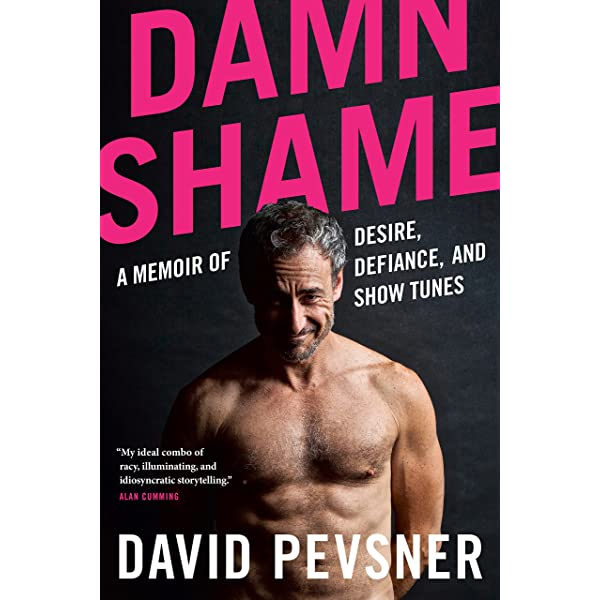 Musically speaking, how can I not mention that, at the ripe old age of 30 (hey, if this were Logan's Run, sanctuary would have come calling), Sam Smith has their first number-one Billboard hit with "Unholy," a track that also features transgender singer-songwriter Kim Petras. Whether you like the track or not (I do), it's hard to imagine just ten years ago we'd be saying "Billboard, Sam Smith, and transgender" in the same sentence. We've come a long way from George Michael's careless bathroom whispering as the way Out. Speaking of which, it would be careless of me not to mention that everyone's favorite bitchy schoolgirl Elton John hit the charts again with "Hold Me Closer," a mashup of his two tunes, "The One" and "Tiny Dancer," with a little help from his friend Britney Spears. I'm assuming the bitch backed off on his bashing of lip-synching performers long enough to survive sharing the spotlight with newly-freed Ms. Spears.  
Keep reading, folks, because one of the biggest joys I got this year was Damn Shame, 62-year-old David Pevsner's remarkable memoir on sex, escorting, and musical theater, told in such a frank, candid fashion that it's a treat from start to finish. Pevsner makes no bones about loving sex, for fun and for profit, and refusing to be ashamed of being an out, proud, and older gay man. He describes posing naked for photographers (hard and otherwise, yesterday and today) with as much aplomb and openness as Martha Stewart talks about arranging holiday decorations. He's also impossibly upbeat, something all of us, uncoupled or not, bros or otherwise, could use a lot more of in this season of giving and getting.
And that, my friends, is a wrap.