Stars wow at the CMAs, Northern Ireland
Quickly becoming the place for spotting celebrities with the establishment of international film studios providing high tech filming facilities and stunning backdrops, Northern Ireland was the place to be at the weekend as the inaugural Aesthetics and Cosmetic Medicine Awards were launched with great aplomb.
The event which was sponsored by Croma Pharma and Ping Group Ltd. was staged at the Culloden Estate and Spa Friday 2nd September.
It's the first ever ceremony of its type to celebrate the works of aesthetics professionals and cosmetic medical experts who are perfecting smiles and soothing wrinkles for the glitterati and general public alike in the up and coming picturesque social scene.
Of course, aesthetic corrections are not only used for cosmetic enhancements for those of us hoping to hide some of our 'life experience'; it is also available to people who have marks, scars, wounds, or other features which they seek to alter.
I was honored to be invited to open the event, welcoming the finalists and supporters at the beginning of the evening and bringing on the presenters who would anchor the rest of the show.
Packed to capacity with well-heeled industry leaders the extraordinaire was presented by a local legend for all things showbiz, Broadcaster Robin Elliott and, he was flanked by the ever-fabulous '80s icon and current day superstar Carol Decker of the band T'Pau.
Not without a little bit of drama, Carol had to be flown in last minute to replace the original co-host — BBC's Vanessa Feltz.
Feltz, who had originally been booked to front the glitzy ceremony, canceled last minute after receiving news that her daughter had gone into labor with her baby weeks earlier than scheduled.
Michelle Mc Ternan, a well-established publicist in the country had nothing but a few hours to spare to secure someone as equally suitable in regard to status and expertise to be there on the night. She consulted her rolodex (I'm guessing it was her smartphone but humor me) and having worked with Decker recently at the Let's Rock Northern Ireland festival she [Decker] was at the top of the list.
Carol says: "Getting Michelle's call last minute was quite the surprise and my schedule is very tight at the moment," she said. "But how could I refuse a chance to get another trip to Northern Ireland — I love the place. And, of course, my sincerest and best wishes are with Vanessa."
Speaking of the dilemma Michelle explained, "We literally had about 24 hours to go until the event and I started to think about other well-known names I could approach to co-host the awards alongside local radio presenter Robin Elliott.
"I'd met Carol Decker at the Let's Rock 80s bash a few weeks ago and she told me how much she loved coming to Northern Ireland.
"So I rang her and asked would she mind stepping in and apologised for it being so last minute, but she was a complete star and agreed to do it."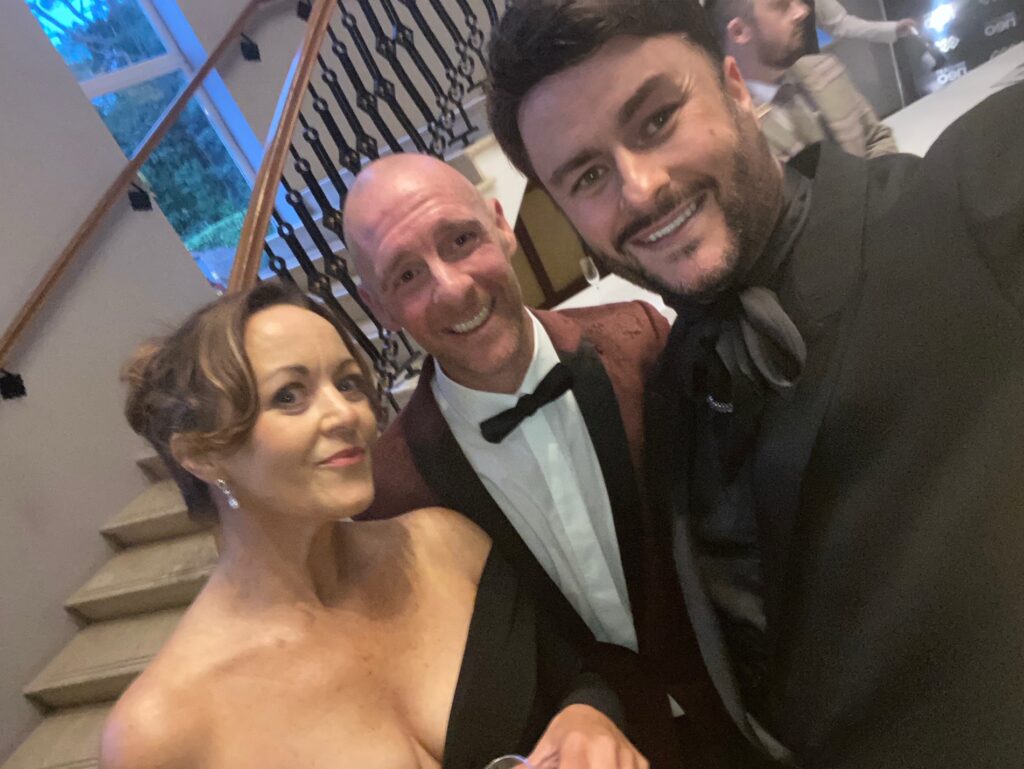 Michelle, who partnered in the awards with Lesley McGarritty of Younique Aesthetics, an award winning clinic in Northern Ireland, was not going to be stopped in her tracks by the glitch.
"When organizing events there is often a glitch, but everything always comes right in the end," she said.
And come right in the end it did! A rip roaring success, the evening was epic! With entertainment that wowed the lucky attendees from the likes of Love inc. front woman Simone Denny — belting out superstar backed by international DJ, and Music Producer Micky Modelle (I hear there is some magic happening with them – watch this space).
As well as long-term partner of Vanessa Feltz, Ben Ofoedu of Phatts and Small fame.
His song we all know, from the lyrics "Hey, what's wrong with you? You're looking kinda down to me… you've got to turn around." Well, turn around he did not, with a 'show-must-go-on' attitude he filled the dance floor with '90s anthems, and those in attendance were very much appreciative of his commitment to them.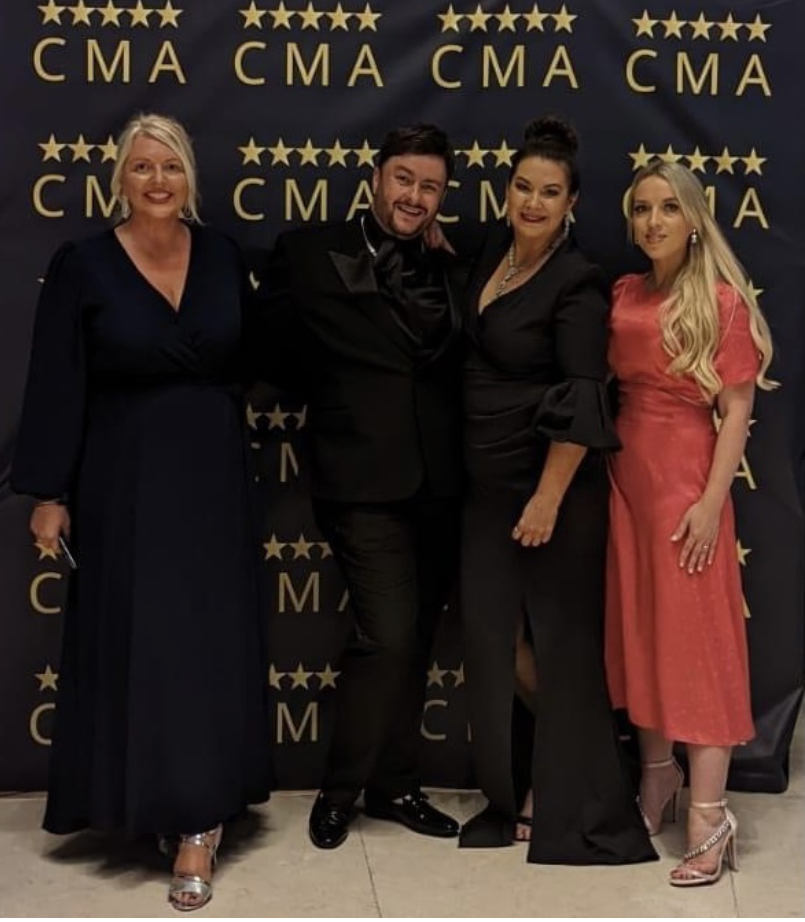 Carol of course could not have gotten out of the building without singing her signature tune, "China in your hand" and it is fair to say everyone was China in her hand, as she sang them all through the memories of their misspent youth. There were phones filming, arms swaying, embraced slow dancing, and definitely more than a few tears in eyes as the satin notes filled the room with heartfelt nostalgia. I even felt a slight tremor of a surprised emotion, but I defy anyone in the presence of such pop royalty not to be moved in such an intimate setting and personal performance.
Also in attendance were some local 'celebs' including Boyzone hunk Shane Lynch who enjoyed the hospitality whilst judging the best dressed guest retired early for the evening – he appeared to have had lots of fun, former Miss Great Britain Gemma Garret (Gemma has been linked previously to Russel Brand and a few other household names we won't drop right now), Miss World Northern Ireland Daria Gapska, who shared her woes with us in the room explaining that the crown was very heavy but she wasn't keen to let anyone try it on for size – perhaps she was speaking metaphorically — who knows!?
Q radio's Yasmin Zemmourra caught my eye when she dance walked (you know that half dance/half walk we all do at weddings -that) to the dance floor in a pair of stilettos lit up by twinkling LED lights! It was a first for me and an impressive one at that! Kirstie McMurray who previously held the coveted breakfast slot on Bauer Media's 'Coolfm' now hosting on their 'Downtown radio station' looked spectacular in a figure hugging black Bardot, full-length gown. I had to 'tape' her into it before she walked the red carpet, whilst her husband Michael Davis looked on in gratitude – his earlier attempts to thwart the wardrobe malfunction having proved fruitless – a man with hands like cabbages – it might be said locally.
All-in-all, the event was a 'show stopper' and it has certainly set the bar high for the events to follow in social calendar for this year. I shall definitely be keeping an eye out for any more 'nights-out' that are organised by McTernan and McGarritty – I have heard on the grapevine there are plans in motion as we speak, but I'll await official confirmation before I say anymore.
If you would like to visit the venue, Culloden Estate, then you can book via their website here.
Flights can be booked from most airlines into Northern Ireland for the nearest airport try the George Best Belfast City Airport.
To find out more about the CMA'S NI click here.